New Perspective at Old Sturbridge Village

by Carolyn Donovan
Going back in time...this time for real
I was at Old Sturbridge Village once, in eleventh grade. Mr. Malchodi took his AP American Studies class there to experience "life as it was." I still remember brushing my teeth like Benjamin Franklin: crushed coal mixed with honey, rubbed on the teeth with the finger. Rinsing was very important back then.
In spite of (or more probably because of) my brush with colonial dental care, I was very excited to go to Old Sturbridge Village (OSV) a few weekends ago. It was Garden Weekend, and the idea of wandering through 400 heirloom herbs made me positively dizzy. I decided not to think about the fact that I am of the age where driving 60 miles to look at herbs being tended by women in straw bonnets and calico dresses is not only okay, it's exhilarating!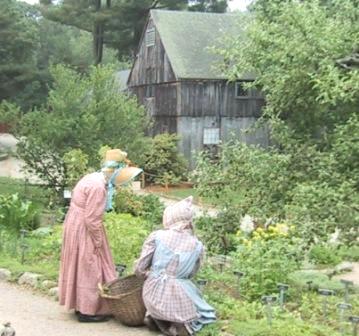 60 minutes (as the Boxster flies) from Boston lies an adventure in American history that is, well, pretty cool. The split rail fence holding back the meadow of wildflowers following the curves of the road is the first gentle indication that we were going back in time. Since I don't always live in the here and now, it was a very easy jump to make.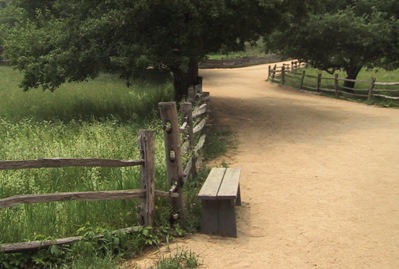 OSV recreates a prosperous rural New England town of the 1830's, with both a town green, a mills area, and lots of countryside. It's spread over a completely walkable 200 acres (not that you'll be walking 200 acres; they had dirt roads back then, you know).
Around the town green you'll find a bank, a law office, a general store, and other businesses. Just outside of town is a farm, sawmill, shoemaker, potter, gristmill, and carding mill (for carding sheep, not for turning out playing cards). Interspersed with these commercial ventures are houses of various "people" and a tavern (or two). And, of course, a church.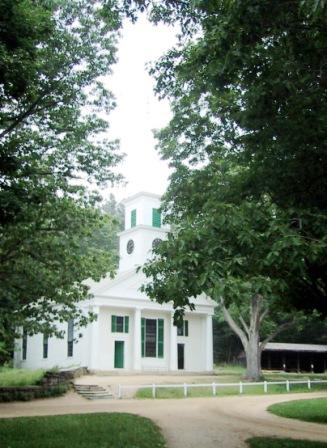 OSV has been open to the public for 60 years, and was begun from a single family's collection of rural New England memorabilia, which they started when they saw the old rural way of life waning after World War I. As an outdoor history museum, everything in it is to be interacted with (but you can't snip a bit of heirloom Rosa Rugosa to take home and propagate). All of the buildings are either authentic reconstructions, or have been moved to OSV from original locations.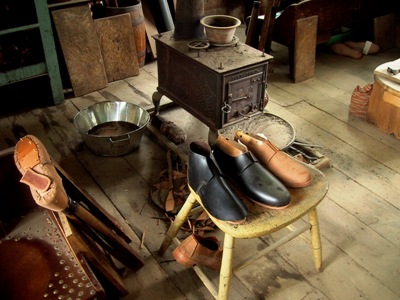 In the bank was a banker, wearing a very warm wool coat, who told us all about banking in the 1830's (they had fraud and identity theft back then, too). The banker was an actual banker, working for Citibank. Talk about a hobby dovetailing with your career...
Loved the potter. He worked on a leg-powered throwing wheel (which made me wonder if his left thigh was considerably stronger than his right thigh, but civility dictated that I not ask). As he was throwing his bowl, he talked about lead glaze, and how even back in the 1830's people knew about lead poisoning but didn't know what else to do to seal off the very porous clay (the lead lowered the melting temperature of the sand, which shortened the time the sand needed to melt into glass and create the glaze, which saved on the not-renewably-fast-enough heating resource: trees). Beer and vinegar were almost never put into glazed pottery because they leached the lead into the liquid. Vapid stupidity for life, anyone?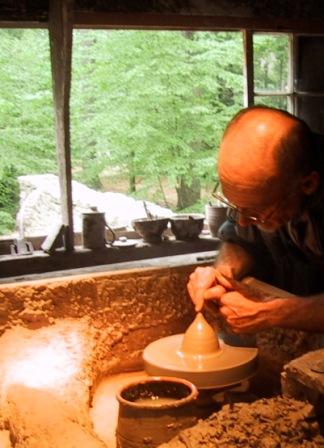 We met a real tin man, too, gently creasing and forming his thin sheets of tin into watering cans, lanterns, and sconces. He knew way more about the history of tin and tin importation (McKinley Tariff, anyone?) than he was comfortable admitting. I told him my tale of coming across the remains of a tin factory in Cornwall (although at the time I had no idea what it was and wondered why they would need such a tall chimney to make clotted cream).
The general store sold everything, from seeds to ivory fans. Dishes, drugs, bolts of cloth, salt cod, ladies' shoes, toothbrushes, things nobody buys anymore so I don't even know what they are, the place was floor to ceiling with stuff, in a very tidy manner, of course. Every thing was behind the counter, and the shop keeper got it for you. While in some ways such personal service seems incredibly slow and inefficient, it did ensure a bit of human contact, which doesn't always happen in my grocery store nowadays (especially if I use the self-service checkout). Since actual cash money wasn't readily available, a lot of things were paid for with butter and cheese and the like, which the shop keeper would then sell on to other folks, further away (say Boston). Piece work was also a way of life; weaving cane hats was a part-time occupation to many back then (this was before Panama was old enough to make its own hats) (in Equador).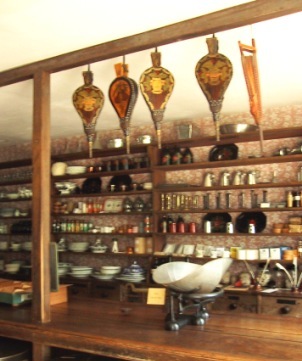 The musket demonstration was LOUD, even though it was only one musket, and the musket was firing a wad of paper. "Wars"l must have been deafening back then. And s…l…o…w. It took close to a minute for our man Thaddeus to tear open the paper pouch of black gun powder (with his teeth), prime the pan, fill the barrel, ram it with the rod (yes, a ram-rod), insert the iron musket ball, set the frizzen, pull back the cock, aim, close one eye because he knows what's coming and he can't close his ears, and fire. BOOM!
The village even had a pound, although it wasn't dogs and cats that needed rounding up, it was cows.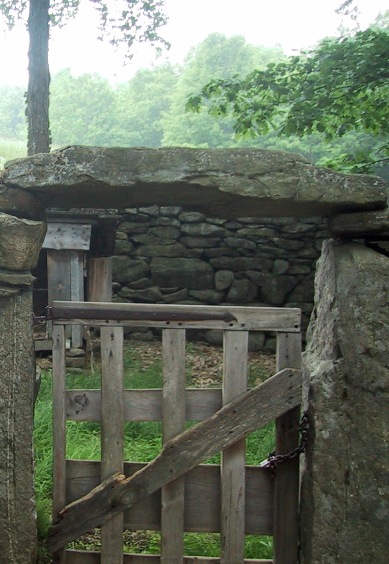 Sturbridge Village is nicely set up to wander about in an approximate circle, and all roads lead to the gift shop. There are also a couple of places to sit down and get something to eat. We at the Bullard Tavern right on the town green, although it was really a cafeteria, with authentic tables and chairs (there's an upstairs that offers a different ambience, but is only open for certain occasions). Wan had a made-to-order ham sandwich which looked very well proportioned. I must sadly admit to a lack of vegetarian options, which reduced me to getting a prepared "Greek" salad and a prepared carrot salad, both of which were okay but not really substantial. In spite of that, I would give OSV a "good" on the food. They even offer hot meals. Apparently the macaroni and cheese is a big favorite amongst the interpreters…
The other tavern, the Oliver Wight, is a restaurant that recreates the ambiance of "eating out" back then, although the menu offered slightly more modern dishes. We would've eaten there, but they were only serving brunch on Sunday and we weren't that hungry. It also hosts banquets and weddings and such, and recently underwent a $4.5 million dollar refurb.
The gift shop was a complete hit with me. While Wan relaxed outside with the chipmunks, I bought us some stone-ground buckwheat pancake mix, a "weave it yourself" mail basket (I am soo excited), and something called Raspberry Shrub which, despite its lingering vinegary aroma, makes a truly satisfying and thirst quenching drink (you mix it with fizzy water). If I bought anything else, I ate it on the way to the car…
I loved the OSV. Wan did too.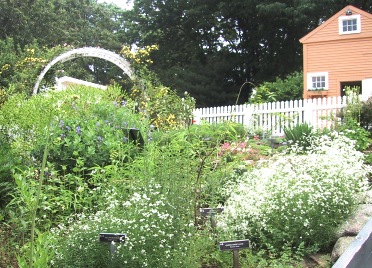 Old Sturbridge Village
1 Old Sturbridge Village Road
Sturbridge, MA 01566
(508) 347-3362
May 1, 2005 - October 23, 2005
Daily, 9:30 a.m. to 5:00 p.m.
Admission
Adults $20.00
Seniors (65 and over) $18.00
Youths (3-17) $5.00
Children Under age 3 Free