We RainyDayGardeners buy a lot of our plants at the local nurseries and Home Depot. However, some of the more exotic plants are just not available at these neighborhood outlets.
Our friend Bill has been amassing an interesting collection of tropical container plants (banana, coffee, guava, and citrus). He told us the source of all of his tropical foliage came from a nursery in CT called Logee's.
The plant with the wildest looking bloom we purchased at Logee's is the Passiflora. The flower only last a day, but every bloom is spectacular.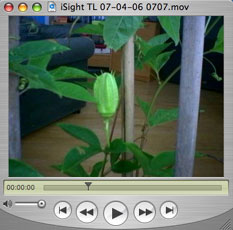 We are going to try to get some time-lapse series of the cycle this year. We'll post them as we get them.