There are a variety of ways (jacket, packs, knapsack) to carry the gear we use everyday. This harness system from Civilian Lab may be the most unique amongst all of the methods we have reviewed to date.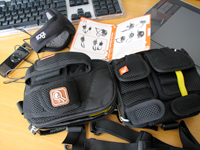 If you need to have easy access to lots of different gadgets, there is a Civilian Lab system which will suit your needs. If you want a system which is adaptable, Civilian Lab has a harnessing mode (chest, belt, thigh, etc...) which can accommodate the situation.

The construction and materials used are both very high quality. All of the external storage compartments have velcro closures for secure containment while still enabling quick access to the gear. The flaps are padded to give the contents bump protection.

The inside of the bags have even more pockets, slots, and openings for holding pens, probes, or whatever. The design is such that the contents are secure but accessible, a very important feature in bags for active users.

There are multiple ways to strap on these Civilian Lab harness bags. For extended use or when carrying a lot of weight, padded shoulder straps may be added to the harness to distribute the load.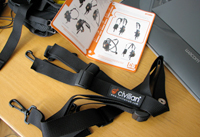 Some here are wondering just how much gear can be loaded into this harness system. You'll see when we fill it up and take it out for a FirstUse test in the Spring.- Wan Chi Lau