Thanks so much for coming!
We had the best tea party.
Everyone loved getting dressed up.
Everyone loved how we didn't tell my mother that it was a dress-up party, and the look on her face when we brought her upstairs to change into the tea party dress, hat, and gloves we got her.
Everyone loved the food, and the company, and the laughter, and the tea, and the gossip, and the hostess (hey! That's me!), and the party favors, and each other, and the whole thing.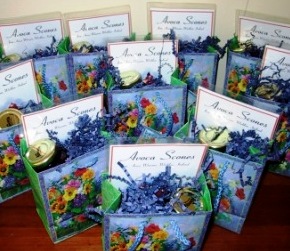 We are already planning a reunion to view the tea party video, although for that, we'll be drinking wine.
I can make that dish in three minutes – NOT!!
"Little sandwiches" does not mean "little work"
Irish scones at an English Tea
I'll have one of those, one of those, and one of those (please)