I'll have one of those, one of those, and one of those (please)
The fruit tarts would've costs close to $3 each, which was too much for my budget. I found these teeny tiny phyllo tartlets by Athena Foods that were already cooked, easy to fill, and just the right size! I filled half of them with lemon curd topped with a blackberry, and the other half with instant vanilla pudding topped with a mandarin orange slice. My tea ladies gobbled them up, but in a ladylike fashion.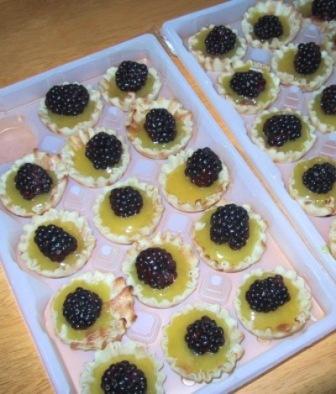 I also made mini Black Forest Soufflé cakes from a recipe I found in a magazine that started with brownie mix and a can of cherries. The original recipe was for an actual cake, but I wanted to make them in those mini-muffin tins, with mini-muffin liners.
I thus gave myself three problems:
Problem 1: I had one 12-unit mini-muffin pan;
Problem 2: I had no pastry bag, and nothing to make a pastry bag with;
Problem 3: Because we had no pastry bag, we made a huge mess..
It took me three hours to make seven dozen cakes, because I could only make 12 at a time. In my favor is the fact that I made them in my toaster oven and not my regular oven.
(So, in spite of my best efforts, I ended up making EVERYTHING. No wonder I was pooped the day after the tea party!)
I can make that dish in three minutes – NOT!!
"Little sandwiches" does not mean "little work"
Irish scones at an English Tea