This device is incorporates 7 different outdoor survival tools (LED light, compass, digital thermometer, 5X lens, signaling mirror, whistle, dry compartment) into one compact unit. HighGear also supplies a quality lanyard so you can hang it around you neck for easy access.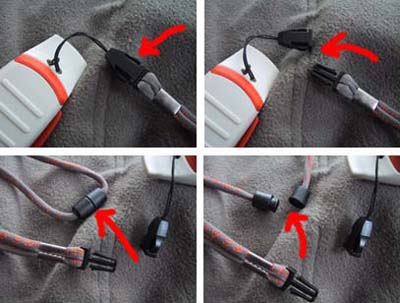 The lanyard has the usual "break-away" clips should it accidentally get tangled with something that would pose as a hazzard. The squeeze clips at the other end allows the device to be easily detached from the cord... handy feature for when you are using the flashlight or the magnifying glass.

The unit fits comfortably in the hand and all of the tools are logically placed. The button for the super bright LED flashlight is right under the thumb. The safety whistle is at the opposite end.

The compass is a floating dial type in a freeze resistant liquid filled compartment. The back houses a long channel that runs the length of the unit. A rubber cap at the end creates a "dry compartment", perfect for safety matches and/or some aspirin.
The digital thermometer gives the readout in either F or C format. The numbers are small but perfectly readable. If you are wearing the unit around you neck, it'll tend to give a warmer reading due to the body heat. It is not a fault of the unit, as this is true for most devices with a temp sensor that is close to the body.
The AdventurePlus is inexpensive (under $20 at most places), yet it has a high quality feel. We'll let you know how well it survives "In The Wild" in a few months :-)