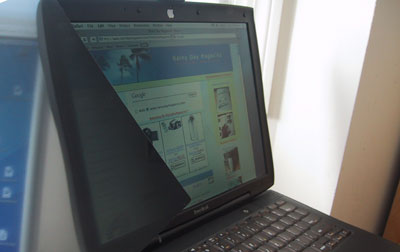 The 3M Privacy Screen is a plastic sheet that fits most laptops or desktop monitors, although it can be cut to size as well. We got two filters, one pre-sized for a 15" or smaller laptop and the other pre-sized a 19" desktop monitor. Both filters are exactly the same except for their size.

As can be seen from the pics above, even a slight shift in the viewing angle is sufficient to blackout most of the screen.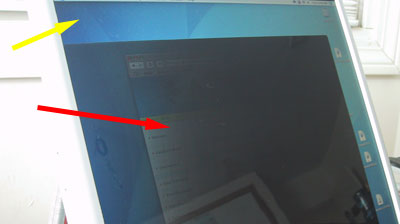 We placed the smaller 15" filter on a 17" desktop screen to show the difference in the visibility (yellow, no filter; red, with filter). The gradient clearly shows the filter's effectiveness as the angle gets greater. Thus, someone sitting next to you will be pretty much blocked from seeing what is on your screen. The filters worked surprisingly well without much reduction in screen brightness.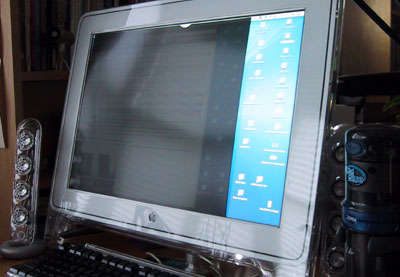 The above pic is the 19" filter on our 22" Apple Cinema Display. See how much of the display was rendered unreadable even at the slight angle. The filter can be cut to size for odd sized laptops such as the 17" Apple Powerbook or other non standard LCDs.
We did notice a slight dimming effect, but not enough to be a big problem for general writing. It is a problem if correct color is a concern (image editing, color correction, etc...)

The two sides of the screen are different. One side is smooth and glossy while the other side is matte. We weren't really sure which side was suppose to face out, but we found the matte side to be more suitable.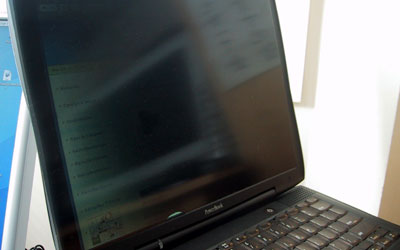 There is no question these 3M Privacy Screen will be effective in keeping wandering eyes from peeking at your sensitive data. The question to you is...is the data worth protecting?