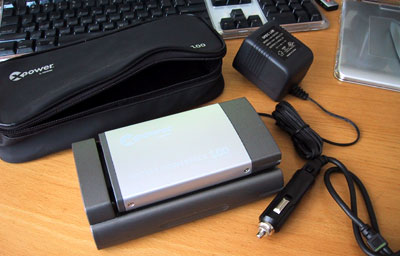 The Xantrex XPower Pocket Powerpack 100 is the only portable power source we have come across which can fit into a normal size backpack. It is not a lightweight. The whole package (inverter, battery, AC adapter, plugs) weighs in at about 3 pounds.
The XPower is made up of 2 main components: the Inverter and the rechargeable battery.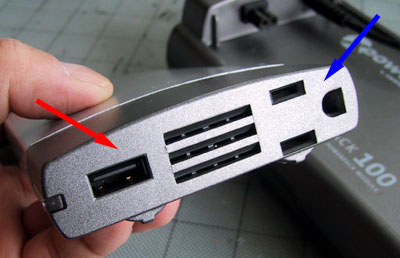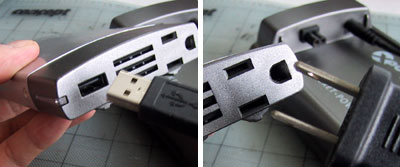 The inverter has two power sockets: a USB and a standard AC. The USB socket can output 0.5 amps at 5V DC. The AC power output is the standard 120V at 80 Watts. It can handle about 5 minutes of power draw at about 100 Watts and a surge of 160 Watts.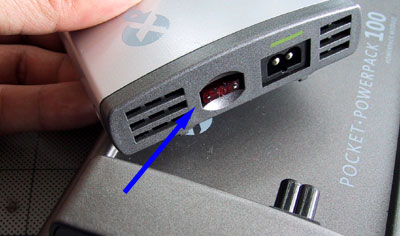 The powerpack is protected by a fast blow 10A fuse in the inverter (blue arrow). This fuse is user replaceable and can be found at most electronics and automotive stores (Radio Shack, Pep Boys, etc...).
The battery unit can be charged in two ways: via an AC source or a 12 volt source. If charging using power from an AC source such as from a standard 120V household wall outlet, then the supplied AC adapter is all that is required.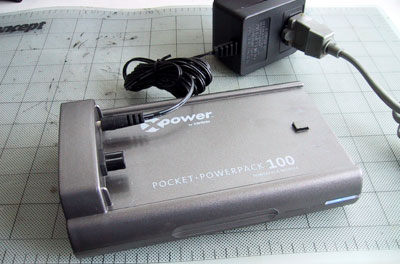 If the charging power source if a car or an airplane, then the inverter and the appropriate DC input cable must be used in conjunction with the AC power adapter.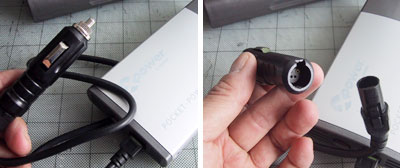 The DC input cable will work with both the car's cigarette lighter and an airplane's power outlet. The airplane plug is built into the cord of the cigarette lighter connector.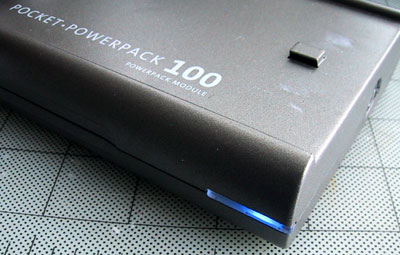 When the battery is charging, the blue LED will glow. The light will turn off when the battery is fully charged.
The inverter must be connected to the battery before using the unit. Althought it is possible to tap power from the battery directly, since the fuse protection is in the inverter unit, it is probably not a good idea.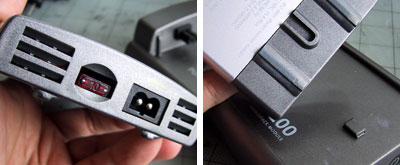 Note that the inverter mates with the battery at two points, the DC socket and the anchor tab. When sliding the inverter on and off the battery, be sure both contact points are aligned. Once assembled, the unit is ready for action.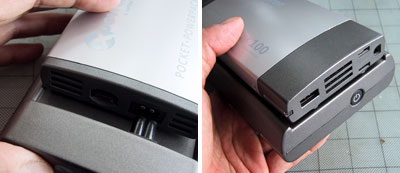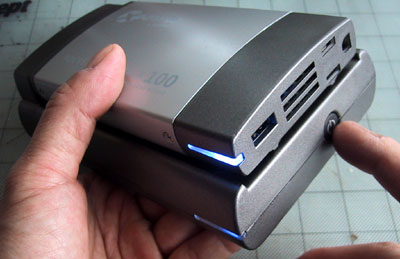 To use the Powerpack 100, just press the button. Both LEDs on the top and bottom should light up. We are going to test a few devices (scanners, laptops, portable TVs, etc...) to see how long this XPower Powerpack is good for in real world situations. Check back in a few months :-)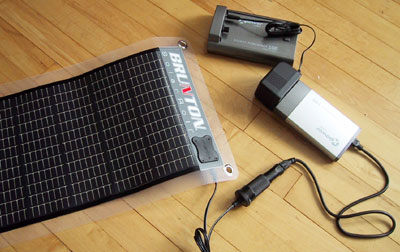 If you need to be totally "Off The Grid", you can always hook up the XPower to a Brunton SolarRoll and recharge using the sun. This is not something we would backpack with, but it is definitely something we would have at base camp.
So if you are looking for a portable AC outlet, this XPower Pocket Powerpack 100 should be at the top of your shopping list.