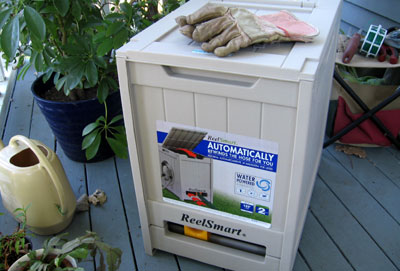 The ReelSmart unit is a mechanical device that is basically a hose reel inside a light gray textured box. It came with all of the pieces (drain hose, feeder hose, hose stop) for attaching your own hose to the reel.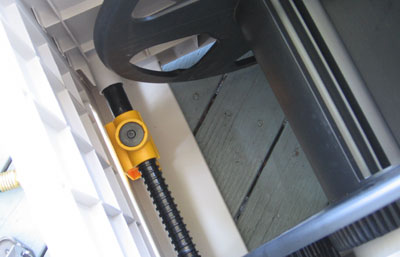 Here is a look down the housing directly into the works. The yellow part is where the hose comes through to the reel. As the hose is pulled in, the yellow "guide" will move along the threaded rod and help spread the hose along the width of reel.

The control and the connectors are on the left side of the housing. The lever (left photo) controls the reeling mechanism. One of the connectors attach to the spigot, the other to the drain hose.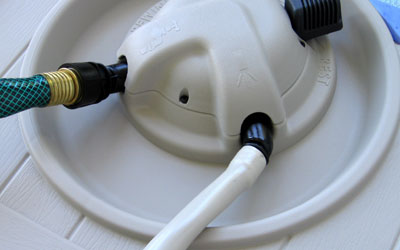 The garden hose is attached to the connector inside the unit (click to see a larger image). To wind the hose into the reel, flip the lever toward the back and turn on the tap. If everything was connected properly, the reel should start to turn and draw the hose into the unit.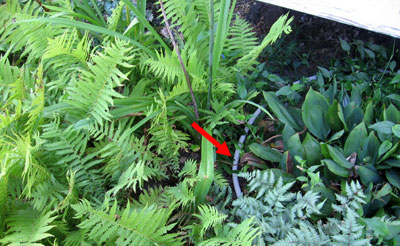 The drain hose (red arrow) was fairly long so we just ran it from the side of the main housing out to the ferns (about 8 feet away). We'll let the water used in rewinding the hose will automatically water these plants.
When we first posted a mention of the ReelSmart, it generated a lot of email. Most of them were requests for a video showing the device in action...a lot of you were VERY skeptical. Here are two short clips of the unit in action. The left video shows the normal extraction of the hose from the storage unit. The right video shows the ReelSmart's auto rewind feature.
We have been using the ReelSmart for a few weeks now and it has worked exceptionally well. The one tip we can offer is to remember to flip the lever back to the "Rest" position after rewinding. The reason is the first thing you will do is turn on the water. If the lever was left in the "Rewind" position, it will start pulling the hose further back in to the unit.