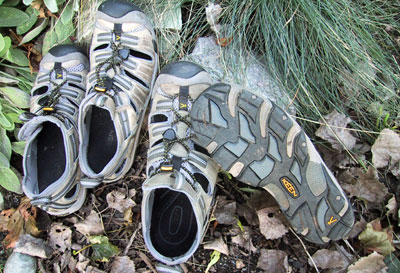 In June 2005, we reviewed a pair of Keen Taos. We have received a ton of emails asking when we would do an update on how they held up. It has been 14 months since we first put on those Keens. We must have put at least 500 miles on them by now.

These shoes were extremely comfortable to wear due to the well padded insole. We wanted to wear them everywhere be cause the fit so well...so we did :-)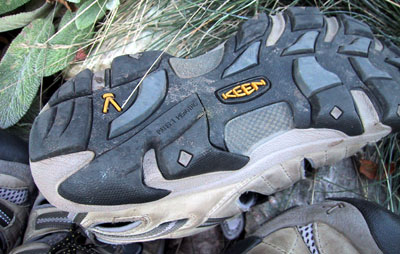 Note that the heel is starting to show some wear, but considering the amount of use, that is not at all surprising. We think the Taos held up extremely well to our abuses (city hiking, trails, snow, etc...).

The external material is very tough, perfect for handling the kind of scraping and scuffing typically encounter in trail hiking. The slits on the side is great for both ventilation and for when the shoes are used in wetter conditions.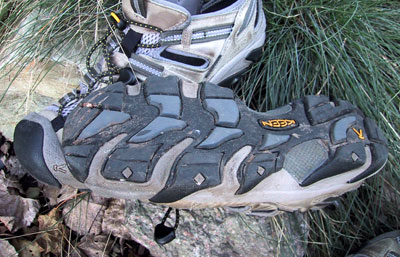 Readers should note that the Taos was not designed for conditions where great lateral support is required. However, the rigid instep does give great foot support all day long, especially when we were hiking with a day pack.
Normally we wouldn't care how dirty our shoes got, but since these were designed to handle water, we thought we would put them through a wash cycle to see how they would look. All the images from this point on are after they have gone through a wash.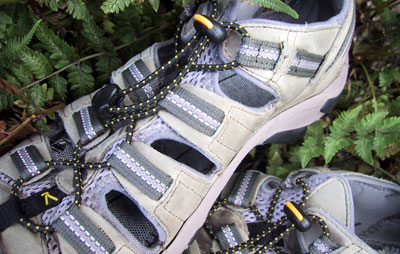 The shoes came out looking almost new :-) They also survived the dryer (medium heat). One thing we did before the wash was to remove the insole, but we did toss them all in together.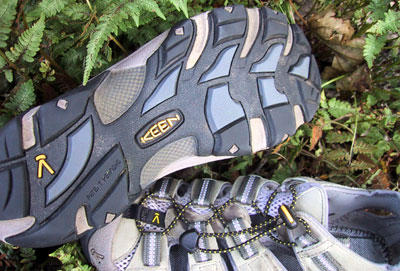 Here are a few close up pics of the removable insole after the cleaning. One of the secrets to this super comfortable shoe is this multi-density insert. There are "grips" sections for the toes, softer areas for the ball of the foot and heel, and nice support for the arch.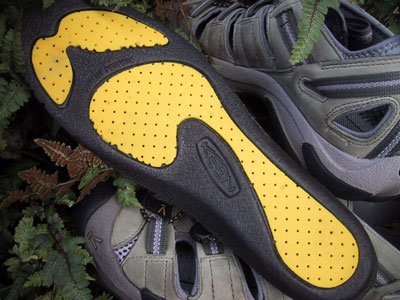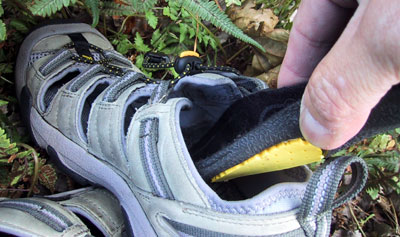 Considering the amount of use these shoes have seen, we think they held up extremely well! We have no reservations in recommending these Keen Taos to those interested in a pair of durable and versatile footwear.