Our home base for the SpringOuting was the fabulous Onyx Hotel in Boston. The Onyx is one of Boston's newly renovated luxury boutique hotels. We chose the Onyx for its "in the middle of everything" locaton.

The first weekend's "urban hikes" was around the city of Boston (Freedom Trail, North End, etc...). The second weekend's hikes will be around Boston's Emerald Necklace.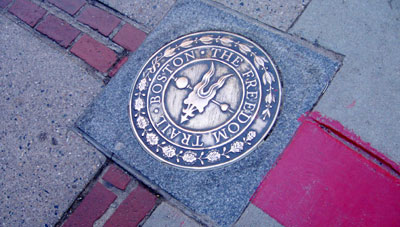 The Freedom Trail winds through the city, up to the USS Constitution, and over the to Bunker Hill Monument in Charlestown. We have the Magellan GPS to guide us around, but if you don't you can just follow the BIG RED painted line (or bricks) in the sidewalk.

One of our editors, Carolyn of Carolyn's World, grew up in Quincy and knew pretty much EVERYTHING about the city. She was the official RainyDayMagazine tour guide for the weekend.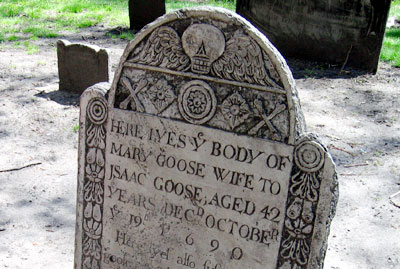 Carolyn showed us the burial spot of Mother Goose. At the same cemetary were also a monument to Franklin (a Boston native, but not buried here) and the final resting place of Paul Revere.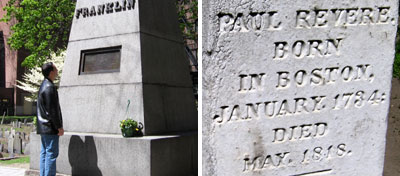 We then followed the path to the exact spot of the Boston Massacre in front of the Old State House. Here is a question for the out-of-towners... what is the Old State House being used for now?

A bit further down from the Old State House is Faneuil Hall and Quincy Market. This area was almost demolished when it fell into neglect, but a group had a vision of what it could be and converted it to a vibrant indoor/outdoor marketplace almost 30 years ago.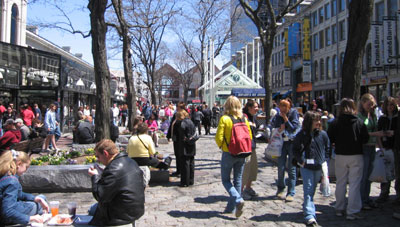 The Faneuil Hall Marketplace is actually a collection of four large buildings (Faneuil Hall, Quincy Market, North Market and South Market) with a variety of vendors (food, gifts, comedy clubs).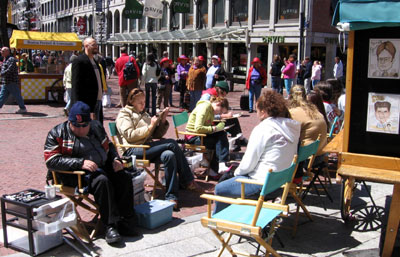 When the weather cooperates, the outside is home to a thriving community of push-cart businesses, street performers, and artists.
We are not sure what happened, but somewhere along the line we LOST the Freedom Trail, but we did pick up a new trail called the Harborwalk. According to Carolyn, it will still take us to the USS Constitution.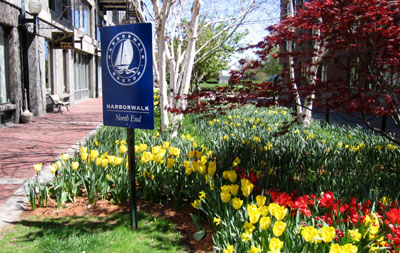 The Harborwalk took us to the North Washington Street Bridge which crosses over to the Charlestown Navy Yard, home of the USS Constitution (Old Ironside). Once we crossed the bridge, we picked up the Freedom Trail again. At this point, the path to Old Ironside was pretty obvious :-)