By now everybody as heard Apple will be releasing the iPhone/iPod Touch SDK next week. For the past six months, we had been working on various iPod projects. Today we went out and picked up a few more iPods from our local Apple store.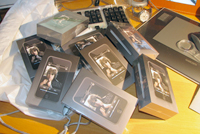 When the Apple clerk was ringing up the sale, we realized these iPods would get trashed pretty quickly if we didn't get some cases for them. The problem is, knowing the folks here, the iPods would be out of their cases more often than not.

Remembering how well a protective film worked for our iPod nano, we decided to see what was available for the iPod Touch. We found a product called BodyGuardZ which claims to be the toughest film covering on the market today.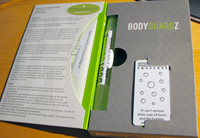 Some readers may remember the early days of film protection. We are happy to report that things have come a long way since 2005. Back then we had to make our own soapy solution and dip the films into a tub of liquid. Today, products such as the BodyGuardZ comes with everything needed for applying the film to the gear.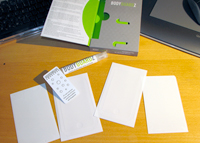 Each package contains two sets of covers, a bottle of spray on application solution, a squeege card, and full instructions. Some users may want to use both the front and back films, but based on our experience with the nano, it is likely that most can get by with just covering the front. - Wan Chi Lau