In our FirstLook of the Harman Kardon Drive+Play2 we gave an overview of the various parts which came in the package. Today, we'll do a bench test and take a look at how the pieces (display, hub, controller) work together.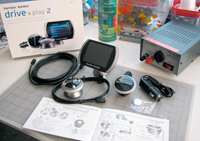 Unlike the DP1, the DP2 hub is much smaller and may be powered in a few different ways. The simplest way is to power the hub directly by the cigarette lighter of the car. This is convenient if you don't plan to permanently install the DP2 in the vehicle.

Harman Kardon also supplies an extension cable if the hub needs to be placed further away from the outlet.

The design of the connectors of the various cables make hooking things up totally foolproof. Each connector is uniquely shaped for its appropriate socket. It is impossible to get it wrong.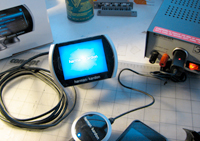 Once we had the various cables connected and the power supply switched, the screen came to life. We were pleasantly surprised by the crispness of the display. The DP2 screen is a huge improvement over the DP1.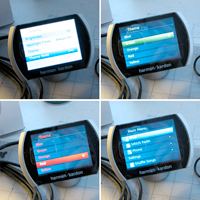 There are a lot of display options (color, day/night, etc...) which we'll walk through in the next installment. We'll also hook up the iPod and run through the features of the wirless controller in part 2 of our Drive+Play2 BenchTest report. - Wan Chi Lau