180s are well known for their innovative winter gear for active folks. We have reviewed a few of their offerings (ExoLite, Training gloves, Mortise sunglasses) in the past.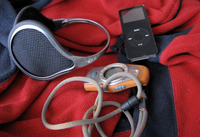 This year, 180s introduced a line of gear to make it easier for those who want to take their digital devices with them when they venture outside during Winter. The Tec Stretch ear warmers with integrated speakers are such an example.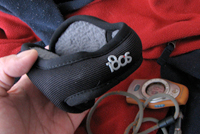 The elastic spine can accommodate most heads. The Tec Stretch is fleece-lined and super comfortable. The speakers are flat, well integrated, and cannot be felt when worn.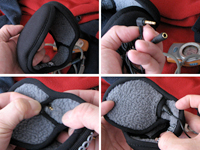 The socket end of the supplied extension cord attaches to the speakers via a plug on the edge of left side of the ear muff. The plug goes into the standard mini-plug socket of the iPod or MP3 player.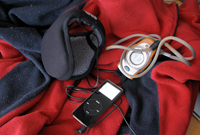 Boston was supposed to get about 6" of the white stuff this weekend. We were excited because we had planned to take this new piece of 180s gear out for some FirstUse testing. It didn't snow and the forecast for the upcoming week is somewhere in the 50º...are you kidding me??? We'll send the interns out and get these 180s TechStretch tested once some decent New England weather rolls back into town. - Wan Chi Lau