The Sun is always shining at Mohegan Sun -
The Concerts
by Carolyn Donovan, March 2006
Mohegan Sun has a bunch of venues for music and whatnot (the Connecticut Sun, the 2005 WNBA Eastern Conference Champions, play there), from a 350-seat cabaret to a 10,000 seat arena. We went to both. Saw "The Comets and the Crickets" at the cabaret, and a Latino concert with Gilberto Santa Rosa and Olga Tañon.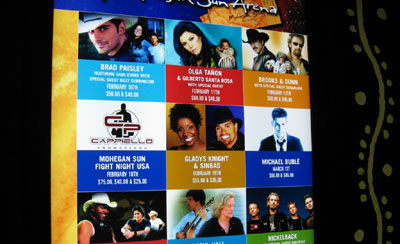 Whatever your taste, there's a concert for you
The Crickets worked with Buddy Holly, and the guy who wrote most of Holly's songs was in the band. The Comets are Billy Haley's Comets, the Rock around the Clock Comets, and while it was a few years before our time, it was amazing to see. The guitar player is 84, but good gawd, Sting would be hard pressed to keep up with him!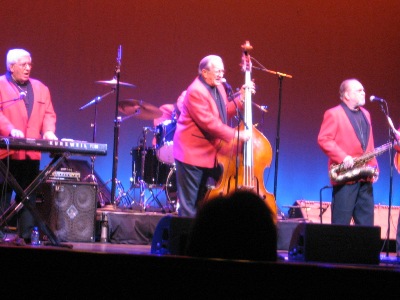 Still playing after all these years...
The Latino show was fun and full of energy, and completely not in English. I think we were the only two that had no idea what was being said or sung. I'll just say this, Latino men wear much better clothing than their white counterparts. Not a single baseball cap to be seen in over 5,000 people.
In addition to the paying venues, one of the casinos also houses the Wolf Den, which has free concerts. Keith Sweat was playing at Wolf Den the Saturday night we were there, and the Village People (Y…MCA!) are coming in March.