The Sun is always shining at Mohegan Sun -
The Shopping & The Food
by Carolyn Donovan, March 2006
There are 30 shops at Mohegan Sun, and it felt like an upscale shopping mall, although with some stores I was unfamiliar with. The entrance to Oddes-sea was one humungous aquarium (the entrance to the store went through the fish tank), so of course everybody is drawn to it. Funny thing is, the shop is not about the sea. It had some affordable and some expensive things, and it dawned on me that this is the sort of store that caters to people who win BIG at the casino. Four-foot high ebony greyhound figure, anyone?

You can only walk through the fish at this store, you can't buy them
There was a country store, with all of the candles, dips, and calico-quilted pot-holders any middle-to-senior aged lady could want.
There were luggage shops, clothing shops, science-y shops, jewelry shops. Since it's a fairly established "fact" that most shoppers are women, it made sense to have a lot of shops for women. I was a little scared to go into the lingerie shop in case the giddiness of just being there made me purchase that little velvet tiger-skin number with rhinestones on the straps and black feathers under the cleavage…
There's something for everyone to eat here, from french fries to filet mignon (the chefs at Mohegan Sun prepare 35,000 meals A DAY hello). Michael Jordan has a steak house here, Todd English has an Italian place here.
There are hamburger places, barbecue places, coffee places (who knew Don Imus roasted coffee?), and dessert places. There are standalone restaurants, buffets, and a food court, complete with TREES (that had live birds flying about them) and a wide selection of food choices.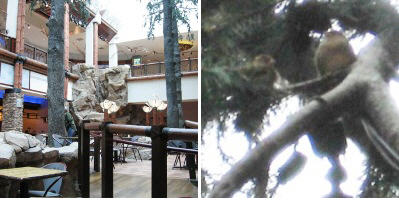 Cedar Trees in the Food Court, Birds in the Cedar Trees
There is also a nightclub, an Irish pub, and one or two cocktail lounges.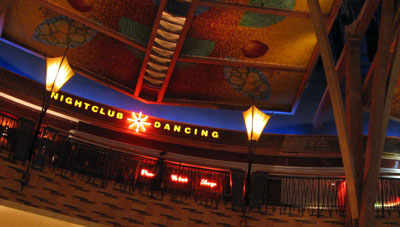 I'm gonna put on...mymymymymy dancin' shoose!
Our first night we ate at the Uncas American Indian Grill, which is run by the casino (not a franchisee). Again, the materials used to create the place were fabulous. It felt like being in a birch glade, because they had actual (but not live) birch trees in it.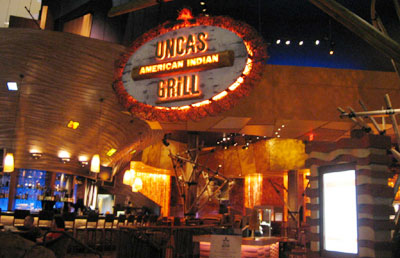 Eatin' good in the Uncas Hood
The boyfriend's pan-fried rib-eye was deemed "great," my portabella mushroom burger came with two huge mushroom caps, and sandwiched between them was even more mushrooms. Loved it. He had the local brewed beer, I had a Belgian wheat ale that was yummy. Only caveat: the side of sliced maple-glazed carrots came from carrots so big even Bugs Bunny would've had to cut them up.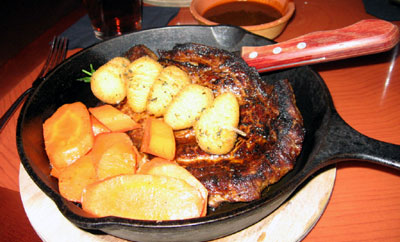 Food galore - from just one dinner! And yes,
those humungo things in the pan are carrots
The next morning we found a Starbucks, although there are other places you could try for your morning boost, like the 24-hour Chief's Bagels, which is right next to Uncas and looks a little like an Indian lodge (a New England Indian lodge, not an Arapaho one). Really good espresso for two bucks.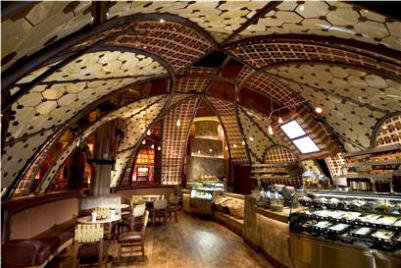 A Little Space-Age, A Little Indian Lodge, All Espresso
For lunch we stopped at the Seasons Buffet, which was recommended by Mom (hey, she takes the bus down here sometimes). It was a really good value for the money (15.75 per adult), and although some of the items might maybe not be the best choices for a buffet (apparently, the pepper sausages were mushy) but the standard buffet fare, like the sliced-just-for-you ham and turkey and the salads were good. Nice thing: they've got a gazillion desserts at this buffet, but they are on the small size, so you can have more than one (plate) of them and not feel like a giant porker. Well, that's my thought, anyway. Free soda, tea, and coffee (refills, too).
Our final night of dining was at Big Bubba's BBQ, and it is very Southern-style; finally I had cheese grits! His BBQ combo of chicken and ribs went over nicely with Him, and He enjoyed trying the six sauces that were available on the table. My fried oysters I liked very much, including the tartar sauce, and cheese grits and a spicy green bean dish rounded it out so nicely that I didn't have room for dessert. It was fun to have a place like this in an Indian-run casino.
I only wish we spent more time at Mohegan Sun, if only to eat, except I think I would run out of stomach before we ran out of restaurants…