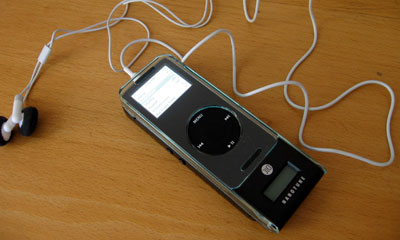 The nanoTune is powered by the iPod nano. The antenna for the FM reception is via the wires of the headphones... so no wireless headphones with this setup :-)
The volume controls are on the left and the power and FM tuning controls are on the right. Pressing the Power Button (bulls eye icon) for three second turns the unit on.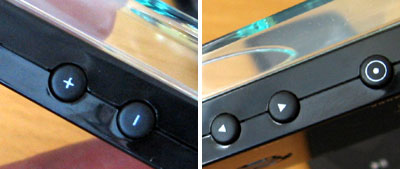 We did have a little trouble getting the nano to work with the nanoTune (it would not stay on), but resetting the nano seemed to solve the problem. Our email to DLO tech support confirmed what we accidentally discovered was the solution...
"This is a common question with the iPod nano using Version 1.0 software. The problem is alleviated instantly by resetting the iPod (toggle the Hold switch, then hold down the Center and Menu buttons simultaneously), but is fixed permanently by upgrading the iPod's software to Version 1.1 using iPod Software Updater 2006-03-23 or later found on www.apple.com."
We have had no further problems with turning on the unit after the reset. The nanoTune defaults into the user's last mode on startup. The Power Button is also the Mode button. Pressing it after the unit is powered on will cycle amongst the three modes (FM, iPod, FM transmitter).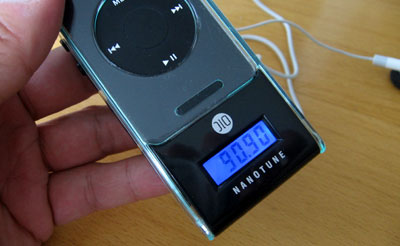 WBUR, one of the Boston NPR stations, came in crystal clear. Pressing and holding the tuning button for 2 seconds puts the nanoTune into FM Scan mode where it will automatically stop at the next signal.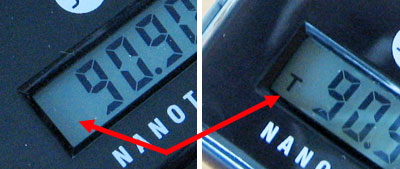 In FM Transmitter mode (T icon), the nanoTune will broadcast the frequency indicated to a radio up to 10 feet away. This will work for the car radio as well as the home receiver.
In the iPod mode, the tuning controls becomes Previous Track/Next Track controls. The Prev/Next controls on the iPod's clickwheel still works, but the volume controls on the clickwheel does not when the iPod is in the nanoTune. Volume is controlled by the buttons on the left side of the nanoTune.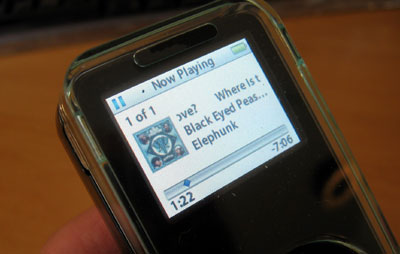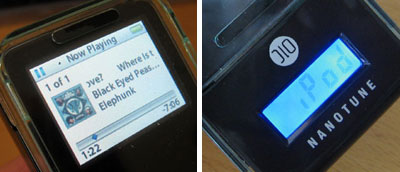 There is a built-in audio amplifier to boost the volume from the iPod. We were a little confused by DLO's claim that the nanoTune can "saves nano battery life." If it is amplifying the audio, it is drawing power from somewhere...readers, enlighten us if you know! A prize will be given to the the first reader with an explanation from DLO :-)
We'll have more on the nanoTune in our InTheWild report in a few weeks. We'll report back on the FM transmitter performance and how it held up in general.