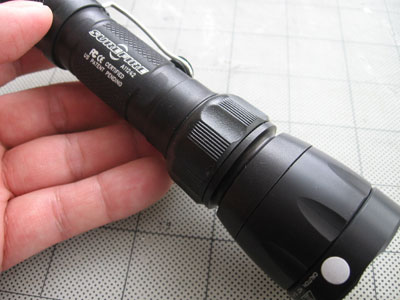 The Digital U2 Ultra is one of the new LED additions to the SureFire line of powerful pocket-sized flashlights. These flashlights were mainly developed for professionals (police, firemen, military, etc...) who depend on lighting that MUST work when they need it. However, like any great tool, word gets around. SureFire flashlight are starting to be purchased by folks who "merely" understand the value of a dependable piece of gear.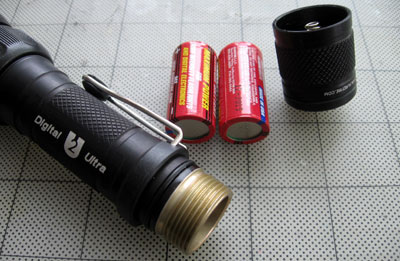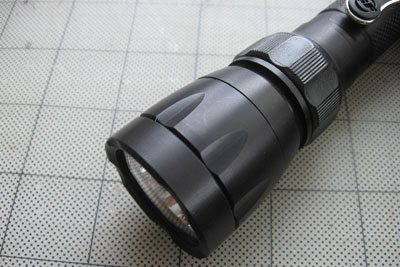 The SureFire U2 Ultra is a variable-power LED flashlight. The brightness of the LED is user-controllable by rotating the ring on the head of the lamp. The U2 Ultra is sealed against the elements by two rubber O-rings, one at each end of the battery housing.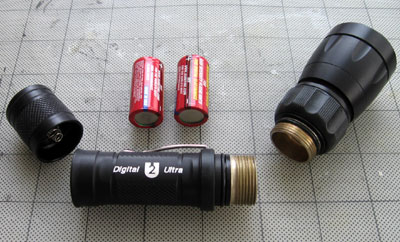 The U2 Ultra uses the same lithium power cells as the other SureFire flashlights. The cells can power the LED flashlight at full power for about an hour. At the lowest setting, it can last for over 40 hours! SureFire sells these batteries at about $1 a cell, by far the best battery value around. These are standard-sized batteries and will fit in some cameras and other devices.

The U2 Ultra is the largest of the three SureFire lights we have in-house. It is also the only one with an adjustible output...from 2 lumens to a blinding 100 lumens. Compare that to the 16 lumens of a comparable size Maglight.
The photo below shows the beams from all three of our SureFires. It is to illustrate the color difference between the incandescent and the LED light. As expected, the incandescent light is redder and the LED is bluer. There is not much practical advantage to the different colors. We show it here mostly because we know that some of you would be interested.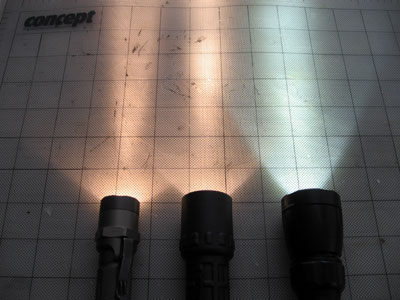 The following is a series of images demonstrating the variable output of the U2 Ultra. If you wnat to see the larger images, just click on them.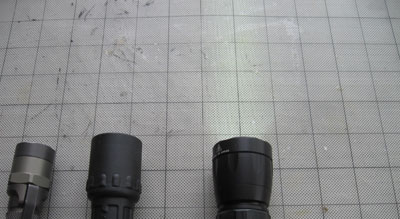 The image above shows the flashlight at the lowest setting which would show up in a photo. It is not the lowest setting detectable by eye. The next two images of of the middle ranges.

The image below shows the maximum output (100 lumens) and will temporarily stun a person looking directly at the beam (yes...we know this from experience).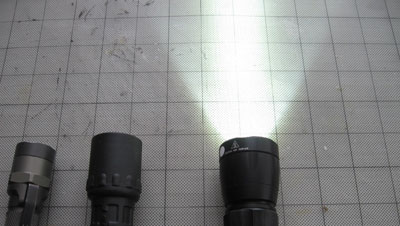 Since we never had a flashlight with variable output, we hadn't realized how useful this feature really is. There are times when the output of a flashlight is too bright when used close to the surface (maps, reading, etc...). Having the ability to adjust the brightness was quite useful.
Our other SureFire flashlights have been extremely dependable and very very durable. They are more expensive than your typical flashlight, but we think for the quality, the amazingly bright light, and the tactical advantage these lights offer over the standard flashlights, it is WELL WORTH the extra money.