The folks in the RainyDayKitchen have set up and tested a lot of different coffee makers during the past year. But the arrival of the Jura Impressa Z5 was the first time we can remember them actually having to read the instructions before pressing a single button.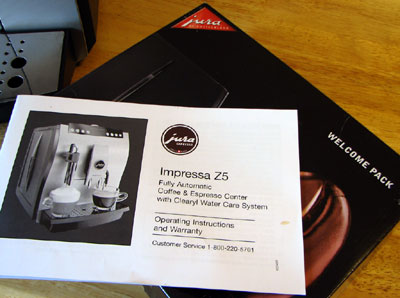 While the setup was quite simple, it was still important to understand all the steps before hitting "brew." The unit came with a lot of accessories, none of which was needed to set up the unit and brew an espresso. Today, we'll take a quick tour of the Impressa Z5. Tomorrow, we'll go through the steps of priming the unit and making that magical first cup.

The top front of the unit is the main control center. Most of the buttons are self-explanatory. Click on the images to get a closer look.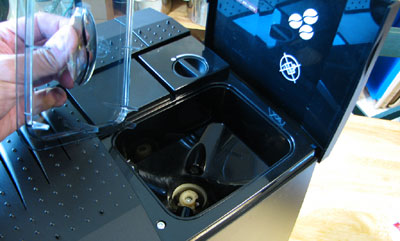 The rear of the unit houses the grinder. There is also a secondary chute for adding a different kind of coffee for a single cup...perfect for that occasional"decaffeinated" visitor.

Water for brewing is stored in a removable unit on the left side of the machine. The container has a built-in handle for portability.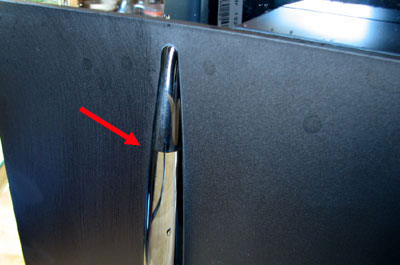 However, we find it easier to fill it using a pitcher rather than take the unit to the tap...less splashing and spilling. There is a clear water gauge (red arrow) on the side of the container, making it simple to check on the level.

Since the Impressa is an automated espresso maker (beans are ground just before brewing), there is a bin for catching the grounds. The bin is accessed from the front by pulling out the drip tray.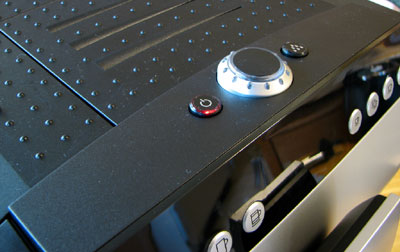 Friday we'll press the power button for the FirstUse review and a video of the brewing of the first cup. In the meantime, go check out all the other machines in the Jura line here.