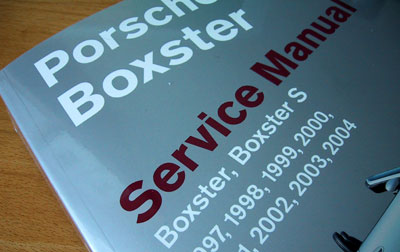 To sign up for the event...click here!
Date: Saturday Feb 11, 2006 (Snow date: Feb 18)
Location: Bentley Publishers- 1734 Mass Ave Cambridge, MA (click here for driving directions).
Parking...what parking? This is Cambridge. OK...there is some parking, but parking at one of the T Stop (Alewife, Brookline, etc) and taking the T into Cambridge may save you some headaches :-)
Agenda:
8:45 - 9:15 Registration, seating, greetings:
RainDayMagazine, Bentley staff

9:15 - 10:30 Service and maintenance:
Bentley staff hands-on session based on Chapter 03 Service and Maintenance.
Top engine cover removal.
Raising car on lift.
Bottom engine covers removal.
Tour of car underside.
Step by step through 30,000 mile maintenance schedule.
10:30 - 10:45 Coffee break
10:45 - 11:45 Brake pad replacement:
Bentley staff slide show followed by hands-on pads, calipers and rotor work.
11:45 - 12:30 Transmission removal and rear main seal replacement:
Bentley staff slide show based on Chapter 10 Engine Removal and
Installation, Chapter 13 Engine Pulleys and Seals.
12:30 - 1:00 Carputer /iPod Drive and Play installation:
RainyDayMagazine
1:00 - 2:00 Lunch, raffle, book sales, social hour:
Bentley Publisher
Coffee, breakfast foods and lunch provided courtesy of Bentley Publishers.