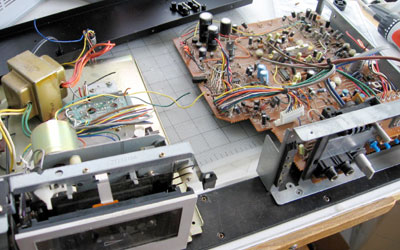 The internal components were mounted on several modules. The frame itself came apart into separate pieces. It was clear from the construction these pieces were probably also used in other units. We wanted to keep some of the switches on the front panel, so we had to cut their connections from the circuit board in order to have them still remain mounted.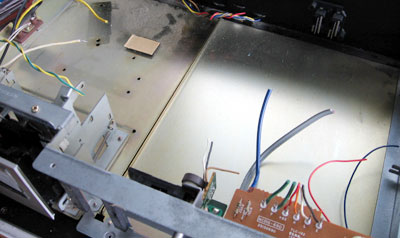 Once gutted, the box has plenty of room. We kept the wires to the AC switches and a few other controls so we could use the original buttons on the front panel to turn on/off the devices inside the box.

There are a lot stuff we can put in this big empty box. We first added an audio splitter so the output from the iPod can be directed to a few different places (wireless headphones, Logitech WMS). We also added an AC charger to power the iPod when docked.

We are using Logitech's WMS to transmit the music wirelessly from iPod in the Onkyo box to the stereo system in the front entry area. Our only issue at the moment is the cassette tray has to be in the "open" position for everything to work. We need to remove the cassette spindles in the back to make room for the iPod if we want the door to close.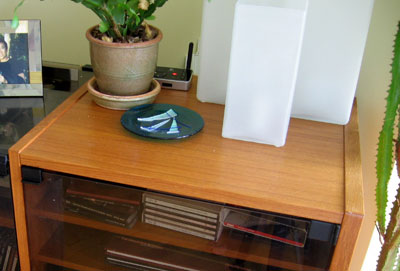 If you have an old piece of audio gear with a front that you really like...why toss it? Gut it and we will show you what you can fill it with to keep your stereo system retro looking while sporting the latest tech gear :-)