The RainyDayKitchen folks have more or less switched to vegetarian cooking because of personal ethics, its general healthier diet, and its better global sustainability. While we still have our annual FirstGrills and sausage/BBQ-fests, the Thanksgiving feasts have been non-traditional and turkey-free for the past two years. RainyDay's Thanksgiving is non-traditional both in terms of the food and in the company for three reasons. First, we have realized that traveling on Thanksgiving puts us in a less than thankful mood, so we do not travel on the holiday to see family (we do that when nobody else is doing it, like the next weekend). Second, because we stay local, we host a gathering for anyone else who is also staying local. And third, the feast is meat-free. We call all of the above our Straggler's Thanksgiving Feast.
This year, the menu consisted of the following:
After looking over the menu, we decided to add one more entree to the list... a "chick'n" and broccoli casserole using Butler Soy Curls in place of the chicken.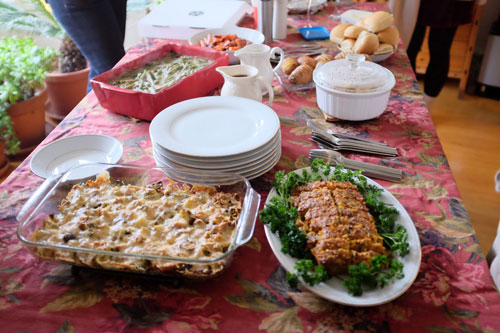 Soy Curls from Butler Foods is an all natural alternative to meat that is heart-healthy, delicious, and easy to use. We got hip to the stuff when one of our vegan readers told us to check it out. We were looking for something with a bit more texture (and way less artifice) to substitute for chicken, and were blown away by Soy Curls' taste, mouth feel, and versatility. Soy Curls are easy to prepare: soak, season, brown. That's it. It takes about 15 minutes to get ready and the taste is amazing. For any recipe that calls for chicken strips or cubes, Soy Curls makes a great alternative.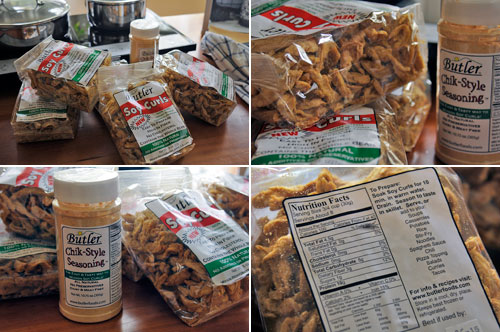 For the Straggler's Feast, we took a generic chicken and broccoli casserole recipe and made a few adjustments:
4 cups of broccoli florets
2 cups of reconstituted Butler Soy Curls

2 ounces of grated parmesan cheese
1 can of Campbell's condensed Cream of Mushroom soup
8 mushroom caps - sliced
1/3 cup of soy milk
1/3 cup of mayonnaise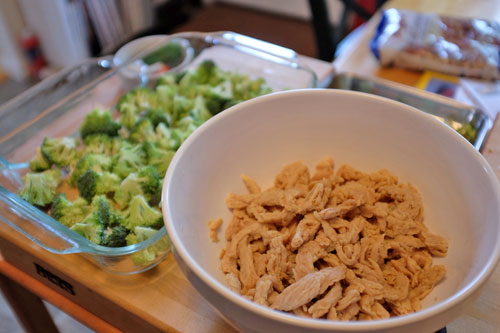 We reconstituted the Soy Curls according to the directions. While waiting for the Soy Curls to soak up the water, we cut up the broccoli and spread them out on a pyrex baking dish. Once the Soy Curls were ready, we diced them up, flavored the cubes with the suggested amount (2.5 tbs) of Butler's Chix-style seasoning, and browned them in a skillet (about 5 minutes). Zwilling's nonstick ceramic pan
was perfect for the task. Once browned, the cubes were evenly distributed amongst the broccoli.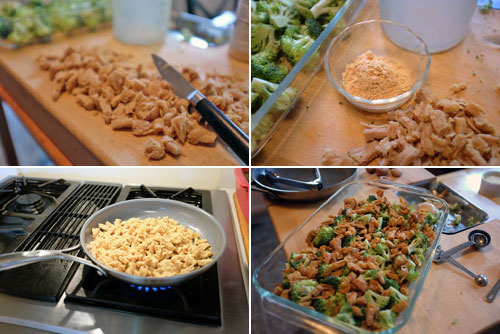 In a bowl, we mixed the condensed Cream of Mushroom soup, the soy milk, and mayonnaise until smooth. We added some sliced mushroom for flavor and texture, but this is stricly optional. BTW, Cream of Broccoli and other similar condense soups would also work as the liquid base. Also, we ran out of time to look for a healthier version of the can we used.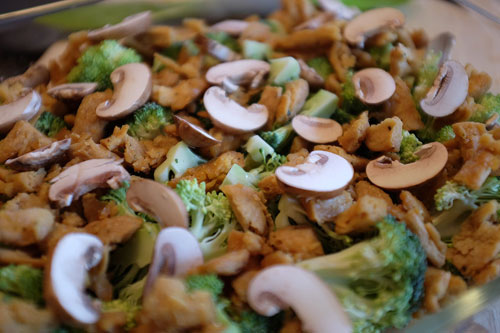 With the broccoli, Soy Curls, and mushrooms in place, we poured in the condensed soup mixture, topped it off with the grated cheese, and baked it in the convection oven for 25 minutes at 400º.

We cooked the dish without covering it with aluminum foil. Those who want a the final produce to be a bit more saucy might want to try covering it for the first twenty minutes and then removing the foil to let the cheese brown for the last five. Since there is no raw meat in this dish, the cooking time may be adjusted for degree of "browness" without any worries.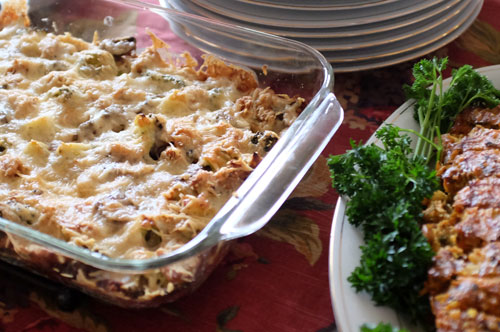 We have substituted Butler's Soy Curls for chicken in many different recipes (including a stroganoff) and have found it to ben an amazing replacement. Readers who want a meat-substitue with the same health benefits as tofu, but with more convenience (dry storage) and better mouth-feel (denser texture) should definitely check out Butler's amazing Soy Curls. We are completely sold on it and suspect that the same will be true of anyone who gives it a try. Let us know of your experience and how you used it. We are always looking to expand our recipe collection :-) [Permalink] - Soy Curls FirstUse