RainyDayMagazine's content can now be licensed for your print magazine or web site. Please contact us directly here. If you want to see something reviewed, then drop us a note with a link and we'll be happy to take a look.
NOTE: Click here to read more about our approach to product reviews.
We have been extolling the virtues of mind-mapping for a long time. This technique of linking personally relevant information can be done manually or with special purpose software. Regardless of method used, building a good personal mind-map can take years. We have been using The Brain software for over 10 years and have built up a fairly useful map. It contains the projects we have done at various companies, things we have found to be interesting on the web, and miscellaneous thoughts we didn't want to forget.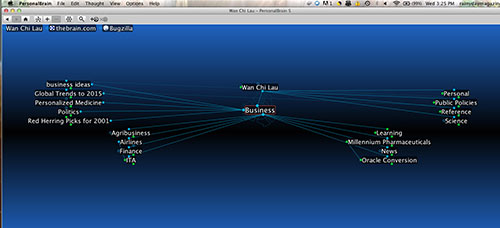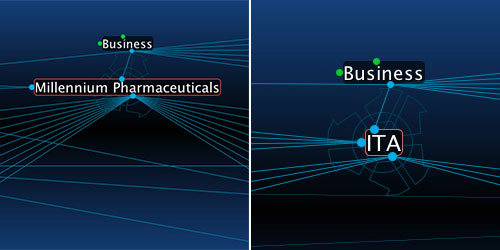 One of the problems with using The Brain or any of the other mind-mapping software is the program still ran best on "real" computers (laptops, desktops) and not on tablets or cell phones. So we were pretty excited when Google announced and rolled out Knowledge Graph yesterday. Knowledge Graph is an enhancement to Google's search engine. While the Knowledge Graph is not... [more]- Mind Map: Google Knowledge Graph
Our post last month on using the Apple wireless keyboard with the iPad brought in both comments and questions from readers. Some were not convinced that carrying two cases was worth the effort. Others asked why bother with a case at all? Why not just toss the keyboard into a laptop bag? Surprisingly, quite a few wanted to know if there was a folio large enough to carry both.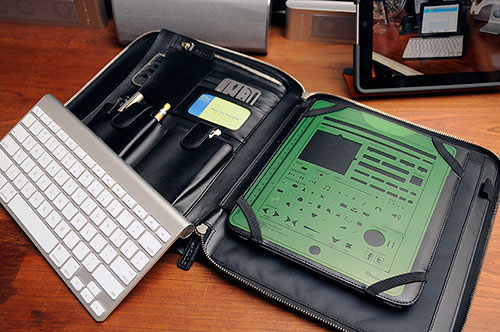 Answers to the many of the questions are subjective, but we do have a comment regarding the last one. A few years ago we had looked at a leather folio from M-Edge which was designed to carry both the iPad and the Apple wireless keyboard. However, we had not planned on mentioning... [more]- Keyboard-size Folio: M-Edge
After having had the pleasure of trying out dozens of different kinds of iPad accessories over the last two years, we realized that some get used way more often then others. It's not that the ones which don't get used aren't any good, it's just that we have finally settled on a way we use the iPad and some of those accessories better fit with our "way." Those accessories are:
We found ourselves using the iPad most often for the following tasks: checking email, looking up something on the web, and writing short articles. Where we are doesn't change how we use our iPad, but it does change how the iPad is set up. When we are at our desks, we like the iPad on a stand so it doesn't take up much desk space. We looked at a few stands and after using them for a while, we found Innopocket's HexaPose UStand to be the one we used most. The stand is stable and the grip on the iPad is sure. Putting the iPad on and taking it off is fast and simple. Another reason why we like the stand is that it blends well with the look of the rest of our Apple gear :-)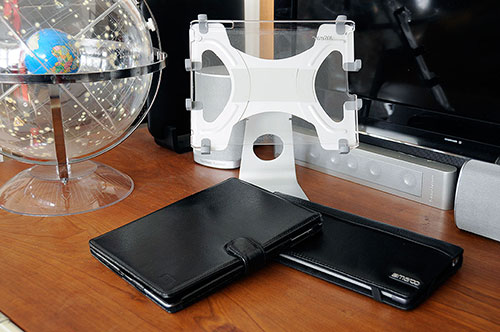 We used to have a protective film on the front of the iPad, but the GorillaGlass is so good that scratches have not been an issue for us. The iPad screens have been "naked" for the past year and a half and have remained scratch-free. The back of the iPad is another story. We protect it using a... [more] - iPad Accessories: The Ones We Use
When the iPad first came out, we thought pairing it with a physical keyboard was a silly idea. We wrongly assumed the iPad's virtual keyboard would meet the occasional typing needs of most users. When we found ourselves typing more and more on the iPad, we wanted to see more of the screen than the virtual keyboard allowed. The tradeoff of carrying a physical a keyboard for more screen space was worth it to us. However, having tried many of the keyboards sized to pair with the iPad (Zaggmate, Logitech, Sena, ThinkGeek, Brando), we realized they all were flawed. The fundamental problem was that their size made them too uncomfortable for extended use, and by "extended," we mean for anything more than a few minutes of continuous typing. So we went looking for a better solution.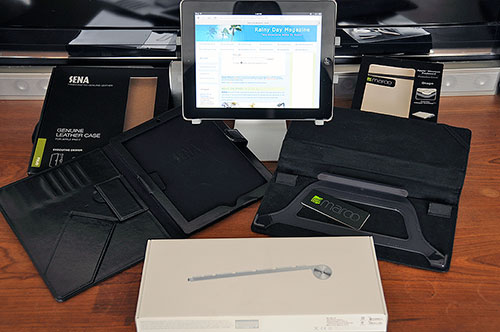 After trying a few different full-size keyboards, we realized that the best one to pair with the iPad was actually Apple's own Bluetooth keyboard. We do not mean the one with the 30-pin USB dock Apple created specifically for the iPad, but the... [more] - iPad Keyboard: Apple Wireless
Many people have the impression that being creative is a talent: some people have it, some people don't. However, neurobiologists have a greater understanding of how the different parts of the brain interact with each other, and have realized something. The state of mind which fosters creativity is something which can be induced, exploited, and yes...hacked! In fact, people have been doing it for years.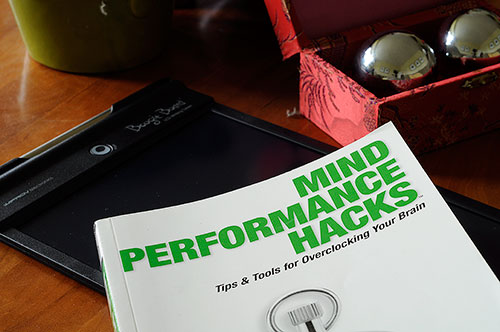 A few years ago, we came across a few books (Mind Hacks, Mind Performance Hacks) on mind-hacking. The books are a great source of cool things one can do to the brain without the use of chemicals and their associated side-effects. Whenever we have some time on our hands, we flip through the books and select something to try. We, of course, are no strangers to... [more] - Brain Hack #28: Onar
After two years of phenomenal sales and every skeptic being roundly embarrassed for dismissing the iPad, we think it is safe to say the tablet is here to stay. While we don't think that iPad sales have peaked, we do believe that the basic hardware feature set (multi-touch screen, camera, WiFi, etc.) is starting to stabilize. Not seeing any "must-have" features, we were not surprised to find ourselves holding back and not immediately upgrading to the iPad 3. Instead, we asked the question "What would get us to upgrade?"

Some may remember our attempt at building a directly-on-screen pressure-sensitive tablets back in 2008. We had some success, but the display's lack of brightness finally made us realize that if we really wanted such a tablet, we needed to... [more] -What would get us to upgrade?
Those who read RainyDayMagazine frequently know that we have been huge cheerleaders for the iPad since Day 1. Also, you will not find a more fervent group of Apple fans out there than those here at RainyDayMagazine. Some of us can trace our Apple roots back to the 128K Mac days where we performed 512K RAM upgrades to make our own "Fat Macs." So it was SHOCKING to some when they heard that we have decided not to upgrade to the iPad3. Don't get us wrong, we have nothing against the new iPad. It IS the best tablet on the planet today.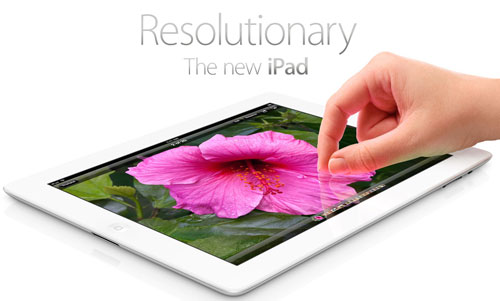 We ordered the original iPad sight-unseen, then upgraded from the original to the iPad 2 when Apple added a camera to the tablet. Physically the iPad 2 was different than the original iPad and we needed it to test the new accessories. Those two reasons justified our last iPad upgrade. While this new iPad 3 may have an... [more] -What? Not upgrading?
Quadrivium is a word derived from the Latin roots quad and via, which translates roughly as "a crossing of four roads." The idea of quadrivium can be traced back to the time of Pythagoras (around 500 BC) with the emphasis on the study of four fundamental subjects: arithmetic, geometry, music, and astronomy. It eventually formed the basis of the European education structure later known as the seven liberal arts.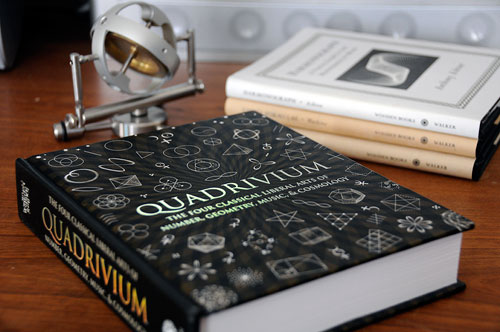 The quadrivium subjects are, of course, connected by mathematics: arithmetic is the study of numbers and their relationship to each other; geometry is the examination of how numbers relate to each other spatially; music is study of the relationship of numbers temporally; and astronomy is the study of numbers in both space and time. The mastery of the quadrivium was a... [more] -Quadrivium
When we went out to L.A., we took with us the Vixen Polarie on the chance that we would have an opportunity to give the Star Tracker a try. For expediency sake, we decided to leave the Velbon tripod at home. That was a mistake.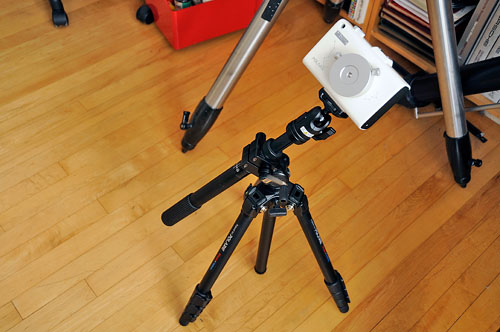 The problem was the tripod we had in L.A. was not as sturdy as we would have liked. Also, trying to set things up with just one ball joint was a lot more difficult than we expected. We did manage to get some usable shots, but we would have done a lot better had we... [more] -Vixen Polarie Setup
Keeping current with Apple's iOS updates is a never ending task. Just when we started to get a hang of the changes brought on by iOS4, Apple released iOS5. Of course, not all of the updates and new features are of direct concern to everyone. Still, knowing about them is important and sometimes helpful, especially if the changes make life easier for the developer.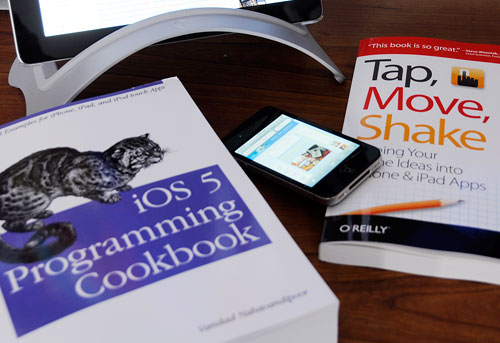 O'Reilly is the go-to publisher for books related to software programming. We have a pretty decent collection in our library. Two recent additions are iOS 5 Programming Cookbook by Vandad Nahavandipoor and... [more] - iOS Programming Books
A year ago, we did a FirstLook of the Olympus Innov-X DELTA, a handheld device which looks like it was straight from Star Trek. While the DELTA was designed for the rapid screening and analysis of over 80 elements, including regulated toxic metals, the core X-ray technology has applications in many different markets. One such market is the non-destructive analysis of items for jewelers, pawn shop owners, and anyone who deals in the buying/selling of gold, silver, and other precious metals items.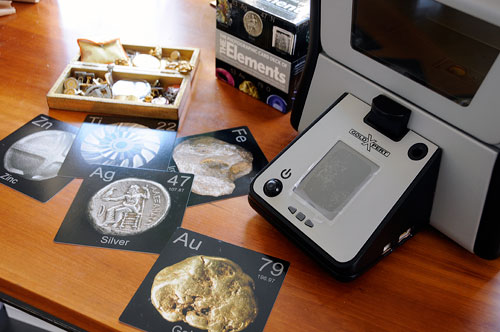 Up until now, determining the precious metal content of jewelry, coins, and similar items has been an inexact process at best. Olympus' new portable countertop GoldXpert XRF Analyzer is aiming to change all that. The GoldXpert uses the same proven technology as their other elemental analyzers. The technology is X-ray Fluorescence (XRF) Spectrometry: when a high-energy X-ray photon hits a sample, the impact causes a chain of events which results in a brief flash of fluorescence. The fluorescence is unique for... [more] - The GoldXpert
We were in New York City this past weekend and one could not turn a page without reading something about the new Knicks point guard Jeremy Lin. Until last week, Lin was a virtual unknown outside of a circle of devoted fans. How quickly things changed for Lin! However, like all "overnight" successes, Lin's rise from obscurity was actually a decade in the making. Anyone who has read either The Genius in All of Us
by David Shenk or The Talent Code
by Daniel Coyle knows exactly why.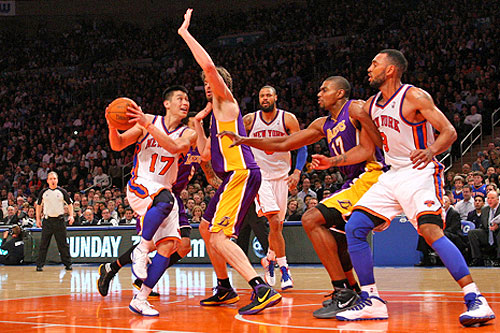 Talent is neither inborn nor out-of-reach for the average person. There are real, repeatable, and proven ways to develop talent. Some coaches (Tom Martinez, Linda Septien, etc...) have a "knack" for nurturing individuals into superstars. Now, thanks to advances in medical imaging and neurobiological research, the scientific foundation for the "how" and "why" of the process is starting to become clear. What it is telling us is that... [more] - The Talent Code
In early January we posted a FirstLook of the Vixen Polarie Star Tracker. As astrophotography is still a bit of a niche hobby, the number of questions we got about it were surprising. We took it as a good sign for Vixen, as they clearly have tapped into a market with some pent-up desires. As a result of the Star Tracker review, some readers asked us about Vixen's Polar Axis Scope accessory as well. We took a look and found the Scope to be of a much higher quality than others we have seen. Interested readers may appreciate this opportunity for a closer inspection of the scope.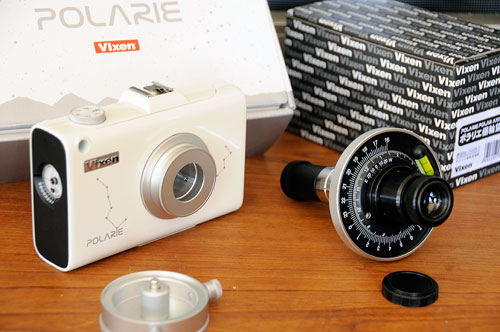 When taking photos of stars, long exposures are often required. When an exposure is longer than a few seconds, the rotation of the Earth will result in the capture of streaks of light instead of points of light. The arcs created by these "star trails" have been used to great artistic effect by numerous astrophotographers. However, those who WANT to capture pin-sharp photos of stars have to compensate for the Earth's rotation by using a... [more] - Vixen Polar Axis Scope: FirstLook
This weekend's NFL Super Bowl is one of the biggest sports event of the year. The hype surrounding the game is inescapable and sometime descends into the absurd. Even with the media madness, the blog buzz, and the attempts at contrived controversies, the teams themselves have been both respectful and sportsmanlike in their references to each other. This is very heartening to see, especially in the age of super salaries, huge egos, and self-aggrandizement.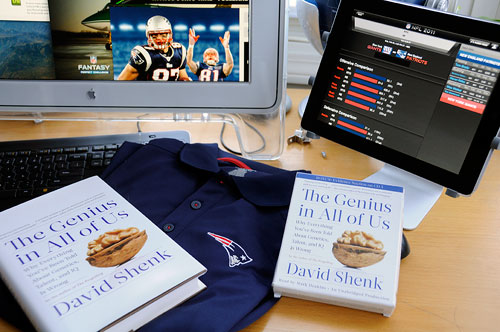 It is fascinating to try to understand what qualities lead to the formation of athletes such as Tom Brady, Eli Manning, or any of the other top performers we see in professional sports. Is it a natural born talent, great coaching, or something else? Moreover, is it something which can be codified, duplicated, and applied? Well, according to David Shenk in his book, The Genius in All of Us, the answer appears to be... [more] - The Genius in All of Us
Most of us can get by just fine a computer that has been discontinued, as its computing power typically far exceeds the needs of most owners. With computers, things will always get faster and less costly. Paying for power not needed is a waste of money. Long-time RainyDayMagazine readers know that we only upgrade our hardware (Pismo, 12" MBP, 15"MBP) and software when we absolutely must. When we do upgrade, we feel the most value for the dollar is to purchase the oldest hardware which will satisfy our immediate needs.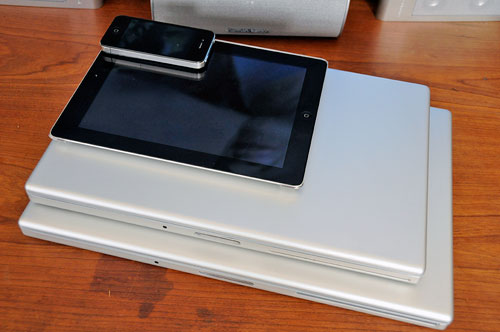 A few weeks ago, Apple released iBooks Author. While the software is free, it does require a 64-bit Mac and the latest OS X 10.7 (Lion) to run. The "newest" Mac we have in-house is the 15" 32-bit Core Duo laptop. We upgraded to that MacBook Pro (MBP) in 2009 because the iPhone SDK requires an Intel processor and so would not run on our PowerPC-based 12" MBP. iBooks Author is compelling us to once again bite the bullet and... [more] - 17" Macbook Pro: upgrades
Adobe built their Digital Magazine Publishing (DMP) tools by leveraging their Creative Suite (CS) platform of applications. As we use CS5 (Dreamweaver, Photoshop) for much of our work, we were eager to give them DMP tools a try. We created a few issues (2010 Holiday Gift Guide, Spring 2011 issue, 1000 Character Reference) for the iPad using the beta version of the tools and would have kept using the released versions had Adobe priced them within our reach. Unfortunately, we had to look for other options.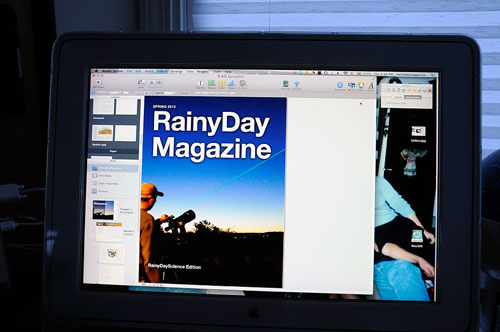 When Apple announced they would reveal their plans regarding textbook publishing, we were hoping they would release a tool which will enable small publishers to build books for the iPad quickly and inexpensively. On January 19, Apple unveiled iBooks Author (iBA), the "iMovie" of iPad book creation. We have been playing with the application for the past ten days and have been duely impressed. iBooks Author is not as flexible as... [more] - iBooks Author FirstUse
The FIRST LEGO League (FLL) is a program designed to get kids ages nine to sixteen interested in science and technology. Founded over 20 years ago by inventor Dean Kamen, the League has gotten more popular with each passing year. The goal is to challenge the participants to be innovative, to explore, and to promote competitive creative play or "coopertition." Unlike a sports competition, in FLL, coaches and teams are encouraged to help each other. FLL wants everyone who participates (team member, coach, event volunteer) to have a fun time and a rewarding experience. That's the reason why FLL has a clear set of Core Values that guides everything they do.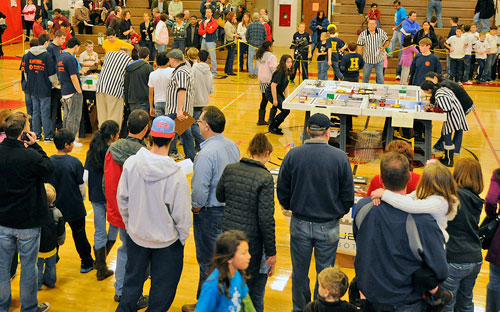 Every September, a new Challenge, based on a real-world scientific topic, is posted. Each Challenge has three parts: the Robot Game, the Project, and the FLL Core Values. Teams (up to ten children + one adult coach) tackle the Challenge by developing a solution to a problem they have identified. Teams may then choose to attend an official tournament, hosted by... [more] - Lego Mindstorms Competitions
Each generation is entrusted with the responsibility of educating the next. This task is uniquely different for humans in that we have the ability to record our knowledge. While the amount of accumulated knowledge has long surpassed what any one person can know, the development of tools (paper, printing press, computers, Internet) has made it possible for our collective knowledge to be disseminated without the constraints of either distance or time.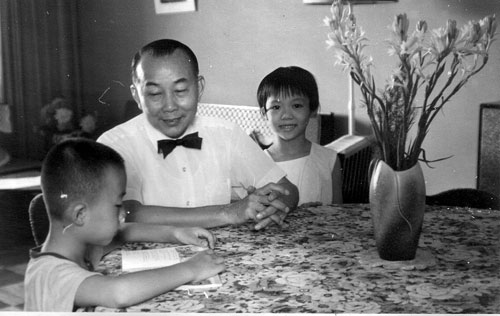 On January 5th, we posted our speculations regarding the January 19th Apple announcement. Our biggest wish was that Apple would provide an inexpensive tool that would enable content providers to easily create interactive iPad-specific books. That is exactly what Apple announced yesterday. Not only has... [more] - iBooks Author
The name LEGO has been synonymous with interlocking plastic bricks for over 80 years. While those colorful pieces has been the foundation of endless hours of creative fun, LEGO wanted to leverage their brand to expand into robotics. In 1998, LEGO launched the first generation of the Mindstorms Robotic Invention System (RIS). Eight years later, they followed up with the easier-to-program NXT 1.0 system. With the LEGO Mindstorms NXT, kids as young as 10 can design, program, and construct real working robots! In keeping with the LEGO traditions, the kind of robots one can build with the Mindstorms is only limited by the imagination.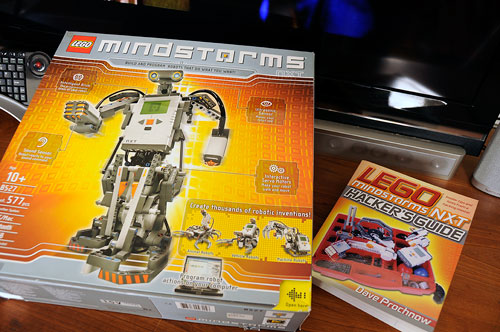 The Mindstorms NXT kit comes with 577 pieces of building material (struts, connectors, etc.) It also comes with various sensors (sound, light, ultrasonic, touch) and servo motors. At the heart of the system is the 32-bit microprocessor-based controller. The NXT controller can handle... [more] - LEGO: Mindstorms NXT
Android tablets are going to swamp the market this year, and many of them are targeting the 7" segment of the market. There are two reasons for this: competing in this space means not having to go up directly against anything from Apple, and it is a practical way for hardware-only vendors to bring something to market near the magical $200 price point. Over the course of 2012 we'll be paying attention to the 7" tablets. We think there is a lot of potential in the 7" market (more on that in a future article). It will be interesting to see who will be able to stake their claim in this emerging market.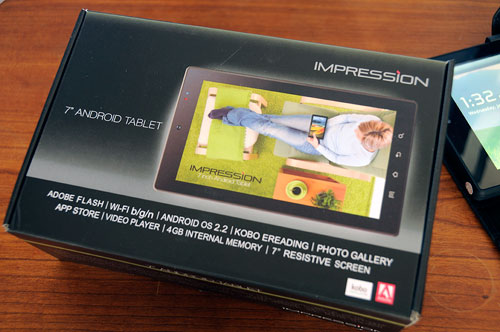 To start things off, today we take a look at a 7" Android tablet from Leader. Leader has managed to not just break the $200 barrier, but has punched through it aggressively with a price of $129 (available now at Kmart and Sears)! Leader has made some reasonable choices in its feature vs. price compromise for the Impression 7. They didn't try to... [more] - Leader Impressions: 7" Android Tablet
We posted a quick mention of the Boogie Board RIP
at the end of 2011. Many of you emailed us asking what we thought of the device. Well, we are happy to report that the RIP is exactly as we had hoped...an easy-to-use digital sketchpad which can save the drawings and transfer them to the computer for further manipulation or to share with others.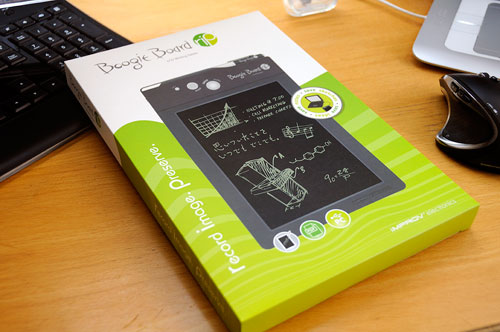 The specs for the RIP is as follows:
Plastic Scratch-Resistant LCD
7in x 11.1 x 0.5 (179mm x 282 x 13), 9.5″ LCD
11.5 ounces (325g)
Rechargeable (Polymer Lithium Ion) battery
Files saved as vector PDF (editable in Adobe Illustrator)
8MB of internal storage sufficient for 200 typical images
Standby Time: 60 days; Usage Time: 1 week (typical usage)
We have no idea how the image capture is being accomplished. Our guess is that there is a pressure-sensitive layer underneath the LCD panel which is detecting and recording the strokes. This conclusion was based on our observation that light strokes, while clearly visible on the LCD layer, are not recorded by the tablet. For the marks to be recorded, a firm stroke is... [more] - Boogie Board RIP
Our review of books on da Vinci brought forth a welcomed slew of suggestions regarding technological achievements from times past. All of them were fascinating and worthy of coverage, but the one which stood out was The Book of Secrets by the Andalusian engineer Ibn Khalaf al-Muradi.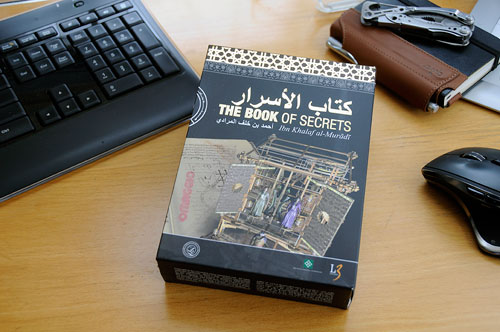 The original dates back to the eleventh century. A copy of it was made in Toledo, Spain in 1266. The only copy of this manuscript is conserved in the Biblioteca Medicea Laurenziana in Florence. The thousand-year-old manuscript is a collection of drawings and descriptions of more than thirty fascinating devices, from mechanical apparatuses to water clocks to automatic calendars to war machines. The manuscript is important to the field of the history of science because it... [more] - L3: The Book Of Secrets
There is a rumor going around that Apple will be announcing some sort of iBook-related news at a New York event at the end of the month. The speculation on what the announcement will be has started making the rounds. The droning will get louder as the day of the event gets closer.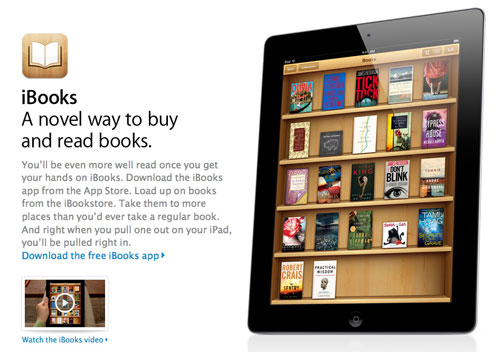 It should be no surprise that the interns have been having lively and spirited online discussions with many out there regarding what the announcement could be. Our hope is that Apple will announce that they will be providing a free authoring environment to aid in the development of truly... [more] - Interactive Books
Last Spring we attended our first Northeast Astronomy Forum (NEAF) conference (Day1, Day2, Day3). The conference is an annual gathering of astronomy enthusiats and vendors from around the world. We got a first-hand look at some amazing astro gear, met a lot of great folks, and had the best time at a conference in a long time. One of the nice folks we met was Kensuke Kazama from Vixen. He showed us one of the most intriquing devices at the show. Mixed among their many fine optics on display was a prototype of a small device called the Polarie. We would have missed it had it not been for Kensuke. The Polarie is a pocket-size motorized camera mount designed specifically for wide-field astro-photography.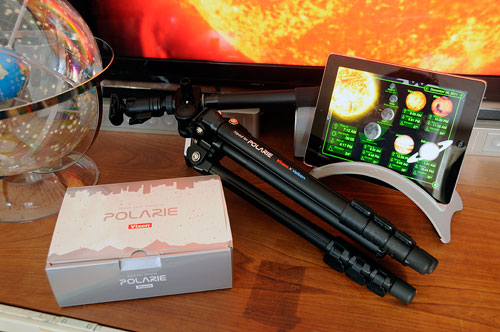 Astro-photography used to be a highly specialized niche of astronomy. The main reason wasthat in order to get acceptable images one had to have a combination of sophisticated hardware (scope, camera, tripod), expert knowledge, and patience, lots of patience. With the switch to digital photography and the availability of sophisticated astronomy software, the cost/time of experimentation and the expertise required dropped dramtically. Vixen recognized this trend and... [more] - Vixen Polarie FirstLook