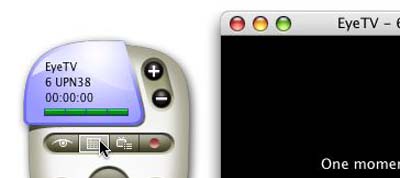 The program listing is supplied by TitanTV. Sign up is free and the service is well integrated with the EyeTV software. To start the programming process, click on the "Guide" icon to bring up the TitanTV Guide.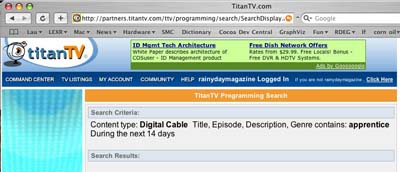 Find the show that you want to record by entering the name into the search field. TitanTV will return all the shows that meet the search criteria for the next 2 weeks.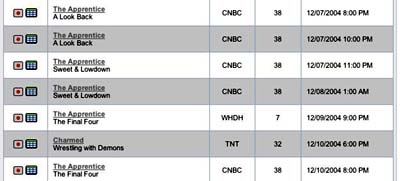 Click the title to see detail description of the program (time, actors, description, etc...).
Click the "record" icon to automatically program the EyeTV software with the information from the TitanTV listing.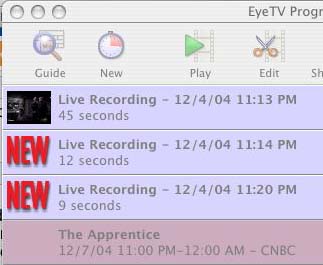 The new programming is now set and will sit in the background until it's time to record.
NOTE: We encountered 2 problems during our tests.
1. On our Mac G4 QuickSilver System (1.5 gig RAM, OSX 10.3), the software did lock up twice when we pushed the memory usage to the edge. It happens when we closed the TV window and then try to open it again. The window will open black with a message "Just a moment...", but the TV signal does not return. Force quiting will not solve the problem if EyeTV is set to "auto start" when the system reboots. We had to do a hardware shutdown to get everything working again.
2. Even though we are using the internal TV tuner, the software is using the last viewed channel as the channel to use for whatever recording is to happen. We were watching Channel 5 when we quit the EyeTV application. The software was set to record something on Channel 38. When the timed recording was activated, what was on Channel 5 was recorded...not what was on Channel 38.
We are trying to sort this out with Elgato...so stay tuned :-)
Update: Problem 2 is apparently an issue with TitanTV working with the hardware if "Digital Cable" is selected as the option in the "user settings" on TitanTV.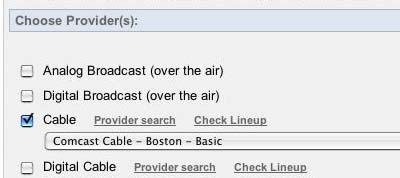 We changed our setting to "Analog Cable" even though we have Digital Cable and everything (proper channel setting, time recording, etc...) started working as it should.