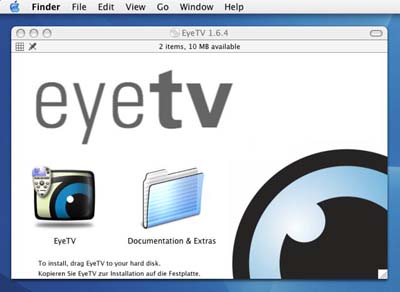 To install the software on the Mac, just pop in the CD and drag the EyeTV application to the Applications folder on your Mac.
When you launch the EyeTV software for the first time, you will be asked to enter the supplied serial number.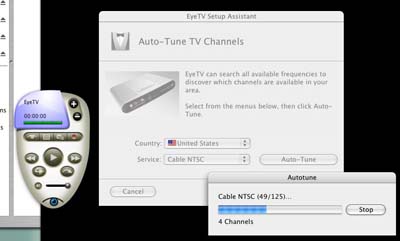 The ConvertXPVR has its own tuner. If you are using a signal from an antenna or from a cableTV source (the wall output), use the AutoTune feature to find and add all of the viewable channels. If you are using the signal from a cable TV converter box, usually all you need is Channel 3.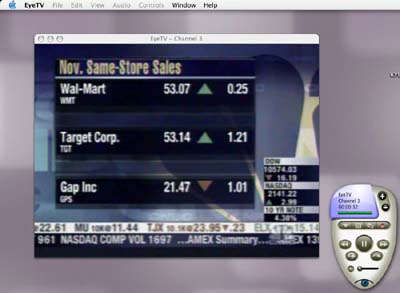 Once that's done... open up a window and you should see a TV signal. Use the software remote to pause, fast forward, reverse, or record the TV signal! We had a regular TV next to your computer screen and noticed a delay to what we saw on the computer screen compared to the TV screen. We first thought this was due the analog-to-digital conversion by the ConvertXPVR unit. However, when we upgraded the USB port from 1.1 to 2.0... the delay disappeared. I guess a 40x increase in I/O speed will do that :-)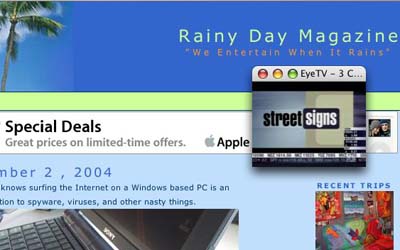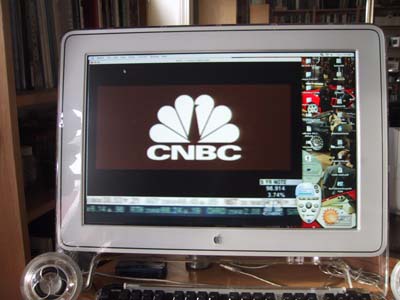 The TV window can be resized to be a small window or to fill the entire computer display. It's quite convenient to have a tiny window on the desktop with live TV... expand it to fill the screen when you see something interesting. The software also support Closed Captions so you can mute the sound and just read what's going on!