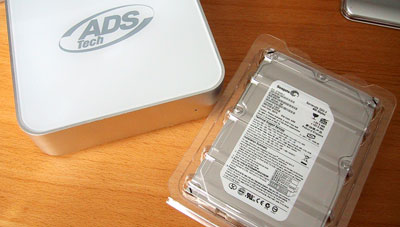 We got the biggest, fastest drive we could find for this MediaCenter project. We are going to put the 400GB Seagate
Barracuda 7200 RPM 3.5" internal drive into the ADS case. This drive has an 8 ms seek time and an Ultra ATA/100 interface.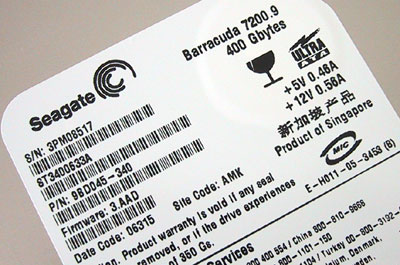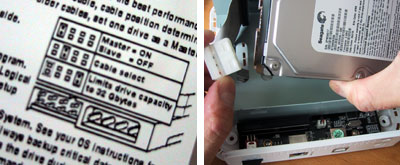 As with most drives, the jumper and connection instructions are labeled on the drive. Since this will be in an external case, we did not have to set any jumpers. All we had to do was to plug in the power and interface cables and secure the drive.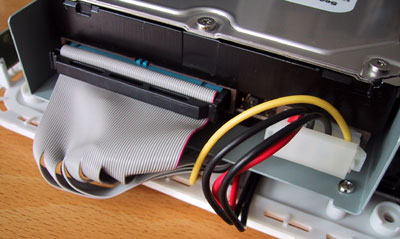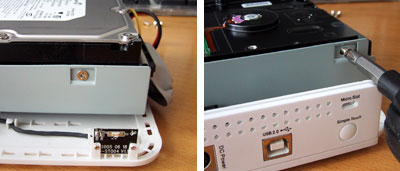 The Seagate Barracuda drive can be mounted either with the electronics up or down. Normally, we like to mount the drives with the electronics facing down. However, we found that if the electronics were mounted facing toward the bottom (left pic), the drive protruded too high for the cover.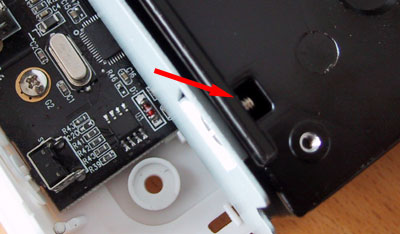 Both the drive and the case manufacturers supplied mounting screws. We had to pick ones that were not too long when screwed into both the case and the drive. Note that there were little openings on all four mount points in the drive; these are useful for determining if the screws are the right length for holding the drive to the frame.

The ADS case was just large enough to hold the Seagate Barracuda. Space was tight so we had to be sure we tucked all of the excess cables underneath so that the case would not pinch any of them when closed.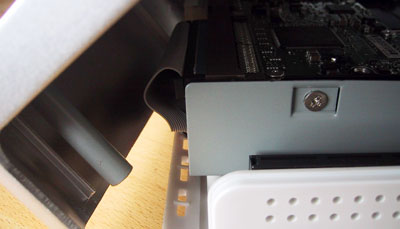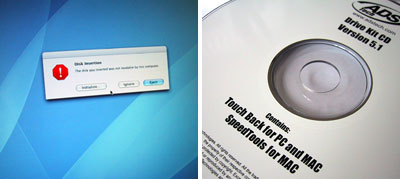 We connected the drive to the Mac mini. OSX immediately recognized it and asked if we would like to initialize this new device. We clicked "Yes" and the installation was done :-)
In the next report, we'll show some performance numbers of this Seagate Barracuda using the SpeedTools utilities which came with the ADS miniDriveKit. We'll also set up the unit for a one touch backup of the main Mac mini's internal drive.