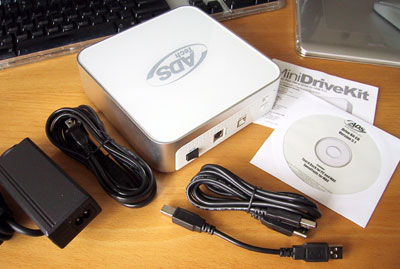 The ADS Mini Drive Kit came with a Mac mini-style case, utility software, installation instructions, cables, and AC power supply.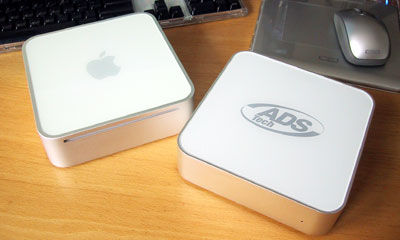 The outer dimensions of the ADS case are exactly the same as the Apple Mac mini. We can see a nice stack of these drives under the desk :-) The drive could be placed along side of the Mac mini, but there is a slight height difference between the two units. We may have to change the rubber pads underneath the case to make them exactly the same :-)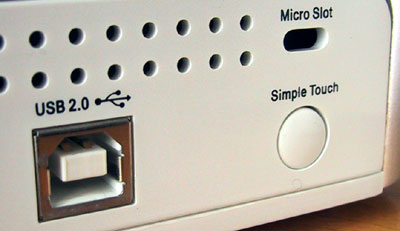 Since the interface is a USB 2.0 connection, it should be fast (480 Mbits/sec, plug&play, hot swappable). It will work with both Mac and PC (Win98, WinME, Win2K, WinXP). Note the Kensington Micro Slot hole in the upper right. That opening is designed to accommodate a Kensington security cable.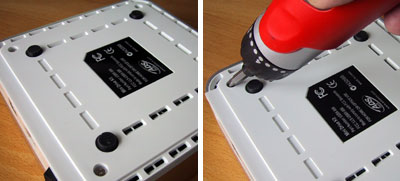 The top of the case is secured by 4 Phillips screws, accessible from the bottom. The case will hold any 3.5" drive.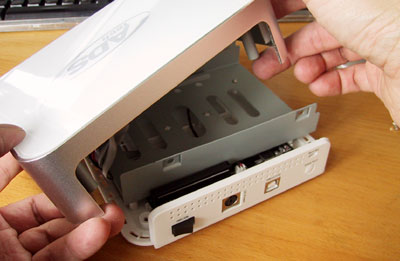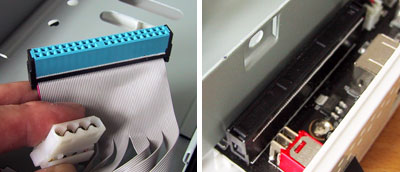 The interface cable will connect to any IDE Ultra DMA 33/66 or ATA-100/133 hard drive. The onboard electronics will convert the drive into a USB 2.0 compliant external device.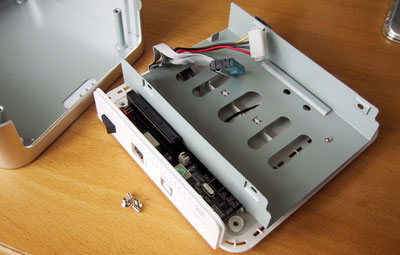 The case is just large enough to accommodate a 3.5" hard drive. Note the air vents at the bottom of the drive frame and all around the edges of the case. The frame is elevated off the bottom to allow better air cirulation.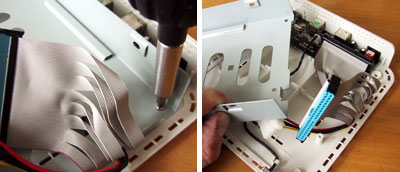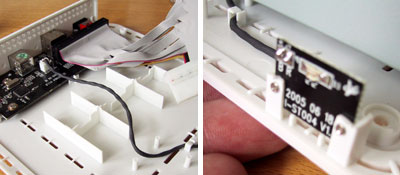 On the opposite side of the main ciruit board is the drive's LED activity light. The connecting cable runs along the bottom underneath the drive frame.
In ADS Tech's specifications, this case is supposed to have a "silent ball bearing" fan. We were not able to find the fan. It may be a last minute design change or just an error in the listing.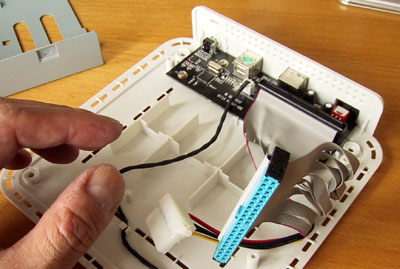 In any case, if you are using this drive in an environment where heat may be an issue, do keep this point in mind.
In the Drive Install write-up, we'll putting a Seagate
400GB drive into this case. We'll also take a look at the Intech UTILITIES which came with this case.