Concept cars are the ultimate "teasers" of auto shows and there were quite a few at this year's NYIAS. We will hightlight a few of the ones that caught our eye.

RainyDayGarage had a chance to chat with Anthony Lo (right), Director of Advance Design GM Europe, about the Saab Aero X. This concept vehicle brings together the latest in Saab's research in biofuel, body design, and advance materials.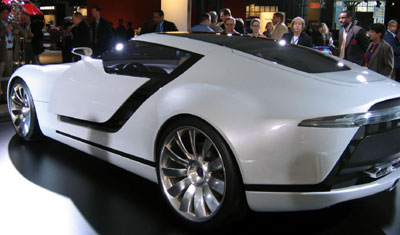 The Aero X has carbon fiber body panels, a polycarbonate wrap around windshield, and a 100% ethanol burning biofuel engine.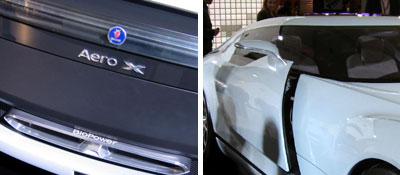 The light weight materials enabled Lo's team to design a mechanism which allows the roof and side panels to "unfold". We'll post some videos of the "unfolding" later.
Nissan also had an interesting 3 seater on the floor. We posted a few pics of it yesterday. Here is a couple more.

The Reflex is Ford's view of the future. Instead of soft leather or foam cushioning, the seats are made of a webbing material like those of the Aeron chairs. In the rear is a "sling" passengers or a child seat.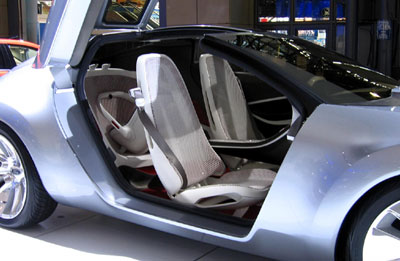 Rear hinged gull-wing doors provides easy front and rear passenger access...just be sure there is sufficient over head room before opening the doors!
We weren't able to find anyone at Mazda who could tell us anything about this vehicle...including its name, but we post it here because we know you would want to see it :-)