In this article we will take a look at some AFFORDABLE sports cars (Saturn Sky, Pontiac Solstice, etc...). We were surprised at how much sports car can be purchased for $20-30K! Here are a few pics to get you excited.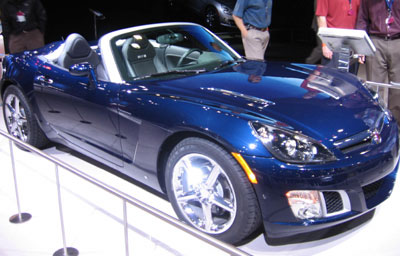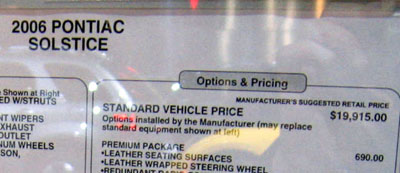 Of course, if you would like a V8 in your Solstice, Mallett will add that and a few other upgrades for another $30K. It will more than double the price of the car, but you will end up with one SWEET ride!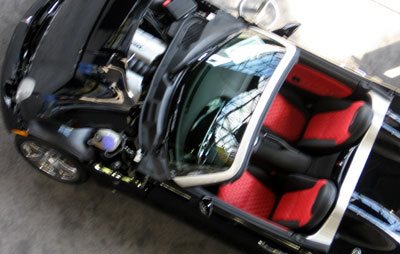 We are just about done fighting crowds for the day. It is time to head back to the Press room and hit the buffet table! We'll have a more detailed write-up of everything next week when we get back to the office.
Convertible sports cars were designed for weekends. Some convertible owners like to test their driving skills with them in autocross events. Others like to personalize them and show them off at gatherings. Most are content to find a twisty country road, put the top down to feel the air and the sun on their faces, and just drive.
The new offerings in the convertible sports cars category (Saturn Sky, Pontiac Solstice) are making it easier for many to enjoy top-down driving without breaking the bank.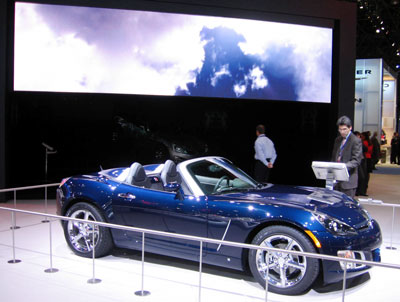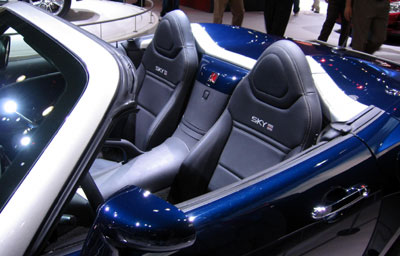 The Saturn Sky is a roadster with all of its benefits (2 seater, convertible) and its limitations (2 seater, little storage). What it offers is the opportunity to get on the road with just the essentials (a friend, an overnight bag) and enjoy the basics (engine roar, open air, etc...). With the Saturn Sky, you can do all this for around $25K!
The Pontiac Solstice starts at under $20K. It is a beauty that will not look dated if you manage to keep it long enough to pass it on to your kids.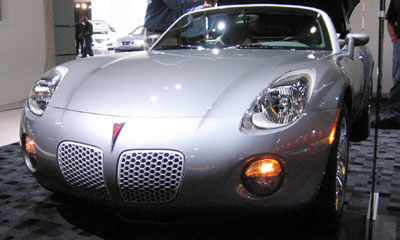 The interior is pure sports car. The dials are easy to read and the controls are all within reach. The shifter is comfortable and short. The entire soft top retracts into the rear and disappears. If you live in Southern California, you may forget this car even has a top!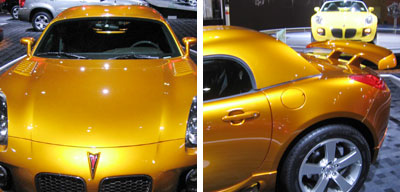 Pontiac does offer a removable hardtop and some aerodynamic options for those who may have difficulties keeping the rear glued to the pavement. If the gold color is too much, the Solstice also comes in a sunny yellow.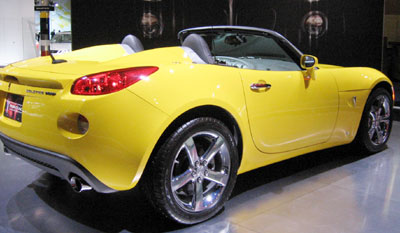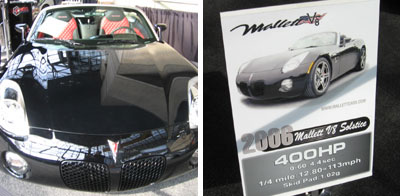 If you want more "ummph" to the Solstice, Mallett will put in a 400HP V8, larger brakes, and tighter handling. All that work will bring the price up closer to $59K.
The Corvette convertible starts that high up on the price ladder. It comes with a 400 horsepower V8 6.0 liter engine. The new Z06 has 505hp from a LS7 7.0-liter engine.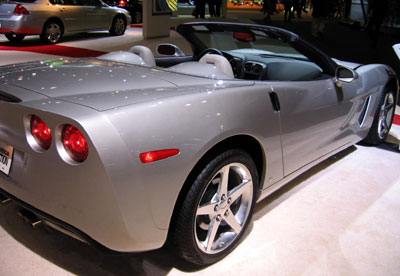 If you don't want to work a stick, Corvette now offers an electronically controlled 6-speed Paddle Shift transmission with three different driving modes - Drive, Sport, and Paddle Shift.
We'll leave you with one last car...Saleen Parnelli Jones Limited Edition Mustang. This car was designed with a lot of input from Parnelli Jones, the famed race car driver. It was unveiled at the NY Auto Show on Thursday.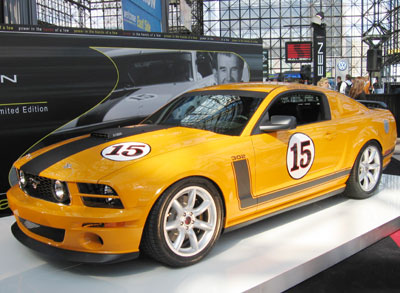 There will only be 500 of these limited edition Mustangs made by Saleen (a tribute to Jones' 1963 Indy 500 win). Each will be around $55K. It is a fully modern Mustang with lots of touches from the BOSS Mustangs of the '70s (side skirts, 1/4 window, rear wing, sports slats, racing gauges/paddles, and working hood pins).

The retro looking Mustang is a sheep in wolf's clothing. We have a feeling buyers will treat them more like garage queens, but this Mustang is built ready-to-race (Saleen racing suspension, 14" brakes, 302cc normally aspirated engine, 370 HP, 370 ft-lb of torque, 5-speed manual). Each will be individually serial numbered.
NOTE: The numbers on the side are made of static cling vinyl so they can be easily applied or removed as the situation demands :-)
Tomorrow we will move up to the Porsches, the Ferraris, and Astin Martins.