We have purchased many tools (jack, tap&die, caliper) from the folks at Harbor Freight, but all of the transactions were from their website. When we learned they have a store in Attleboro MA, we knew we would have to take a drive and check it out. Attleboro is about an hour outside of Boston, so we needed a good reason to make the drive.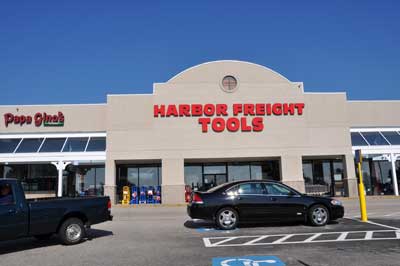 Harbor Freight sends out a lot of fliers and we always see stuff which we "need" for the office. One of the items is this 3-piece rolling tool cabinet. We have been tempted to buy it for a while now. We had purchased one on Craigslist about two years ago, but we can use another one for all of the small precision tools.

When we saw this ad for a 50% off sale (available only at stores), we knew this was our perfect excuse to go for a drive and take a first hand look at the unit. It was a good thing we did. As soon as we pulled out a drawer, we knew this unit did not have the kind of quality we wanted. We decided we may have to pay more if we really wanted a high quality 11- drawer cabinet. The trip was a not a total loss, we did look around.

The store was just like their ads, chocked full of all kinds of cool tools. They certainly had a nice collection of hydralic car jacks. The one we had purchased a few years back was the one in the upper left. We also found a wrench for our "monster truck" project.

We came upon something we have always wanted. It was this "3rd-hand" tool and it only cost us $4.00! While it was a long way to go for such a little item, at least we did not leave empty-handed :-) If you are looking for industrial tools, you can find it at Harbor Freight. Just be aware that some of the "really good" deal may be of questionable quality. Still, we would go back in a heartbeat just to walk around. [Permalink] - Harbor Freight Tools