Zen and Buddhism conjures up a lot of images for people. Some associate it with chanting, others think of meditations, still some have images of monks in orange robes and shaved heads. Of course, all of those images are part of the popular notion of Zen and Buddhism, but they don't express the teachings and philosophies them. We have had some introduction to Zen concepts through our study of Aikido. The study of Zen is inescapable to any serious student of any art, martial or otherwise, as Zen naturally emerges from the deep study of any subject. It does not matter whether the student actively seeks to study Zen concepts.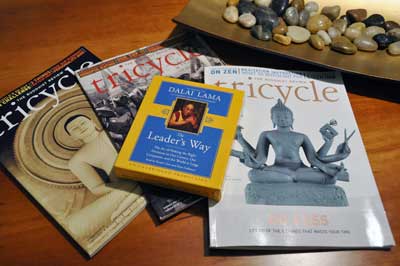 We started 2009 with an article about yoga. About six months ago, we were turned on to a magazine called Tricycle by a few readers. Six months and three issues later, Tricycle: the Buddhist Review is the one magazine which we read cover-to-cover in one sitting as soon as it arrives. There are so many excellent articles in each issue that sometimes we wish we could read them all simultaneously.

The Do Less, accomplish more in the Fall 2009 issue is a must read for the multi-taskers in all of us. Other like the Mindful Cooking and Mindful Eating articles are great in that they are immediately applicable and the tips serve as physical reminders of how we can enjoy living in the moment even with the simpliest of actions.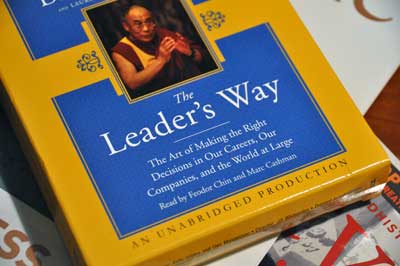 For readers looking to take a more mindful approach to business, we can highly recommend The Leader's Way. We have been listening to the unabridged audio version from RandomHouse Audio. The book was written by his Holiness the Dalia Lama in collaboration with Laurens Van Den Muyzenberg. This blending of the views of the practicality of Buddhism with the goals of business is extremely timely and thought-provoking given the current economic turmoil.

The understanding of interconnectedness, impermanence, and interdependence of people, business, and the global economic system is discussed in a functional and clear-headed fashion by both contributors. We found this 6-hour, 5-disc audiobook utterly engaging. It gave us a new and deeper appreciation of just how practical Zen Buddhism is and how to better apply it in both our daily decisions as well as interactions. We highly recommend that you add both Tricycle and The Leader's Way to your reading list. [Permalink] - Tricycle and such