We posted a write-up on the MFA's new Albrecht Durer exhibit last week. The collection showcased Durer's skill as a print maker. On that day a second print exhibit at the MFA, featuring Toulouse-Lautrec, also went live. Cafe and Cabaret: Toulouse-Lautrec's Paris will run until August 8, 2010. "Toulouse-Lautrec was one of the most original and creative artists of the late 19th century, a master of the great age of color lithography," said Malcom Rogers, Ann and Graham Gund Director of the MFA. "No artist captured the excitement of Parisian nightlife with more verve than Toulouse-Lautrec."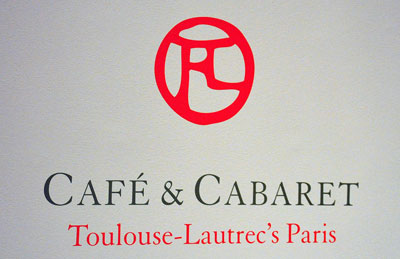 The MFA curators (Helen Burnham, Clifford Ackley) gave us a glimpse of 19th-century Paris' bohemian nighlife as captured in posters, prints and paintings of Toulouse-Lautrec. Toulouse-Lautrec, one of the more well-known Post-Impressionist artists, painted what he lived. His Paris was one of cancan dancing, drinking, and carnal pleasures. The bohemian lifestyle and heavy drinking did not pair well for Toulouse-Lautrec and he died early in his thirties. Even so, he managed to be both prolific in his merry-making and in his painting.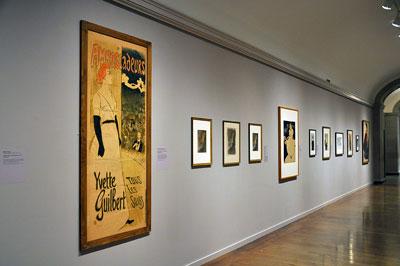 "Through his work, Toulouse-Lautrec drew new connections between art and daily life, becoming a central figure in the decadent society he portrayed," said Clifford Ackley, Department Chair and Ruth and Carl J. Shapiro Curator of Prints and Drawings, who organized this exhibition together with assistant curator Helen Burnham. "He transformed the art of the poster, and his designs were some of the greatest ever created."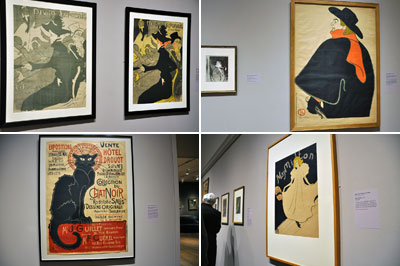 Toulouse-Lautrec was famous for his ability to capture the essence of his subjects where most could be identified by their silhouette alone. His long thin strokes and quick sketches would expand into brightly colored works with broad flat colors, strong silhouettes, and unusual points of view.

In addition to works by Toulouse-Lautrec, this exhibit highlights images of the Parisian nightlife by several other contemporaries. Both Pacasso's Stuffed Shirts and Theophile-Alexandre Steinlens's poster Collection of the Chat Noir are also on display.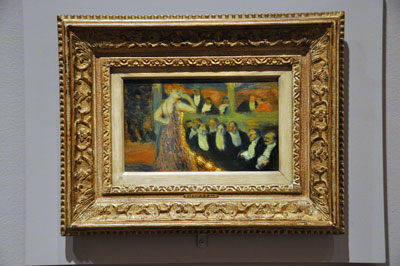 The MFA is open seven days a week. General admission (which includes two visits in a 10-day period) is $20 for adults and $18 for seniors and students age 18 and older, and includes entry to all galleries and special exhibitions. Admission for students who are University Members is free, as is admission for youths 17 years of age and younger during non-school hours. No admission fee is required (after 4 p.m.) on Wednesdays. For general visitor information, visit the MFA website or call 617.267.9300. [Permalink] -MFA Toulouse_Lautrec