When we were told about the iPin laser accessory for the iPhone, we chuckled at first because we had already passed on a few other such implementations. The ones we had seen were awkward dongles hanging off the power connector or the headphone jack. We were planning on passing on the iPin as well, but decided to take a chance. Well, we are glad we did! The iPin is not your father's laser pointer.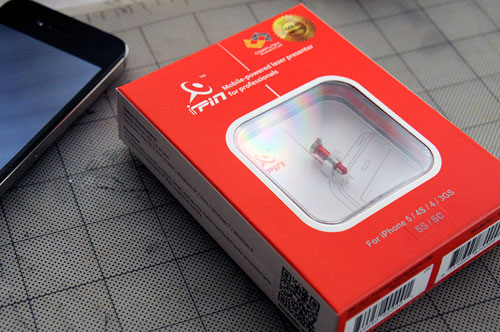 The iPin is an accessory that Q would have designed for 007 (with steel-bar-cutting power output, of course). This laser pointer looks like the mini plug of the typical set of earbuds. Like earbuds, it will fit into the microphone jack and draw power directly from the iPhone. How cool is that?

The specs and features of the iPin are:
Laser output: 635nm wavelength (red)
Power: <1mW (Class II)
Integrated On/Off switch
Works with iPhone 3GS-5S, iPod Touch 4/5
3.5mm plug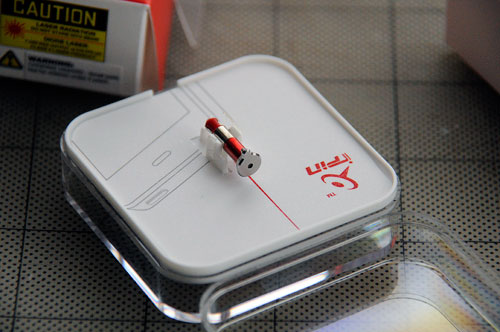 The iPin laser pointer is tiny, sleek, and simple to use. Our first thought was that we would lose the iPin if don't keep it in the clear plastic container. The container is pretty small and some iPin users may opt to do just that. However, iPin clearly has gave this some thought and has a much better way is to carry it: in the supplied holster, which conveniently clips onto an earbud plug. When not needed, the iPin may be stowed securely, out of the way, yet be readily available when needed.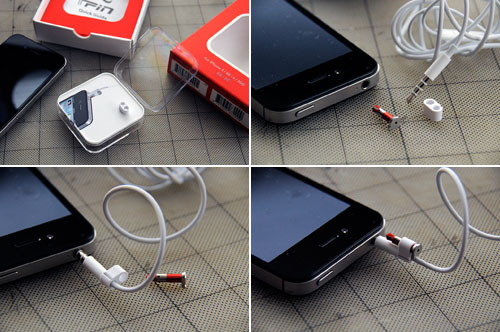 The iPin is not just a "dumb" accessory. It was designed with the kind of user experience expected by iPhone customers:
Once inserted into the headphone jack, the profile of the iPin is extremely low. It almost looks like a part of the iPhone (power button, up/down volumn buttons).
If you don't use the earbuds, the iPin may be left in the jack. No need to remove it as it will not interfere with incoming or outgoing call functions.
Control the laser and advance the slides in a presentation via the iPin app.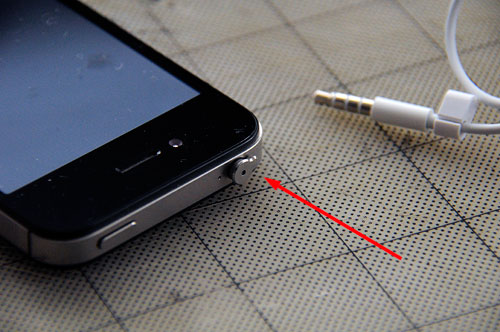 The iPin does require a one-time setup: install an iPin app, adjust a few preference settings. The app detects whether there is an iPin inserted and whether it has been turned on (rotate to the right 90º). Once the iPin has been switched on, a finger on the iPhone screen will activate the laser. When the app has been closed, a reminder will pop up on the screen if the laser has been left in the "On" position.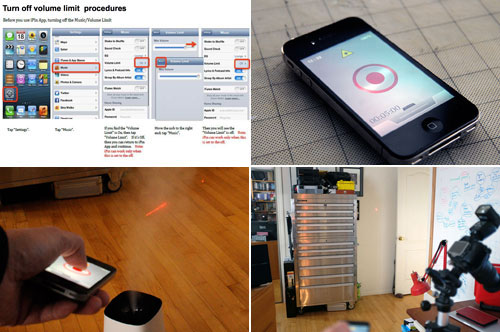 The iPin laser works as expected. The dot is nice and tight, clearly visible in daylight, and will be good to go as long as the phone has power. Currently there are two different models for the iPhone (Standard, Extended). The only difference is that the Extended model is slightly longer to accommodate some of the thicker cases for the iPhone. There is also now a model specifically for Galaxy users. This is a cool accessory for those who give a lot of presentations, but may be even cooler for those who don't. Why? It is a freakin' LASER. That's why! [Permalink] - iPin Laser Pointer