RainyDayDestination's content can now be licensed for your print magazine or web site. Please contact us directly here. If you want to see something reviewed, then drop us a note with a link and we'll be happy to take a look.
December 11, 2005

We got whacked with a huge snowstorm in Boston on Friday so the weekend seemed like the perfect opportunity to take out the new Tubbs snowshoes for their FirstUse. We had done cross-country skiing around the city, but not snowshoeing. We were eager to see what it would be like to hike around the Arnold Arboretum with snowshoes.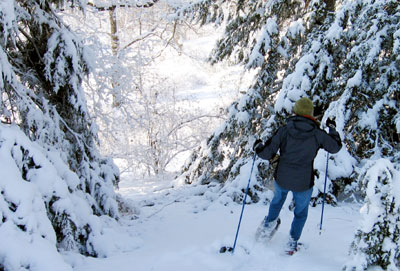 Even though the main goal for this outing was to take a FirstLook at the Tubbs Adventure snowshoes, it was also a good chance for us to give a quick check on some of the other gear (Magellan eXplorist GPS, UnderArmour, Columbia Skier Cross jacket) that we'll be taking with us on our January outing. Take a FirstUse look here.
December 2, 2005
If you have not been to the BlueRoom, we urge you to go check it out. The atmosphere is relaxing, the food is superb, and the staff is fantastic!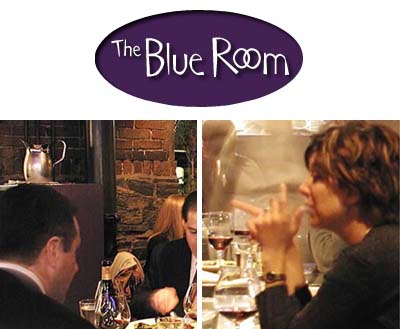 The BlueRoom at One Kendall Square in Cambridge is having their 2nd annual lunch on Dec 15th to benefit the Lynn Shelter Association. All of the proceeds will go the the Lynn Shelter Association.
Call Nick at 617-494-9034 and tell them you heard about it at RainyDayMagazine... he'll make sure you get a great table. Ok...they are all great tables :-) RainyDayMagazine will be there. We hope you will as well.
November 17, 2005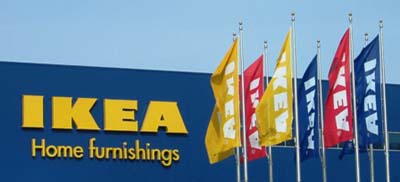 RainyDayMagazine didn't have solid plans to visit the Ikea store in Stoughton on opening day... why, maybe because the Managing Editor thought that traffic could be an issue????

But once it sunk in that the store was less than 15 miles from the office, some of us became quite persistent in our, um, adamantations that we go. Go read all about RainyDayMagazine's IKEA adventure on Carolyn's World!
November 5, 2005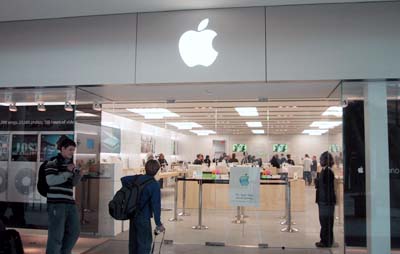 Apple opened a new store at the Burlington Mall in MA today. In keeping with Apple's tradition, they were giving away t-shirts to the first 1000 visitors.
We drove up from Boston to see if the opening of a store deep in the heart of suburbia was any different than that of Cambridge or New York City. We'll be reporting live at the Mall...check it out here.
It used to be that the Christmas shopping season started at the stroke of midnight on Thanksgiving night (for some, it still starts at 6 p.m on Christmas Eve). Those in the know, however, start their Christmas shopping on the Friday afternoon of the Christmas Craft Festival. It's one long craft fest weekend, and it's fabulous!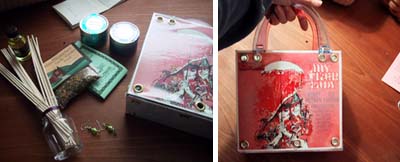 RainyDayMagazine's very own expert shopper, Carolyn, spent the entire day yesterday at the Christmas Craft Festival at Boston's World Trade Center. Carolyn wanted get a jump on her Christmas shopping while checking out the festival for RainyDayMagazine... "I've just come back from Christmas shopping, although come to think of it, all the purchases are for me! " Go check out her report here :-)
October 23, 2005
Halloween is almost here and it being a very rainy day indeed on Sunday, RainyDayMagazine sent one of our crack reporting teams (Jay and Lisa) out for some Halloween advance work. Go check out Jay and Lisa's report here!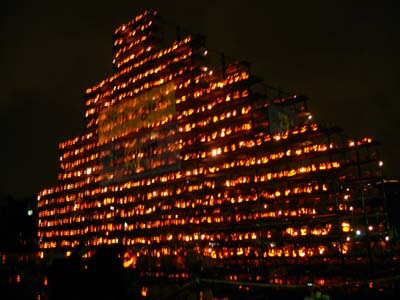 October 14, 2005
We were hoping to report live from the Digital Life 2005 expo at Jacob Javits Center in NYC, but the WiFi at the press office was spotty at best.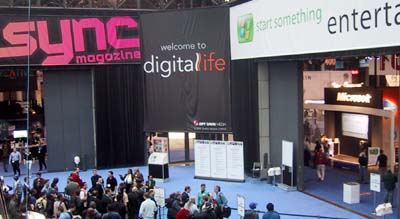 Since all the free food is now gone and we didn't want to hang around for 5 more hours for the free booze... we headed back to our Long Island office to post some of the pics we had captured for you, so you too, can enjoy our morning's excellent adventure.
We'll keep updating as we sift through our images. Send us some email if there is something specific you would like to know more about! Also, check out the show from Carolyn's perspective here!
October 10, 2005
We all took turns trying to fly the Draganflyer, but Andrew had the best touch. It took a few days, but Andrew got the hang of making the Draganflyer hover and was able to consistently maneuver it around the room and return it back onto the glass "landing pad".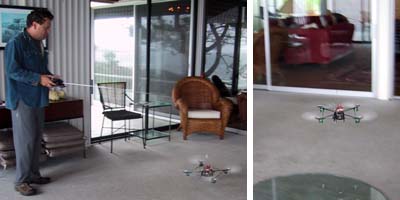 We did manage to break 6 rotor blades and burn out 2 fuses on the Draganflyer over the course of the weekend. I think we would have had better luck outside. The glass walls were a bit hard on the helicopter :-)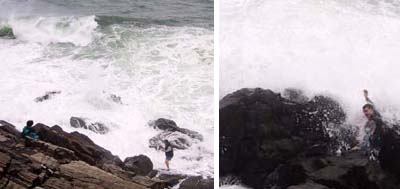 Jay, on the other hand, braved the waves to sit in the rock pools. The effort gave Lisa a few anxious moments...especially when some of the larger waves broke over his head!
October 9, 2005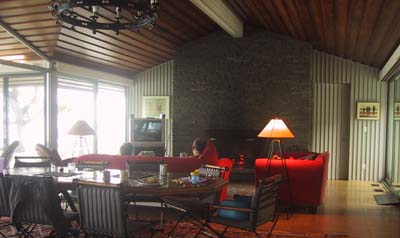 Since it was raining most of the day, we lit a fire and hung around the Rock House...eating and drinking. We also cleared all of the furniture from the glassed-in porch and turned it into an indoor Draganflyer "heliport".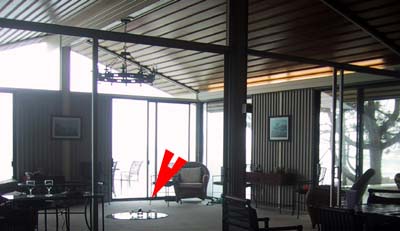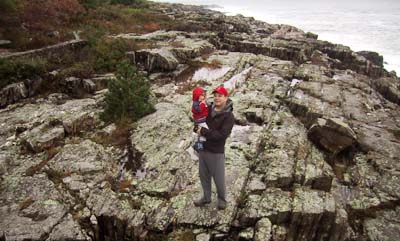 When there was a break in the weather, Andrew and Evan took a break from make the Draganflyer hover and checked out the rocks.
October 8, 2005
RainyDayMagazine and a group of friends had been trying to rent the "Rock House" in Ogunquit, Maine for Columbus Day Weekend for the past three years. This year we finally got it and we were not disappointed.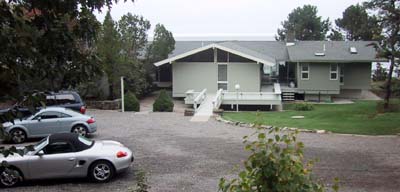 Even though it may rain all weekend, we'll have a great time! The Rock House sits right on the rocky coast and overlooks the ocean. The view is amazing whether we are inside or outside.
We would recommend this place to all our RainyDayMagazine readers if it wasn't for the fact the owners have decided to take the house off the rental market after this season. No...we have nothing to do with it!
October 2, 2005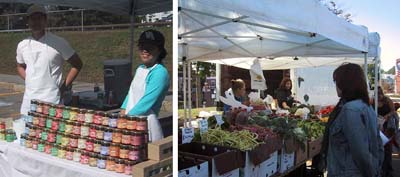 There is a Farmer's Market in the Roslindale commuter rail's parking lot every Saturday. One of the more interesting vendor's at the Market is PrestigeThai. They have a great collection of authentic Thai spices and sauce. They also have a great website...go check 'em out!
September 25, 2005
Yesterday was Arlington Day. RainyDayMagazine and friends were out and about in Arlington taking in the local flavor and eating everything in sight. Many of the restaurants (Krazy Karry's, Punjab, Shanghai Village, Tryst, etc...) were selling small tastes of their creations . Wan managed to sample a LOT of them.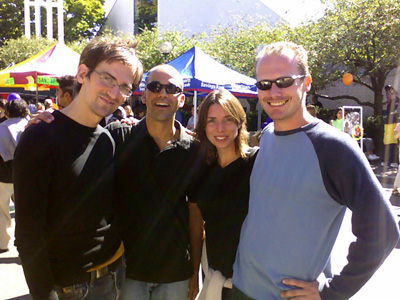 Others, like Toby, were trying out "vibration gyms" and massages. We stopped by our friend Erik Taylor's tent to check out his new business. Erik has just set up his practice in Arlington (Massage-By-Erik.com).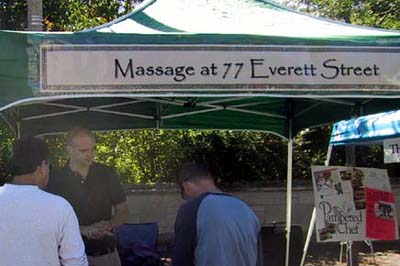 If you live close to Arlington, you should definitely take advantage of Erik's introductory rates! Once word gets around, it will be a lot harder to book an appointment :-)
It was a perfect day for strolling around Arlington's town square. We found a lot of new restaurants in Arlington we'll have to try. Look for the new RainyDayRestaurants review section in RainyDayKitchen this Winter!
September 11, 2005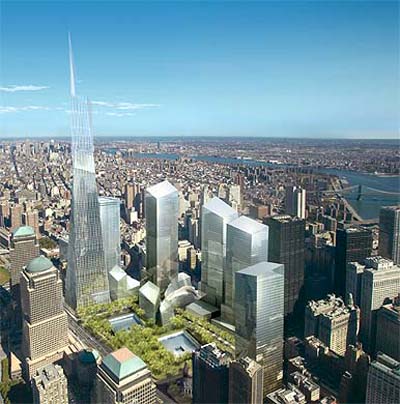 Groundbreaking for the new World Trade Center in NYC will take place early 2006. Construction is scheduled to be completed by September 2009.
September 5, 2005
The Art's Dune Tour was part of the PTown Pass for Labor Day weekend in Provincetown. We had never heard of a "dune tour" and had no idea what was in store for us.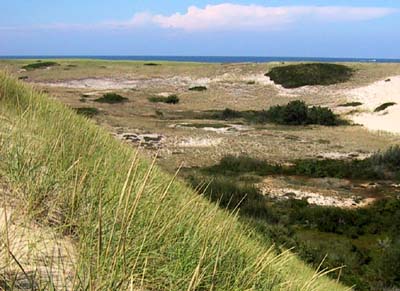 We were treated to a wonderful ride out to some of the most scenic, beautiful, and fragile parts of the dunes. Go read all about it here! We also created a 360 panorama of a view on top of one of the dunes...check it out here.
September 4, 2005
This was our third Whale Watch excursion this summer. I guess the third time was the charm because we saw a ton (...I guess hundreds of tons) of whales this time out!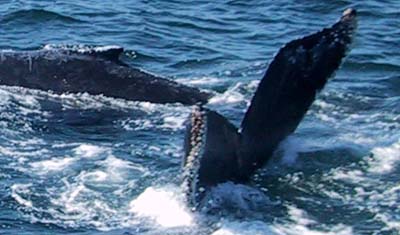 This time we drove out to Provincetown and booked a cruise with Portuguese Princesss Excursions. It was fantastic!
The Portuguese Princesss folks actually arranged a full PTown Pass (Whale Watch, Provincetown walk, Art's Dune Tour) for us. If you are going to visit Provincetown... we highly recommend taking advantage of this combined package!
September 3, 2005
Labor Day is upon us again. Each year at this time our friend Bill invites everyone at RainyDayMagazine out to the Cape for the weekend.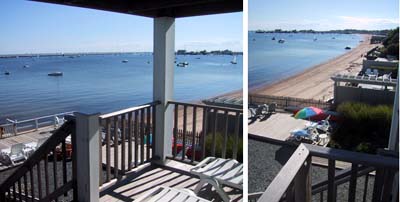 We left Boston around noon on Saturday and got to the Chandler house around 3 PM. The Labor Day weekend has officially started :-)
September 1, 2005
If you happened by Boston's MFA front entrance on Huntington Ave, you may have caught sight of a couple of yachts sitting on the Museum's front lawn. The MFA was hoping the yachts outside would draw attention to the just opened William Koch exhibition inside.
Sculptures, paintings, artifacts from the Old West,...and yachts. These are some of the things William Koch loved, collected, and shared in this spirited exhibition at the MFA.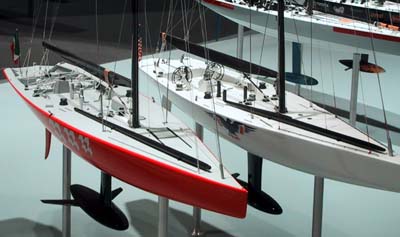 The exhibit will be at the MFA until November 13, 2005. Check out the RainyDayMagazine review, take our virtual tour (models of the America's Cup yachts , spirit of the Old West), and go see it live at the MFA!
August 18, 2005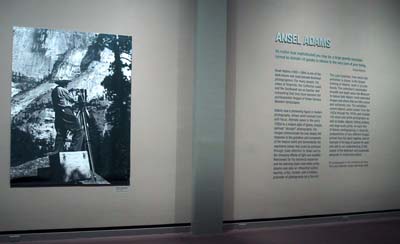 The Ansel Adams Exhibition opens on August 21 (this Sunday) at the MFA. This exhibit, sponsored by RBC Dain Rauscher, features a wide range of Adam's photographs from the Lane Collection.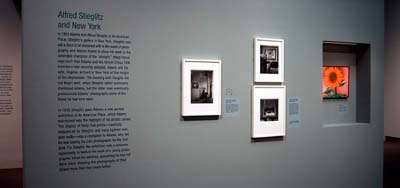 RainyDayMagazine got a first hand look of this amazing exhibit this week. As Saundra Lane said at the preview..."This is an exhibit I've been waiting 30 years for and it's now finally here!". Go take a look at what awaits you at the MFA.

The exhibit will be there until the end of December. We urge you to go on Sunday and go back often... there is so much in the photographs that one cannot possibly see everything in one visit.
Some of you RainyDayMagazine readers may remember an article we did back last November on the Gigapxl Project. They have been posting updates on their site as they journey across America with their giant digital camera.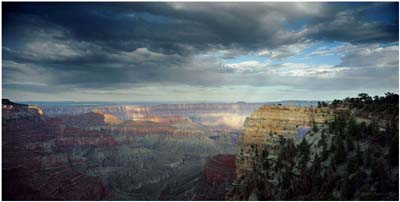 We couldn't help but think that if Ansel Adams was around today, he would be right out there with these guys! Go check out their stunning images here.
August 11, 2005
We stopped by the MFA this morning to check on the progress of the Koch yacht installation. Both hulls have been positioned into place. The mast for both vessels have been installed.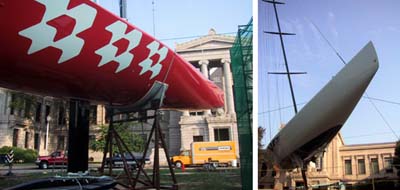 We tried to take a panorama of the installation but it did not do it justice. You MUST go check this out!!!
August 9, 2005

A big congradulations to NASA for a successful return from space! Like everybody else, RainyDayMagazine was following the trip closely and had wished for an uneventful landing.
We just got back from a trip to Long Island. We almost got side swiped by some idiot 30 minutes into the trip. If the Boxster did not have such superb handling characteristics... the trip would have been a lot shorter. On the way back, another idiot did not tie his boat cover on tight enough and it flew off somewhere on Route 95 in CT. We again had to steer around it as it came at us like a giant green jellyfish.
Unlike the shuttle crew, we didn't have to worry about suddenly turning into a giant fireball... we kept our rate well under the speed of sound!
August 8, 2005
If your dad was a steel magnate and your wife was rich... what kind of house would you build?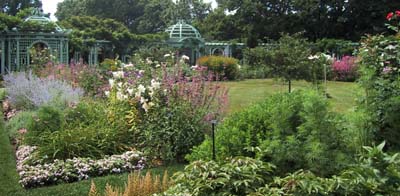 John and Margarita Phipps built Westbury House, which was plenty big enough for them and their four children. The estate was about 160 total acres; about half of which were formal gardens, tree-lined walks, grand allées, ponds, statuary, and other architectural expressions of English gardens.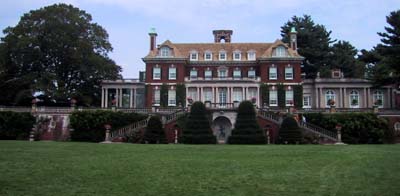 RainyDayMagazine was on Long Island this weekend and had a bit of time, so we took a drive out to the Old Westbury Gardens. Go here to read all about our visit.
August 2, 2005
If you happened by Boston's MFA today, you may have caught sight of a couple of yachts sitting on the Museum's front lawn. If you were REALLY lucky, you may have been there when they were lifting the hulls onto the supports. Over the next few days, the yachts will be assembled. They will remain on display through out the duration of the "Things I Love: The Many Collections of William I. Koch" exhibit.

The MFA is hoping the yachts will draw some attention to the Koch exhibition. RainyDayMagazine will do our part to help get the buzz going! So, we will be there over the next few days to capture the assembly of the yachts and other bits that we think you may enjoy seeing. Go here to check on the installation's daily progress.
August 1, 2005
RainyDayMagazine packed up and went off to Connecticut this weekend. We checked into a beautiful B&B in New London on Saturday.

The Queen Anne Inn is wonderfully appointed with lots of period details. We would recommend this Inn except it has been sold and will no longer be open to the public after August...
The main event was an 80th birthday party for Leslie and Kathy's Dad. The man just had heart surgery a month ago and he was on the dance floor until the DJ stopped playing! We left when the drinking games started :-)
On Sunday, we drove around the New London, Lyme, and Mystic area to check out various sites (Fort Trumbull, Gillette Castle, Florence Griswold Museum).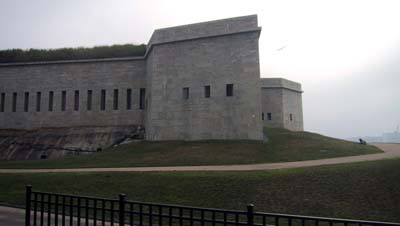 Built from 1839 - 1852, Fort Trumbull was one of a group of 42 forts constructed for the defense of the US coast and harbors.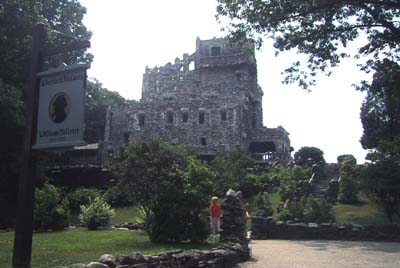 Gilette Castle, on the other hand was constructed by a flamboyant actor for his own amusement.

Next we made a stop at the Florence Griswold Museum in Old Lyme. The main house is currently under rennovations, but the museum, grounds, and flower gardens were open.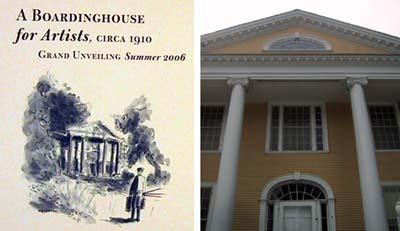 We also took advantage of their "Impromptu Encounters with Art" program and spent a few hours trying our hand at painting some of the lovely scenes around the grounds.
On our way back to Boston, we took Route 1 along the coast until Mystic CT. There was a big traffic jam right in the center of town, so we figured we might as well stop and stretch our legs.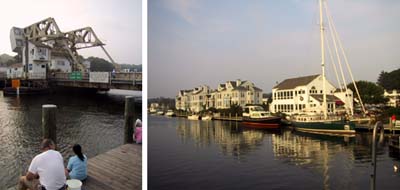 It turned out that it was just the normal weekend traffic going across their really old drawbridge. We walked around a bit, looked for some ice cream, and had a very pleasant break. We'll have to come back to Mystic and look around some more.
We'll have a more detailed write-up of the trip once we've had a chance to unpack :-)
July 28, 2005
In order to get our new Panamera around without having to ask for directions, we would love to check out the new FineDrive F400.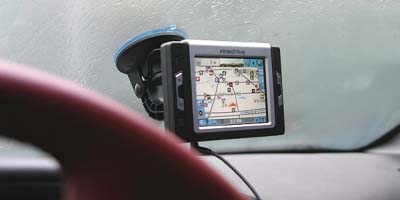 This new car GPS system has an SD slot, 320Mb of storage, a 4" color screen, MP3 player capabilities and a video in connector... which means it can receive video from video iPod, DVD players, etc. It would be even more exciting if we can find it available in the US :-)
July 27, 2005
Today was the second RainyDayMagazine Whale Watch outing. On this trip we joined the New England Aquarium's crew and headed out at 9:30 AM. The temperature was already in the high 80's!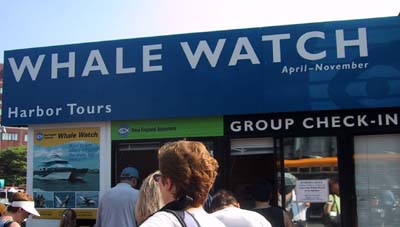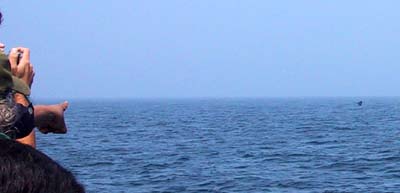 It was not a feeding frenzy out there today, but we did see a few Right Whales. We had to stay pretty far away due to various restrictions. We didn't mind so much since it was a great way to beat the 95 degree heat in the city! Next time we are going to try the ones that leave out of Provincetown. Maybe we'll finally see some up close!
July 15, 2005
We went to the Forest Hills Cemetery Lantern Festival last night. This annual community event, inspired by Buddhist traditions, was very well attended (over 3000 folks).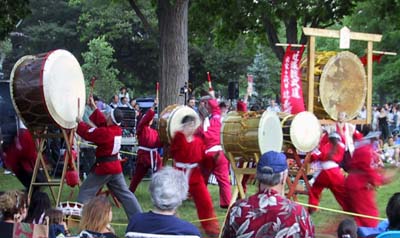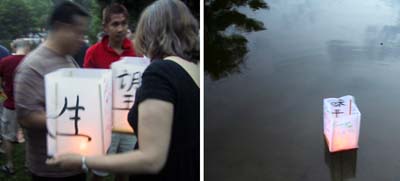 Simple inscriptions are placed on the paper shades of the wooden lanterns. At dusk, the lanterns are set afloat to bring the messages to the world of the spirits. It was a nice way to remember departed family and friends.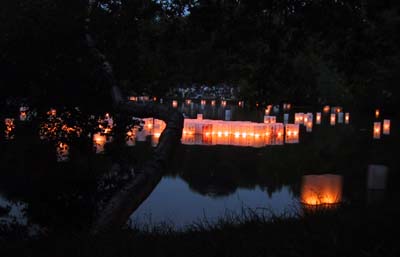 July 11, 2005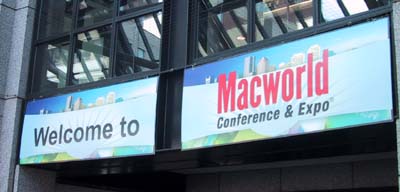 It is great to see Macworld back in Boston again this year. RainyDayMagazine will be providing onsite coverage until it ends on Thursday!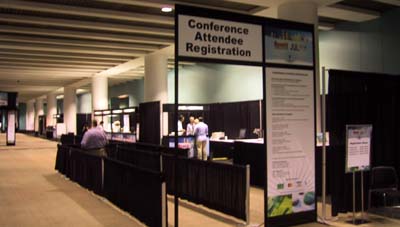 We went early this morning and registered... beating out the CRUSH that is sure to form tomorrow. If you are planning on going and can get there today to get your badge, we would recommend you doing so! The exhibit doors at the Hynes open tomorrow at 11AM. See you there :-) If you see us on the floor, stop us and say "Hi" !!!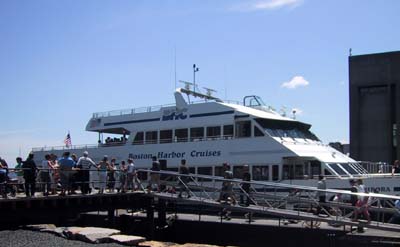 We tried going on the Boston Harbor Cruise Whale Watch last year, but they were sold out when we got there. We called ahead and arranged for tickets this time!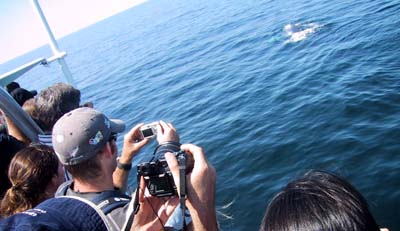 It is great to get out on the water, even better when you see a whale! Go check out the review here.
July 4, 2005
Everybody loves fireworks! We at RainyDayMagazine were no exception. We stayed up late and made our way over to Kendall Square to see the annual display on the Charles River.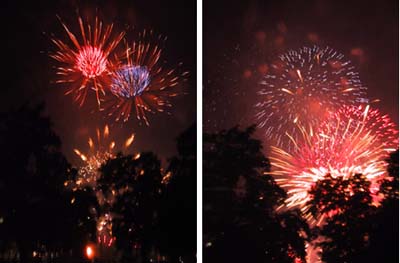 They did not disappoint! We were treated to 22 minutes of nonstop explosions of streamers, screamers, and colors! It was a wonderful way to end the day. We now need to go get some sleep :-)

Every July 4th, folks gather at Castle Island to watch the turning of the USS Constitution.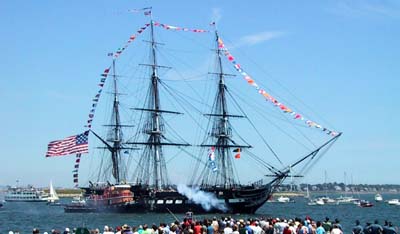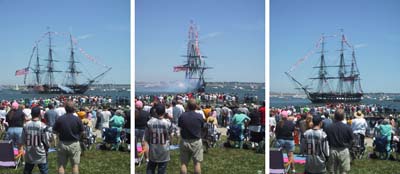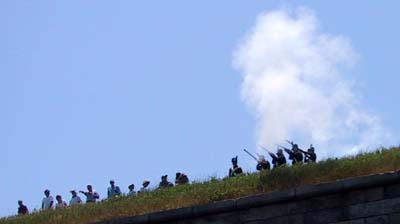 There was the ceremonial salute toward Castle Island and the answer back. There was also the flyby, both by those with planes and by those with kites. It was a beautiful 4th of July out on Castle Island.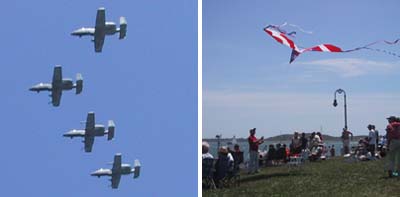 It took six months and a trip of 268 million miles to set up this interstellar fireworks display. The space probe Deep Impact made energetic contact with the surface of Tempel 1 at 2 AM (EST) this morning.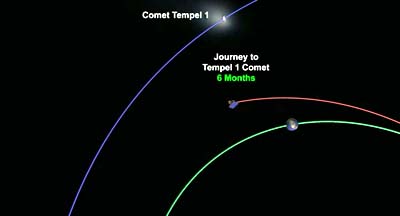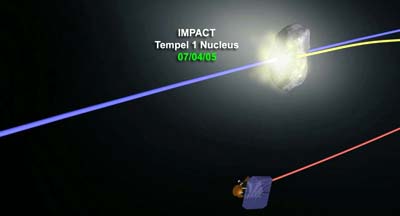 Deep Impact sent out the "Impactor" probe ... an 820 pound self guided camera toward Tempel 1 on July 2. The self guided camera was sending photos right up (right photo) until the last 3 seconds before impact. Below left is the impact image from the FlyBy probe's vantage point.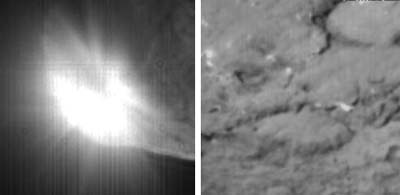 Go here to read more about the entire Deep Impact mission. If you have a fast connection, check out the animation of the impact probe launch and flyby here.
July 1, 2005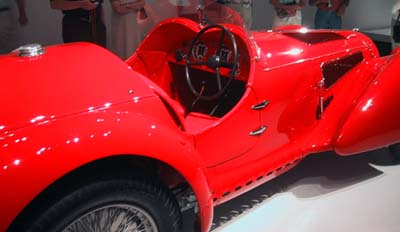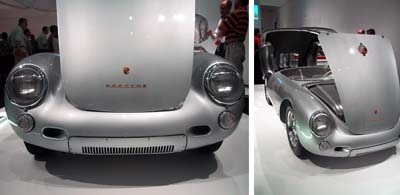 We finally had a chance to check out the Ralph Lauren car collection exhibiting at the MFA. The tickets were for the last "Hoods Up" night were visitors could see the engines. There are still some tickets left for the regular exhibit.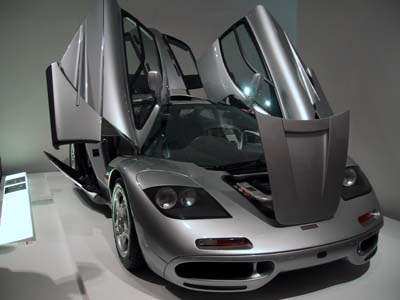 If you have not gone yet, stop reading now (unless July 3rd had already passed or you don't live within a 2 hour drive of Boston) and go to the MFA. If you can't, you can still check it out here!
June 30, 2005
Starting this month, the last Thursday of each month at RainyDayMagazine is TravelThursday. We'll let you know about the best travel deal we can find from Boston to "somewhere".

July is the month our friend Leslie from Bermuda usually comes to the States for her summer holiday. Coincidentally, it is also the time when Norwegian Cruise Line
is having a great 7 night cruise sale from Boston to Bermuda!
So go to Bermuda and do your part in balancing international trade... Leslie does a LOT of shopping when she is here in the US!!! To get the amazing $499 price, click here.
One of our frequent readers, Lana from Long Island, sent us this tip: "When booking cabins on a cruise, it doesn't matter as much whether there is a window... just make sure it is above deck or as high up as possible (4th level or higher)."
June 26, 2005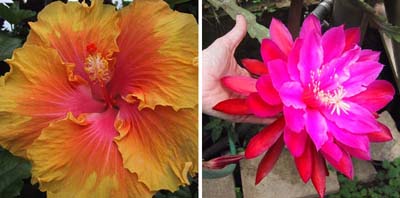 We RainyDayGardeners buy a lot of our plants at the local nurseries and Home Depot. However, some of the more exotic plants are just not available at these neighborhood outlets.
Our friend Bill has been amassing an interesting collection of tropical container plants (banana, coffee, guava, and citrus). He told us the source of all of his tropical foliage came from a nursery in CT called Logee's.

Here are some of Logee's less exotic varieties we brought back with us to the RainyDayGarden. Go read all about it here.
June 24, 2005
If you have not yet checked out the "Speed, Style, and Beauty: Cars from the Ralph Lauren Collection" exhibit at the MFA, you had better get a move on! The exhibit will end on July 3rd and tickets are going FAST!!!.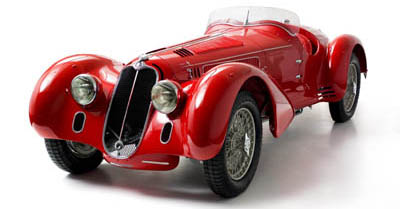 Where else are you going to be able to come within inches of a beauty like that red Alfa Romeo or the black 1938 Bugatti???
The entire group from RainyDayGarage went to a lecture last night at the Larz Anderson Auto Museum and had an amazing time listening to Karl Ludvigsen talk about Ferdinand Porsche and the early history of the company.

Mr. Ludvigsen's lecture drew from his upcoming book. The book will be all about the beginning of Porsche. He showed a ton of fabulous photos. Some were of the early electric cars designed by the 23 year old Ferdinand, some during the first and second world wars, and others while working with the post war Volkswagen. We heard some great stories about Ferdinand's temperment and personality. How he got his start at his father's tin factory, early experiments with electricty, and love for building state-of-the art racing automobiles!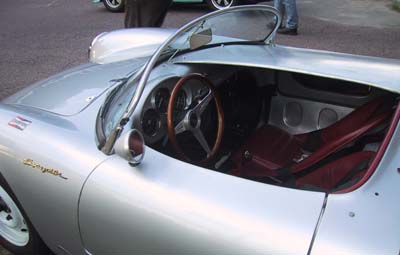 We met some great folks from Bentley Publishers. We are going to check them out in the near future and tell you all about the cool Porsche book projects they have in the works!
A lot of the folks who attended the lecture also brought along their favorite rides... it was great to see an impromptu Porsche exhibit assembling in front of Museum as folks arrived for the lecture!
The Museum has lectures ALL THE TIME. So check their upcoming events calendar for topics of interest. Look for the folks from RainyDayGarage ... they will be there!
June 15, 2005
In April we told you about Google Maps. Today we point you to Noah Vawter's site to show you how to stitch together a huge map for your wall or desktop.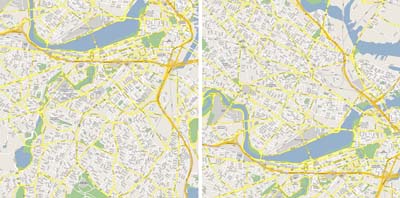 Noah has a couple of them already stitched together on his site (Cambridge, Boston, etc...). They are pretty big... 2048x2048. He also has a really huge one of Cambridge/Boston/Somerville (3072x3072).
The instructions and scripts to do it are available on the site. Go check it out. It's a fun little RainyDayProject.
BTW...Google Maps doesn't really like folks messing with their maps, so don't be surprise if these instructions disappears in a couple of days. I guess that's what happens when a company goes public and start start hiring lawyers... someday we aspire to do the same :-)
June 13, 2005
We took a very pleasant drive out to Sturbridge MA this weekend to visit Old Sturbridge Village. Old Sturbridge Village is a kind of living museum of what a MA town was like in the early 1800s.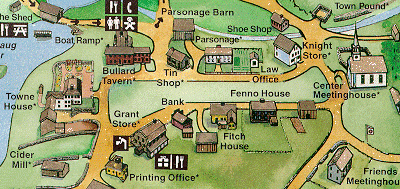 We went mostly because it was Garden Weekend at OSV, but we also had a great time walking through all of the other exhibits.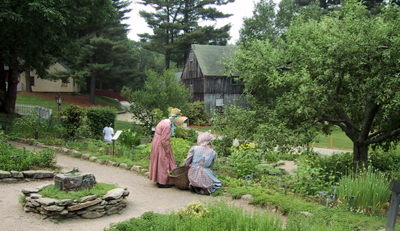 Their well tended herb garden had an amazing assortments of local herbs, grown for cooking, canning, and medicinal purposes. There were lots of events through out the day (musket firing, old time baseball game, crafts demonstrations, etc...). We ended up staying for about 4 hours! You will be able to read all about it when Carolyn is done soaking her feet and write it up in Carolyn's World :-)
June 1, 2005
Here is a bit of information that we thought all RainyDayTravelers would like to know:
Last month, the US Department of State announced a plan called the "Western Hemisphere Travel Initiative," designed to enhance border security, which will require people traveling between the United States and the Caribbean, Bermuda, Panama, Mexico and Canada to have a passport to enter or re-enter the United States. Citizens of the United States, Canada, Mexico and Bermuda will be affected.

Currently, passports are recommended, but not required, for travel to and from the destinations above. The new requirements are expected to be rolled out in phases according to the following schedule:

Beginning December 31, 2005, a passport will be required for all air and sea travel between the United States and the Caribbean, Bermuda, Central and South America. All foreign nationals from these areas, and US citizens returning from these areas, will be required to show a passport to enter the United States.

Beginning December 31, 2006, a passport will be required for all air and sea travel to or from Mexico and Canada. Canadian and Mexican citizens, and US citizens returning from Canada or Mexico, will be required to present a passport to enter or re-enter the United States.

Beginning December 31, 2007, a passport will be required for all air, sea or land travel to and from the above-mentioned destinations."

May 16 , 2005
Antiques and Brimfield have a long history together. The Brimfield Antique Show is a HUGE show (over 5000 dealers) with miles of booths. We went on the last day of the Spring show to see if we could find ourselves any bargains.
We didn't end up with any great deals, but we did meet some great people...people like Joe and Claudia who designs amazing bird houses!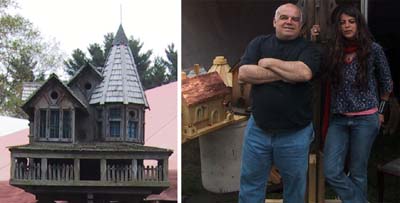 We also stopped and talked to master model maker George Anton and Kirby Harris of Vintage Optical. Go read about them here.
The next one is from July 5th to July 10th. Put it on your calendar now and get your walking shoes ready.
May 6 , 2005
The second item is a 5.1 Megapixel digital camera from HP. The HP PhotoSmart
R707xi is available for $169.99 as well!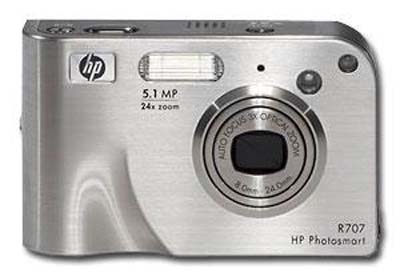 This camera has a stainless steel body, 5.1 megapixel sensor, uses SD cards, and a ton of other features. However, the key thing here is this is a digital camera from a big name imaging company that has the resolution high enough to be useful for years to come. Get one here!
So, now you can take photos using the HP camera, show them on the TV and record them directly to DVD, all with out turning on the computer!

The last thing you need now is some place to go so you can use that camera! How about a cruise? There are some amazing bargains this time of the year. A 7 night eastern Caribbean cruise
from Royal Caribbean is only $799! Go check it out here!
May 3 , 2005
We weren't sure if we had missed the blooms at the Arnold Arboretum due to the rain. So we took advantage of yesterday's clearing skies and walked around the Arboretum checking out the various Spring blossoms.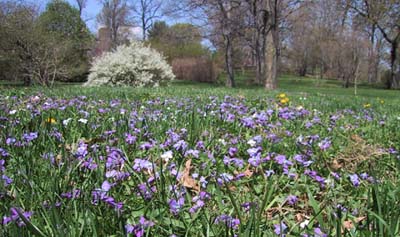 We are happy to report that things are in full swing at the Arnold Arboretum. On May 15th, the Arboretum will be having their annual Lilac Sunday festivities. If you have not been to one... just for the heady lilac fragrances alone, it will be worth the trip.
April 25 , 2005
Why bother seeing the world for real? Just use the web and instantly transport yourself anywhere you want to be...well, almost. How? It's called "Google Sightseeing".

Of course, one of the limitation is the view is only from the top (satellite's view only). However, it is quite amazing the level of detail that is available from GoogleMaps!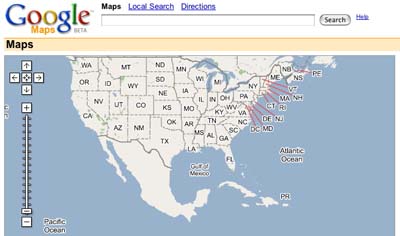 Give it a try... click on the map and go type in your address, then click on the word "satellite" on the upper right of the page to see the image of the location. Play with the zoom level on the left of the page. The entire map is click-draggable.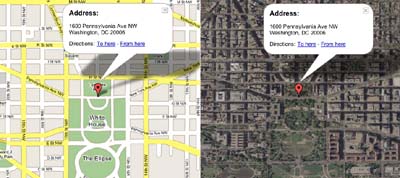 I did a quick trip to the White House... the detail is amazing. I can't wait 'til somebody hooks this up with a GPS!
If you want to see the world first hand but can't leave you beloved CD/DVD collection behind, Slappa has a case that will let you bring along your 600 most favorite discs in high style.

The Slappa 600 has a telescoping handle, roller wheels, and a Dura-Shock HardBody shell. Yes...it will fit in the overhead compartment on the plane :-)

April 21 , 2005
One day of 90 degree weather and everything in the garden went into high gear! Nevermind that tonight may be 34 degrees :-)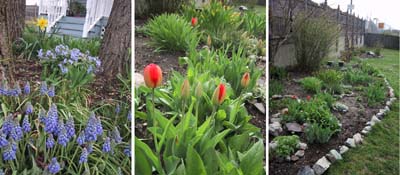 Look for the launch of RainyDayGarden at the beginning of May in the Workshop section. The primary focus will be urban gardening, but there will be plenty of projects that will be of interest to everyone... composting, container gardening, and water projects just to name a few!
We did take advantage of the summer-like temperature yesterday and took a drive with the top down.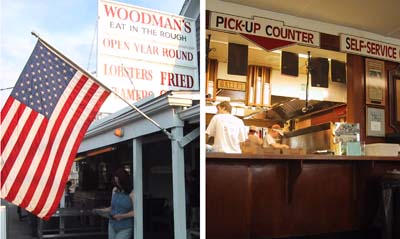 One of our favorite "summer outings" is to cruise up to Woodman's in Essex for some of their amazing fried clams!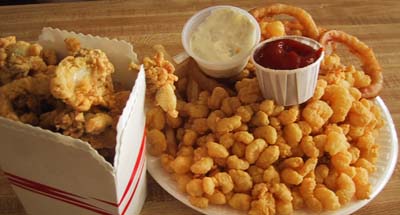 The clams were delicious as always. We also tried the "popcorn shrimp" platter, but left unimpressed. The shrimps were too small to have any flavor and did not have enough substance to stand out from the batter. In the end, it felt like we were just eating a plate of light batter. Stick with the fried clams.

If you go and the weather permits, eat out back... the view is amazing, especially around sunset!
April 18 , 2005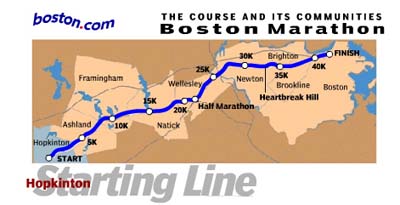 The 109th Boston Marathon will start in Hopkinton, wind it way through Ashland, Framingham, Natick, Wellesley, Newton,nBrighton, Brookline, and finally end in Boston's BackBay 26.2 miles later.

There are many categories of participants and many "official" times. The fastest official time of all the categories is 2:10:37 by Timothy Cherigat of Kenya. That works out to be a 5 minutes/mile for 26 miles! I'm not sure if I can run a mile in under 6 minutes, let alone keeping a pace like that up for 26 miles!
We'll be doing our part to cheer the runner's on and to celebrate the event by going to our friends Andrew and Sara's in Lexington for a Marathon Day BBQ ... I just hope we can find a way around the Marathon's route :-)
April 15 , 2005
It's Friday. It's Tax Day. It's a good day to go to Madrid, Boston, or New York City... anywhere but in front of the computer doing your taxes.
Everybody knows we love travel related gadgets (GPS, digital cameras, digital compasses, etc...). However, sometimes you just can't beat having a well designed travel guide in your hands!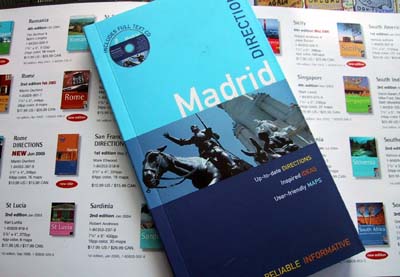 There is an entire section on one of the walls in the RainyDayOffice devoted to travel related guides, maps, and books. However, we have nothing like these Rough Guides. We got one yesterday... and more are on their way. We will be doing a detailed look at these Rough Guides and have write-up for you by the end of this month, but if you want to check them out now... go here. If you want to get some... go here.
If you end up getting a tax refund... go here :-)
April 4 , 2005
We have been very excited about a recent restaurant find in Roslindale! It's name is Sophia's Grotto on Birch Street. You cannot see the restaurant from the street. All you see is the sign and an alley way.

However, if you make your way down the short alley, you will find yourself in a beautiful courtyard and the entrance to Sophia's. The space is intimate and the food delicious.
Most likely you will be greeted by Sonia at the door and Joe behind the bar. There is a wonderful energy in the place and it seems everyone knows everyone...which very well may be since this IS a neighborhood restaurant.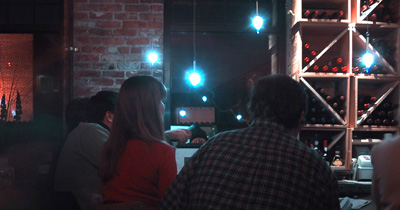 They have been doing a "soft" opening (no big announcements), but I think the word has gotten out! We can't wait until the weather is warm enough for the outside seating!
When you go, try the steak...just trust me on this. The detailed writeup on Sophia's Grotto will be on Carolyn's World sometime this week.
After a night out at the Grotto, you might want to just stay in bed the next morning. However, if for some reason you are in the mood for some Finnish baked goods to go with your coffee, check out Sweet Finnish in Jamaica Plain.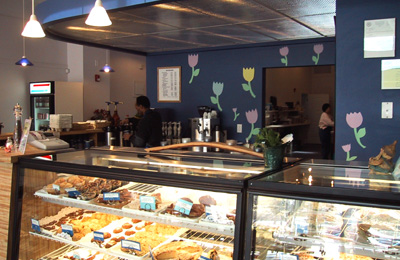 Carolyn has a full write up of our visit on Carolyn's World.
March 28, 2005
With the current Dollars/Euros conversion rate, it is a lot cheaper traveling around the US than in Europe. However, there are inexpensive lodgings if you do decide to head across the pond.

We had mentioned EasyHotel a while back... for less than the price of a meal at McDonald's ($10-60), you can get a clean, small (and we mean it ...60 sq. ft) room with a bathroom. It is one of the cheapest way to say in London.

If you want something a little more upscale, the YO! Sushi folks will have the YOtel chain up and running in London by 2006. For about $150/night, you'll get something much bigger (100 sq. ft) and a bit better appointed.
We don't know if either one of these chains have plans to bring the concept to the US, but we would love a cheap place to stay in cities like New York, San Francisco, and L.A.
March 16, 2005
A few days ago we were at the New England Flower Show celebrating the coming of Spring. It appears that visitors to California's Death Valley National Park are getting an even more spectacular, once in a lifetime, flower show!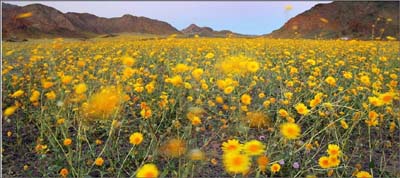 Because of all the heavy rain in California, conditions are perfect for all kinds of the wild flowers to take advantage of the unusual amount of water. The blooms started in December and are now at their peak. In another two weeks, the temperature will be above a hundred and this show will be over.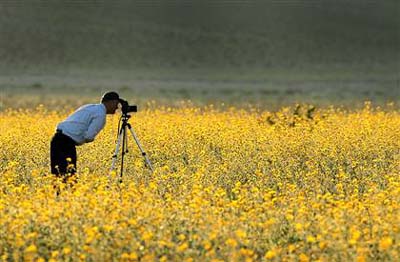 So, if you are in the area, pack up your vehicle, bring plenty of water, and take a trip out to see something that you may not see again in your lifetime!
You can find more about the hours, fees, and other useful information about the Death Valley National Park here.
March 14, 2005

The New England Flower Show has been the first sign of Spring for Boston since as long as I've been here...which is more years than I care to mention :-) We spent a wonderful afternoon wandering around the show getting ideas for when the snow is gone and ground thaws.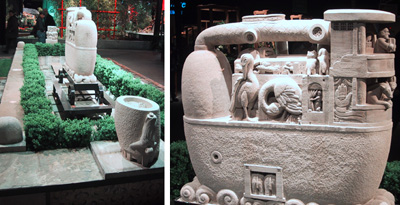 The show also featured many artisans that create items to make your garden special! These items may be metal planters, stone carvings, or specially created water features.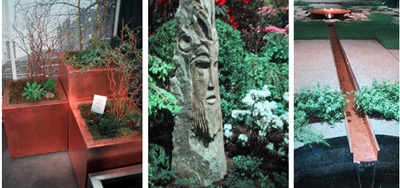 The New England Spring Flower Show will be at the Bayside Expo Center until March 20th... get over there before the blooms fade!
March 13, 2005
RainyDayMagazine would like to announce that Carolyn's World is now active! Carolyn realized that her insistence on winning the lottery before starting to contribute to RainyDayMagazine was keeping her from becoming the Contributing Editor she said she wanted to be. Thus, she has decided to share her unique views on the world starting this week! Check out her South Beach adventures here. Fans and other well-wishers may contact her directly here.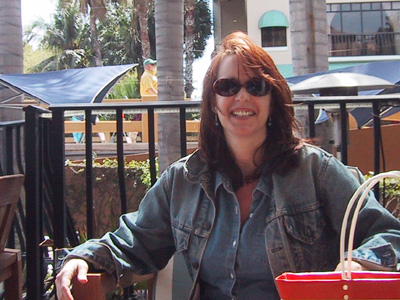 The link to Carolyn's World is now at the top of the left column on the front page so it will be easier to find. Carolyn's World is still a work in progress, and many of the links there will become active over the next few weeks. So bookmark it now and check it often for things that will make your world softer, smell better, and generally more pleasant... pretty much the direct opposite of RainyDayGarage :-)
March 8, 2005
The MFA in Boston is currently running an exhibit of Mr. Ralph Lauren's collection of roadsters. In the collection are Bentleys, Bugattis, Jags, Ferraris, and Porsches. They span the period from the '30s to the '60s.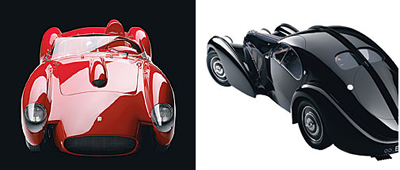 If you have a love for Art Deco, fine automobiles, or things owned by Ralph Lauren... get yourselves over to the MFA before July 3rd. If you are interested in seeing the cars with the hood up... get your tickets for April 28, May 26, and June 30, from 5 to 9:45 pm (timed exhibition tickets required). To purchase exhibition tickets for these time slots, click here.
March 7, 2005
We noticed a lot of new hotels along Collins Avenue. One new one that caught our eyes was the Catalina Hotel & Beach Club located directly across from where we were staying.

They just opened in December. We took a quick look inside. We liked what they have done to the place! We may stay there next year and report back with our impressions.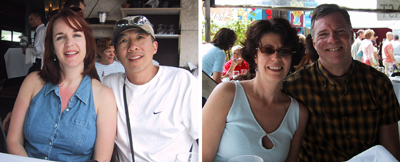 So after a few days of lounging around the pool, drinking mojitos, and eating our way to the credit limit... another Spring Break vacation bites the dust. For sure, we'll be back next year! Go here for the trip report :-)
March 6, 2005
We took a little drive up to Fort Lauderdale for the annual Las Olas Riverfront Arts and Crafts Show. I particularly liked Captain Jim Roberts' Gyotaku Fish Prints.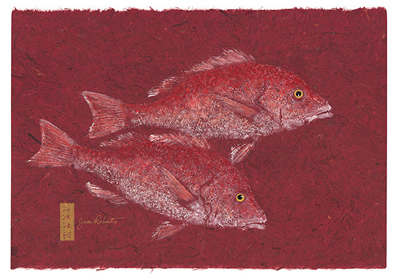 There were a lot of artisans showing their work. We had heard they have all new artists each year... worth a stroll if you are already in the area. There are plenty of restaurants and cafe along the way to rest, eat, or just sit and watch.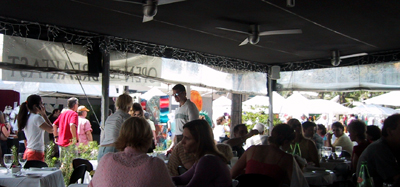 Carolyn found an inexpensive Cuban place close to the hotel. We decide to give it a try for dinner. Great food value for the money. I think all five of us ate for what we paid for drinks during lunch yesterday.

We did manage to met up with May, my cousin who is a doctor working down here in Miami. I had forgotten to email her until the night before we left to let her know we'll be in town. May said nobody from the family visited her the entire time she was doing her residency in Houston. Now that she is in Miami, all of a sudden... people are showing up. I wonder why :-) It can't be the location...
Go here for the trip report :-)
March 5, 2005
The weather was beautiful today. We started early... early enough to have our pick of tables.

The main pedestrian mall is on Lincoln Road. We found a nice outdoor cafe with cuban coffee and empanadas. Just enough food to get us started.

Some of the crew had hair appointments, others were looking for messages and nail/pedicure treatments. I just spent the rest of the day lounging around the pool until it was time for dinner.
Go here for the trip report :-)
March 4, 2005
In trying to maximize our time in South Beach, I booked us on a 6AM flight out of Boston. I soon realized that it was not that great an idea :-) It meant getting up at 3:30AM to make sure we had enough time to get to airport, check in, and get through security. It also meant we had to take the car instead of a taxi...Central Parking at Logan Airport is not bad, but it's not cheap neither. New rule...no flights before 10AM :-)

We arrived just at the tail end of a few days of rain... the clouds cleared by noon and the temperature started to climb above 70.
We knew we had some time before the rest of the crew got in, so we took the opportunity and got in some hot tub time at the hotel before lunch.

By the time Jay and Lisa arrived and we got going again, we were hungry AND thirsty! Lucky for us great dining is everywhere in South Beach!
Go here for the trip report :-)
March 2, 2005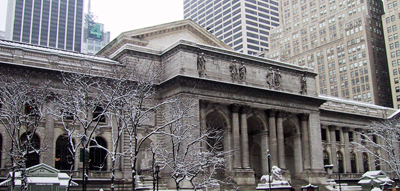 The best part about a quick trip to NYC is we only have time to do just one or two things. Walking up Fifth Avenue is one of the best ways to see some of the hidden gems in the city. We came upon this little aviary store on 33rd.

There were probably over 20 different types of birds flying around in the large front window. For a brief moment, we thought it would be great to have an aviary...but then we realize it would just make our cat's head explode.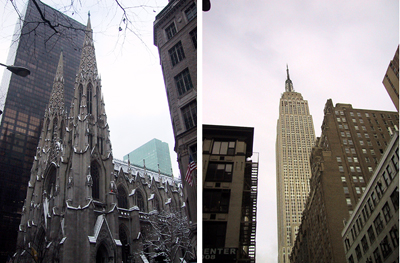 Along the way, we also managed to see a few interesting buildings and some statues :-)

We did do one tourist thing... we took the NBC studio tour. it was actually quite illuminating! They took us through a few of the studios, showed us some of the tricks of the trade, and gave us a chance to try our hand at being a weather person :-) That's our friend Finora giving a quick update on the weather out in L.A.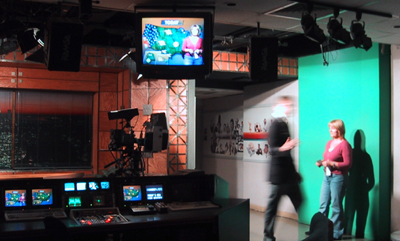 March 1, 2005
Some friends were in NYC from Ireland. So we drove down from Boston to join them for dinner at The River Cafe. The great thing about having parents living close to NYC is there is always a place to leave the car if you don't want to drive into the city.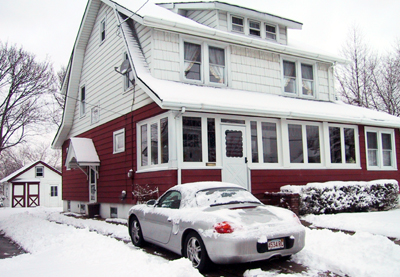 The storm on Monday made it too messy to drive in so we took the LIRR to meet our friends. It was actually quite enjoyable not having to driving around looking for parking. The restaurant is on the Brooklyn side of the bridge on 1 Water Street. It is right on the water and almost right under the Brooklyn Bridge.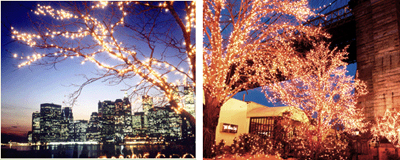 The view from the table is nothing short of spectacular. So were the martinis, the service, and the food. If you want a great dining experience with a view to match, we would highly recommend The River Cafe.

Definitely call ahead for a reservation. I can't wait to go back when it is warm out!
There are almost as many places to stay in NYC as there are places to eat. We love to stay at boutique hotels when we travel. They tend to offer much more value for the money. We booked a night at the Hotel Chandler because we like the look of the front of the hotel on their website.

We found the lobby inviting and the room cozy and well appointed. While waiting for our friends we sampled the free wine and cheese at the bar.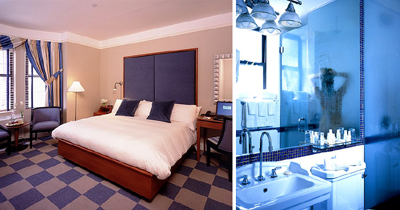 We didn't have time to check out the fitness and Finnish sauna, but we would definitely stay at the Hotel Chandler again when next we are back in NYC.
Feb 23, 2005
Ming and Polly Tsai opened Blue Ginger in February of 1998, in the Boston suburb of Wellesley, Massachusetts. Designed by both Ming and Polly and in conjunction with a Feng Shui Master, Blue Ginger showcases an open kitchen with a 40 foot blue pearl granite counter, subtle recessed lighting, cream colored walls simply adorned with Vietnamese waterscapes, warm cherry woodwork, Italian granite floors and a soothing water sculpture.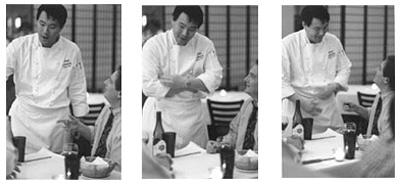 If you are free for dinner on Monday March 7, join Ming for a special wine dinner at Blue Ginger! Check out the menu here.
Feb 5, 2005

Beads, Hurricane drinks, the French Quarters...this weekend a lot of folks are heading down to New Orleans for Mardi Gras. The official start is on Feb 8th this year. The Parade season started on Jan 28. However, the absolute prime time is between Feb 4-8 (this weekend).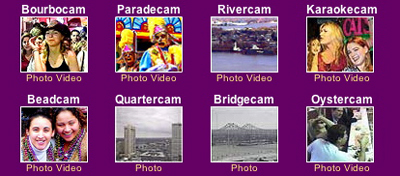 If you can't get down there...you can still check out the party via the various live cams! Just because you can't remember what happened doesn't mean it didn't...so have a great time, but know that somebody is always watching :-)
Feb 2, 2005
Celebrate Valentine's Day at Boston's Most Romantic Hotel! Share extraordinary seafood delicacies in the soothing ambiance at one of Boston's top 25 restaurants! The dining experience in Great Bay is the ultimate treat for your special someone on Valentine's Day!

Available from February 11-15, this package creates the perfect stay for you and your special someone! From Veuve Cliquot champagne on arrival and a rejuventaing massage for each of you to a full breakfast in bed the next morning!

January 25, 2005
After a few days of digging, we finally extricated ourselves out of the drift. We took the Pathfinder out for a quick spin to see how things were around town. It was a good thing we had a 4x4.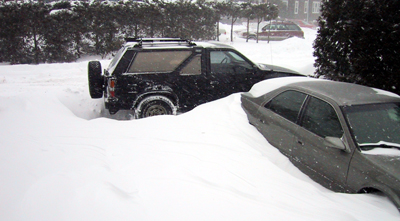 Most of the major roads in Boston have been cleared, but a lot of the side streets are still pretty congested...there just aren't any place to put the snow! We drove around for a while and ended up at Trader Joe's. We decided it was probably a good idea to stock up on some staples.
January 23, 2005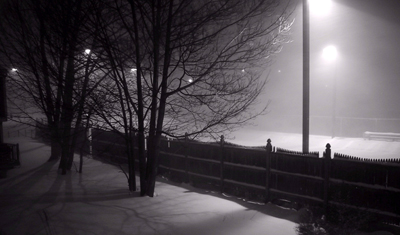 The storm blew in to New England last night and it was still blowing this morning. We went out to get a first hand look.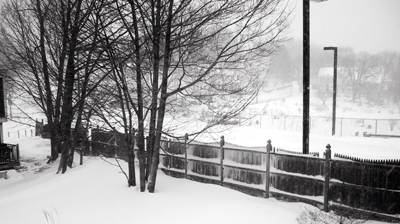 It was too cold out for the snow to be anything but light and fluffy. The problem was not the snow, but the snow drifts. To get out the door this morning meant we had to push our way through a foot and a half of white stuff.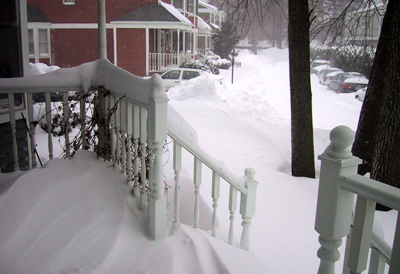 January 14, 2005

The weather has been CRAZY in Boston the past several days...at one point it was snowing, hailing, AND raining at the same time. Yesterday the fog was thick as pea soup most of the day...which made for some great photo-ops around the Jamaica Pond.

Today the temperature in the morning is sitting around 62...but they say it is going to snow this afternoon. Does it remind ANYBODY of the movie "Day After Tomorrow" ?
January 1, 2005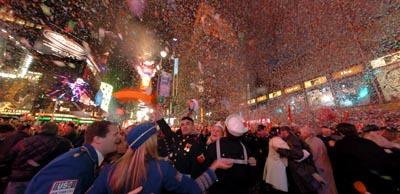 Happy New Year to all our Rainy Day Magazine readers!!!! If you didn't get to Time Square in NYC, you can still get a feel of the festivities and be in the middle of the action. Jook Leung took this 360 panorama from Time Square, complete with sound!
Once you are done with NYC, surf over to another view of New Years's Eve...by Matthias Taugwalder in Zermatt Switzerland. It's a 360 view of the open-air New Year Party at a ski resort at the heart of the Alps.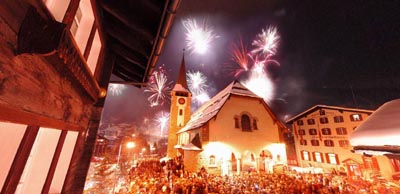 There are lots of other fullscreen 360 views from other parts of the world at the Panoramas.dk site...definitely go check it out! The images are pretty large, so downloads may be a bit slow for those not using broadband connections.
December 10, 2004
The South End of Boston, like a lot of other parts of the city, have been experiencing a lot of revitalizations the past few years. This year the South End Open Market is having their first Holiday Show for local artisans.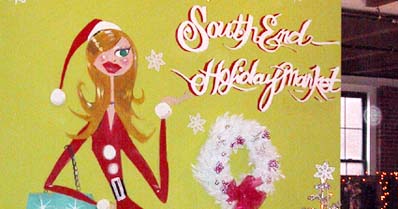 Our very own Carolyn and her Pure Bath line of aromatherapy products will be participating at this year's show. Pure Bath is announcing some new products at the show as well as selling holiday gift items.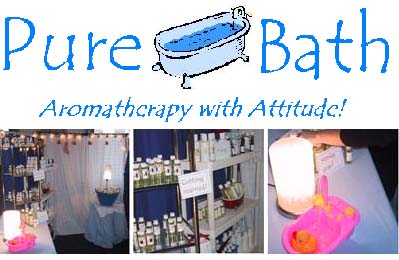 Make some time this weekend...get yourself down to the SoWa area (500 Harrison Ave) and get your holiday shopping off to a festive start!
December 2, 2004
Not every virtual trip is taken inside a computer. The pilots of radio controlled planes have been rigging up digital cameras with remote or timed triggers to capture some pretty impressive inflight images!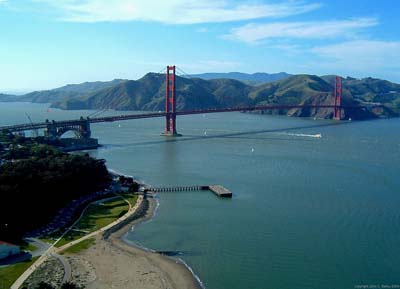 John Ballou took this image of the Golden Gate Bridge with a Fuji FinePix A303 3.2MP camera on a LocalHawk IIL. My guess is it won't be long before we see RC plane capturing video with the new generation of small tapeless MPEG4 videocams! Check out the other images here.
November 7, 2004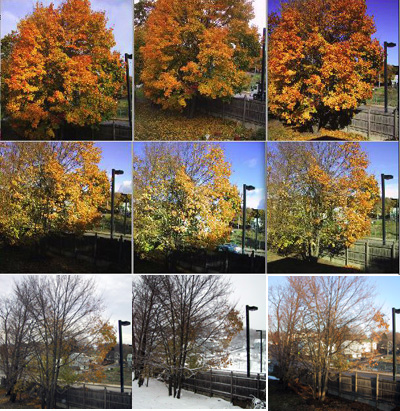 I'm fascinated by time series photos ...especially ones that revealseveryday changes. This beautiful maple is right outside. Every fall I see it change, this year it finally dawned on me that I should capture that in a series. The plan is to take a photo once a day for the next year. I hope you check back once in awhile and share in the progress. If you are interested in doing the same, let me know...perhaps we can point to some interesting ones! [More...]
November 2, 2004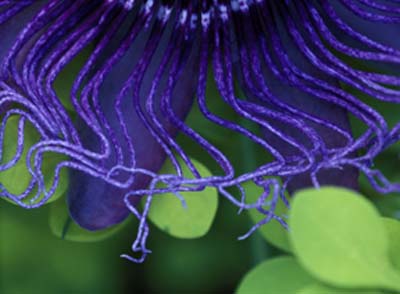 Our friend Gary Barsomian-Dietrich will be showing his digital art prints at the Paradise City Arts Festival in Marlborough from Nov 19 to Nov 21.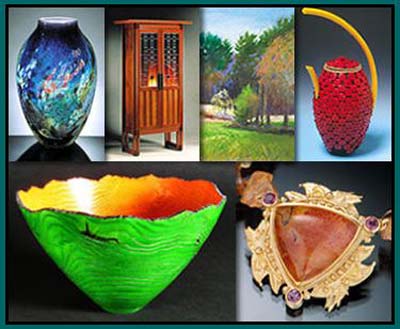 There will be 174 different artists showing and selling high quality arts and crafts... come get inspired! [More...]
November 1, 2004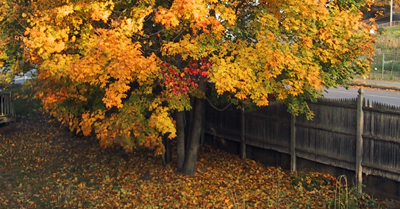 Fall colors are peaking in Boston. The maple in the backyard is in full color...quite rich this time of the year! Looks like the weather will be clear in Boston for the 2004 Election tomorrow. If you need any voting info, you will find it here.
The New England International Auto Show is at the Bayside Expo.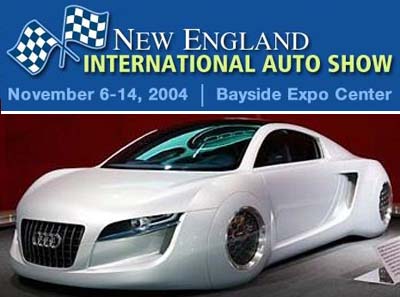 There is a special discount on Wednesday....bring the $2 coupon from the Boston Globe and the NEIA show promoters will bring the admission price from $10 down to $6. We will be there on Wed, we never pass up a bargain!
October 28, 2004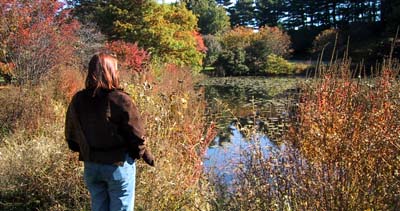 It was such a nice day here in Boston that we had to go for a walk. The Arnold Arboretum is always a treat to visit. Today, it was a peaceful retreat from all of the Red Sox celebratory festivities going on all around town.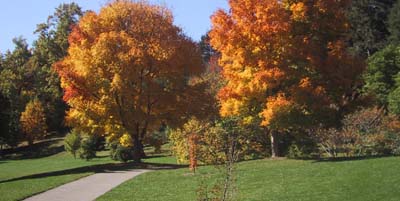 It is wonderful to have such santuary so accessible in the city. The colors are still turning...so if you are in town and have time, go for a walk.
October 25, 2004
Now THIS is an aquarium... 50 species, 2500 fish, and 1,000,000 liters of water! It is the AquaDom in the Radisson SAS Hotel in Berlin.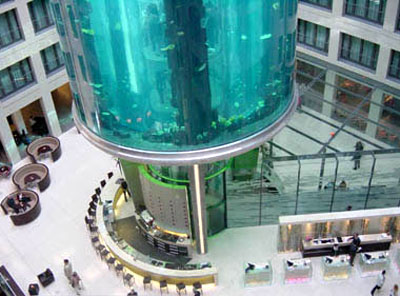 You can take a 7 minute elevator ride inside the tank. The same folks that did the tank in the Mandalay Bay in Vegas did this one. Their next big tank project is in Moscow. [More...]
This little rechargeable travel light would feel right at home in your room at the Radisson.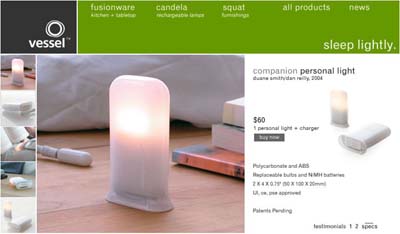 It doubles as a travel alarm clock when laid flat. The glow is nice for working with a laptop or reading. Comes with a strap for those times when you need both hands while walking around... scary :-) [More...]
October 17, 2004

The colors in Maine are still great ...but much of it have moved south. We love Maine this time of the year... fewer folks around, lots of lobster sandwiches, and festivals everywhere. [More...]
October 14, 2004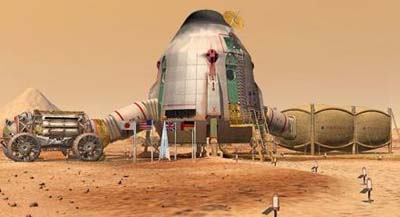 You can't really vacation on Mars just yet, but you can still explore it via this cool site. There is actually quite a bit of stuff to do on this piece of rock! Like everything else, the experience is better with a fast broadband connection. [More...]
In a high tech world of constant upgrades and new versions, there is comfort in crafting articles that stands up to the test of time.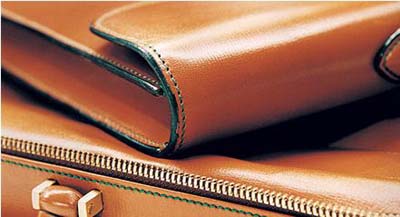 Next when you find yourself in Milan, ask for directions to the Valextra factory...if you are lucky, you'll get to take the tour. [More...]
October 13, 2004

So what if you are not old enough to drive? If you live around Boston/Braintree, you still get to rev it up at F1 Boston. [More...]
To get into a suite like this one at the Nine Zero hotel in Boston, all you have to do is look at the scanner...and you are in.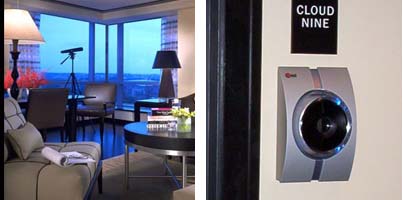 With the new iris scanning technologies, you may never have to worry about your hotel keys again! [More...]
October 12, 2004

Lot's of virtual trips today... remember the Powers Of 10 movie we all saw in Science Class? Well, you can take the same trip today on the web. Go from 10 million light years away down to 100 attometer... brought to you by the folks at Florida State University. [More...]
Researchers in Univ of Rochester has published a report in this week's Nature that claims we may actually be using 80% (not the often reported 10%) of our brains processing power for stuff we don't even know is going on. Most of the time...my brain is telling me I need a vacation. [More...]
Use some of that brain power and imagine you are a tropical fish... living a pretty good life in a Caribbean reef. You decided to go for a quick bite before the hurricane gets in town. Suddenly the currents changes and before you know it you are in Rhode Island! That's just my theory of how they got here.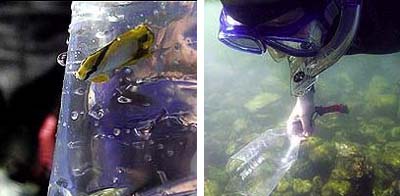 For a more researched explanation, you can read Beth Daley's full article in today's Boston Globe (the pics by Peter Pereira are in the "Gone Fishing" section on the right of the article). For more about the New Enland Aquarium Dive Club, follow the link. [More...]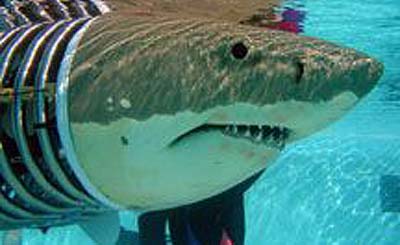 Swimming with the sharks on your next dive just got a bit easier...with this full functioning wet sub from Fabien Cousteau and Eddie Paul to get close to the real thing. [More...]
October 11, 2004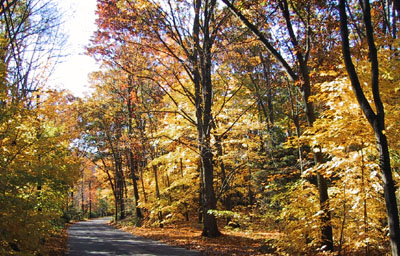 It's Fall in New England... and that means COLORS! Starting from Maine and following it all the way down to NY... we'll be giving you a color report every week until Halloween. [More...]