When it gets really hot in Boston, many people head to the Cape. The Cape has become so popular that a two-hour drive can turn into a four-hour crawl. We hate sitting in traffic, which is why when we get the urge to take a mini-vacation, we head to "The Cape Cod of the South Shore"... Wollaston Beach in Quincy.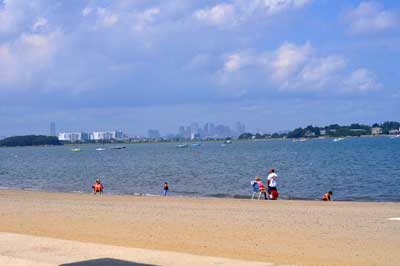 During the week, Wollaston Beach is pretty empty. There is a lifeguard watching over the crowd, such as it is. While we are not big on sitting in the sun in an attempt to alter our DNA, we are all about finding great fried clams.

If we were up in Essex we would find our way to Woodman's. When we are in Quincy, we stop at the Clam Box. Today we went all out for lunch: spicy crab/corn chowder, fried onion rings, and the seafood platter. It was way more food than we needed and all of it was excellent.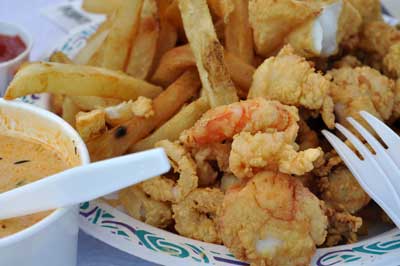 For us, this mini-vacation (a half-day in the middle of the week) to Wollaston Beach was a nice alternative to driving all the way to the Cape. We got the same salty ocean breeze, the fried seafood, and the walk along the beach... all without a traffic jam. [Permalink] - Wollaston Beach, Quincy