Sarah, our previous intern, is now at her second year at RISD. Last Thanksgiving, we sent her back to school with a Wacom tablet. Since then, Sarah has been sending us samples of work she created using the tablet. Here is one she sent us at the end of the Summer.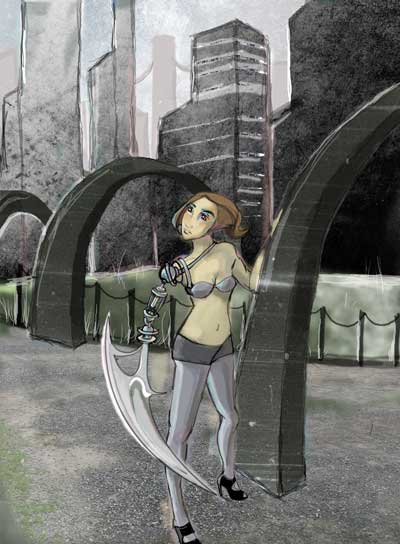 Wacom has the best tablet technology out there. The are a few other players in this product space, but none of them comes close to what is available from Wacom. One advantage to Wacom is that their tablets and pens do not require batteries. Another is that Wacom pen/tablet interactions have almost no noticable lag, leading to a very natural feel. Recently, Wacom expanded their technology lead by introducing multi-touch input to their Bamboo line of tablets.

The multi-touch technology now gives users the ability to scroll, zoom, and rotate images in Photoshop just by moving their fingers. Mac users with the new multi-touch trackpads have had this capabilities for a while, but now all systems can have this feature just by adding a Wacom tablet. Mac users like us will benefit by having a much larger multi-touch surface...along with all of the other tablet capabilities.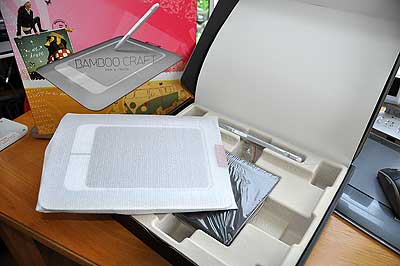 This FirstLook will focus on the Wacom Bamboo Craft tablet. It is the smallest (10x7 overall, 6x4 active) and most affordable ($125) of the Wacom line. It is a bit bigger than the Bamboo unit we had looked at in August. Instead of a touch-sensitive scroll circle, its central area is responsive to multi-touch gestures. Four programmable buttons are located on the left. Instead of a separate pen puck, the new design has an integrated pen holder on the side.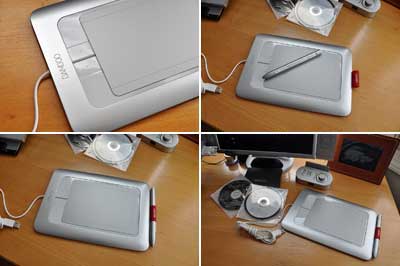 Included in the Bamboo Craft package were three pen-aware applications: Adobe Photoshop Elements, Corel Painter Essentials , and Nik Color Efex. All the applications will run on both the Windows and Mac platforms. We are familiar wth both Photoshop and Corel Painter, but will check out the Nik Color Efex Pro in a future writie-up. This application was designed to enable photographers to apply lighting and enhancements to photos using the pen.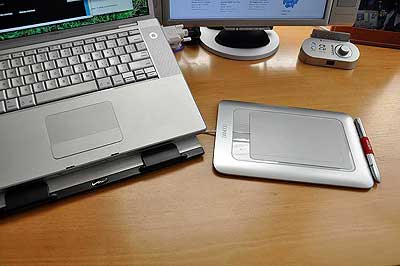 We still use the larger Intuos tablet for much of our production work. However, we like the new form-factor of the smaller Bamboo Craft. It has a large enough working surface to let us easily navigate a dual-screen setup, but small enough to not take over the desk. In our FirstUse write-up, we'll have more to say about the multi-touch feature. If you are considering adding a graphics tablet to your set of tools, our advice is: regardless of which one you end up getting, the only brand you need to consider is Wacom. [Permalink] - Wacom Bamboo Craft