RainyDayDestination's content can now be licensed for your print magazine or web site. Please contact us directly here. If you want to see something reviewed, then drop us a note with a link and we'll be happy to take a look.
December 7,2009
Last Friday was a relatively nice day, but as snow was forecasted for the weekend, we decided to take a final roadtrip with the convertible before we accept the fact that Winter is here and put on the Boxster's hardtop. Our destination? The Timex Watch Museum in Waterbury Conn. The Museum was very easy to find, and since it was a weekday, not very busy. We actually had the entire place to ourselves.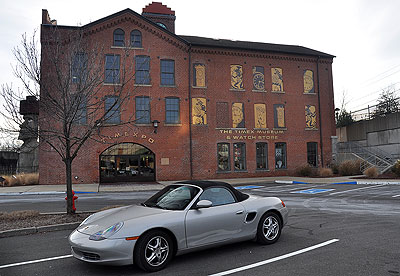 The Museum was a bit over 120 miles from Boston, but traffic was light and we had the Harry Potter audio books to keep us company. Timexpo® The Timex Group Museum is located just off Route I-84, in the corner of the Brass Mill Commons section of the Brass Mill Center Mall. Our directions said to look for the 40 foot high Easter Island statue outside the building!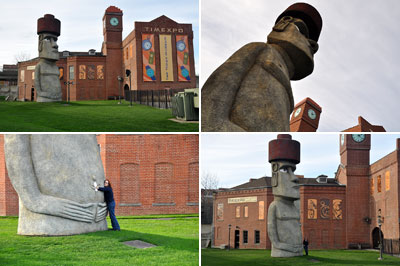 Sure enough, in a courtyard next to the Timexpo building was the huge stone statue. We took a few photos to give readers a proper sense of scale. Hard to imagine these things were carved and moved by the natives on Easter Island with nothing more than just logs and muscle. The linkage to Timex is an interesting one. To find out what that is, you will have to visit the Timexpo yourself.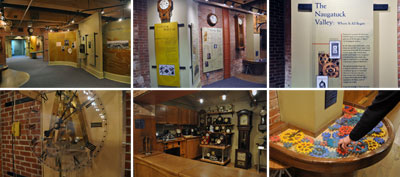 Waterbury Conn had a long history of clock and watch making. The Timexpo museum takes a visitor through the town's timeline with displays of authentic artifacts and interesting naratives. In the 1800s, Waterbury Clock and others contributed to the area's clocking making fame. Offerings such as the Yankee "dollar" watch gave everyone a chance to own a timepiece. One of the more famous owner was Mark Twain...who ordered another one just days after receiving his first.

However, the most famous watch to come out of Waterbury Clock was probably the Mickey Mouse clocks and watches. These were originally sold in the 1930s for $1.50. They are now collector items which continue to appreciate in value.
A new wristwatch called the Timex came on to the scene in 1950. Known for its ability to "take a licking and keep on ticking," the watch's sales took off and never looked back. By the end of the decade, it cornered over 30% of the US market.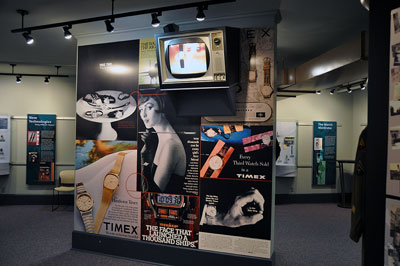 The Museum had many displays of Timex print ads, TV commericals, and even one of the "torture test" water tanks complete with a working outboard motor and a Timex Marlin strapped to one of the blades of its propellar. There were also lots of other exhibits displaying famous Timex watch innovations (Indiglo, Triathalon, etc...).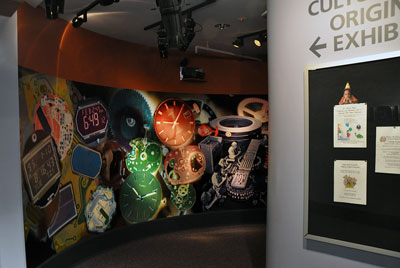 There is a lot more than just the history of watches at the Timexpo. When we stepped through the Time Tunnel on the second floor, we were transported to an entire exhibit dedicated to the archaeological mysteries of ancient civilizations. There were also exhibits looking forward to a future methods of time keeping. A future where contact lenses may have a readout directly embedded in them or a watch that monitors more than just time.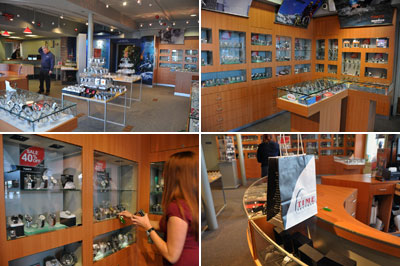 At the end of the tour is, of course, the Timex Museum Store. The store has a huge collection of Timex watchs and all of them were heavily discounted, some by up to 70% !!! We, of course, could not resist and found something awesome in the 40% off section. If you are in the area, the Timexpo is a stop well worth making...if not for the fascinating history lessons, then for the amazing discounts on watches. [Permalink] -Timexpo Visit
We posted a write-up on the MFA's new Albrecht Durer exhibit last week. The collection showcased Durer's skill as a print maker. On that day a second print exhibit at the MFA, featuring Toulouse-Lautrec, also went live. Cafe and Cabaret: Toulouse-Lautrec's Paris will run until August 8, 2010. "Toulouse-Lautrec was one of the most original and creative artists of the late 19th century, a master of the great age of color lithography," said Malcom Rogers, Ann and Graham Gund Director of the MFA. "No artist captured the excitement of Parisian nightlife with more verve than Toulouse-Lautrec."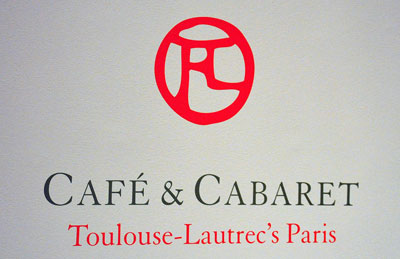 The MFA curators (Helen Burnham, Clifford Ackley) gave us a glimpse of 19th-century Paris' bohemian nighlife as captured in posters, prints and paintings of Toulouse-Lautrec. Toulouse-Lautrec, one of the more well-known Post-Impressionist artists, painted what he lived. His Paris was one of cancan dancing, drinking, and carnal pleasures. The bohemian lifestyle and heavy drinking did not pair well for Toulouse-Lautrec and he died early in his thirties. Even so, he managed to be both prolific in his merry-making and in his painting.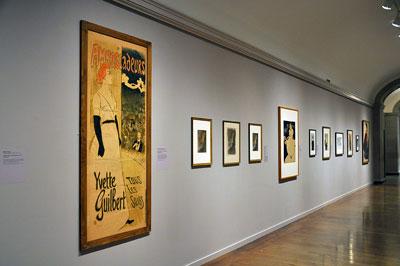 "Through his work, Toulouse-Lautrec drew new connections between art and daily life, becoming a central figure in the decadent society he portrayed," said Clifford Ackley, Department Chair and Ruth and Carl J. Shapiro Curator of Prints and Drawings, who organized this exhibition together with assistant curator Helen Burnham. "He transformed the art of the poster, and his designs were some of the greatest ever created."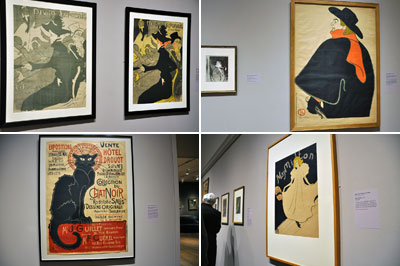 Toulouse-Lautrec was famous for his ability to capture the essence of his subjects where most could be identified by their silhouette alone. His long thin strokes and quick sketches would expand into brightly colored works with broad flat colors, strong silhouettes, and unusual points of view.

In addition to works by Toulouse-Lautrec, this exhibit highlights images of the Parisian nightlife by several other contemporaries. Both Pacasso's Stuffed Shirts and Theophile-Alexandre Steinlens's poster Collection of the Chat Noir are also on display.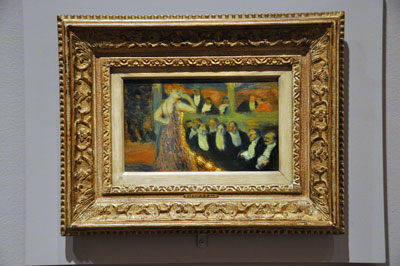 The MFA is open seven days a week. General admission (which includes two visits in a 10-day period) is $20 for adults and $18 for seniors and students age 18 and older, and includes entry to all galleries and special exhibitions. Admission for students who are University Members is free, as is admission for youths 17 years of age and younger during non-school hours. No admission fee is required (after 4 p.m.) on Wednesdays. For general visitor information, visit the MFA website or call 617.267.9300. [Permalink] -MFA Toulouse_Lautrec
The MFA has put together an awesome exhibit of Albrecht Durer's work. Featured are about 50 pieces selected from the Museum's large collection. They are representative of this Renaissance master's skills in a variety of printmaking (engravings, woodcuts, drypoint) techniques.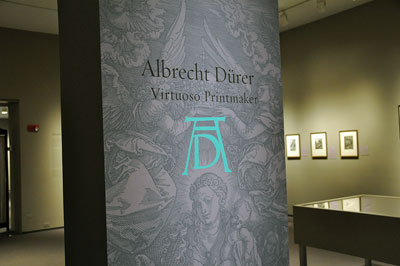 Clifford Ackley (MFA's Curator of Prints and Drawings) and Helen Burnham (assistant curator of Prints and Drawings) gave us a fascinating view into the various pieces selected for the Durer exhibit. There were WAY too many interesting works to discuss in any in detail here, but we'll mention some of the many interesting things learned on the tour that struck a cord.

The first was the engraving Saint Jerome in his Study (1514). According to the curator, this work is probably one of Durer's best-known engravings. It was interesting both because of the strong perspective used to direct the viewer to the saint and the amazingly delicate treatment of the light and shadows in the room. Note the details in the shadow of the leg of the chair in this close-up.

The next were the two prints of The Prodigal Son amid the Swine (1496, 1525) done twenty years apart. It was interesting to see the difference in quality from the repeated printing. The earlier print was darker because Durer often chose not to remove the "burr" or metal shaving at the edges of the engraved lines. These bits caught and retained extra ink, leading to a stronger print. The burr would wear away over time. Some would say that resulted in a "weaker" image, but we thought it actually revealed additional details overshadowed by the additional ink in the earlier printing. Regardless, it was amazing that the MFA had two copies so visitors could see them side-by-side!

The last was an engraving called Melencolia I (1514). While this piece is already well-known to many in the art world, the recent release of Dan Brown's novel The Lost Symbol will expand its recognition even wider. In the book, many of the items depicted in the engraving were given special Masonic significance by the author. One item specifically mentioned was the magic square. The one depicted in the engraving was especially clever. Not only did the numbers sum to 34 in the columns, rows, and diagonals, they also added up to 34 in the quadrants. Durer even managed to work in the date (1514) of the work into the last row of the square. 16th century recreational math...geeks were cool even back then!
The Albrecht Durer: Virtuoso Printemaker exhibit opened on November 21st and will run until July 3rd, 2010. Durer's works require close inspection for full appeciation, so here is a RainyDay tip...bring a magnifying glass! You will be amazed at what you will discover at the MFA. [Permalink] -Albrecht Durer: Virtuoso Printmaker
The 4-door Porsche Panamera was unveiled to an appreciative crowd at the Larz Anderson Auto Museum (LAAM) last night. Herb Chambers and the folks at the LAAM went all out. We got there a little early to get some shots of the car before the crowd.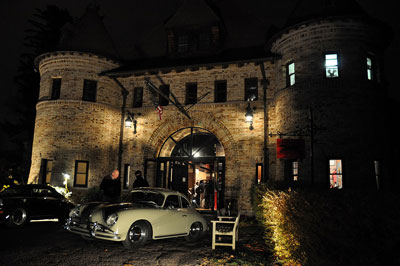 The Panamera is a big car! The wheelbase is 115 inches and the overall length is 195 inches. The Boxster compares at a much smaller 95/172 inches. While sized to carry four adults, the Panamera was shaped to move. The stance is low and wide, the wheels are 18", and Porsche's dedication to their form-follows-function approach was evident in the design decisions throughout the car.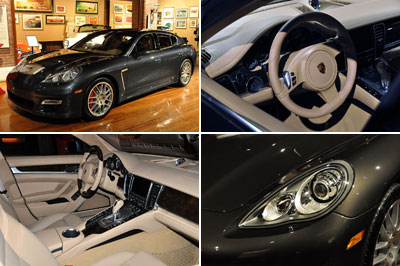 The interior, while designed to be comfortable, was laid out with driving ergonomics as the primary focus. Manual gear shifting can be done either with the controls on the three-spoke wheel or with the selector on the central console.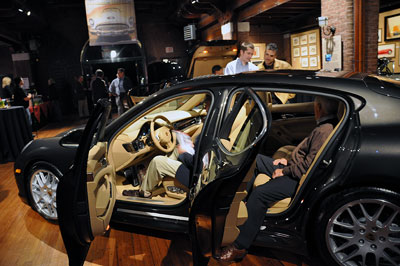 The most rethinking about this Porsche is obviously the full-size rear. The rear section has real leg and headroom, fold-down backrests for more storage, and top-hinged rear lid. This design not only carries more people, it also carries more gear...up to 1300lbs worth!

The heart of any Porsche is the engine and the Panamera sports a natually aspirated V8 with Direct Fuel Injection (DFI), VarioCam Plus and a variable intake manifold. What it all translates to is a block which is capable of putting out 400 horsepower at 6500 rpm, enough to move this 4-seater from 0-60 mph in a bit over 5 seconds. But enough with the spec...below are a few "engine porn" shots for those who did not get a chance to attend. Click on any of the images for a larger version.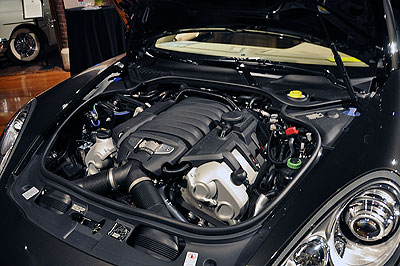 For folks wanting more performance, a twin-turbo engine is available. It will generate 500 horsepower and can throw you from 0-60 in just 4 seconds. Using the Launch Control overboast function, those who really need to hit 88 mph and get "back to the future" can shave another 0.2 seconds off the 0-60 time.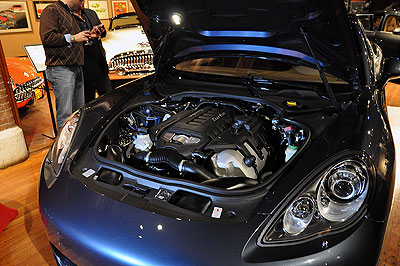 While waiting around for hors d'oeuvres, we managed to snap a few shots of the Bi-Xenon headlights in action. They are standard on all models. The lights have an automatic dynamic leveling function which throws more light on the road and less at oncoming traffic. To illuminate the road on turns, the lens will swivel toward the inside of the curve based on the steering action of the driver. How cool is that?

There is more to the lighting system (LED spotlights, speed-sensitive illumination, etc...), but best to let Porsche take those interested through the details.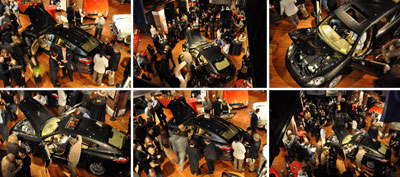 The Panamera unveiling event looks to have been quite the success. It was definitely interesting to see them live... to smell the new interior, to feel the smooth paint job, and to touch the knobs and buttons. However, the only way to evaluate a Porsche is to see how the car behaves on the open road. For that experience, we will have to wait a bit longer. [Permalink] - Porsche Panamera Unveiling Event
When the sun is out in Boston, we try not to stay inside. The sun has has been showing itself these past few days, so we accepted the invitation, got our butts out of the Aeron, and headed outside. As we had been taking in the Fall colors, we thought we would see what's going on down at the Boston Public Garden.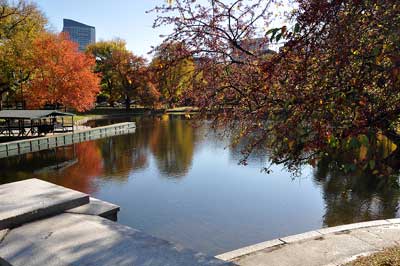 On the weekends, the Boston Public Garden is a pretty busy place, but during the week it is quiet and serene. Parking, usually a problem, is easy. We found an on-street spot right next to the park. There were plenty of folks strolling about, but absent were the throngs of tourists and their kids.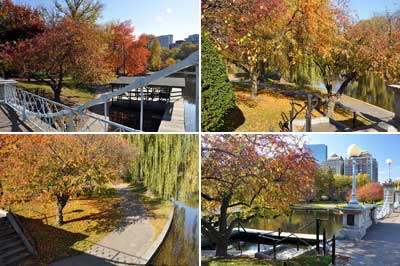 Boston is a very "visitor-friendly" city and we locals are happy that so many of them enjoy our lovely city. Sometimes, however, it is nice to walk around without being in the midst of so much, chatter. I know, I know...it is a sure sign that we are turning into a bunch of old farts! Regardless, we took full advantage of the quiet, tranquil, and beautiful day in the Back Bay.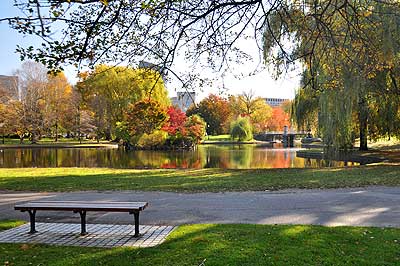 If you live in Boston and have not had a chance to see the city's Fall colors, make some excuse for an errand, hop on the T and head to the Boston Public Garden. The colors will only be around for a few more days (snow is forecast for Friday). [Permalink] - Boston Public Garden
There are parts of Boston which are bike-friendly, if you know where to look. Close to the RainyDayMagazine office, across the road from the Forest Hills T-Stop, is the Pierre Lallement Bike Path. It is 3.5 miles of paved bike/pedestrian pathway leading from Forest Hills all the way to Downtown Boston.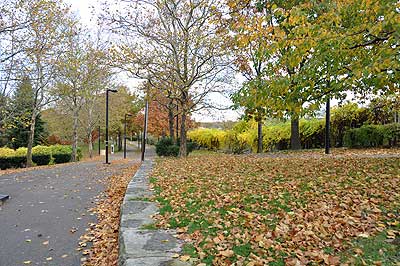 This route can be a nice alternative to the congested roadways between downtown Boston and its south-western neighborhoods. The park was built by the MBTA and is managed by the DCR. An interesting factoid is that the path passes within a few blocks of the house where the inventor of the pedal bicycle, Pierre Lallement, died in the nineteenth century (which made all of us in the office wonder, "What's he doing in JP?").

There is a grand plan of walking the entire path some weekend to the Pru for brunch and walking back. This weekend we only walked for about half a mile on the path and stopped for coffee at the ULA Cafe.

The cafe is in this funky refurbished factory called The Brewery. It has good coffee, tasty baked good, sandwiches and free WiFi. Some of us may just start hanging out here during the day!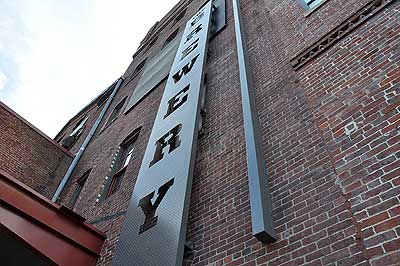 The Brewery is home to a bunch of small businesses, most of which were closed when we were there. We were able to check out the space from the outside. The spaces appear to be large lofts with big windows. There was also plenty of parking. If we were looking to move the office, this building would be an excellent location! [Permalink] - The Brewery
Fall is a beautiful time of year in New England. On a sunny day brilliant colors of yellow, red, and orange colors are everywhere. We had plans to head to one of the popular "leaf-peeping" places (Western MA, White Mountains NH, etc...) but realized that the Arnold Arboretum at just three miles from the office would probably be as spectacular. Instead of spending hours driving to the enjoy this year's colors, we went for a walk instead.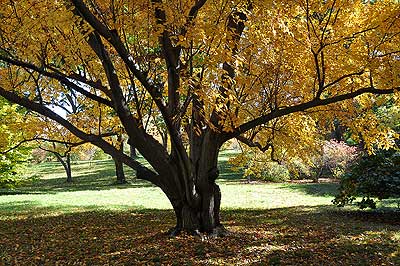 We were not disappointed! The colors of the leaves on the trees at the Arnold Arboretum were at their peak. Their glory was enhanced by the sun shining behind them. Even the colors of the leaves on the ground were still quite vibrant.

There are different and distinct sections in the Arnold Arboretum. We entered the arboretum from the Centre street gate, but it didn't really matter as there are well-maintained paths throughout. Some of them are paved walkways, but there are plenty of colorful trails for those wishing to momentarily transport themselves out of the city.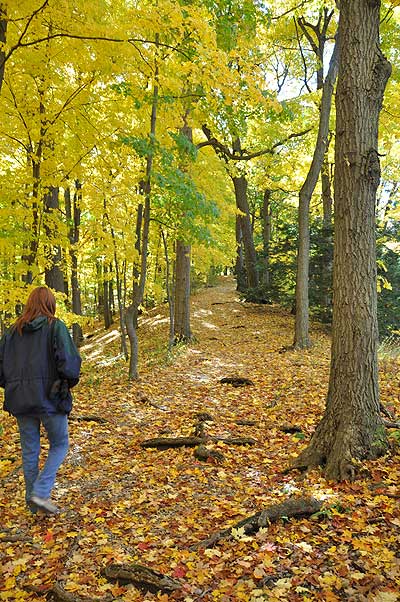 One of our favorite site at the Arnold Arboretum is the Bonsai House. The structure is built in such a way that visitors can get up close to the beautiful bonsai. The miniature maples in the collection have turned a brilliant red. Others have started their changes as well. If you want to see them in person, go soon as they will be moved indoors some time in early November, depending on the weather.

Next to the Bonsai House is the new Victor and Frances Leventritt Garden. This garden is one of the most significant additions to the Arboretum since its founding in 1872. The Leventritt Garden's terraced beds feature a diverse array of sun-loving ornamental shrubs and vines. There is lots of room for future growth, and for now, a great place to have a picnic or to host an event!

The Arnold Arboretum has three man-made ponds. They are clustered together near the Forest Hill gate entrance and are quite popular with the water fowl and dogs looking to cool off. They also offer a lovely setting for some very nice photo opportunities.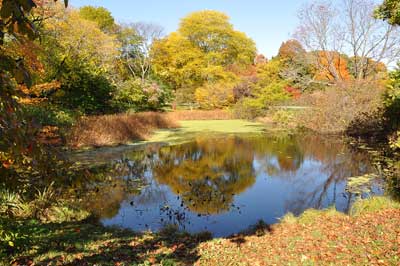 This week is forecast to be very nice, weather-wise. We would recommend a visit to the Arnold Arboretum if you want to see some Fall colors but don't have the time or the desire to wander too far away from the city. [Permalink] - Fall at the Arnold Arboretum
Boston is not a very scary place now, but it has not always been so. Like many old cities, Boston has its share of smugglers, pirates, shipwrecks, and ghost stories. The Boston Ghost Cruise brings those stories to life every year around Halloween. RainyDayMagazine joined them on one such trip around Boston Harbor this past Saturday.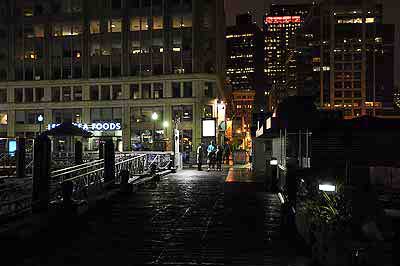 It WAS as dark and stormy night when the RainyDay crew boarded the Ghost Cruise for a two-hour tour. Long Wharf pier was crowded but there was a hint of anticipation in the air. The adults were quietly talking. The children were staying close to their parents, leary of wandering off too far. After all, things such as sea monsters have been reported in the harbor. If you are quick enough, you can catch them out of the corner of your eye!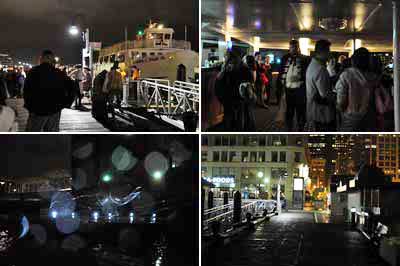 The cruise headed out from the pier around 7:30PM. No one saw us leave. If we didn't come back, would anyone know to look for us? Would we end up being the ghost story told by the next generation of storytellers ??? Fortunately, we managed to survive... this time.

Over the course of the two hour cruise, we heard tales of bloody executions, mysterious cursed ships, gruesome murders, and haunted lighthouses. The professional troupe of storytelling ghosts and ghouls kept everyone's attention, violentely interrupted only by the occasional bloody-curdling scream from an audience member. We'll skip the details so as not to ruin the surprises.

Time passed quickly. Before long, we had made a trip around the harbor, heard some gruesome tales, and were headed back to the pier. The rain had picked up, but the water was oddly calm... enough to allow us to get some shots of the lights of Boston from the ship.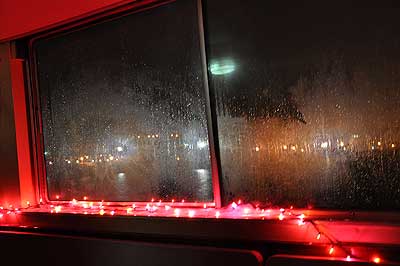 The Boston of old looked quite different than today's. There were more boats on the water, but fewer lights on shore. However, the rocks were probably just as jagged and the water may have been even colder. Boston may be brighter now, but on a dark stormy night, the legends and folklores of old still burns in the imagination of the storytellers on the Boston Ghost Cruise.

On the drive home, we thought about story of the lost father and daughter in a horse-drawn carriage looking for, but never finding, their way back home. When we came upon one particularly dark curve on a road in Watertown, we could have sworn we heard the clopping of hoofs. Just our imagination...yeah, that must have been it.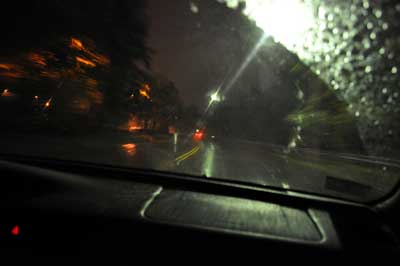 Everyone loves a good scare. Readers who love to hear ghost stories, learn more about Boston's ghoulish past, and have an old-fashioned good time should check out the Boston Ghost Cruise. If you are fortunate, it will be a dark and stormy night...aahhhhh!!! [Permalink] - Boston Ghost Cruise
RainyDayMagazine readers know we are huge Harry Potter fans. We have been at most of the HP events in Boston. So when we got an invitation to the preview of the new Harry Potter exhibit at the Boston Museum of Science, we cleared our calendar and got our brooms ready.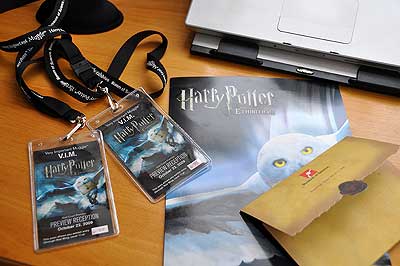 The preview was last evening. We got there early, registered, and waited patiently for the show to begin. In the main entrance of the MOS, props (wizard's chess piece, flying car) from the various HP movies were on display. Food, drink, and celebrity appearances help set quite the party atmosphere.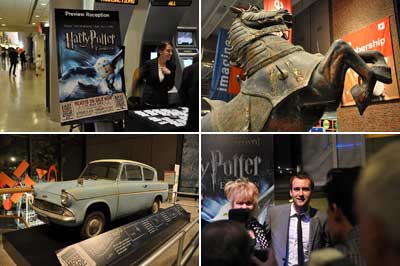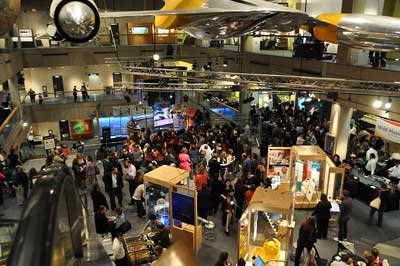 There was music, LiveAnimal presentations, and various "Fun Stations" for guest to meet and learn about the animals (owls, toads, snakes, etc...) in the HP world.

The Harry Potter experience was created in partnership with Warner Bros. All in all, there were nine enormous sets. The artifacts and dramatic displays spans over 10,000 square-feet of exhibition space. The exhibit offers fans a first-hand view at more than 200 authentic artifacts displayed in settings inspired by the film sets (the Great Hall, Hagrid's hut, the Gryffindor common room, etc...)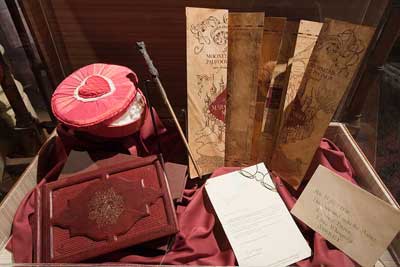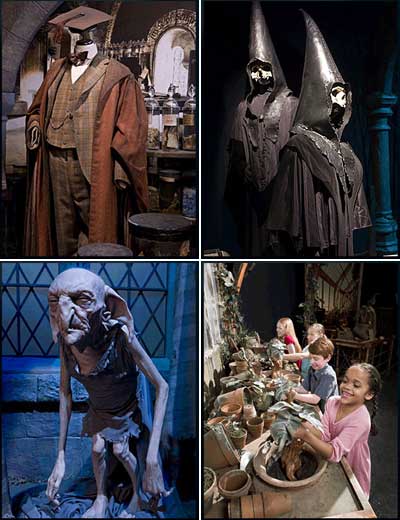 We took over an hour to wander through the exhibit. The audio commentaries gave a lot of fascinating background to the various objects. We saw things like Harry's original wand and glasses, costumes from the Yule Ball, the Quidditch equipment, and models of the house elfs. It was amazing to see the level of craftsmanship behind the authentic costumes and props from the films. We also had a chance to pull up our own Mandrake plant. No ear-muffs were needed, nobody fainted, and a great time was had by all :-)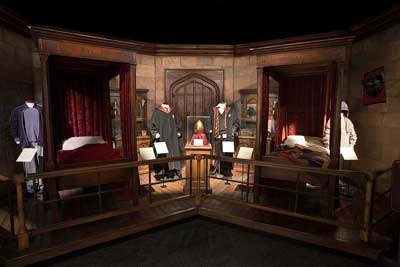 This exhibit premiered at Chicago's MOS last April. The Museum of Science is the only New England venue to host the exhibition and the second venue worldwide. This exhibit will run at the MOS through Feb 21, 2010. If you are a HP fan, this is a must-see exhibit. If you are not yet one, you will be after seeing the exhibit :-) [Permalink] - Harry Potter: The Exhibition
BTW...go here to read Carolyn's take on the exhibition.
This past Tuesday, RainyDayMagazine got a first-hand look at MFA's soon-to-be-open exhibition, The Secrets of Tomb 10A: Egypt 2000 BC. The artifacts of this exhibit were discoverd by a joint Harvard/MFA expedition in 1915, but it took almost another century before all the pieces were brought back together and reassembled for display. We won't spoil the story, but the exhibit (secret spells, mysterious mummies, etc...) is as exciting as any Indiana Jones movie.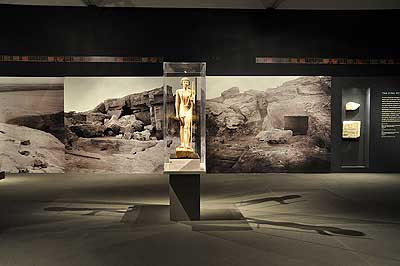 Like many other the Egyptian tombs, this find (Tomb 10A) had been raided by robbers looking for gold and other valuables. When the Harvard-MFA team uncovered the site, they found objects the robbers deemed worthless piled up in jumbles all about the tomb. Fortunately, there were a LOT of objects! Unfortunately, the robbers had set the tomb on fire, so soot covered many of them, with much of them just pushed into a pile.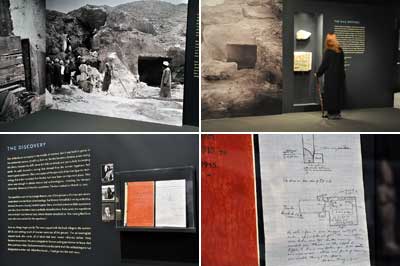 The Tomb10A find actually represents the largest Middle Kingdom (2040-1640 BC) burial assemblage ever discovered. The dedicated staff at the MFA have spent more than 10,000 hours painstakingly preserving and restoring the objects in this exhibit. The results are spectacular.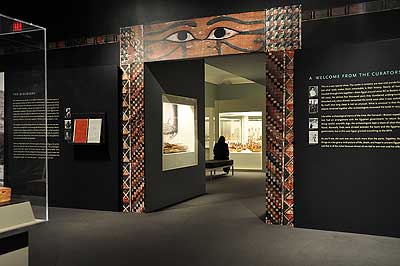 The first thing we noticed were the models, lots of models. Over 60 different ones were on display. They were outfitted to anticipate the needs in the afterlife. We have presented a small sample of what is on display in this exhibit. There was much too much for us to even attempt to be comprehensive. However, do click on any of the images for a closer look.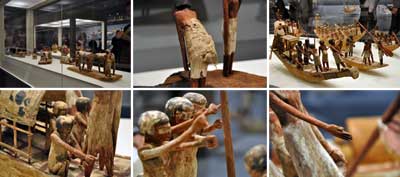 Many of these models were found with pieces broken off and jumbled together. Putting all of the pieces together was a test of skill, patience, and dedication. We imagined it as doing a giant 3-D jigsaw puzzle with thousands of pieces, but first one must clean, restore, and preserve each piece lest it falls apart during the reassembly.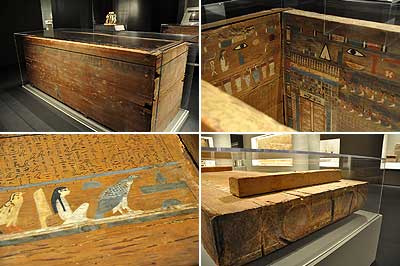 Tombs have coffins. Unearthed in this tomb is the finest example of a Middle Kingdom coffin (and we mean, theee finest; everybody says so). The outer coffin is beautifully crafted from cedar planks complete with painted images of food, drink, clothing, and other provisions for the afterlife.
One item worthy of extra-special mention is the model of the Procession of offering bearers. We were completely awestruck by the quality and details of these carved figures. The hands of the artisans who created these objects lived over 4000 years ago, yet they would be considered masters by any standard today. We may not be able to read hieroglyphs or understand the ancient's cultural beliefs, but we can't help to think that when we looked at these figures today, we are appreciating them much the same way they were appreciated four millennia hence.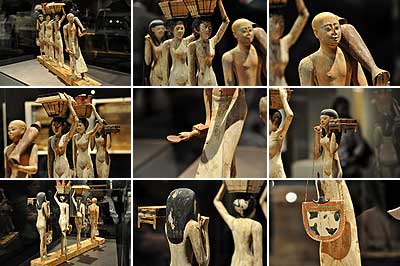 So that everyone can appreciate this exhibit, the MFA is making all kinds of special educational programs (lectures, courses, gallery talks, and an artist demo) available during the run of this exhibition.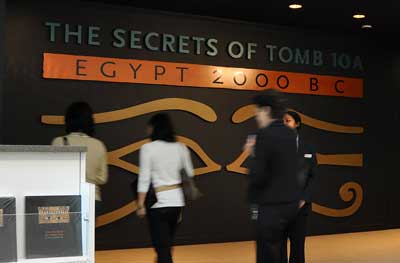 The Secrets of Tomb 10A: Egypt 2000 BC will be open to the public on October 18. In order to make this show accessible to as many museum goers as possible, the MFA is introducing "family-friendly" pricing. This means that the Gund Gallery exhibit is now included in the general admission. Also, admission is free to everyone after 4PM on Wednesdays. If you are under 17, the MFA is free to you anytime the museum is open. So be one of the first to discover the secret to Tomb 10A for yourself!!! [Permalink] - Secrets of Tomb 10A
NOTE: Readers interested in the conservation and preservation methods used to restore the artifacts in this exhibit should check out this paper at the JAIC. Readers can also get Carolyn's unique take on the Tomb 10A exhibit here.
MASS MoCA is a big place. That's a good thing because some of their art installations need all the space they can get. One such work is the Simon Starling: The Nanjing Particles installation.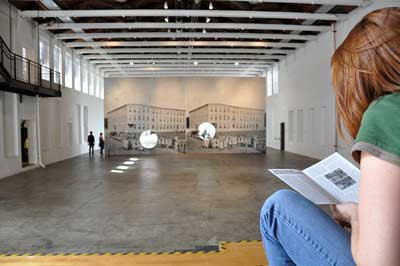 The work challenges the viewer on many dimensions: time, size, and space. The photos transport us back to an earlier time, but they literally let us SEE through them into the present.

Looking through the holes, one sees an enormous version of two silver grains which are present in the photographs' film. The grains' shape is faithfully reproduced in three dimensions. They have also been scaled up to the size of a small car. From a distance, the grains appear as they would if viewed under a very powerful microscope. Up close, the giant silver granules take on a sculptural quality and answer the often asked question, "What would this thing look like if we were the microscopic ones?"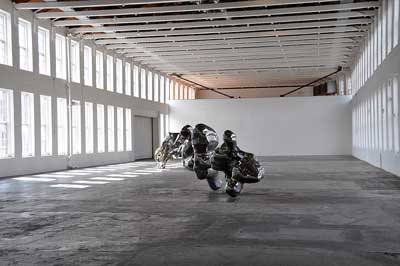 Another installation which we found interesting was the large wall drawings conceived by Sol LeWitt. They reminded us of some of the color-perception experiments from Psych 101.

Lines, arcs, colors and spacing are all described in exacting detail in LeWitt's instructions because works of this size cannot be done by just one individual (there were many people actually painting). In order to execute these giant paintings, LeWitt had to develop a vocabulary to describe how to implement his vision. The build "instructions" are as interesting as the results.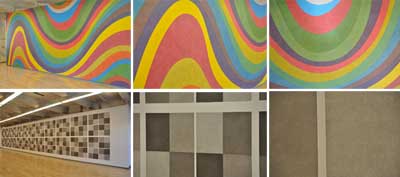 We took some images of the wall drawings at different resolution to give readers a sense of the enormous level of detail at all levels. The playful lines and colorful movements are evident at all scales.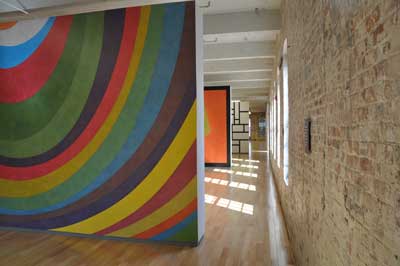 There are a lot more installations at MASS MoCA. We have only mentioned a few of the ones that "spoke" to us in particular. If the ones we mentioned do not intrigue you, we are pretty sure something else there will. Go check out what's at MASS MoCA. It may push you in ways you may not expect. [Permalink] - More MASS MoCA
When we were out at North Adams this past weekend, we checked out MASS MoCA. There is always something interesting happening at this museum.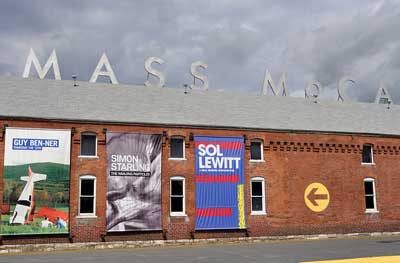 Readers who have been out to MASS MoCA will be familiar with the inverted tree installation. The plantings have been suspended in that fashion long enough for the effects of phototropism to be clearly evident.

The installation is by Natalie Jeremijenko. This arboreal art work, called Tree Logic, was completed in 1999. Six live trees are permanently suspended upside down to challenge the viewer's preconception of what is natural.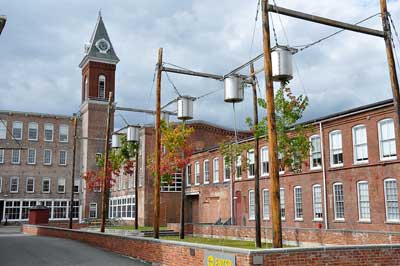 MASS MoCA has sprung from the grounds of Sprague Electric Company. Sprague was a major research and development center back in its day. Its focus was on conducting studies on the nature of electricity and semi-conducting materials. Sprague's products were used in the launch systems for Gemini moon missions.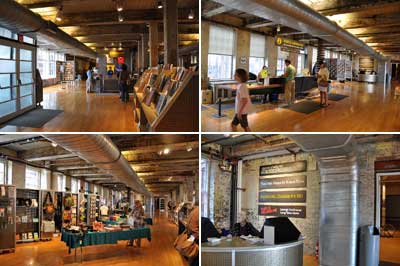 MASS MoCA was conceived as an institution for the display of contemporary visual arts. It has evolved into a center that presents and stimulates the synthesis of works that pushe the boundary of creativity. MASS MoCA, opened in 1999, is currently celebrating its 20th year of supporting artistic innovation and experimentation.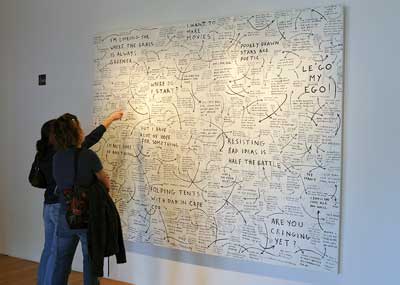 Many readers know about our interest in mind-mapping. Imagine our delight when we came face to face with this work at the This is Killing Me installation.
From the MASS MoCA info..."In contrast to the popular mythology of the studio as a site of inspired genius, these artists depict the studio as a space of always difficult labor, laced more with self-doubt than triumphant brilliance. Part and parcel of the pervasive uncertainties of economic distress, war, and environmental collapse that define our moment, the works in This is Killing Me reveal the specific anxieties of artists in these generally anxious times."

All we can say is...we loved it. The exhibit will be at MASS MoCA until April 15, 2010. We suggest that you make time and go see it. [Permalink] - MASS MoCA
Today we got up early, had a leisurely breakfast, and got on the road by 11 AM :-) We didn't have a lot on our schedule...just heading to North Adams to climb Mount Greylock and check out MASSMoCA.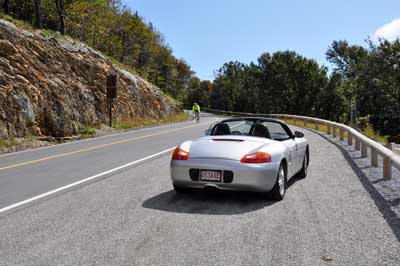 We did bring our hiking boots and backpacks for the camera gear, but decided that we would probably not have enough time to make it up to the top if we hiked it. What we did discover was that we could just drive the 5 miles up to the summit and forego the physical exertion all together. We all quickly agreed that this was the better option.

The drive up was quite attractive...lots of twisties, switchbacks, and views onto the valley below. We also saw some cyclists ripping downhill at speeds which we wouldn't attempt in a car.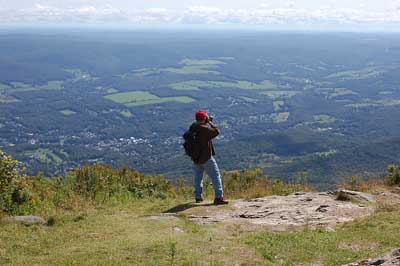 The view at the top was pretty spectacular. Suppositly we had a clear view to four states: Vermont, New York, Conneticut, New Hampshire. We looked but couldn't really tell you if that was true.

What we can tell you is how form-fitting and comfortable the Kata 3N1 pack was during the little bit of hiking around we did do. While we cannot really claim that this was an exhaustive test of the wear-ability of this pack, we can say that we will definitely be grabbing this bag for our next outing.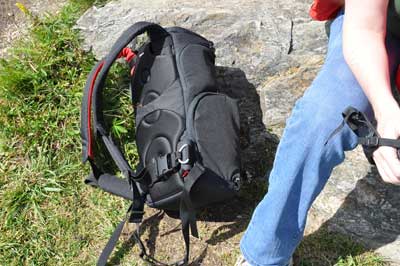 There is a really nice lodge at summit (great views, high ceilings, large fireplaces, and food service). Apparently one can rent rooms there even in the Winter. Not sure whether cars can make it up when there is snow or if it is hike-in only. In any case, we are making plans to come back for some snow-shoeing this Winter.

This was more of a scouting trip for our Fall Foliage outing. We got a lot of great info on places to stay, things to do, and where to eat. The drive is a little over 3 hours from Boston. It is possible to do it in a day, but would be much nicer as an overnight trip.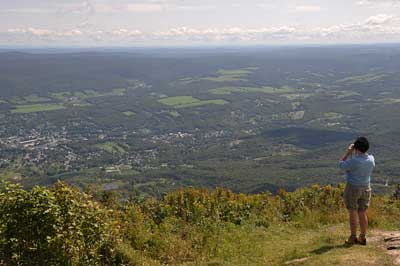 We look forward to coming back in a month or so when the foliage is peaking. It will be a lot cooler at the top of Mount Greylock then. If the weather is nice and we don't have too many Lemon Drops the night before, we may even actually hike part of the trail next time :-) [Permalink] - Mount Greylock
Four of us took a trip out to Williams College for the Predergast in Italy exhibition this weekend. This exhibition is the first devoted exclusively to the Italian watercolors, monotypes and oil paintings of Maurice Prendergast. One of our editors (Jay) is a big fan of Prendergast. The others in the office went because we heard there would be free gelato at the lectures.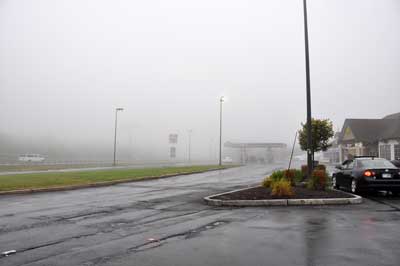 The drive started out REALLY rainy in Boston, but as we made out way West, the rain began turning into fog. By the time we got to Williamstown, it was actually pretty nice out! Some of the Fall colors have even started to show! Williams College has really attractive grounds. We especially liked the large metal sculptures dotting the grounds of the Art Museum on campus.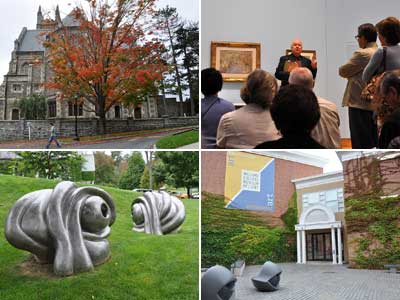 We learned a few interesting bits about Prendergast, Sarah Sears, and Isabella Steward Gardner from the afternoon's lectures and conversations. We throughly enjoyed ourselves with the lectures and the gelatos, but by 6PM everybody was ready for a nice nap and some drinks before dinner.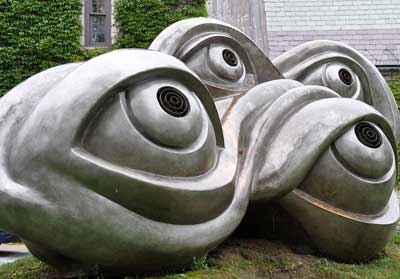 Lucky for us this was not a busy weekend and rooms were pretty easy to come by. We had arranged for some fairly reasonable accommodations at the 1896 Hotel near Wiliams.

The rooms at the 1896 were large, clean, and comfortable. Perfectly reasonable for less than $150/night (including tax and breakfast). There was a lovely pond right next to the room. The room was far enough from the main road that we could not hear the traffic (what there was of it).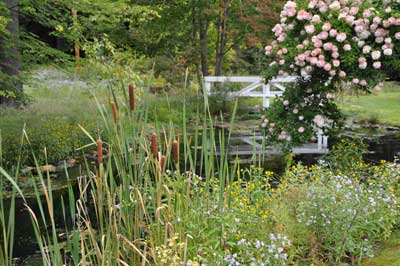 The 1896 is a short hop from Williams College and close to MASSMoCA and Mount Greylock, two of the other attractions which we'll be checking out tomorrow. [Permalink] - Prendergast in Italy
We packed a lot into this Labor Day weekend. On Saturday, we were on the road early and drove down to NYC for a Chinese banquet that evening (check out this video of how to de-bone a whole fish using nothing but spoons). We left early and came back to Boston and met up with Lisa and Jay for the Lobster Feast at Gargoyles in Davis Square.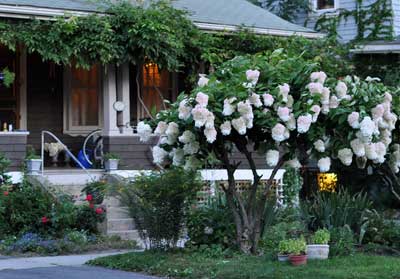 Lisa and Jay live within walking distance of the restaurant, so instead of fighting for a parking spot in Davis Square, we parked on their street. It gave us a chance to visit with them and see what they have been doing with their house.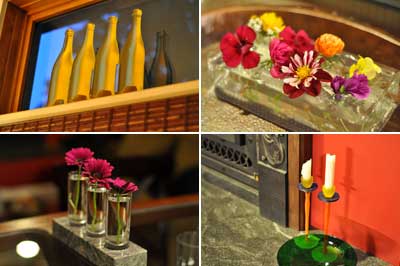 Lisa and Jay have been busy renovating a house in Somerville for the past few years. They have a fun and crafty approach to their decorating, have done an amazing job with the space and have documented their efforts for RainyDay Renovations. We've been meaning to writing it up at some point :-)

Our dinner reservations were not until 8PM, so we had time to unwrap a b'day present and to enjoy one of Jay's handmade mojitos. A perfect Summer cocktail before the stroll over to Gargoyles.

The LobsterFeast menu was not Gargoyles' standard offering for the evening. It was a Labor Day Weekend special and reservations had to be made ahead of time. The LobsterFeast started with a lobster pizza appetizer, followed by the main course of a 1.5lb boiled lobster and mussels , and ended with strawberry shortcake and a side dish of lobster ice cream. The fixed price of $65/couple also included a bottle of wine. It was an amazing deal and well worth the early drive back from NYC.

If you want advance notice of Gargoyles' dinner specials, get on their emailing list. The restaurant will be closed on Sept 7-9 for renovations, but will reopen with a new menu on Sept 10. We will definitely keep our eye out for their next special and hope to be back soon! [Permalink] - LobsterFest at Gargoyles
When it gets really hot in Boston, many people head to the Cape. The Cape has become so popular that a two-hour drive can turn into a four-hour crawl. We hate sitting in traffic, which is why when we get the urge to take a mini-vacation, we head to "The Cape Cod of the South Shore"... Wollaston Beach in Quincy.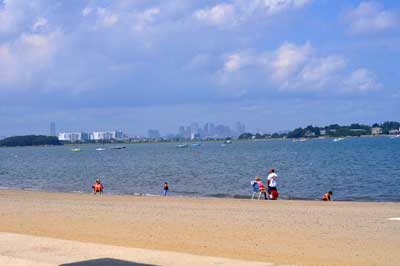 During the week, Wollaston Beach is pretty empty. There is a lifeguard watching over the crowd, such as it is. While we are not big on sitting in the sun in an attempt to alter our DNA, we are all about finding great fried clams.

If we were up in Essex we would find our way to Woodman's. When we are in Quincy, we stop at the Clam Box. Today we went all out for lunch: spicy crab/corn chowder, fried onion rings, and the seafood platter. It was way more food than we needed and all of it was excellent.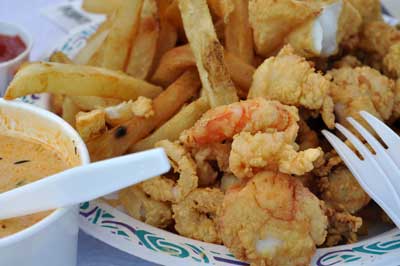 For us, this mini-vacation (a half-day in the middle of the week) to Wollaston Beach was a nice alternative to driving all the way to the Cape. We got the same salty ocean breeze, the fried seafood, and the walk along the beach... all without a traffic jam. [Permalink] - Wollaston Beach, Quincy
We have purchased many tools (jack, tap&die, caliper) from the folks at Harbor Freight, but all of the transactions were from their website. When we learned they have a store in Attleboro MA, we knew we would have to take a drive and check it out. Attleboro is about an hour outside of Boston, so we needed a good reason to make the drive.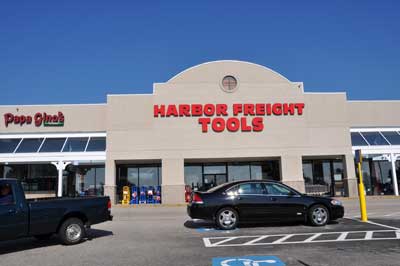 Harbor Freight sends out a lot of fliers and we always see stuff which we "need" for the office. One of the items is this 3-piece rolling tool cabinet. We have been tempted to buy it for a while now. We had purchased one on Craigslist about two years ago, but we can use another one for all of the small precision tools.

When we saw this ad for a 50% off sale (available only at stores), we knew this was our perfect excuse to go for a drive and take a first hand look at the unit. It was a good thing we did. As soon as we pulled out a drawer, we knew this unit did not have the kind of quality we wanted. We decided we may have to pay more if we really wanted a high quality 11- drawer cabinet. The trip was a not a total loss, we did look around.

The store was just like their ads, chocked full of all kinds of cool tools. They certainly had a nice collection of hydralic car jacks. The one we had purchased a few years back was the one in the upper left. We also found a wrench for our "monster truck" project.

We came upon something we have always wanted. It was this "3rd-hand" tool and it only cost us $4.00! While it was a long way to go for such a little item, at least we did not leave empty-handed :-) If you are looking for industrial tools, you can find it at Harbor Freight. Just be aware that some of the "really good" deal may be of questionable quality. Still, we would go back in a heartbeat just to walk around. [Permalink] - Harbor Freight Tools
Many readers have told us that they enjoy going to symphonies and dance performances. Quite a few have asked us to review/recommend alternative dance events in the Boston area. For Fall 2009, we have decided to take on that task first hand.

Our first event will be one presented by World Music/CRASHarts. Since 1990, these folks have been one of Boston's premiere presenters of contemporary, emerging, and cutting-edge dance and other performance artists. Feel free to check out their 2009 Fall season here. As many of these events are one night performances, we will post our recommendations a few months ahead to give you plenty of time to make plans and purchase tickets.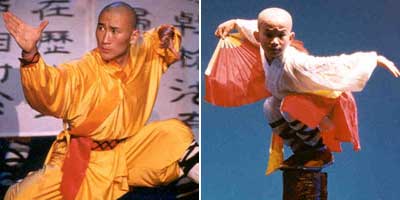 Some of the folks here are students of Aikido, so the World Music event which piqued their interest most is the Shaolin Warriors scheduled for Oct 16 at the Oprheum theater. In a fully choreographed theatrical production, the Shaolin Warriors bring the skill, movement and imagery of Kung Fu to the stage. Audiences can look forward to being amazed and thrilled by watching Kung-fu disciplines such as qigong, animal imitation boxing, drunken boxing, and fighting with many different kinds of traditional weapons.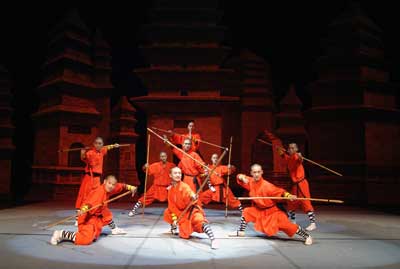 We will post a quick reminder about a week before the event and will have a write-up of the event for those who may not have had the opportunity to attend. This economy needs a serious jump start. No reason why we shouldn't do it by promoting interesting non-traditional performances :-) [Permalink] - Shaolin Warriors
Last Sunday we were at the Larz Anderson Auto Museum for the Ford Taurus event. When we went upstairs to get a few shots of the crowd from above, Sheldon Steele, Education and Lecture Manager of the museum, asked if we wanted to something "really cool." He didn't have to ask twice!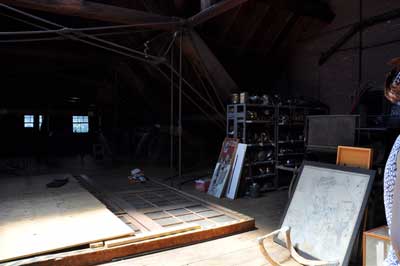 Sheldon led us to a non-descrip door at the top of the stairs. The door opened into a sun-drenched attic. It took our eyes a moment to adjust to the brightness. When they did, we were totally blown away. We only had time for a quick walk-through, but what we saw was quite amazing.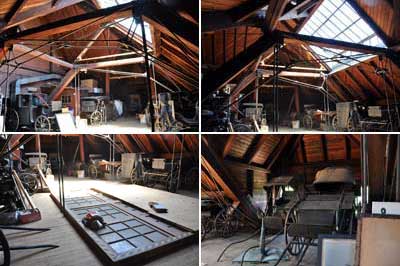 The attic was filled with all kinds of antique cars parts, carriages, and sleds. We now know what it must have felt like when a "treasure hunter" discovers a find! Aside from all of the antique automotive goodies, we also noticed the then state-of-the-art architectural construction (ceiling, floor) of this space. The techniques were amazing, even by today's standards. They definitely don't make 'em like this anymore.

All of the stuff in the attic is in great condition, if a bit dusty. Properly displayed, they would make a great addition to the museum. In order to make these "treasures" available for viewing to the general public, the Larz Anderson Auto Museum could really use our support.

There are many ways to help them out. One is to become a member today. Another is to attend their great lawn events on the weekends. The next lawn event is the Tutto Italiano 2009 on August 2nd. Go and you may also get a chance to win a Ducati SuperBike! Hope to see you there! [Permalink] - LAAM Attic
Today was a perfect day for the 1st Annual Great American Car Show at the Larz Anderson Auto Museum. The event was made possible by the FORD MOTOR COMPANY in collaboration with the Greater Boston YMCA. Judging by the turnout, it was an enormous success.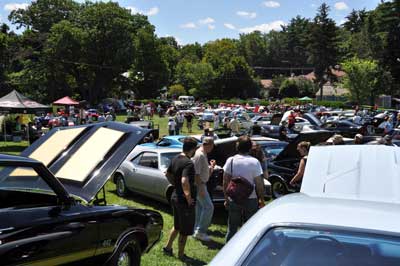 Everything American was welcome to today's event, including Pre-War Classics, Post-War Classics, Muscle Cars, Pony Cars, Modern Exotics, Street Machines, Customs, Hot-Rods, and Motorcycles. A lot of folks brought their "babies" to the event.

We got there around 10AM and the place was already hopping. It was going to take the better half of the day if we wanted to check out all the cars. We didn't have that much time, so we only looked at the red ones... and there were a lot of them!

We spent about an hour walking around, but it was this metallic gold Excalibur Cobra that stopped us in our tracks. This car is owned by Anthony Fernandez and is in fantastic condition. The crest is on the hood of the car is actually that of his family's.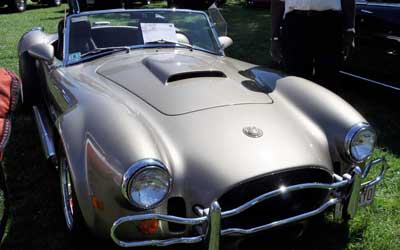 One of the fun things about being at these events is being able to get up close and getting a really good look at the interesting details (side window, dash, convertible top) of the cars.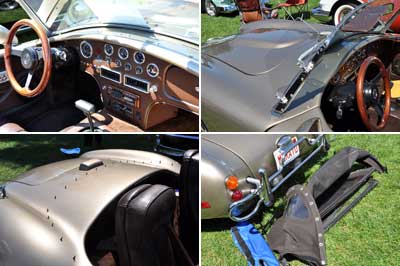 Not all the great American autos were outside on the Museum's lawn. One of them was in the main gallery inside the Museum. The car is a Ford Taurus. Yes, we said a Taurus.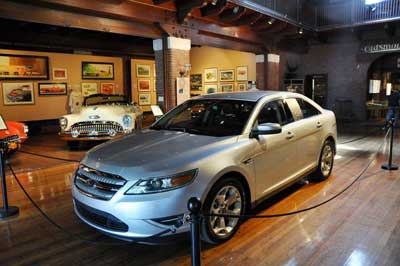 Ford made available one of its redesigned 2010 Taurus models for the event. Ford also sent the head of the design team, Earl Lucus, to personally talk to the crowd about the redesigned Taurus. It was an awesome PR move as they could not have found a more receptive audience. The talk was a huge crowd pleaser.

The Taurus's image is a dependable family car, not too exciting, but it gets the kids from A to B. Ford wanted to keep that fundamental usability of a family car (carries 4, lots of trunk space, etc...) but asked...why not also give it the styling of a much higher-end luxury/sports sedan?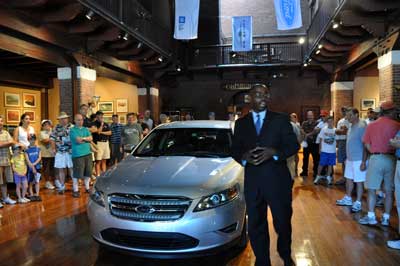 While they were at it, they also made it feature competitive with technologies found only in cars at twice the price. Features like keyless entry, adaptive cruise control, rear view camera, voice-activated navigation, brake-assisted collision avoidance, etc...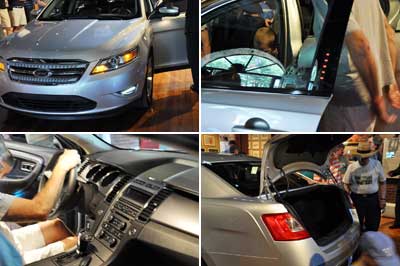 From the outside, the lines gives the vehicle the appearance of a much smaller and lower car. This is a well designed illusion. The car will easily accommodate four adults. Under the hood can fit an engine with up to 365HP. The trunk is huge.

The Taurus model at the event ran just under $30K fully loaded. If we were in the market for a 4-door sedan, this 2010 Taurus would definitely be on our list...in silver, of course.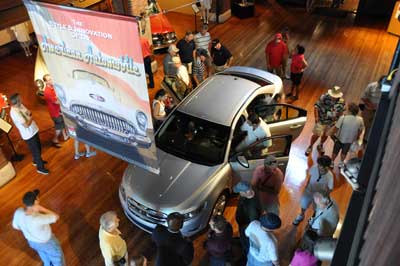 We are not sure how long the 2010 Taurus will be at the LAAM. It may already be gone (we forgot to ask!). However, if you have a chance to take a look at one in person, definitely do. We think you will be impressed. [Permalink] - Great American Car Show
There is so much history in the New England area that one can spend years walking by a major historic site without actually "seeing" it. This was the case for (some of) us with the Longfellow House on Brattle Street in Cambridge.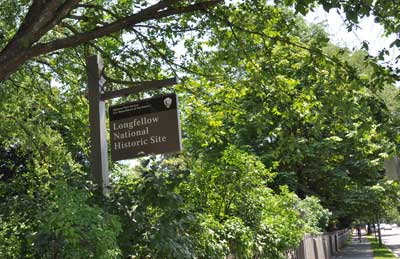 The Longfellow house predates the Revolutionary War. It was owned by a loyalist named Vassall, but the family abandoned the house when the situation for the loyalist faction became too grave. Washington took over the dwelling during the war, and it was used as headquarters for the Continential Army. Longfellow moved into the house in 1843. It was given to him and and his wife Francis by his father-in-law Nathan Appleton as a wedding gift.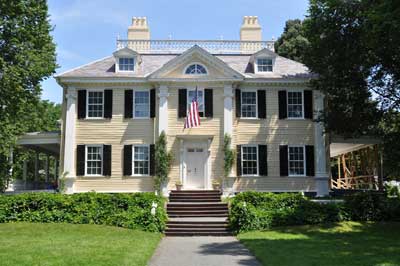 The house is open to the public for tours Wednesdays through Sundays. Tours are given at 10:30 and 11:30 in the morning, and at 1:00, 2:00, 3:00, and 4:00 in the afternoon. The gardens and grounds are open to the public from dawn to dusk every day.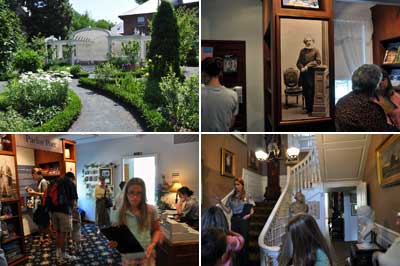 Most know the name Henry Wadsworth Longfellow by his poems from English class such as "Paul Revere's Ride," "The Song of Hiawatha," and others. What most don't know about Longfellow is his strong support of civil rights, women's rights, and the education of children.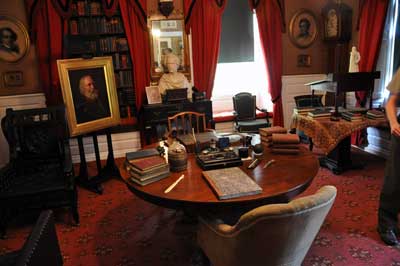 Henry Wadsworth Longfellow filled the mansion with objects reflecting his interest in other cultures. European and Asian artwork, furniture, decorative objects and books are found throughout the house. The contemporary Longfellow house was a cosmopolitan home.

One of the amazing things about this historical site is that the house, the furnishings, and the contents are original. It really gives visitors an excellent glimpse into what it was like when Longfellow had lived there. Especially if the ranger giving the tour loves the house!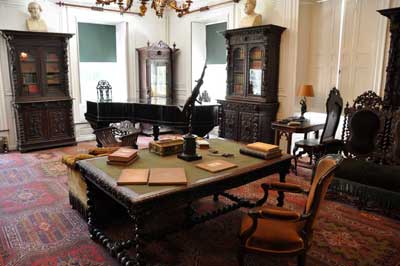 If you live in Cambridge and have not been by the Longfellow House, take the tour this weekend. If you are coming from out of town, you shouldn't miss it. Just head to Brattle St. in Cambridge, look for the big yellow house. [Permalink] - Longfellow National Historical Site
It has been a few years since we last went to the Jamaica Plain Lantern Festival. This was the 11th year for the event and the crowd has gotten much larger. The Lantern Festival is held every year at the Forest Hills Cemetary in Jamaica Plain. The admission was free. There were taiko drummers, Kendo demonstrations, and lantern painting.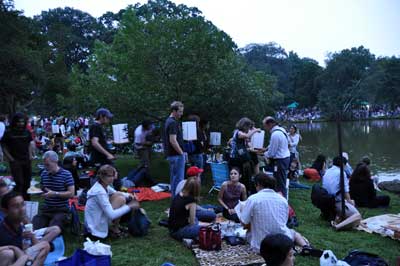 We got there around 7:30 and had a nice picnic dinner with some friends. We also took the occassion to celebrate Bill, Irfan, and Carolyn's birthdays with a yummy cake, which we finished around dusk. The timing was perfect as it was then that they started the lighting of the lanterns.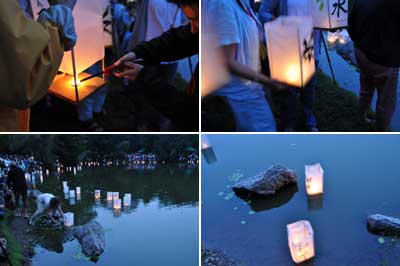 The Jamaica Plain Lantern Festival is similar to the Japanese Obon Holiday, at which ancestral spirits are believed to return to their families to visit for three days. Families gather to pay their respects with offerings of food and drink. Lanterns are lit outside the house to symbolically guide the returning souls to the home.


On the last evening of the holiday, lanterns once again guide the departed back to their resting places. The inscriptions on the lanterns carry well wishes and words of love and peace.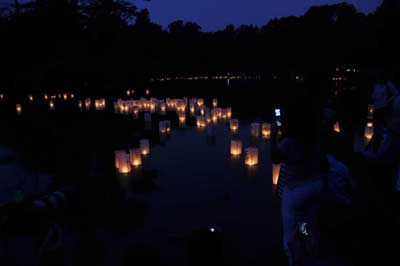 It was quite an amazing sight to see hundreds of these lanterns drifting slowly about the pond, making random patterns as they congregated and separated. We are happy we got to enjoy this evening with friends past and present. We hope to be back to visit with them again next year. [Permalink] - Jamaica Plain Lantern Festival
BTW, for readers who were wondering about the effectiveness of the vibration reduction feature of the Nikkor 18-200mmVR lens, all of these images were shot hand-held!
Pizza is something we love. We make it fresh, we buy frozen ones from Trader Joes, and we go out and try any and all pizza restaurants whenever we happen upon them. Our favorite kind of pizza is the thin crust style made with fresh ingredients. A few months ago, our favorite Chinese restaurant burnt down. We got very sad :-( A few weeks ago, we heard that a new pizza restaurant had sprung up in the ashes. We became very excited :-)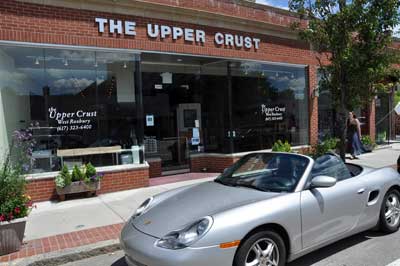 Some of the folks here had heard of a local chain called The Upper Crust. None of us had ever been in one. When we had heard that it had opened, we went at the first opportunity.

The old Chinese restaurant (the food was good, but the decor was pretty depressing) had been completely gutted and redone. The first thing we noticed was the bright and airy layout. The large glass front really opened up the space. We loved how they decorated the ceiling with pizza pie pans. Very fun and modern.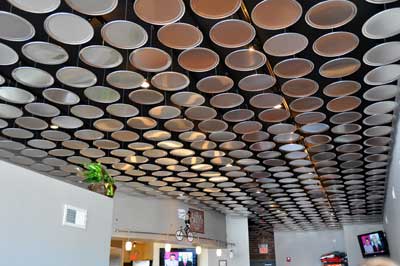 The Upper Crust serves traditional Neapolitan-style pizza (thin crust, chunky sauce). They have a lot of interesting topping combinations on the menu. Since this was our first time, we wanted to try something basic: cheese, cheese+pepperoni.

We were not disappointed! The crust was thin but tasty, the sauce had plenty of tomato-y goodness, and the pepperoni had just enough kick to stand out without overpowering anything.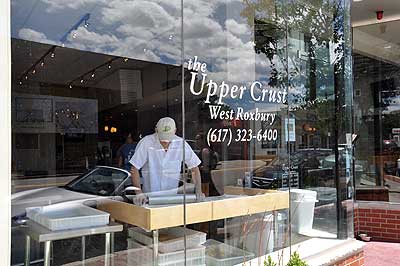 If you like pizza, live in the Boston area, and have not tried The Upper Crust, you really need to get yourselves out to one ASAP. We are happy there is now one less than a mile away from the office. In fact, if they put in WiFi, we may just relocate our office to the restaurant. [Permalink] - The Upper Crust
Getting up at 3AM on a Sunday to drive out to Provincetown to meet friends for brunch may not be everyone's idea of a relaxing weekend, but this was not a typical weekend. It was one of our contributing editor's b'day weekend. In fact, half of our "gang of six" have birthdays with in days of each other!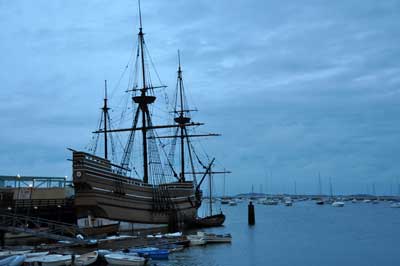 Four of the gang were already out at Provincetown for various reasons. We thought we would get going early to avoid the traffic. One thing lead to another and our plans morphed to "let's go watch the sun rise over the Mayflower in Plymouth!" There was a moment of hesitation when the alarm went off at 3:15AM, but we were in the car and on our way within the hour.

We got to Plymouth around 5AM (sunrise was at 5:10AM). Needless to say we had no trouble parking. In fact, we had no trouble parking anywhere all morning. The only other creature awake at that time was a lone bird on a rock. We were not able to actually see the sunrise as the cloud cover was too thick. As we still had another 95 miles to go, we decided to get some coffee and continue on.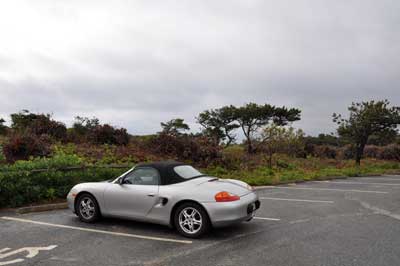 Since we were the only car on the road, we made GREAT time. We were in Wellfleet before we knew it. It was clear we would get to Provincetown WAY before our 11AM brunch appointment. With a few hours to kill, we did a quick check on the GPS and found a few nearby attractions (Marconi Beach, Wellfleet Bay Audubon sacutary) which looked interesting. As it was in Plymouth, parking was not a problem.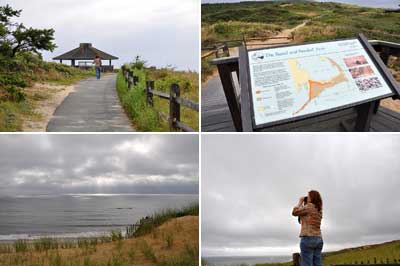 Carolyn, who does not like to be reminded that she has a passing resemblance to a certain Alaskan politician, was seen here looking out over the horizon. When asked what she was looking at, she winked and said "Just keeping an eye on the Russians."
The Wellfleet Bay Audubon Wildlife Preserve was already teaming with activities at this time of the day. All manner of creatures were out and about looking for their morning meal.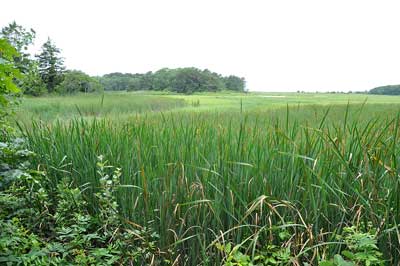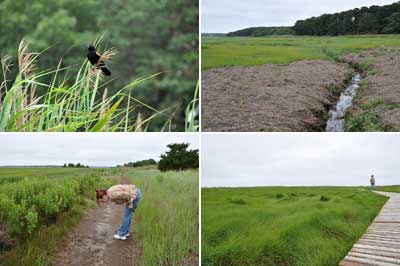 We followed one of the trails and took a hike out to the marsh and saw all kinds of birds. One in particular was especially cross with our approach. We must have been getting a little too close to its nesting site as it was louding "expressing" its displeasure with our presence.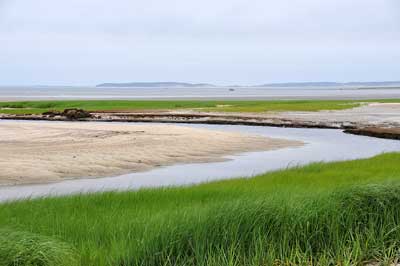 The rest of the day was just as wonderful as the morning. We met up with the rest of the gang, had a nice brunch outside, and took a nap before our return drive to Boston. The others were not heading back until Monday, but around 2-ish we decided it was probably time to get back on Route 6 before the "back-to-Boston" traffic got serious. We wouldn't do it all the time, but this pre-dawn drive gave us an opportunity to enjoy a side of the Cape that we have not experienced before. [Permalink] - Morning Drive to Provincetown
Every year we brave the crowds and head down to Castle Island to watch the USS Constitution fire its guns, turn around in the harbor, and dock back in the Charlestown Navy Yard. This year we decided at the last minute to head down to the waterfront near the ICA to see if we could watch the event away from the 10-15,000 "locals" who pack themselves into South Boston.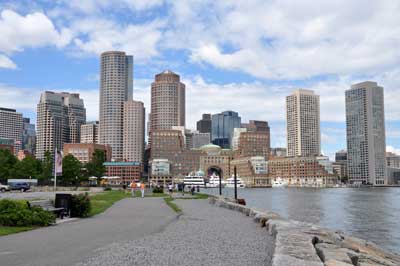 We got to the waterfront around 11:45AM. The USS Constitution should have already turned around at Castle Island and be making its way back to the Charlestown Navy Yard. We had no trouble parking. The walkway was empty of people. Our thought was that we were too late and had missed everything. Actually, we arrived at exactly the right moment as the flotilla was just coming into view.

The USS Constitution was flanked by tug boats, protected by the US Coast Guard, and surrounded (at a distance) by various pleasure boats. At one point the USS Constitution stopped and fired for a 21-gun salute. It was amazing to hear the sound echoing off the various downtown office buildings.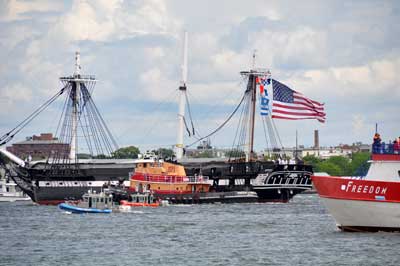 The masts of the USS Constitution must be currently under repairs as most of them were not on the vessel. Here is how it looked in 2007. Clearly the vessel is a lot more majestic when it is fully rigged.
The other part of Boston's 4th of July celebration is the famous BSO concert and fireworks on the Esplanade. This event usually draw close a 250,000 person crowd. It ties up traffic at various parts of the city all day long. We got an early taste of it when we tried going back to the office via Storrow Drive. The road had already been closed so the crowds can gather in front of the Hatch Shell. Folks were also starting to claim their patch of grass on Memorial Drive, but lucky for us, it had not yet been shut down to vehicular traffic.

Since we managed to avoid the Castle Island crowd in the morning, we decided not to fight the fireworks crowd on the Esplanade neither. This year we went to the top of Peter's Hill in the Arnold Arboretum to watch the light show.

A small crowd (150-200?) had already gathered on the hill by the time we arrived. The BSO finished the 1812 Overture around 10:35PM and the sky lit up in the distance. Considering we were about 5 miles or so away from the downtown action, the view of the show was better than expected.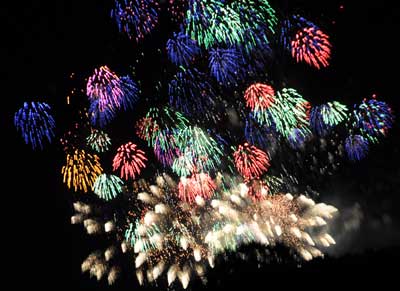 From the Peter's Hill vantage point, the fireworks were nice, but not immersive. We still managed to capture some reasonable shots of the display. If you really love fireworks, this setting may not be enough to satisfy you. However, if you are in Jamaica Plain area and don't want to endure the 2 hour trip home from the Esplanade, then it is a fantastic option.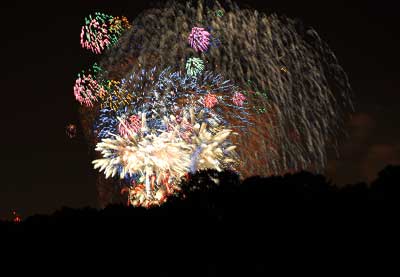 What we have shown yesterday was there were a lot of fun July 4th events in Boston. One can enjoy them with a big crowd or enjoy them in a less dense setting. You just need to know where to go :-) [Permalink] - No Crowds
BTW, the last photo above is a Photoshop composite of some of the different fireworks from the evening's show. It was a fun little Photoshop project which we'll show you how to do in a future article.
Yesterday we were in Chatham to get a glimpse of the damages left by last week's storm. On the way home, we came upon a little bakery called Marion's Pie Shop.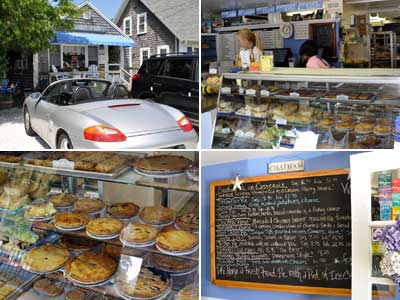 The make all of their baked goods from scratch: breakfast treats, fruit breads, and lots of different kinds pies. They have apple pies. They have bumbleberry pies. They have blackberry, raspberry, blueberry, and strawberry pies. They also have savory pies such as chicken, beefsteak, and seafood. All of them are available in 6" or 9" versions. Just re-heat and serve.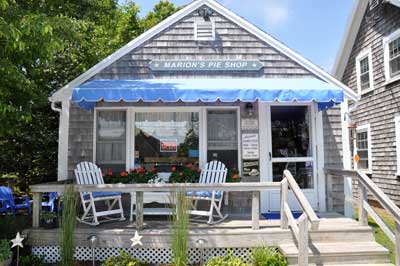 The shop is open year-round, but is closed on Mondays in the the Winter time. If you find youselves out in Chatham, you should definitely stop at Marion's Pie on Rt28. The store is easy to find.

We had some of the blueberry pie for dessert last night...delicious. The chicken pie w/ gravy will be for dinner tonight. While it was curiosity that got us down to Chatham, Marion's Pie Shop may be the thing that will keep us going back. [Permalink] - Marion's Pie Shop
Chatham is at the "elbow" of Cape Cod. Like the various parts of the Cape, it occassionally gets smacked in the ulna by hurricanes or what is locally called Nor'easters. Sometimes these storms are strong enough to do more than just knock out the electricity. They can literally reshape the landscape.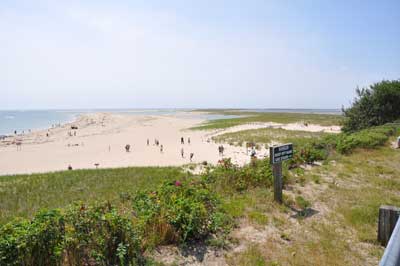 Last week a storm that moved up the coast came on shore near New England. Boston and some of the inland area got mostly rain. However, the Cape took a direct hit. Nauset Beach in Chatham was severely affected as can be seen in these satellite images. We went down there this weekend to take a look for ourselves.


Nauset Beach is a barrier beach (essentially a big sand bar) which runs for miles along the outer edge of Chatham. Some parts of this stretch of "land" has been around long enough that houses have been built on it. Storms have been claiming more and more of the beachfront in recent years. Many of the houses have since been washed away. The remaining ones' days are clearly numbered. The storm last week breached another section of the beach and took out the foundation of two more of the remaining houses.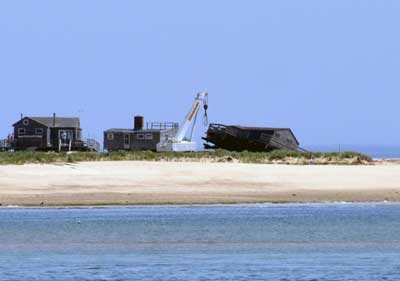 We were able to see the houses from across the inlet from the mainland. We didn't want to intrude on the folks trying to deal with the wreckage by the driving out to the houses. These sandbars are temporary and will unexpectedly shift. Building on them is literally "building on sand." Those willing to do it will eventually pay the price. Two more houses paid the price this past week, but the front row seats to the Atlantic storms must have been spectacular. [Permalink] - Chatham Storm
Today was one of those perfect New England days...crisp, cool, and sunny. It was also perfect weather for the first Roslindale Farmers' Market of the season. As a result, the turn out was huge.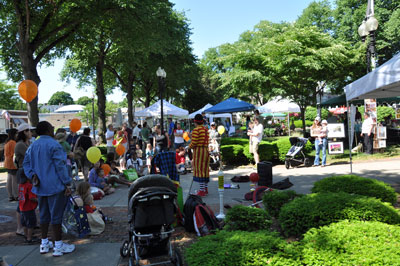 The kids out shopping with their parents today were kept entertained by a very amusing clown :-) We have always been a little afraid of clowns. However, the kids appeared to be quite amused by his variety of magic tricks, juggling acts, and other antics.

The Farmers' Market is a great place to find a variety of fresh local produce, plants, eggs, fresh breads and baked goods, preserves, and handmade crafts. It is also an excellent excuse to bring the kids to the Square for a picnic lunch!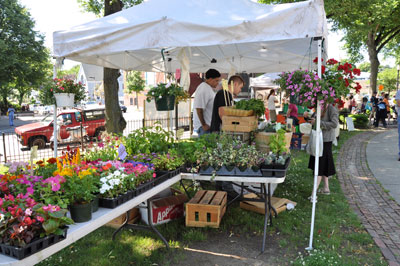 Besids the food and the fun, this weekly local gathering is also a chance to see what else the Roslindale community has to offer. An example is Rozzie Bikes. They are a local riding club which sponsors rides, advocates street improvements, and generally tries to make the roads more "peddler-friendly."

We know that some of you may have a bike in the basement or garage that has not seen the light of day in awhile. Now is a good time to dust it off, pump up the tires, and meet up with the RozzieBikes folks for a group ride. Go check out their schedule and find something suitable. They have rides for all levels.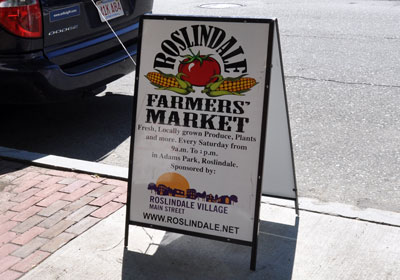 After all the rain, it is nice to have a bright sunny day. Get offline, go outside, see what's happening in your local community, and participate. There are a lot of great things going on. Enjoy them! [Permalink] - Roslindale's Farmers Market
Boston's waterfront has always been used more for industry than for recreation. For years those looking for a place to eat down by the waterfront could choose between the No Name and Anthony's Pier4. Newer additions to the dining scene have slowly made their mark, including our favorite the Barking Crab. However, a few places to eat is hardly reason to spend a day down by the waterfront.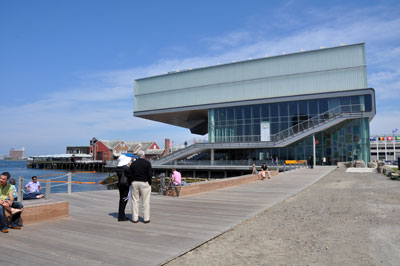 Fortunately things have been changing, slowly (this is Boston). In 1999, the John Joseph Moakley US Courthouse construction was completed. Along with that was a welcome renovation of the Fan Pier area. A few years ago, the ICA relocated to their beautiful home right at the edge of Fan Pier.

The weather this weekend in Boston was perfect. We were going to go for a drive along the coast, but decided to stay in town and spend the time checking out the waterfront instead. The City has done a really did a nice job with the Fan Pier area.

There are plenty of open spaces, great views of the Boston skyline, and lot of plaques with interesting bits about the history of the waterfront. There are also lots of places to sit and just hang out.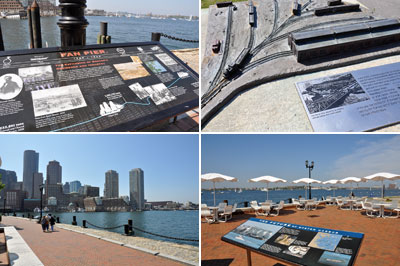 One thing we would hope to see more of is cafes along the water. There are some outdoor eateries along the Long Wharf and Rose Wharf sections of the waterfront. They are very nice, but a bit pricey if you just want to sit and have an espresso.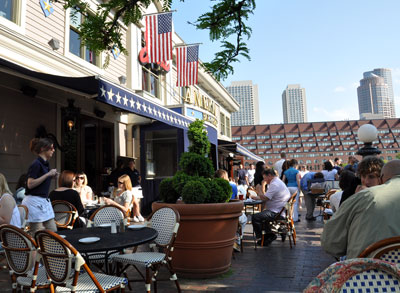 It would be great to see a more vibrant section with an open market and lots of small vendors. If you are looking for a nice relaxing way to spend your next sunny day, go check out the new waterfront in Boston. You will be pleasently surprised at the updates. [Permalink] - Boston Waterfront
There is a movie theater we go to on opening nights of blockbusters such as Star Trek, Angels & Demons, and Terminator Salvation. The reason is there is never a line. We don't know why. The screens are big, there's plenty of free parking, and good restaurants are nearby. Maybe the folks of Chestnut Hill don't go to the movies on Friday nights. In any case, it is our first choice when we know tickets will be hard to get or the lines may be long.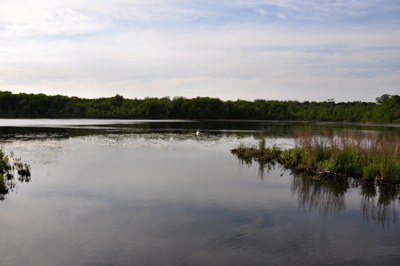 Another bonus with going to the Chestnut Hill theater is that it abuts Hammond Pond. Instead of waiting in the theater, we stroll around outside until it is time to go in for the show. On a typical evening, there are all kinds of wildlife out and about... especially during feeding time.

Our favorite are the ducks. They are always friendly. Ok, they are always hoping for a free meal. Most of them will come right up to anyone approaching the edge of the pond. While they won't eat out of your hand, they will definitely do a "swim-by" to see if there is anything yummy to be had.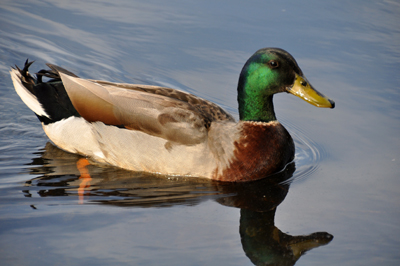 On this particular night, we had our Nikon D90 with us and decided to play around with the "Sports" mode. The vibration-reduction feature of the Nikkor 18-200VR lens made it possible to hand-hold all the shots and to quickly go from taking close-ups to grabbing a take-off in the distance.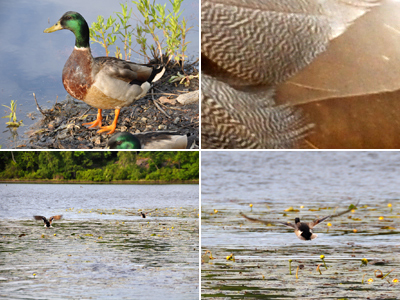 The detail and sharpness was pretty surprising considering all of the factors (long lens, moving subjects, twilight). A monopod or some other supporting device would have helped, but the results were still acceptible.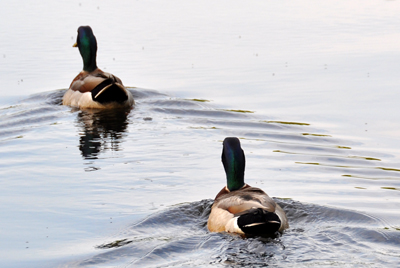 The wildlife were friendly up to a point. Once they realized that we were not going to feed them they swam off to work some other folks who were approaching the other side of the bank. We didn't care. It was time for us to go get a seat for the movie anyway. [Permalink] - Hammond Pond
Recently our RainyDayLA team visited the Flower Fields of Carlsbad, CA. Almost 50 acres of Giant Tecolote Ranunculus were in bloom and arranged in amazing bands of color. Each spring this fabulous sight blooms from March through May. Throughout the season there are a number of events, and this year included a demonstration of macro photography sponsored by Canon.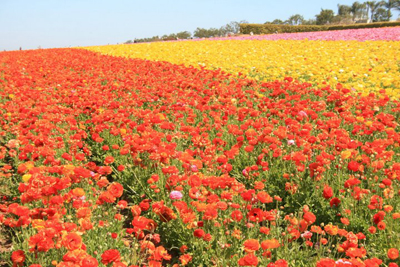 As beautiful as these fields are, they are easily missed, as the view from the freeway is blocked by trees and other vegetation. Many may have driven past this section of California and had completely missed this incredible scene.



The fields are unfortunately now closed (as the blooms are now ended), but if you are ever in the Los Angeles, Orange County, or San Diego areas, this is a "must do" side trip. Carlsbad is located about 30-45 minutes north of San Diego and between 1.5 to 2 hours south of Los Angeles (depending on traffic on the 405 Freeway). Carlsbad is also home to Legoland--a lovely little amusement park geared toward families with small children--as well as a large outlet mall. So there is fun for almost everyone!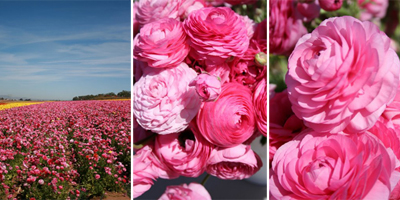 The tickets were $10 per person and can be purchased online and picked up at will call (recommended as during bloom season the lines can be quite lengthy, our LA folks had to wait about 20 minutes for entry). For those want to see the amazing display but don't want to walk the 50 acres, there are tractor rides which will take you around the entire farm. [Permalink]-The Flower Fields
The RainyDayGarage folks went to the opening of Style and Innovation of the American Automobile at the Larz Anderson Auto Museum last night.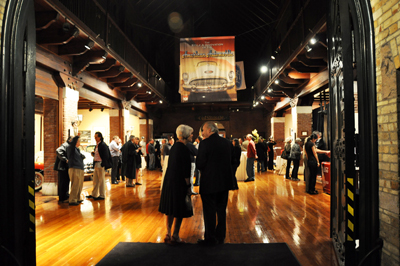 It was an amazing evening of fashion, food, and fun! We have been to many events at the LAAM and they are always a blast. The people are friendly, the conversations interesting, and everyone there LOVE cars! What more can ane ask for???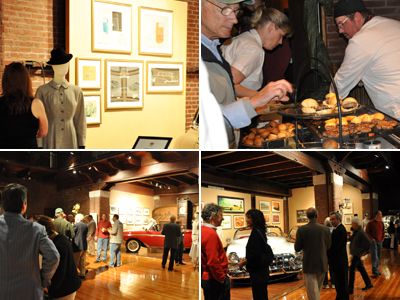 The exhibit was months in the making and all the effort paid off. It is spectacular. Many of the cars on exhibit are on loan from local collectors. Especially fun were the pairing of vintage fashion with the cars.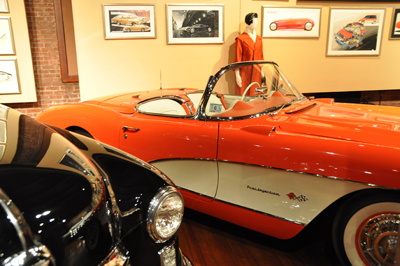 All of the autos owned by Lars and his wife Isobelle (previously on display in the main gallery) have been "returned" to their rightful places in an exhibit on the lower level. They have been arranged in the same manner as they were back when the garage was part of the the Anderson's home.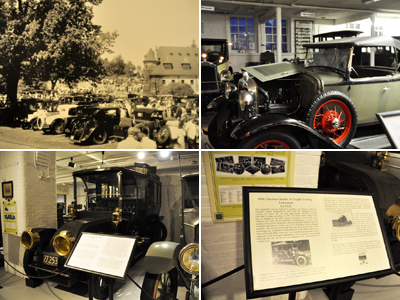 The exhibit is a fascinating step back in time and worth its own visit. We will go back soon and do a more complete write-up of all the new things at the LAAM.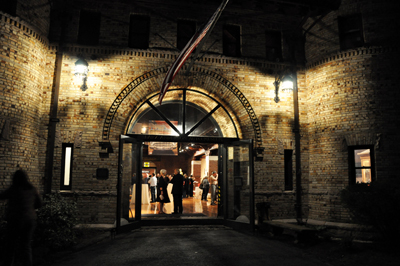 If you love cars, the Larz Anderson Auto Museum is a "must visit" destination. If you love parties, check out the LAAM events calendar. There is always something coming up. We hope to run into you at the next event! [Permalink]- Larz Anderson Auto Museum
With all the shorelines in MA, we are always surprise at how difficult it is to find a restaurant with a decent view of the ocean. There are a few in Boston, but they are not a prevalent as one would think.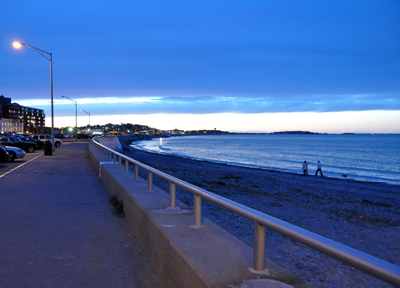 When we were sitting around lamenting this observation, one of our editors, who grew up in Quincy MA, told us about the Ocean Club in Hull. She said it was right on the beach, has a great sunset view, and is less than a 30 minute drive from the city.

As it was pretty close to quiting time, we rounded up the crew, and went on a road trip. The suggestion was a good one! The Ocean Club was everything it was billed to be...reasonable food, fantastic views, and plenty of seating. As it turns out, it is also a popular local hangout for watching the Celtics during playoff.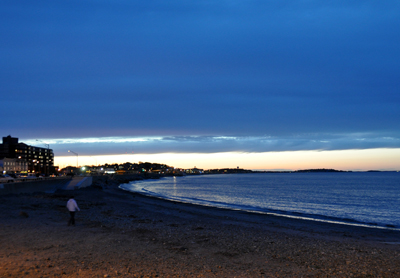 The weather was a little cool for us to sit outside, but there is a large open patio section in the back with a direct view of the ocean. We definitely go back during the Summer for another sunset dinner. If you are looking for some good bar food, a great view, and a relaxing place to hang...go check out the Ocean Club in Hull MA. As always, top down vehicles are recommended for the trip. [Permalink]- Ocean Club, Hull MA
Tomorrow is Patriot's Day and the annual running of the Boston Marathon. Athletes and tourists have been trickling into the city all week. We covered the Marathon craziness last year, so we thought we would go down and take in the "calm before the storm."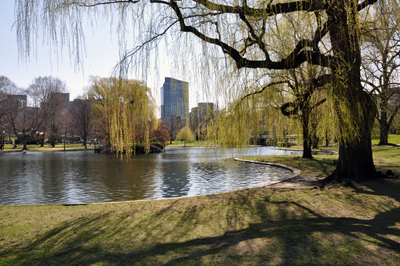 We were at the Boston Garden at 10AM and it was pretty empty. In fact, we even managed to find on-street parking! By this time tomorrow, downtown will be packed and Boylston Street will be standing room only.

Signs of Spring were everywhere. We have been taking advantage of the beautiful weather since Friday and were surprised not more people were out and about, not that we were complaining :-) In fact, this was the first time we've been down at the Swan Boat section and there was no line! We decided not to look a gift horse in the mouth and took an impromtu boat ride around the Garden. At $2.75 a ticket, this has to be the best sightseeing deal in the city!

Another icon of the Boston Garden are the Make Way For Duckling sculptures. That children's story by Robert McCloskey has been entertaining kids for generations. The ducklings are named in alphabetical order...Jack, Kack, Lack, Mack, Nack, Ouack, Pack, and Quack. A little over twenty years ago, an installation of Mrs. Mallard and her eight ducklings were placed near one of the entrance to the Garden.

Every so often, some idiot(s) would think it was amusing to make off with one of the ducklings. This time it was Pack that was taken. Fortunately he was found a few days later, a little worse for wear, but generally in good condition. When we visited today, he was still "recuperating." We wish Pack a "speedy recovery."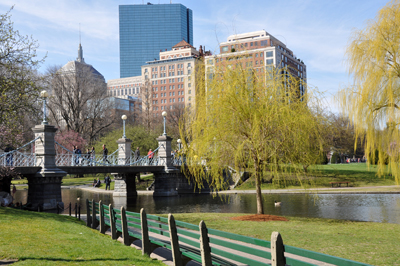 If you haven't been down to the Boston Garden lately, we urge you to go for a stroll soon. Spring is a short season in New England. Get out there and enjoy it while you can. [Permalink]- Boston Garden
When

the weather forecast is for 70º on a Friday before a long weekend, there is no option but to take the Friday as a vacation day. We got out early, took the hardtop off the Boxster, and when for a drive out to the Great Marsh and the beaches of Plum Island.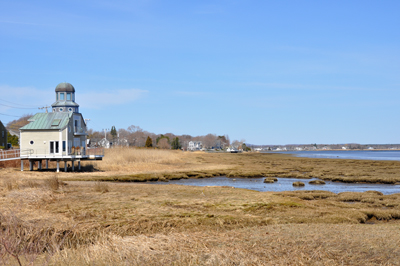 The Great Marsh is the largest salt marsh in New England with over 20,000 acres of marsh, barrier beach, tidal river, estuary, mudflat, and upland islands spanning from Gloucester to Salisbury. The Great Marsh is an internationally recognized Important Bird Area (IBA) as it contributes to the preservation of many breeding and migratory birds. We learned all about it when we took a "rest" at the Audubon Visitor Center just before the bridge out to the island.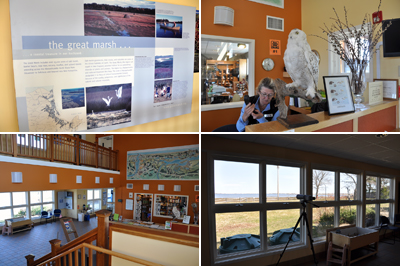 Plum Island is pretty quiet this time of the year. How quiet is it? It is so quiet that we didn't even have to call ahead to reserve a table at Mad Martha's! If you go to Plum Island, this little shack is THE place to go for breakfast. Parking is limited (4 spaces), but it is just across the street.

Once fortified, we continued our trek further out toward the end of the island. With the salt marsh on one side and the beach on the other, awesome views and wildlife (egrets, swans, etc...) were everywhere. We made frequent stops for various avian sightings and photo ops.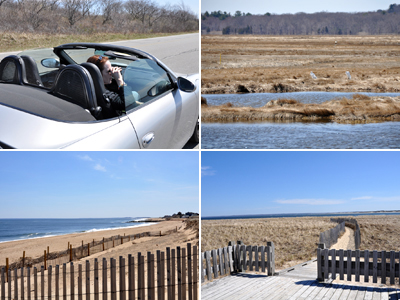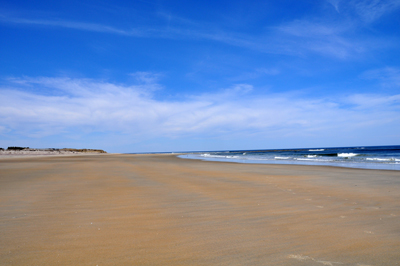 The drive from Boston to Plum Island is about 35 miles and took us around 50 minutes. The traffic can get pretty bad on the weekend, but it is a great day trip for those who can get away during the week. [Permalink]- Plum Island
Today was supposed to be rainy and we had planned to be inside working on a few "rainy day" projects. However, it turned out to be a beautiful sunny Easter morning so we thought we would take advantage of it.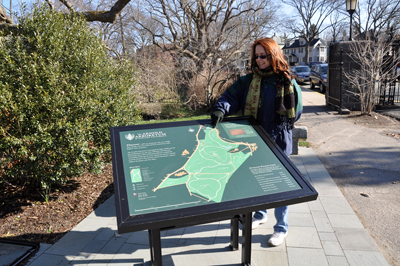 Last weekend, we stopped by the Arnold Arboretum to test out the Nikon GP-1 module. At the time we noticed that many of the plants were starting to wake up from their Winter sleep. We went back today to check out the marshy area near the front entrance of the Arboretum.

Most of the marsh was still a tan field of dried stalks from last year. Not much was happening there yet. There were some alien-looking pods pushing their way out of the muddy ground, though.

The pods were not the only strange thing we saw in today's visit. The oddest were the blooms on this bush. From a distance, the branches looked as if they were covered in thousands of silvery wriggling catepillars.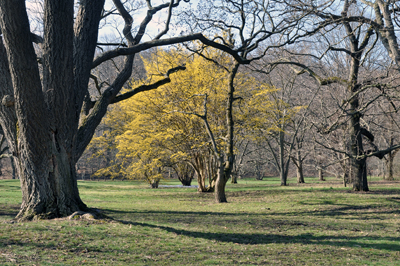 In another week or two, the Arnold Arboretum will be exploding with color. If you are near the Boston area, it will definitely be worth a daytrip to see the awakening. However, no worries if you can't make it there in person as we'll be going back every weekend to chronicle the emergence of Spring. [Permalink]- Easter Sunday
A few weeks ago we posted an article about the new RFID-enhanced US Passport. As many of you know, data stored using RFID technology was designed to be read by scanner from a distance. This is great for a lot of reasons, but it is also a potential point of vulnerability of the system. We received a lot of emails from readers concerned about the security of the information stored electronically on the chip so we thought we would investigate how best to defend against RFID data theft.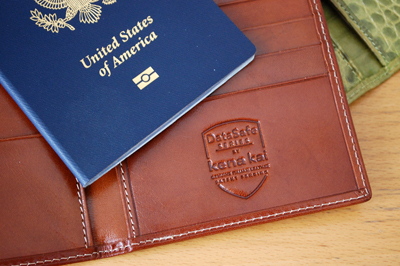 We took a look around and found a lot of homemade solutions for blocking the RFID signal. Some of them appear to be effective, but not anything we would be interested in using. We also checked out some of the links to products sent in by various readers. The most appealing ones in terms of form and function were the DataSafe wallets and passport holders from Kena Kai.

Blocking RFID signals is not rocket science. Radio frequency is like any electronic signal, the ability to detect it is dependent on the signal's strength and the sensitivity of the receiver. Certain materials, however, when placed in the path between the signal's source (the RFID chip) and the receiver (RFID scanner) will interfere with the process. Metal is usually a good shield as it will reflect the signal rather than letting it pass. We are not certain exactly what is sewn into the sides of the Kena Kai's DataSafe products, but we would guess it is some other kind of flexible metal foil.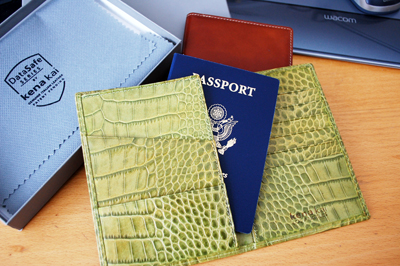 Kena Kai has a large selection of DataSafe products and they are GSA approved. They come in a number of styles and colors. The wallets and passport holders are indistinguishable from the non-shielding ones sold by purveyers of high-end leather goods.

The Kena Kai holders are sized perfectly for securing the passport, a bunch of credit cards, and cash. When folded, the holder would fit nicely in the inside pocket of a jacket . These Kena Kai passport holders would work well as everyday wallets. We may just trade in our Coach ones and start using these instead as it would be a shame to only use them for when we travel out of the country.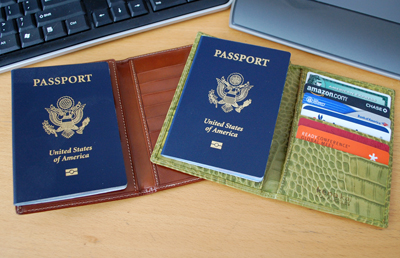 We are always happy to let our readers know about products which are well-made, functional, and offer a "little more" than what you see on the surface. These Kena Kai DataSafe passport holders scored in every one of those criteria. If you are going to travel, do it in style, but do it safely. We plan to. [Permalink]- Kena Kai DataSafe Wallets
It was still a bit overcast this morning, but the sun was trying its best to break out. We were busy inside most of the day yesterday so we really wanted to get out and get some air. When we want to take a walk in the woods without having to take a drive, the Arboretum is our first choice.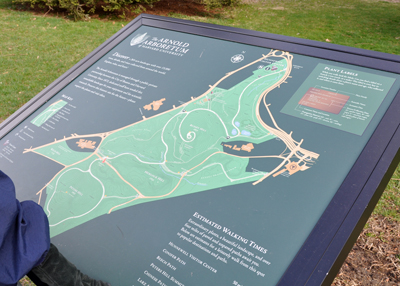 The first thing we noticed was there has been some upgrades around the Arboretum. All of the maps were replaced with new ones and there were trail markers at all of the paths. Both the map and trail markers were much more attractive and definitely more informative than the old ones.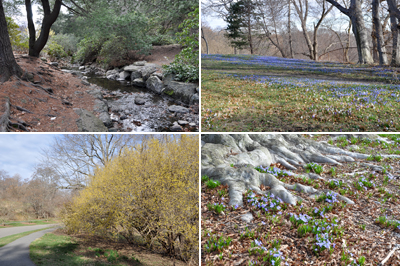 Another thing we noticed were all of the buds and blooms through out the grounds. We didn't remember seeing a crocus field in previous years, but as they don't bloom for that long, it was entirely possible that we had just missed them in the past.

Spring is definitely on its way. The plants know it, the creatures know it, all we need is for the New England weather to get on board :-) [Permalink]- Arboretum in April
Newport Rhode Island is known for its Cliff Walk, the Tennis Hall of Fame, and blocks and blocks of mansions. Those were all great reasons for a day trip from Boston on any given weekend.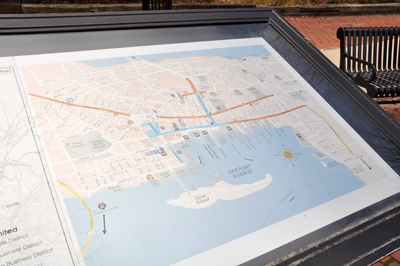 However, the BEST reason to drive to Newport maybe for the food at Annie's diner. The menu offers standard fare, but the taste is out of this world. We are not sure what they put in the eggs with sausages, but they were the best we've had in a long time.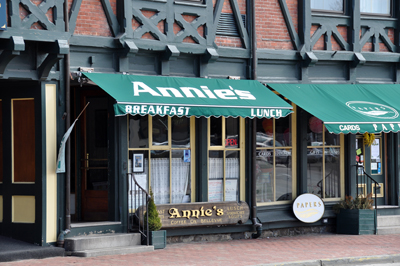 If you are within driving range of Newport, it is a great day trip. If you are hungry when you are there, definitely make your way to Annie's. Breakfast is served all day. [Permalink]- Breakfast in Newport
The New England Flower Show is now at the mall? Not just one mall, but a few of them scattered around town. The word was that the folks who usually put the show together every year ran into a bit of a financial problem, but got creative and worked out something with the mall owners. It is a pretty smart idea.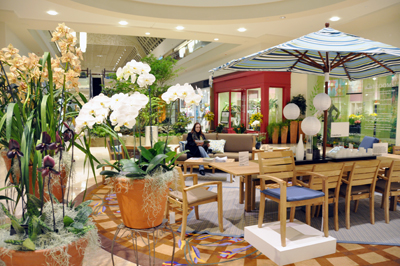 One of the shows was at the Chestnut Hill Mall in Brookline. We had to go check it for ourselves. The displays were placed at all levels of the mall. Mixed in with the flower show were displays from the various stores.

The first thing we noticed was how quiet the mall was. Maybe it was because it was a Monday night. Maybe because it was dinner time. Whatever the reason, it was great for a photo shoot, but probably not so great for the merchants.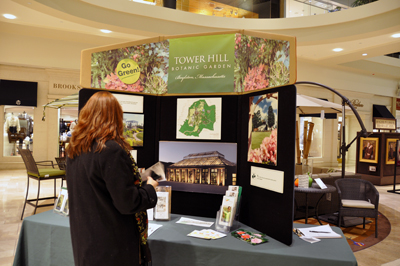 There were also booths and info about the vendors, nurseries, and plants on display. We looked around, picked up some gardening tips, and were generally impressed with the whole experience. As it turns out, the mall is a pretty nice venue for a flower show.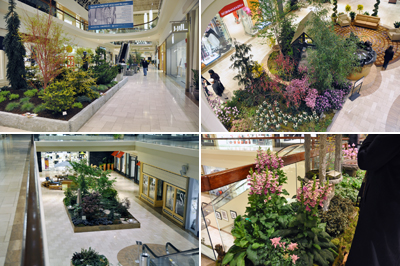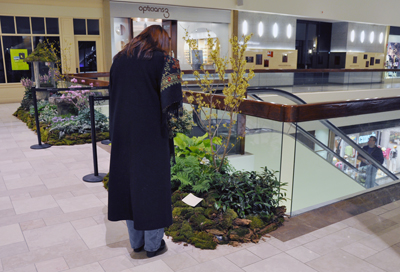 We are not sure how long the show will be at the various malls, but if you are interested, you should probably get out there to take a look pretty soon. [Permalink]- New England Flower Show
Some of us had to pop down to NYC for a small project this week. We managed to finish early, and as our dinner plans were not until much later we took a stroll uptown toward the Apple Store on 5th Avenue to see how things are going at the "mother ship."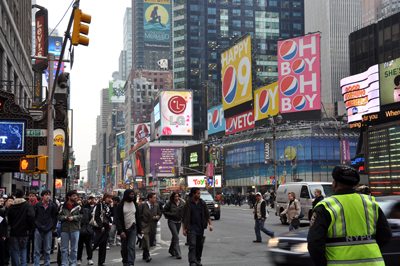 Boston is such a quaint little place compared to NYC. The energy pulsing through the streets just slaps out-of-towners upside the head. Anyone standing in one place for more than a few seconds had better have a bright yellow vest on, or they will be swept up by the crowd.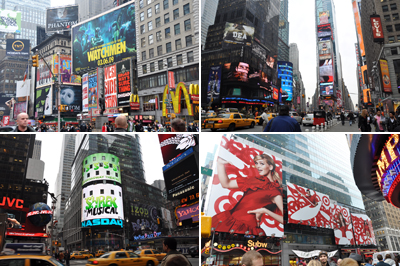 Areas such as Time Square and Broadway are not places for anyone with a low threshold for visual stimulation. LED displays and oversized billboards are in constant battle for attention.

Of course, billboards are not the only visuals in New York City. Anywhere one looks are well-known icons. Many of these places are "must visits" for sightseers and vacationers.

For Apple fans, the trek to the Apple flagship store on 5th Avenue is a given. Apple has done a brilliant job of catering to that fanbase. The approach to the Apple Store is visually attractive from any side. There are not many landmarks, let alone businesses, which can make that claim. By situating the store underground, the open plaza above serves both as a meeting spot and an icon " photo op" of the Apple logo. We would bet our interns that EVERYONE with a camera who has passed by has taken a photo of the Big Apple. Pure marketing genius! [Permalink]- NYC
Getting a new passport is typically a once-in-a-decade task. We occassionally have to travel internationally, so we like to keep ours up-to-date. One of our editors' passport expired last June. As we all have plans to travel to Bermuda later this year, he realized he better get his act together and get it renewed.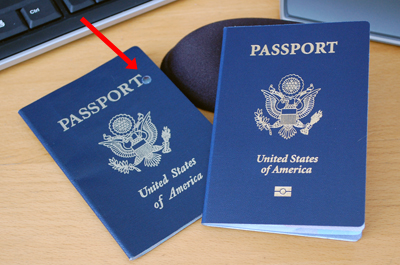 There were a few stories last year about the long wait for getting a passport. We are happy to report that the backlog is apparently gone. The entire process took less than three weeks. This is pretty good for dealing with the government :-)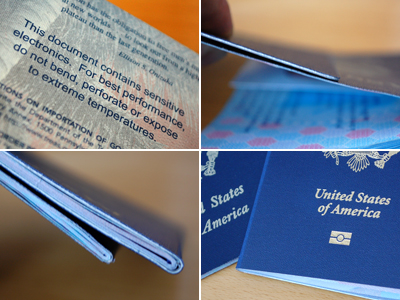 The new passport may look similar to the old one, but quite a bit more technology has been incorporated in it. The new cover is noticeably thicker than the old one. In fact, the entire passport is almost twice as thick compared to the old one. The biggest change is actually not visible. It is a RFID tag embedded into the cover of the passport. Where it is exactly in the cover is not clear, but it is in there somewhere.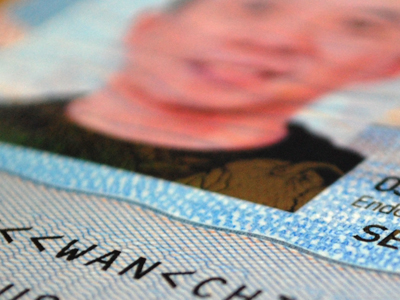 The other new technology involves the passport photo. Old passports have the photo laminated on the information page. This is an obvious security limitation. The new photos are digitally printed onto the page, making any attempt to change the photo much more difficult. Incorporated into the page are also a number of security features (microprinting, watermarks, textured lamination, etc...). While no security measures are foolproof, this new passport looks to be pretty hack-proof. However, the security of the new passport is designed to thwart counterfeiters, not identy thieves. The RFID tag contains the user's personal info in electronic form. Indentity theft concerns have been raised regarding these RFID tags. Is the personal information encrypted or stored in plain-text? If encrypted, how strong is the encryption? We'll answer those questions and how to mitigate any identity theft issues in a future article. [Permalink]- New passport
Meetings are a necessary part of doing business. Traveling for business is a consequence of the need to interact in person. However, it is not always a requirement for conducting business. We have had successful business relationships for years with people we have never met. Everything still got done on time and within budget.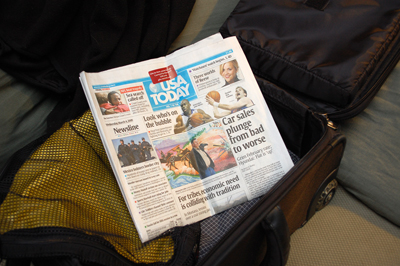 Why are we talking about this? While unpacking from our recent trip, we came across a copy of USA Today. We saved it because of an advertisement claiming that canceling meetings "cost jobs."
That kind of thinking is SO wrong-headed that we felt we had to respond. The U.S. Travel Association sponsored the ad in USA Today. They made some pretty disingenuous and self-serving claims such as "...for every meeting that is cancelled, jobs are lost..." What nonsense! In our experience, for every meeting that is cancelled, time is saved and productivity is raised. What we should really be doing is to STOP meeting and start DOING.

Another claim is that "top salesmen" and "high peformers" are the ones that need meetings. The implied message is they need to TRAVEL for these meetings and that if some travel is good, more travel is better. Well, take it from one who travels often for meetings...some meetings are necessary. Travel, not always.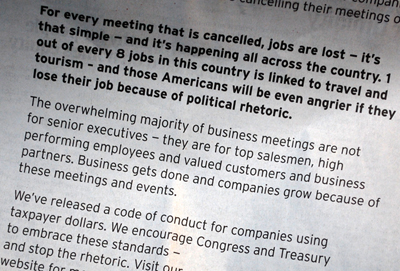 iAs to the claims of "jobs being lost" by reducing meeting travel, that may be true in the short term, but new jobs will be created to take its place. Jobs will come from companies that make teleconferencing equipment, networking gear that supports those digital signals, software which makes it all work. People will be needed to install and maintain all that equipment. Why? Because meetings will still need to happen even if we don't travel for them. Jobs will be created because we travel less, but are able to meet more.
Instead of traveling more for meetings, imagine traveling less and accomplishing more. In a world with ubiquitous high-speed video conferencing, meetings with customers and vendors located anywhere in the world can happen everyday! Can't do THAT no matter how much one travels. [Permalink]- Traveling for meetings
We head down to Dallas every few weeks or so for business. The trips are mostly two or three days long. As we like to travel light, we pack only the essentials. Nothing comes along unless it will be used. Gear which is multi-functional are especially appreciated. Gear designed to get us through security with a minimum of hassle is coveted. Gear that help us get on and off the plane faster is priceless. Tom Bihn's CheckPoint Flyer scored points in all three categories.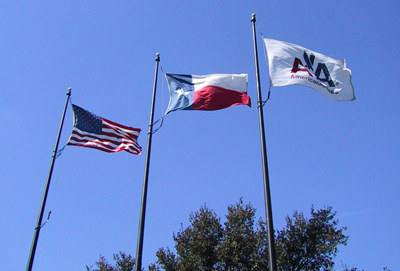 Last Tuesday we took a FirstLook at the new CheckPoint Flyer from Tom Bihn. We knew it was a well designed bag and we were eager to see how it would perform on the road. We took it with us on this trip to Dallas and it looks like it will be the one we grab first for all of our business trips from now on.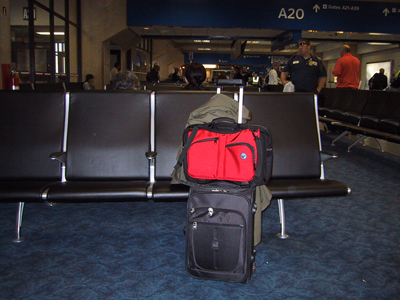 At a little over $200, this is not an inexpensive laptop bag. However, well-designed gear is always worth its weight in gold. The elimination of the "remove laptop" hassle at the X-Ray line makes this bag worth its price. All of the other features (top quality materials, superior construction, comfortable handle, etc...) are typical for Tom Bihn gear. We only mention them for completeness.

Two additional details were immediately appreciated during this FirstUse. First, the back pocket zips open at the bottom so it can be slid over the handle of a rolling bag. Many bags have a sleeve which will slide over a handle, but having it convert back to a pocket is a very handy feature during normal use. Internally, there is a pocket sewn into the back so papers can still be slid into the back without falling out when unzipped. A very nice touch. Second, the side pockets opens down, but not all the way. This is so things don't fall out the side easily. Both of these are very travel-friendly features.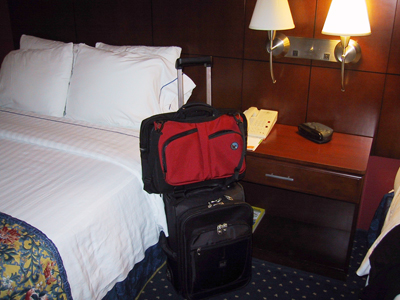 The CheckPoint Flyer performed flawlessly on this FirstUse trip. We will continue to comment on Tom Bihn's CheckPoint Flyer as we log more miles with it. Traveling for business is tough enough. Pick travel gear that work for you rather than making you work! [Permalink]- CkeckPoint Flyer FirstUse
Shobu Aikido of Boston has sword classes on Sunday as part of their regular Aikido program. This weekend, Gleason sensei gave a sword seminar which was open to all. Most of the time Gleason sensei demonstrates, discusses, and dissects the different kata. This weekend Gleason sensei extended the class to Sunday.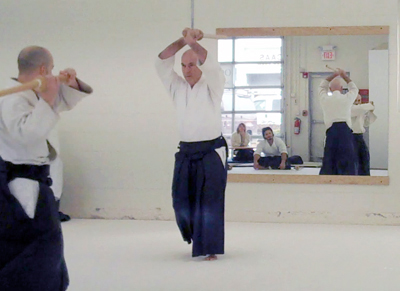 He started at the very beginning (how to hold the sword, how to cut, etc...) and one day was just not enough. This was a rare seminar as Gleason sensei does not start from scratch too often. The info on the site only listed a Saturday class. Sunday was not listed because the Sat class is a prereq for the Sunday one.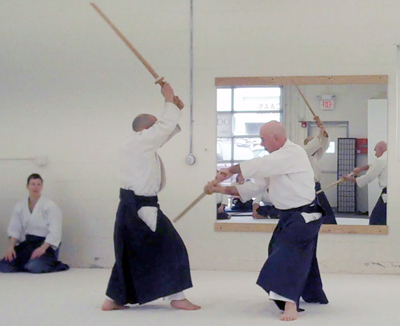 We changed our weekend plans so we could attend and we are definitely glad we did. If you are even remotely interested in sword, we highly recommend coming to Boston and attending one of Gleason Sensei's sword seminar. You may also want to check his travel calendar to see if one will be coming to a town near you. [Permalink]- Aikido Sword
Last Fall we went to World's End in Hingham for a hike. The Lobster Pound was open and the weather was warm. We went back this weekend to see what the place was like during the Winter.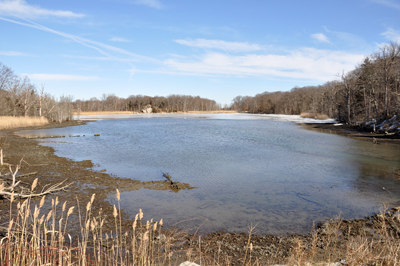 The grounds were quiet. There were a few birds out chirping, but pretty much everything else was in hibernation. Spring is clearly still a few months away.

It felt like we had the entire preservation to ourselves. The solitude and calm of the hike was very relaxing. We did have to pay attention on the trails as some of the paths were quite icy.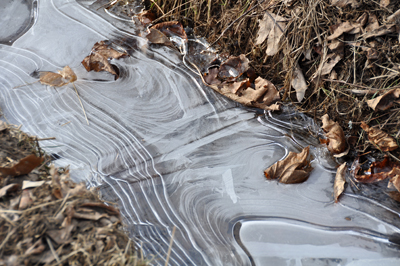 As it was a clear day, we could see all the way back to Boston. We took these two shots (18mm, 200mm) with the Nikon D90 and the 18-200mm VR zoom.

This place would be quite beautiful after a fresh storm. We hope to be back the next time it snows. We'll definitely visit in the Spring when things start to bloom. [Permalink]- World's End
Looking for a great Boston neighborhood restaurant for Valentine's Day? Sophia's Grotto would be our first choice. Two appetizers, two entrees and a bottle of wine for a fixed price of $59.95. Go here if you want to check out the fabulous Valentine's Day menu!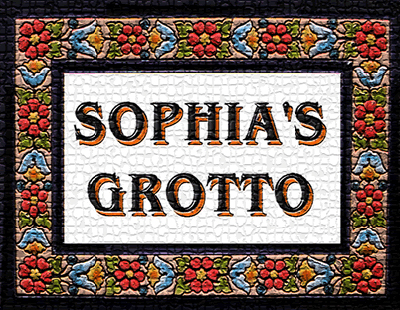 The special menu is only for Thursday and Friday nights. Reservations are required. [Permalink]- Sophia's Grotto
Those who travel for business pack differently than those who travel for pleasure. Waiting in security lines, fighting for overhead space, and checking out in time for an 8:30AM meeting gets old really quick when you have to do it more than once a week.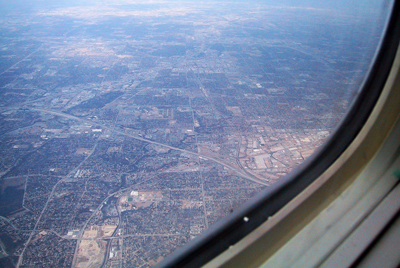 One way to make business travel easier is to pack as light as possible. Another is to "maximizing function while minimizing size"... especially when it comes to devices. We have been road-testing some new gadgets to see if they would lighten our load.

One item we took with us on this trip was the Edge's diskGO 64GB flash drive. Just a few years ago, 40GB of data had to be stored on a spinning hard drive which was about 20x heavier, had to be inside a computer, and cost about 3x as much.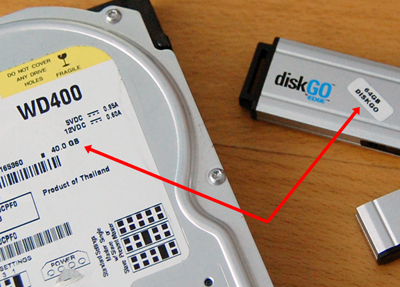 Today, 64GB of data can be stored on a flash drive just 2" big. The drive is USB powered, entirely solid state, and about 100x more shock resistant than a drive with moving parts. 64GB is a LOT of storage space. It is enough for all of our business documents, presentations, and proposals. At some point, all drives will be solid state. This means everything requiring storage will be lighter, smaller, and more portable. Folks who have to travel for business are eagerly looking forward to that day. [Permalink] - diskGO 64GB Flash
Last Friday we took advantage of the FreeFilmFridays event at the Boston Museum of Science and saw the new Omni film Roving Mars. It was an amazing film and we urge all of our readers to see it if they can. For readers who are in the New England area, all MOS films on Fridays in January (Jan 9, 16, 23) are free to the public on a "first come, first served" basis. The shows are sponsored by MathWorks. If you are interested, you need to go to the museum and get your tickets EARLY as there are NO RESERVATIONS for any of the shows. There is a limit of 2 shows per guest.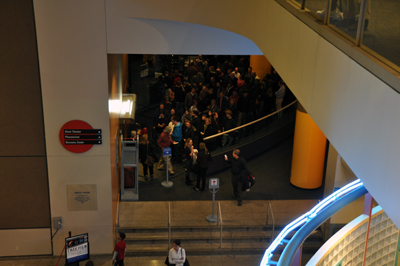 The crowd last Friday was large, and with good reason. MathWorks and the Museum of Science brought in the lead scientist of the Mars Rover project, Cornell astronomer Steve Squyres, to introduce the film.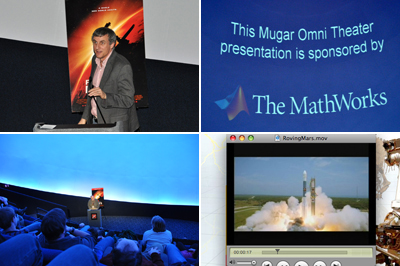 There was also a special, junior rover which visitors could "control" remotely (through a computer) to get a feel for how the scientists at JPL control the rover on Mars. We wanted to give it a try, but there was a hugh line of kids ahead of us (for some reason, we were the only grownups in line).

Instead, we went and took a look at the life size version of the rover on the display floor. The rover was a lot bigger than we would have guessed, considering it had to be sent all the way to Mars! However, if it had to survive the trip and work in the harsh Mars environment, it had better be well built. Considering the actual rovers have lasted five years longer than the three-month life expectancy, the build-quality was pretty high :-)


If you don't have time to go today, you will have one more chance. The last week for FreeFilmFridays is 1/23. If you are hungry after the show, check out the Science Stree Cafe. We did. Had a great time! [Permalink]- Free Film Fridays
Shobu Aikido of Boston moved their dojo from Newton to Somerville last Fall. Since then, they have been introducing themselves and making friends around the neighborhood. Tonight, the Shobu folks hosted a free sake tasting and Aikido demonstration at Grand in Somerville.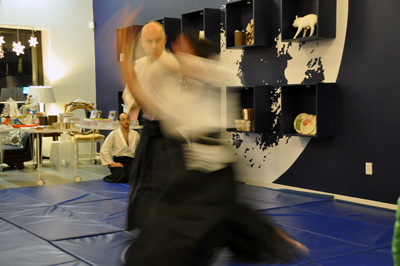 Gleason Sensei gave a dynamic demonstration as he explained some of the fundamental principles of Aikido. For about twenty minutes, the crowd had a chance to see those principles in action.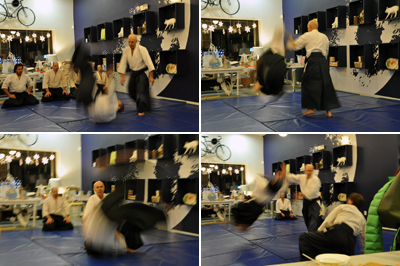 We took quite a few photos at the demonstration. When we reviewed the images afterward, we made an interesting observation. In most of the photos, there is a blur whirling around Gleason Sensei, but he remains mostly in focus. We realized that it is because he moved a lot less then everyone else... kind of like the calm in the center of the storm. This was one of the principles of Aikido that Gleason Sensei discussed with the audience: that of taking your attacker's balance while maintaining your own.

After the demonstration, folks had a chance to mingle, ask more questions, and chat with some of the Shobu Aikido students. Somerville is a great city and the event was a nice way to meet some of the locals. We think Shobu of Aikido will be a good addition to the neighborhood.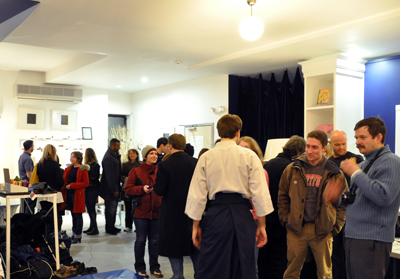 If you missed tonight's event, don't worry. You can observe a class at the Shobu Aikido dojo for free at any time. There may even be sake if your timing is right :-) [Permalink]- Shobu Aikido Demo
My poor, bedraggled United States of America: housing bubble bursted, financial industry turmoiling, people losing their jobs leftist, rightist, and centrist. Sigh. Well, if you need a shot in the arm of "this is how great America can be," then get yourself right over to the Museum of Science and watch the IMAX movie "Roving Mars," one of the truly stunning cinemagraphic achievements in this century (as measured from 1908).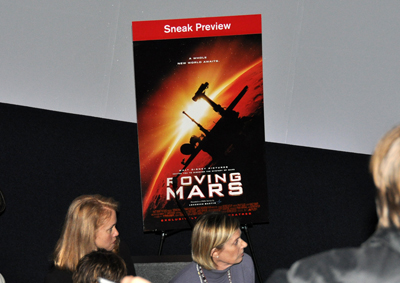 You think gettin' us landed on the moon was a big deal, try sending the cousin of WALL-E on a seven month, three hundred MILLION mile journey to Mars, knowing that at the end of the trip there'd be a six-minute window where you'd have zero communication with the craft while it descended through the Mars atmosphere, and also knowing that you might never even hear from it again because the landing was, well, entirely up to the rover and its bouncy-ball inflatable air-bag (yes, I know there's no air in space, just flow with the imagery). And then to have to wait for MORE than those six minutes for contact to be re-established, all the while thinking "did we do everything right, did we anticipate all possible issues, are we gonna fail like two-thirds of all missions to Mars?"; you wouldn't think watching people watching a blank wall of monitors would make your heart pound, but it does.

The Mars Bars (as I started thinking about them while watching the film) didn't think they'd make it: the thing was heavier than they thought it would be, the thing was bigger than they thought it would be, and they had to re-figure out how to land it since their initial parachute designs got shredded during practice runs. They thought they were going to run out of time; they thought they were going to run out of money. AND, they had this little window, that only comes around every 28 years, when Earth and Mars are aligned in such a way that there's even a hope of getting the thing off our planet and towards the other planet in such a way that the planet would actually be where it needed to be when the craft got to where it was going.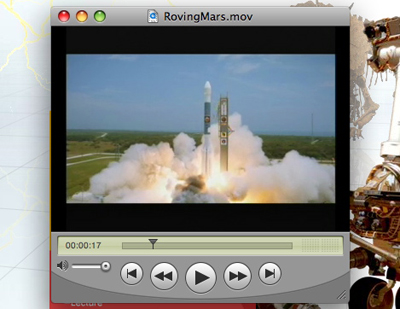 The liftoff sequence was so amazing, so "Oh my gawd, human people thought this up?" that it almost made me cry. And even though I knew (roughly) the ending of the whole thing, watching the Rover team watching those screens on touchdown day was so full of tension and suspense that I almost couldn't watch it.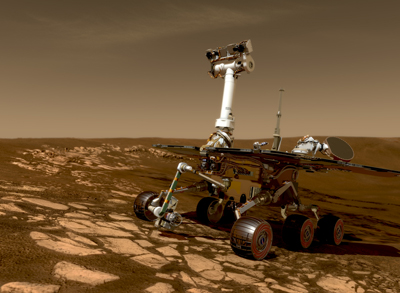 And then to "see" the rovers on Mars, and to know that the movement on the screen was exactly the movement that occured on Mars because the movie people used the data from the Mars rovers make the movie rovers move, I thought, well, now I've been to Mars. Seeing the solar panels delicately unfold like origami, then seeing the panels get covered with dust and start to lose their capacity and THEN seeing the wind whipping up and finally blowing off the dust merely proves that there is magic in space.
So back to America: watching this movie made me proud of who we are, and who we can be when we have a noble and arduous task set for us. That whole team - all races, both genders - accomplished a feat of enormous proportions, and this movie gives you an idea of what they did and how much effort went into getting it done. The filmmakers are so good at what they do, have such an ability to tell the story of the team and their two little crafts (and trust me, these crafts give new meaning to the word "crafty"), that "Roving Mars" is one of the most inspiring films I have ever seen. [Permalink]- by Carolyn Donovan
We had the perfect reason for a road trip to NYC this weekend... to field-test our new Nikon D90 and VR zoom. The goal was to put the camera on "auto" and just walk around and shoot. How did we do with the new camera and lens? Click on the images below and see.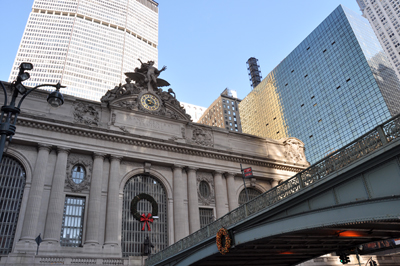 The weather was excellent for walking around the city and we did a LOT of that. We parked the car on the upper East side and strolled down to Union Square. The wide angle and zoom capabilities of the 18-200mm zoom lens enabled us to shoot a range of shots without having to change lens.

For this FirstUse outing, we wanted to see what we could do without knowing much of anything about the camera. All of the images have been resized from their high-rez 12MB versions, but not color corrected.

The camera's "auto" setting did a very nice job dealing with the varied lighting conditions (sunlight, tungsten, flurescent, mixed). What impressed us the most was the sharpness and detail of the images.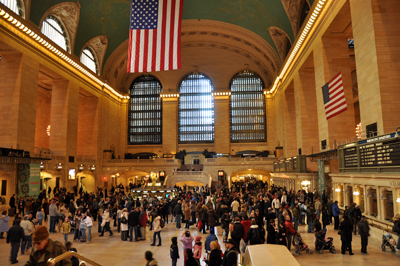 All of the images were shot hand-held with the vibration-reduction setting "on." The advantage of the VR feature was clearly evident when the daylight started to fade.

This last shot we took was just to see what we would get with the VR lens at night. We did not really expect it to come out as sharp as it did! Before VR, this shot would not have been possible without a tripod.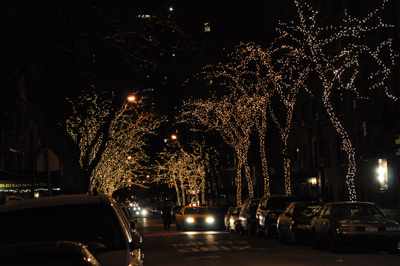 If this FirstUse is any indication, the Nikon D90 is destined to become the favorite around the office. The camera is new, so there are not a lot of accessories for it at present. However, if you have ones which you would like us to check out, send us a link. [Permalink]- NYC