RainyDayDestination's content can now be licensed for your print magazine or web site. Please contact us directly here. If you want to see something reviewed, then drop us a note with a link and we'll be happy to take a look.
Boston

was blanketed with over a foot of snow from the storms on Friday and Sunday. We did not venture into the city all weekend, but did manage to make our way to the Arnold Arboretum on Sunday for a walk.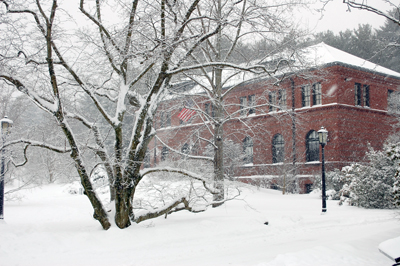 The day's forecast was for freezing rain and we wanted to get some photos of the snow before things turned sloppy. By the time we got out of the car the storm had picked up and visibility was starting to drop.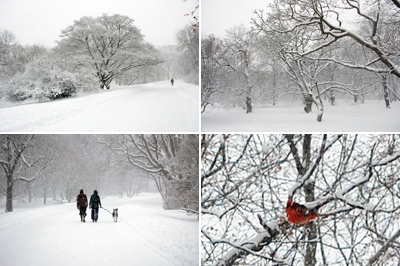 Inspite of the storm, the Arnold Arboretum was teaming with activity. Folks were out hiking, x-country skiing, and walking their dogs. Even the cardinals were out flitting about and making a racket :-)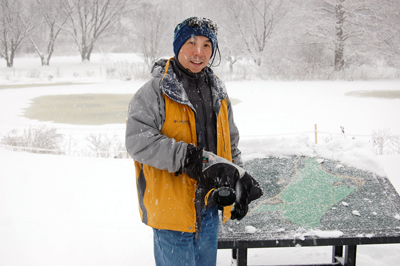 A few days ago we mentioned that we carry our gear in Kata bags when we go out. This weekend was a perfect example of why. Even in a blowing snow storm, the Kata sling protected our gear and the all weather shield let us shoot unhindered.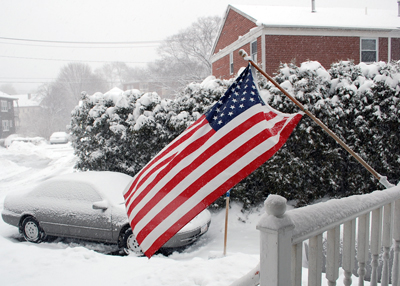 By the time we finished our walk and made it back to the office, the plow had came by and cleared the main drive. However, a lot of shoveling was still left to be done. If we don't clear things out now, the freezing rain may make it impossible to shovel later.

After some discussion, we decided it was easier to just feed the birds, leave the snow on the Boxster, and go inside and make some espresso. We can always work from home tomorrow.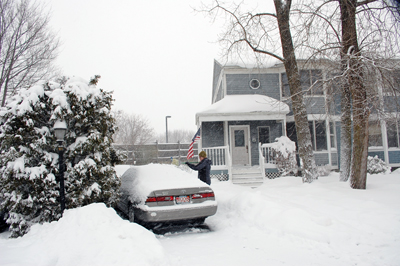 The roads may be covered in a sheet of ice for a few days if the temperature does not start climbing. That would be a bit of a problem as some of us have yet to start our Christmas shopping!!! [Permalink] - First Storm
The NEIAS caters to all different types of car enthusiasts. While most of the floor space showed conventional cars from the major makers, there is always some area off to one side reserved for the smaller vendors, customizers, and merchandizers. It is there that one finds the odd, the exotic, and the strange.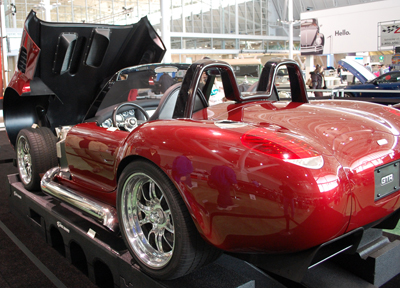 The gamut of vehicles and aftermarket works on display was pretty wide. Not all of them were our cup of tea, but that is exactly the point; anything goes in this section of the show.

The booth that always brings a smile is the model-car vendor's table. You can just see the kids' (and a few dads' as well) eyes widen when they come upon this display. As our Boxster model collection is up-to-date, we were not tempted. That much.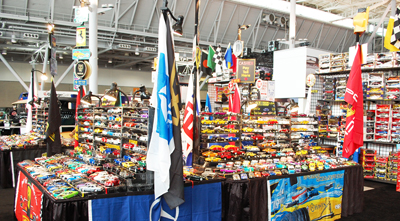 In the same area was a booth with a large crushed vehicle. We first thought it was some kind of message about Drunk Driving. It turned out to be Schnitzer Steel Industries' booth about recycling.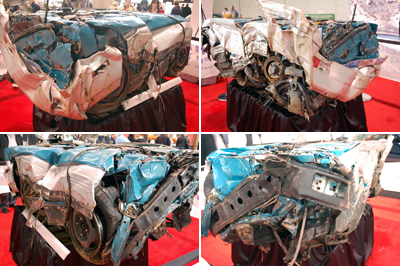 The large crushed car was a contest. If you can correctly name the car, you could win a trip to Florida. The contest was opened to show attendees only so you had to be present to drop off an entry. We guessed it was a Pontiac Gran Prix.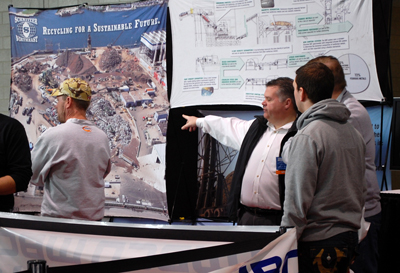 A car show is not complete without a few "concept cars." We have always liked the ones from Saab. This year, Saab was showing off the 9-X Air, a BioFuel (gas-electric flex-fuel) Hybrid convertible concept vehicle. This Saab concept car was debuted in Paris.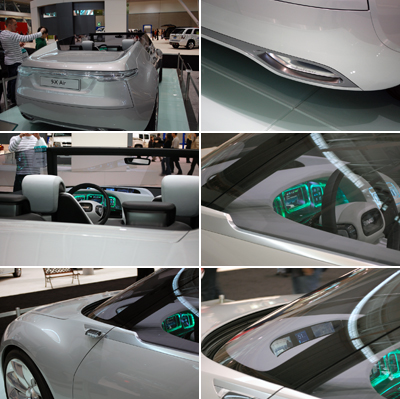 More info on the car and its features are available here on the Saab site. However, seeing it in person was much more satisfying. If you look carefully, you can spot the RainyDayMagazine photographer as captured by the X-9's side mirror-cam. This feature might seem to be overkill for some, but consider that once the video stream is available, all kinds of things can be done with/to it (recording, processing for feature extraction, object tracking, etc...). The folks here do live in a fantastical future, so we LOVE this stuff :-) [Permalink] - NEIAS Exotics
The auto industry has been feeling the brunt of the credit logjam. Sales have dropped off a cliff, partly because people don't want to buy new cars and partly because those who want to buy are having a tougher time getting financing for the purchase.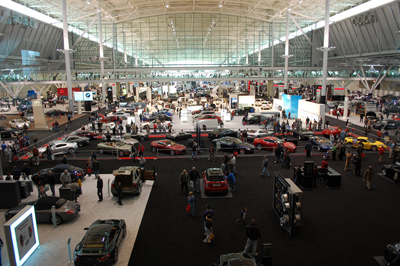 We were going pass on this year's New England International Auto Show, but decided to go because it has been a few years since we covered this event. The show used to be at the Bayside Expo Center, but has since moved to the newer Seaport Convention Center down by the waterfront.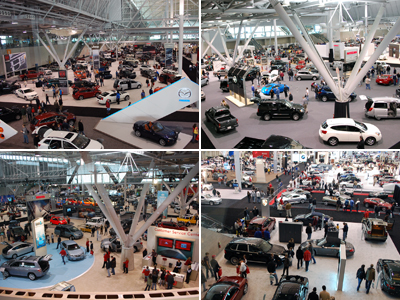 Attendance at the show was light in the early hours, but picked up around noon. All of the major players were there with their 2009 offerings.

As always, what caught our eye were the two-seater roadsters. Honda, Nissan, and Saturn all had some nice vehicles for next Spring. However, if we were to trade in our 2000 Boxster, we would do it only for a Vette like this one. Just check out the dash and the huge trunk!

One nice side effect of the light foot traffic was that we had plenty of time to get close to all of the cars, even the Porsches. Most of the Carrera models (base, S, 4S) were on the floor. Some were being checked out by the next generation of buyers.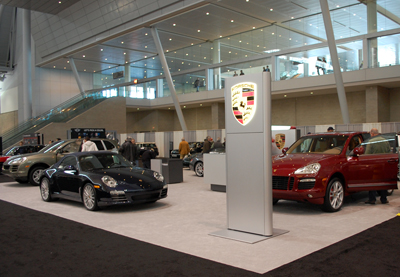 None of Carrera doors were unlocked so we did not get to sit and check out their interiors. However, the Cayman and the Cayenne were available for closer examination. What we did not see were Boxsters. What we did see were Boxster posters.

Want a copy of the Porsche poster? Pair the Porsche headlights with the proper model and send us the answers. Put "We need something for the wall" in the subject line of the email so our email filters will process it properly. We'll pick a winner on Monday amongst the entries with the correct answers.

Sunday is the last day of the NEIAS. If you have no plans and are looking to kill a few hours, head on down to the Seaport Convention Center and kick some tires. Do note that snow is in the forecast for tomorrow. [Permalink] - NEIAS
These days, most GPS will guide you to where you want to go. The difference between and within various brands have more to do with ease of use than technology. As most readers know, we have looked at a few GPS units over the years. Navigon first caught our attention with their "reality view" feature.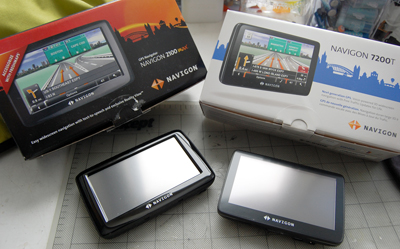 Navigon has continued to innovate. Features such as glare-reducing screens, free traffic updates, and removable flash (SD: 2100Max, MicroSD:7200T) are part of every Navigon unit. The 2100Max mount grips the unit from top and bottom. The 7200T's mount grips from the back.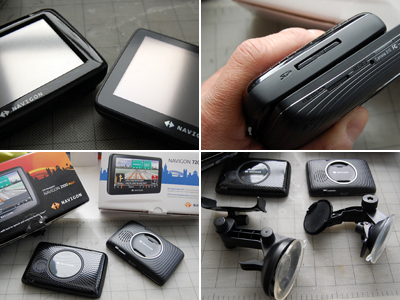 The GPS mount is one feature which does not get much coverage in most reviews. This item is actually quite important in the overall usability of the GPS. A mount should be easily affixable and removable from the windshield, flexible in its adjustments, and secure in its grip on the GPS unit.

The mounts for Navigon's 2100Max and the 7200T are well designed. Both mounts have multiple joints that accommodate any angle. The large soft rubber suction cups provide excellent grip on glass.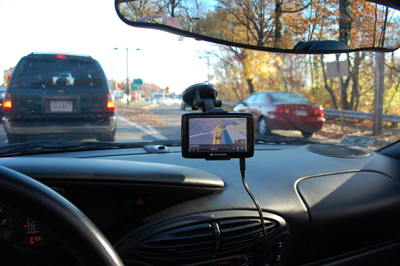 The only problem we've encountered in the placement of the window mount is that we had to be cognizant of the added space required by the power plug. In the next installment of this series, we'll take a look at one popular aftermarket mounting option. We'll see if it is better than our low cost Home Depot hack. [Permalink] - Navigon Mounts
Who cost a million dollars, came in ten crates without assembly instructions, and is 65-and-a-half million years old? Cliff, the new, actual, triceratops at Boston's Museum of Science, that's who.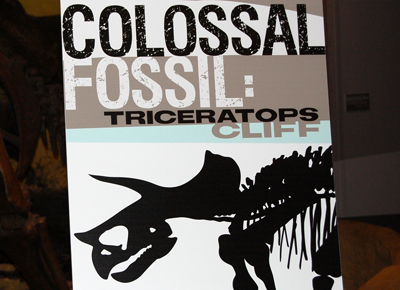 The cool thing about Cliff is that those bones (and all those teeth) really are his; this ain't no model, and all those bones came from the one guy (assuming at this point we can tell the difference between the Tri-sexes). Cliff might be surprised to realize that he is one of only four near-complete examples of his kind in the world, and the only one in the northeastern United States. All the skeletons that you see in museums are made up of bones from various finds.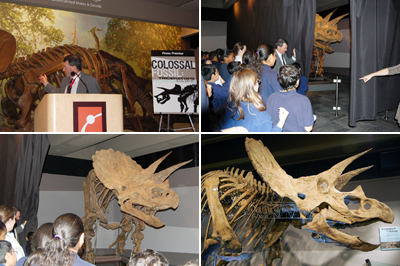 Cliff was discovered in 2004 in North Dakota in the Hell Creek Formation by a rancher. It was put up for auction in April of this year by Christie's Paris ("Pardon, monsieur, but there ees a dinosaur een your auction house"), and subsequently offered to MOS on long-term loan.

The donor, who wishes to remain anonymous, enjoyed coming to MOS when he was a child, and thought the museum would make a good home for the 22-foot long, 2,000-pound fella. "We got a phone call in the Spring, asking if we'd like a dinosaur," Ioannis Miaoulis, MOS Director and President, told the crowd before the literal unveiling of Cliff.

Cliff is named for the anonymous donor's grandfather (who must be really old himself). Additional remarks were made by Dr. John Hoganson, State Paleontologist of North Dakota.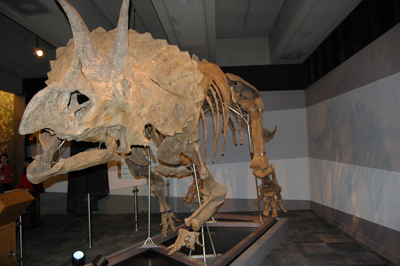 Cliff now, uh, lives, in the Dinosaurs section, and in the exhibit is numerous other dino-stuff (but don't step in the footprint of the T-Rex, he might get annoyed). There are other interactive pieces being offered by the museum to enhance the paleontological experience, including the IMAX movie Dinosaurs Alive! [Permalink] - Triceratops Cliff
Four years ago, the country elected a president which steered us down some pretty rough roads. Instead of changing course and getting us out of the mess, we were driven almost off the cliff. Today, the country will get another chance to select a new driver. Let us hope that collective wisdom prevails this time around and we elect somebody who knows how to drive, can read a map, and knows when to stop and ask for directions.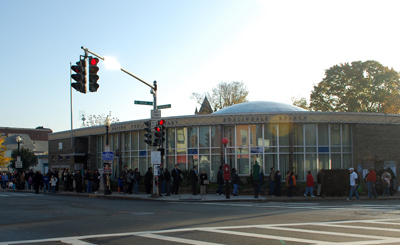 Even though some of us here are a bit under the weather, we got up early to go vote. We have voted in Boston for many years and we NEVER had to wait in line, until today. The line moved quickly and we experienced no problems at our voting location. We were done in about 20 minutes.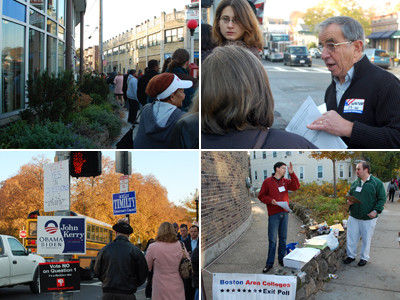 It was heartening to see all different kinds of people waiting in line to vote. Judging by the number of folks in the queue by 7AM this morning, it seems like the turnout for this election is going to be huge!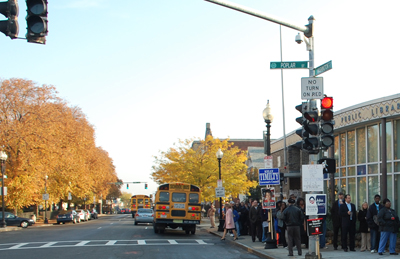 We made our election prediction over a week ago. By tomorrow we'll know if we were right. In any case, the country will have elected a new president. One thing we know for SURE, it will be a change for the better. How exciting is THAT? [Permalink] - Vote
We arrived at Walden Pond early in the day, but since the clocks were turned back last night, it really wasn't THAT early. Most of the trees had already changed.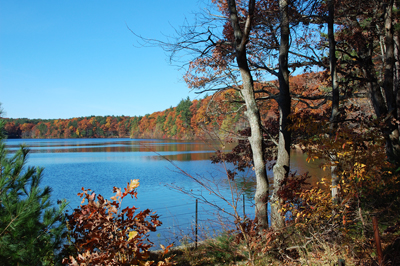 The colors have shifted toward a more muted set of orange and brown. There were still clusters of reds popping up in places around the pond.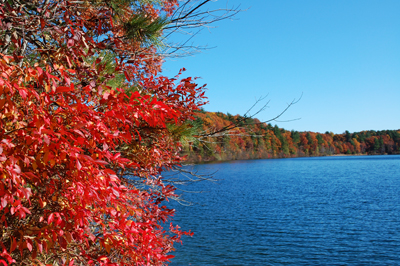 This was probably the last weekend where there will be good color at Walden Pond. Most of the leaves will be gone by next week. If you want to see some of the remaining colors, you need to go soon. [Permalink] - Walden Pond Fall
One look out the window this morning and we knew the day was going to be a nice one. The colors in the RainyDayGarden had started to turn about two weeks ago. The Japanese Maples are now just peaking. It was going to be one of those picture postcard New England Fall days and we wanted to capture some of it on silicon.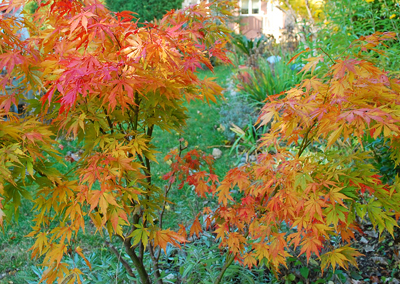 We thought since the colors were so nice in the garden, they must be peaking at the Arnold Arboretum as well. We hopped on the Vespa and scooted down to see if we were right.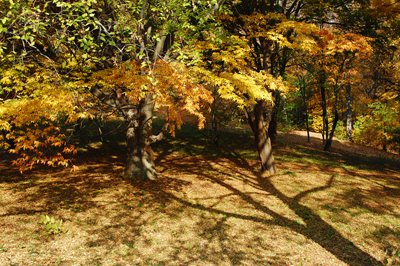 Because of the wet Summer many of the trees still had their leaves. Bright yellow colors were everywhere. The Arboretum is quite heavily used, but since it was still early in the day, it was not yet crowded. We took advantage of the temporary tranquility and got some nice panoramic shots.

By the time we were done shooting, more and more of the usual Arboretum goers (jogger, bikers, stollers) had started to appear. It was time for us to pack up and to go get some food. All that hiking really works up an appetite!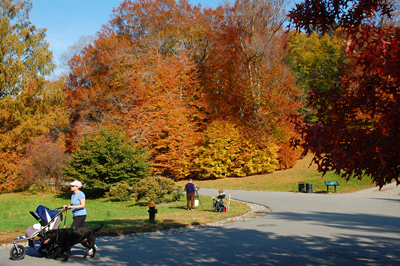 Today was a picture perfect New England Fall day. Apparently, a few painters agreed and was out capturing some of the Fall colors as well. If it is still nice tomorrow, we'll take a drive out to Walden Pond and see if we can get another shot of the heron. [Permalink] - Fall Colors
We took advantage of the nice weather this weekend and went for a drive. About 40 minutes from the city is Shelborne Farm. Folks head there on sunny Fall days because it is the place to go for picking apples... ALL kinds of apples.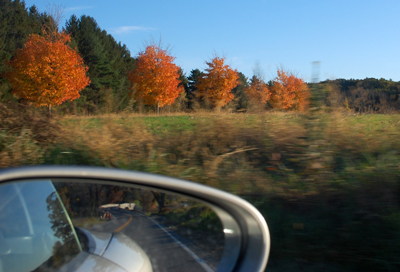 Apple picking is a great way to spend a day, and afterwards you get to go home and bake a pie. The trails are well marked, there are plenty of things to see and do, and when you have had enough, you can walk to the farm stand and get a hot cup of hot cider (and a donut).

Picking the apples is the easy part. The hard part is choosing what kind of apples to pick. There are dozens of different kinds at any given time. We know nothing about apples, but anything with the name "delicious" went into the bag.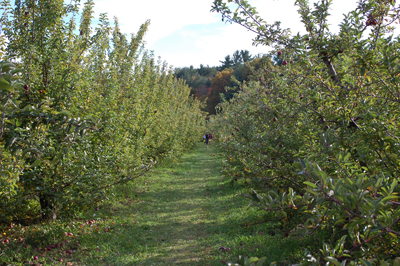 After a few minutes of picking, we understood the meaning of the phrase "low-hanging fruit." While easier to pick than the ones requiring a ladder, the unpicked low-hanging ones tend to be either bruised or already bitten by, something. And the ones on the ground? Just leave them for the squirrels.

There is more than just apple picking at Shelborne Farm. There are pony and hay rides, a petting zoo, and even a tractor track for any tykes brave enough to get in the rink. It was kind of ticklish to feed the llama.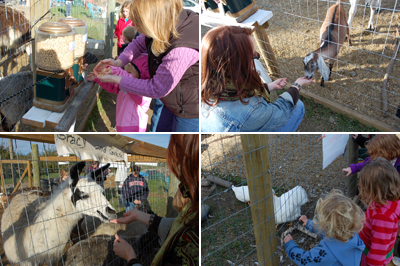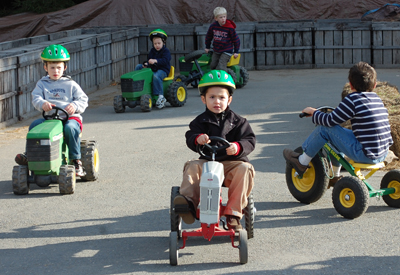 After an hour of walking up and down the different aisles of apples, we were ready for something hot to warm us up. Judging by the line at the farm stand, quite a few others had the same idea.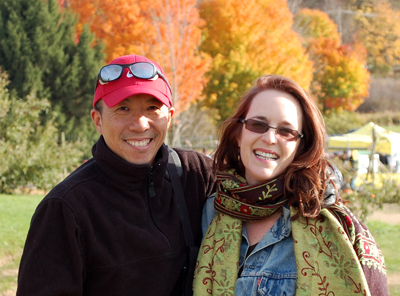 There won't be many more days with fantastic colors like the one on Sunday, so if you want to take off early and go for a walk, we won't tell :-) [Permalink] - Apple Picking
A few weeks ago, we drove to Manhattan to have brunch with our friend Kathy. It was kind of a gray day and we were not quite sure what to do before heading back to Boston. We had heard there was an art installation of "waterfalls" around the city. One of them was under the Brooklyn Bridge. Since we were on the East Side, we decided to check it out.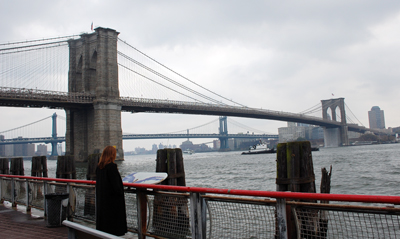 We had always seen the Brooklyn Bridge from far away as we crossed over from Long Island to Manhattan. This was the first time we've ever seen the Brooklyn Bridge up close. The best view of the waterfall was from the Manhattan side.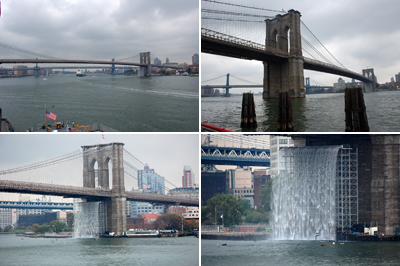 We parked the car and walked along the path next to the bridge. Next time we'll have to walk across the bridge and get some photos from that perspective.

At the foot of the bridge on the Manhattan side is the South Street Seaport. It is quite the tourist destination any day of the week and especially so on the weekends.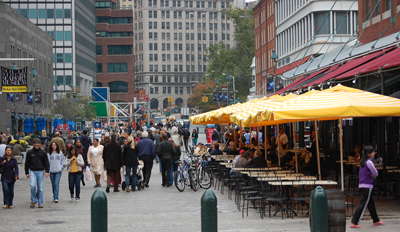 We strolled around for a while, but decided that we were still too full from brunch to eat anything else before heading back to Boston. If you find yourself in NYC and are looking for some place fun, head downtwon to the Brooklyn Bridge. You'll find something to fill your day. [Permalink] - Brooklyn Bridge
Columbus Day is usually the last day where many shops and restaurants stay open in Maine. We like going up there for this weekend because the rental prices are quite inexpensive. The bugs, as well as most of the tourists, are gone. The weather is still warm enough during the day that we can drive with the top down.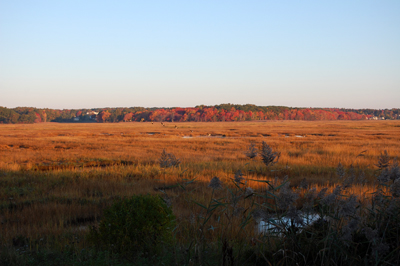 It was certainly a great day for continuing our lobster roll "research." We noticed lobster prices were around $3.99/lb, even in the more expensive places like Kennebunkport.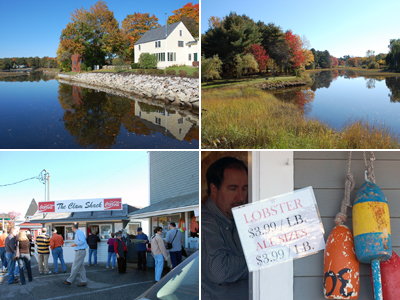 This was the lowest lobster prices have been in quite some time. Clearly, others were also taking advantage of the rates as The Clam Shack was doing a booming end-of-the-season business.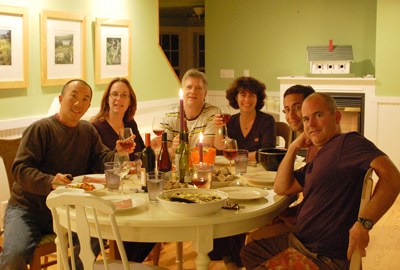 As usual, the weekend went by too quickly. Next year our plans are to go to Monhegan Island for Columbus Day. It is a small island, but there should be plenty of room that weekend. Feel free to come join us if you can! [Permalink] - Columbus Day
We have been waiting for the right opportunity to photograph InTheWild using the Wicked Laser. We brought it with us to Maine, hoping there would be a few clear nights so we could get some photos of it in action.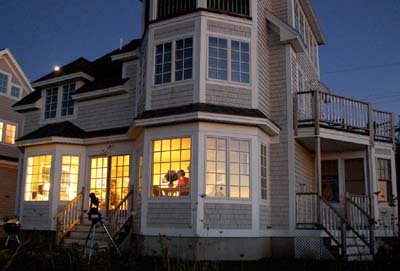 The first night we set up the telescope and took a few experimental shots to establish the settings needed to capture the laser.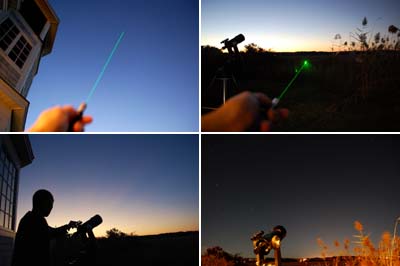 At first, we had a little trouble keeping the laser from moving. It took a bit of trial and error to get the shutter timing right, but once we got it worked out, the shots came out a lot sharper than we thought they would.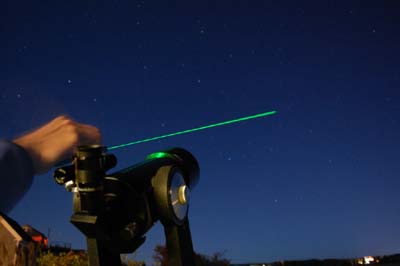 Some were skeptical that the laser would be able to be seen at night, but there was enough dust in the air to make the laser visible. It was quite amazing to be able to point at individual stars with the Wicked Laser.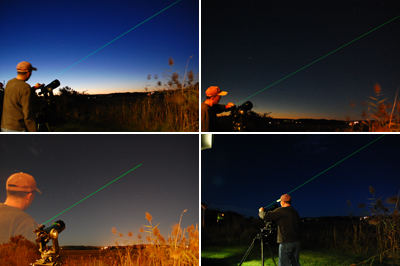 The beam is very bright and will be easily visible at dusk. We didn't want to do this photo shoot in the city for obvious reasons. It is not a toy and must be used responsibly. The Wicked Laser is very helpful for pointing out things in the sky and will be a pretty useful addition to anyone's astronomical toolkit. [Permalink] - Wicked Laser InTheWild
The RainyDayMagazine editorial crew went on their annual Maine Columbus Day outing this weekend. As with previous trips, we left the interns in charge, rented a house on the marsh and settled in for three days of feasting, napping, and other low impact activities.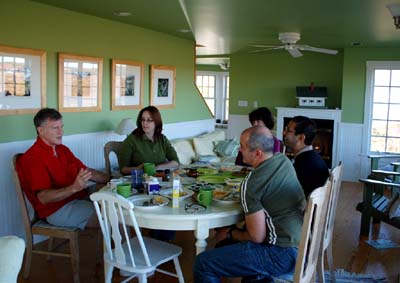 New England had a wet Summer and is experiencing a warm Fall. With the warmer temparature, the leaves should stay on longer and the colors be more vibrant. The weather forecast for the weekend was clear, sunny, and cool... perfect for hiking and foliage activities.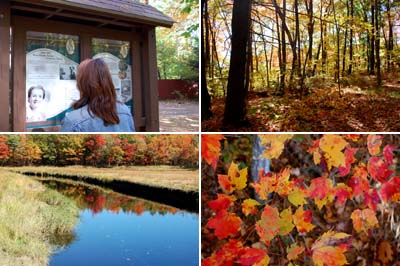 A few of us took a walk in the Rachel Carson Nature Preserve in Wells. The foliage was past peak, but the colors were still quite impressive. The walk was not too strenous, but it did help us work up an appetite for lunch.

Another of our Maine traditions is the search for the perfect lobster roll. This year we discovered Allen and Karen Merrill's Lobster-On-A-Roll on our way back from the foliage hike. Their sandwiches were the best we've had since the ones from Old Orchard Beach.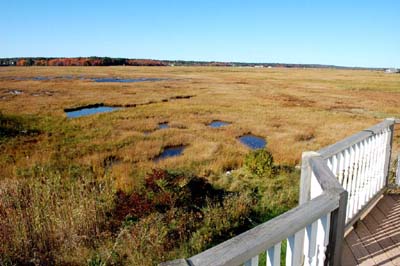 The rest of the day was spent lounging around the house and "resting." The marsh behind the house was the perfect setting for bird watching and enjoying the sunset.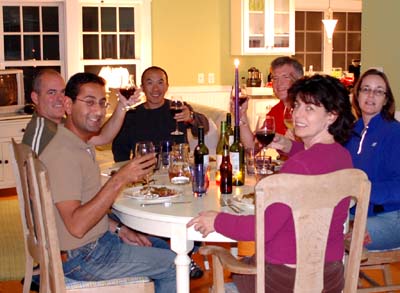 Here is a toast to all of you readers out there. We hope you are enjoying your Columbus Day weekend! [Permalink] - Weekend In Maine
Judging by the turnout, A Taste of Roslindale last night was a hugh success. We arrived a little after 6:30. The place was already packed and the tasting was well underway.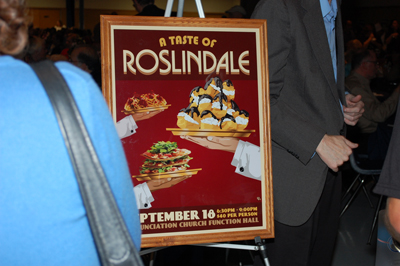 It seemed like everyone in Roslindale was there. We said "Hi" to friends at a few of our local favorite restaurants (Sophia's Grotto, Pleasant Cafe) before checking out the rest of the hall.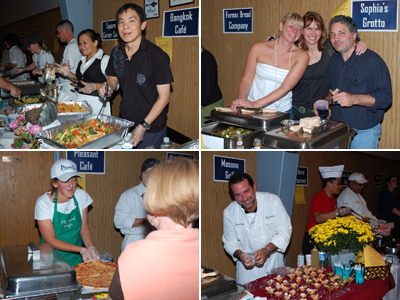 The tasty treats from the participating vendors were all very tempting. We decided we had to try EVERYTHING! Our only plan was to save the dessert for last, but we deviated from the plan pretty quickly:-)

One thing we noticed was the many shrimp dishes restaurants were serving (Masona Grill, Yucatan Mexican Grill, Corrib Pub). As we LOVE shrimp, we were in heaven.

The shrimp ceviche from the Masona Grill reminded us of the ones we had fresh on the beach in Miami. The offering from the Yucatan was a great follow up to the ceviche appetizer. The surprise of the evening for us was the baked stuff shrimp from the Corrib Pub. It was SO GOOD that we broke our "no seconds" rule and went back for more.

Mayor Menino worked the crowd and raised some additional funds with a few live auctions. All the funds raised by the event will benefit a cause such as The Babes Making Strides Against Breast Cancer, a local group of women who walk to raise money for the American Cancer Society.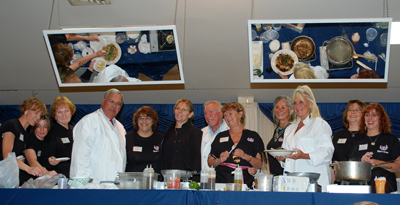 The fundraiser also benefits the Jason Roberts Challenger League baseball, and will help purchase and install permanent holiday lighting in the Roslindale business district. We were glad we had a chance to sample all of the great tastes available in this wonderful little village in Boston. Even better that the money we spent will be going for a few good causes! [Permalink] - Taste Of Roslindale Event
Roslindale was just a nice place to live when we discovered it in 1989. Like many of Boston's neighorhood, it has its shares of wonderful local dining establishments (Pleasant Cafe, Blue Star).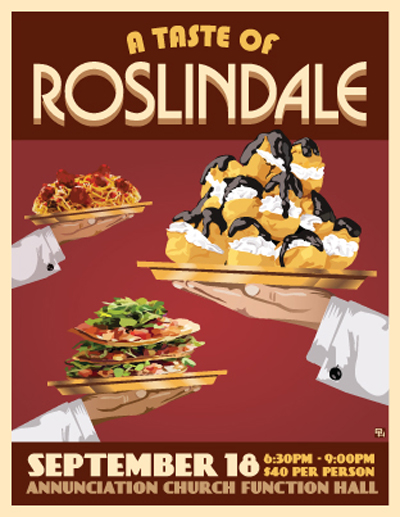 With the opening of restaurants such as Delfino and Sophia's Grotto, Roslindale has developed into a dining destination! Tonight, for just $40 per person, you can sample food from some of the best eateries in Roslindale! The proceeds goes to benefit some wonderful charities. The event starts at 6:30. Go early, it will be crowded. [Permalink] - Taste Of Roslindale
The HR folks never told us when we hired an intern that our responsibilities to them extended to... actually, we are not really sure when it ends. OK, so she did come up with our tagline "We Entertain When It Rains." She might even have done some weeding in the RainyDayGarden. However, we didn't know we had signed up for looking after her whenever she was in town :-)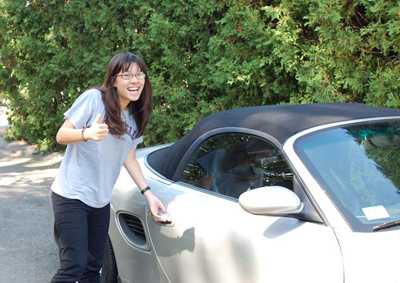 On Thursday, we got a call asking if we could pick her up at the airport at 6:30AM and drive her down to Providence? Being the softies that we are, we said sure... and promptly passed the task off to the managing editor. We figured he hired her, he should drive her.

Since it was a few days before the "official" FirstDay at RISD, the place was pretty empty. Getting a parking space to unload her gear was easy! Finding her dorm room was another matter. However, she did finally managed to find it after a bit of wandering around.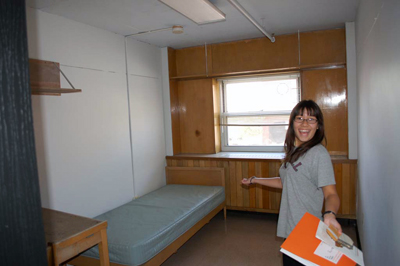 Our intern was pretty excited when she learned that she was assigned a single room. No roommates meant that she can decorate her space any way she wanted. Her first order of business was to set up internet access, followed by the unpacking of some strange stuffed animals, and finally to put up the poster she brought back from her trip to Japan this Summer. We are SO not 18 years old.

We agreed that we would go back today to help her pick up some stuff at Walmart. After that, we are going to change our cell number and move the office to an undisclosed location. This is because she casually informed us that all of her West Coast friends who are now on the East Coast attending college would love to come to Boston for Thanksgiving dinner this year :-) [Permalink] - First Day at RISD
Labor Day weekend is upon us once again! There is a slight hint of Fall in the air, but it was still warm enough for T-shirts and shorts. While Gustav is bearing down on New Orleans, the weather here in New England was more pleasant. Nice enough to get us out of the office and to take a drive out to World's End in Hingham.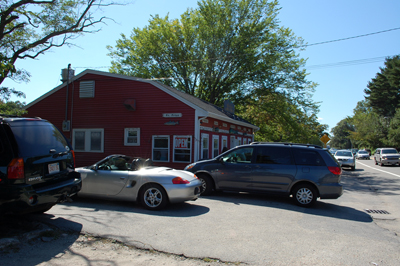 On the way to World's End, we realized none of us had lunch yet. Luckily, we were just passing by the Hingham Lobster Pound when hunger struck. As the locals know, the Lobster Pound is THE place to go if you are looking for fried clams or lobster rolls (or onion rings).

We were not disappointed. The sandwich was packed with large chunks of lobster meat, a light dressing, all held together by a buttery bun. Very TASTY!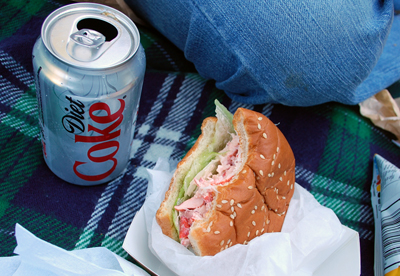 We finished lunch around 3PM and arrived at the World's End Preserve fully fueled for a walk around the various drumlins. This beautiful piece of land was originally purchased in the 1880s to be developed for homes.

Olmsted (the Central Park guy) designed the subdivision. The work progressed as far as the laying of the carriage roads, but none of the houses were actually constructed.

The land was acquired by The Trustees in the 1967. They have done a great job caring for this treasure. We spent a few hours hiking the 4 miles of trails.

The paths took us through some lovely areas. Wild flowers were still in bloom everywhere. Believe it or not, we were even able to see The Pru from one of the trails.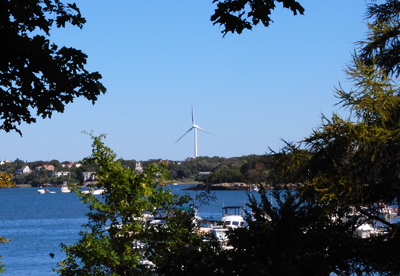 At some point on the trail, we came upon an unexpected site... a windmill. When we got back to the office, a quick Google search determined that the one we saw was the municipal one in Hull. It good to see that some towns don't just endlessly talk about using "green" / alternative power and have actually done something about it. We are going to have to go check it out next. [Permalink] - World's End Hingham
Last night the Museum Of Science in Boston had a preview of Wild Ocean, the new IMAX film which opens today. We love the MOS and we always want to help spread the word whenever we can. However, we almost didn't go to it because the event was at the end of the day, we were tired, etc... Anyway, we went and were glad we did!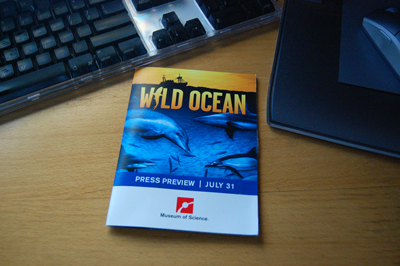 Wild Ocean is a spectacular film about the annual movement of the huge school of sardines (were talking billions of them) which makes it way along South Africa's Wild Coast. This migration also feeds many of the inhabitants (dolphins, sharks, birds, whales, and people) in that region. The footage is stunning, and shows what more of the ocean could be like if we humans were better managers of our sealife harvesting.

The film shows the interdependence of the ocean's large and complex food web, from the little sardines all the way up to the huge whales. The IMAX experience immersed us in the feeding frenzy of sharks, gannets, dolphins, and whales on the migrating sardines. At times it was like being in the middle of the massive, undulating, school of sardines! (Note: Vegetarians may find parts of the feeding frenzy footage less thrilling than their carnivor friends.)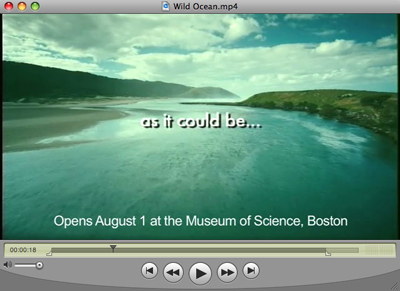 Wild Ocean also looked at the impact of man (industrialized fishing, global warming, etc...) in this ecosystem and stresses the importance of creating marine reserves to allow the seas to sustain its ability to regenerate and restock. The message is that while the ocean's resources are vast, it is not limitless. To share in this bounty, we must manage it at a sustainable level or damage it to the detriment of all that depends upon it. Wild Ocean is showing exclusively in Boston through October 15, and will continue at MOS through February 2009. Go see it today. [Permalink] - Wan Chi Lau
There are a few places to escape the heat this weekend: the beach, the mall, the MFA. We opted for the museum. Why? This is the last week the El Greco to Velazquez exhibit will be at the Museum of Fine Arts in Boston.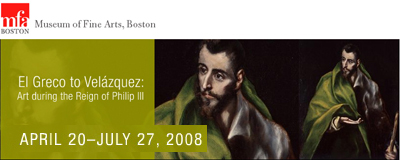 Organized by the MFA and the Nasher Museum of Art at Duke University, El Greco to Velazquez examines works by two of Spain's great masters, El Greco and Velazquez, in the context of their contemporaries during the vibrant, but little-known period of Philip III's reign (1598 to 1621).

More than sixty paintings are featured, many of which have never before traveled to the United States. The exhibition is made possible at both of its venues by the generosity of Bank of America.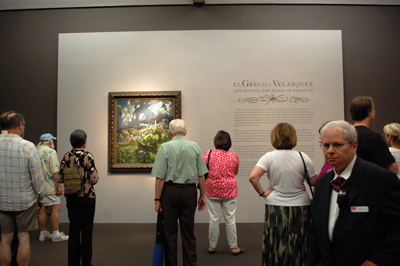 There was some confusion whether we, as members of the press, were allowed to take photos. At the press previews, the MFA had always given full access for photographing the exhibits, but we decided it was probably better to put the camera away as the security guards were unsure of the policy during regular event hours. So if you want to see paintings and objects in the El Greco to Velazquez exhibit, you will have to stop by the MFA. The exhibit runs for one more week, so don't procrastinate!

While at the MFA, take the time out to enjoy a leisurely lunch at the cafe or to contemplate in their wonderful Zen garden. It will help you forget the heat, expand your mind, and rejuvenate your spirit. [Permalink] - Wan Chi Lau
Shobu Aikido of Boston's new Somerville dojo was opened for its first class last night. Members of the dojo have been working on the new space for a few months. Their efforts transformed a former garage to a beautiful and serene space for study.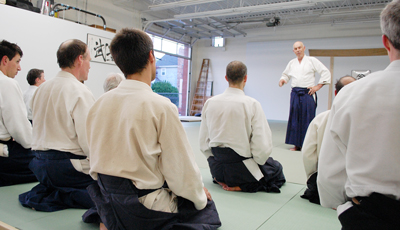 Aikido is a martial art. It is not a dance. While the practice of Aikido does not involve striking, the threat of a strike is implied in the study. Sensei often gently "reminds" students that ignoring those threats can have consequenses. Aikido study sometimes is more about understanding one's own openings and vulnerabilities, and working to eliminate them. If there are no openings, there are no opportunities for an effective attack.

When one has the ability to recognize these openings, one also gains a better understanding of how to take advantage of them when they present themselves in defending against an attack. In the photo below, Sensei was demonstrating a technique, but when he had the chance to control both of his attacker's wrists, he demontrated how the option for another throw could arise.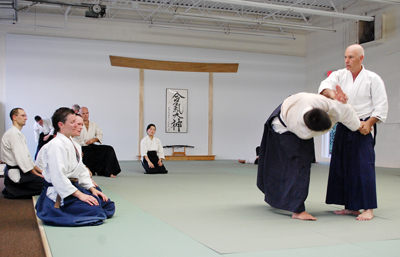 The throwing one often sees in Aikido is not so much that the person is being thrown, but more similar to "falling" because they are off balance... a sensation closer to being tripped than being picked up and tossed. The general "rule" is if you are using a lot of effort, then you are probably not doing it right.

The new Allen Street dojo is a beautiful place for Aikido study. The energy of this first class was high, but everyone was still feeling things out and getting the sense of the space. We look forward to making this our school for a long time. Come down, take a look, and train with us if you are in the area. Visitors are always warmly welcomed. [Permalink] - Wan Chi Lau
Salem was, of course, one of the most prosperous towns in New England back when things all started. Over the years, it has remade itself into a huge tourist destination. The town is flooded every Holloween, but it is also a huge draw for all those looking to mix in a bit of American history with their travels during the other times of the year.

The rest of Salem MA was just as fascinating as the House of Seven Gables. Right across the street is the OLDEST candy store in America! It was probably not a good idea that we went in before we had lunch, but it WAS just right across the street.

The store had a huge variety of candies. Many of them are still made the traditional way, using traditional molds and machines. Most of us managed to limit ourselves to a reasonable amount of candy. Somebody (who shall remain nameless) did purchase two of every flavor of candy fruit slices.

In the center of town is a pedestrian square with all kinds of shops, outdoor marts, street musicians, and other local color (folks dressed in early traditional garb chatting up the tourists).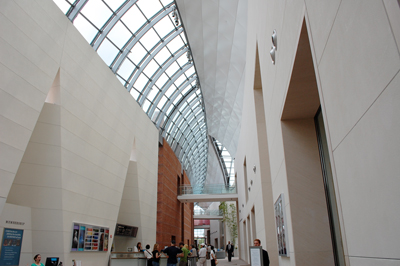 We ran out of gas by the time we came upon the Peabody Essex Museum. It is a beautiful museum and we have been in there many times. Next time we are back in Salem, we'll be sure to make the PEM our first stop to see what's new since we last visited. [Permalink] - Wan Chi Lau
The crew took Carolyn up to Salem for her "Birthday Weekend." Carolyn's friend Patty had once mentioned that a birthday should be a month-long event.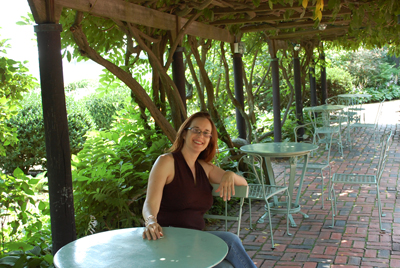 Carolyn couldn't convince the higher ups at the magazine that her birthday should be celebrated for the entire month of July, but did managed to get in writing that it should span the entire weekend. We don't know who negotiated her contract but that's one sweet deal!

The place Carolyn really wanted to visit was The House of Seven Gables. If you went to school in the US, you've probably read it in 10th or 11th grade, along with The Scarlet Letter. Well, apparently the house is real :-) There was also something about a well which was significant in the story. Some of us may have let our minds wandered a bit during Carolyn's re-telling of the tale.

We all went on the tour of the house, which was actually very interesting. The house had quite a history (especially the gables). We won't spoil it for you here. If you find youself in Salem MA, we would recommend checking out this historical site. You will find it fascinating even if your 10th grade English class was, not so much.

Even though the house tour was only around 30 minutes long, we had worked up a bit of an appetite. We all agreed that we had enough strength left for a quick walk around the grounds, but then we would need to find a place to grab some "birthday lunch." [Permalink] - Wan Chi Lau
Visiting the Tesla showroom was one of the top LA to-do items on our list. Friday morning was the only gap in our schedule so we headed down and hoped the place was not to busy for us to wander around and get some shots.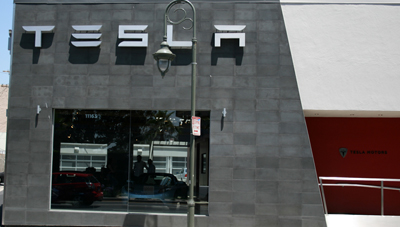 Fortunately for us, the showroom was not too crowded. We pretty much were allowed to shoot undisturbed for almost an hour. The images are being sorted now and we will have a gallery up soon.

Tom O'Leary, the general manager, was about to take someone out for a test drive when we arrived. We took the opportunity and grabbed a few shots of the car starting up and pulling away.

Everyone says the roadster is completely quiet when running and drives without making a sound. However, you don't really realize how odd and awesome it really is until you see (and not hear) this in person. This is the perfect sports car for L.A.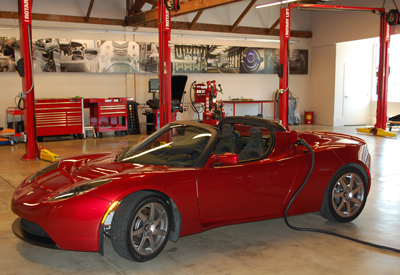 The Tesla Roadster can accelerates from 0-60 in less than 4 seconds. Top speed of the Tesla is 125 mph. Its range is about 220 miles and can be fully recharged in about 3.5 hours.
Tomorrow we will give you a closer look at the interior of the Tesla and talk a bit about the different options available in the 2009 version of this remarkable car. [Permalink] - Wan Chi Lau
Our friend Junko left Boston for LA almost three years ago to pursue her acting career. We caught up with Junko today and are happy learn that she is doing great. It appears LA has been good to her. We all miss you back in Boston and look forward to your visit in the Fall!

Even though it was unseasonably warm, Carolyn and others still got in some LA shopping. The ArtWalk in Hermosa Beach was nice, but what everyone really wanted after a while was air-conditioning :-)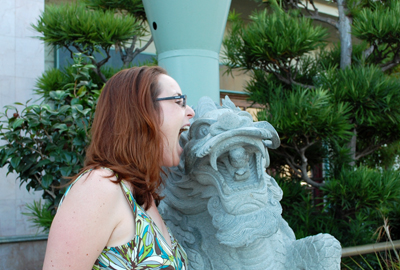 The crew had been eating like kings since we have been in town, but there was one more celebration before we head back to Boston. This time it was a 10 course Chinese banquet thrown by the parents of some of the grads.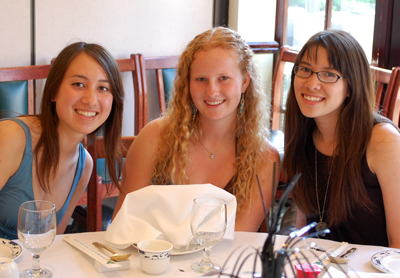 Now that we have been completely stuffed, we are ready to catch our red eye flight back to Boston. It has been a great visit out to LA and a nice break from all of the usual gadget reviews. As soon as we reset our circadian rhythms back to East Coast time, we'll get back to our normally scheduled programming. [Permalink] - Wan Chi Lau
Yesterday's graduation ceremonies when off like clockwork. Even though Sarah was the SECOND person to receive the diploma, we all sat quietly as all six hundred other names were called.

Apparently we have all adjusted to LA time as none of us got up earlier than 8:30, which is 11:30 EDT. We did get up early enough to enjoy the fabulous complementary breakfast (which Shade did not have last time we were here) at the bar.

The service and rooms were as good as we had remembered. The rooms are already big, but the sliding partitions enable guests to "open" up the space even further.

The hotel is just a few blocks away from the ocean. There is a boardwalk which runs for miles along the coast. The hotel has bikes available for use. There are also rollerblade rentals from some of the local shops for those who really want to burn some calories. [Permalink] - Wan Chi Lau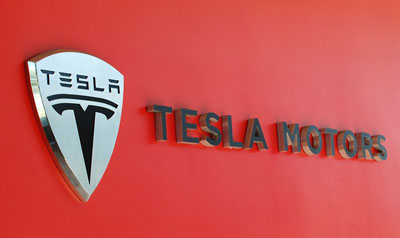 A few of us opted to brave the LA traffic and visited the new Tesla Motors showroom in West L.A. We had been doing periodic updates on the electric Tesla since 2006 and were eager to see one up close and personal. We were not disappointed.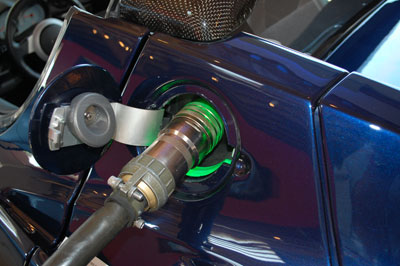 Three of us spent about an hour in the showroom photographing everything Tom O'Leary, the general manager, would let us shoot. We'll post a full write-up of our visit on RainyDayGarage soon. [Permalink] - Wan Chi Lau
As many of you know, our intern Sarah has finally graduated high school, and will be attending RISD this Fall. We all decided to packed up shop for a few day and head out to LA to attend the graduation. The tickets were booked before the price of oil went "sky high", so the cost was not as insane as it could have been. We like Sarah and all, but there IS a limit :-)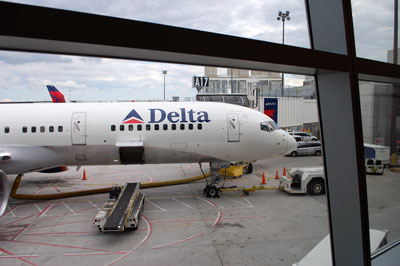 Some of you may remember us raving about a hotel called Shade in Manhattan Beach. This trip out West gave us an opportunity to do a follow-up.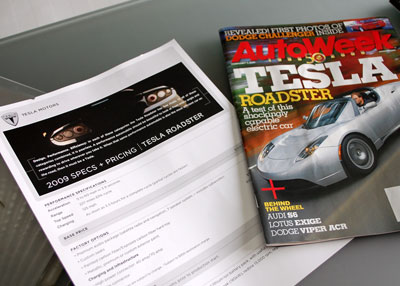 We also made arrangements to visit Tesla Motors' first showroom in LA. As soon as the staff manage to pull themselves away from the whirling hot tub/pool on the roof, they'll write up the various LA adventures. Just a heads up... updates may be spotty these next few days :-) [Permalink] - Wan Chi Lau
The Barking Crab is one of the best watering hole on Boston's waterfront. If you have a boat, you can pull right up to the dock and walk up to the bar. We don't, so we made the approach via the new Seaport Blvd bridge.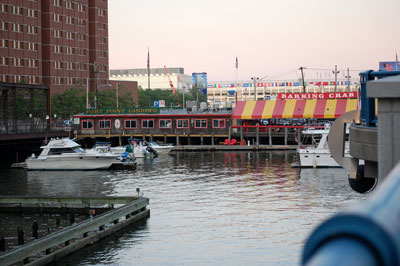 The Seaport Blvd also goes right past the burnt down remains of James Hook & Co. This lobster company has been on the waterfront since 1925. The fire destroyed about 60,000 pounds of lobsters. We swore we could still smell it. [Permalink] - Wan Chi Lau
The Fortune Wheel has been in the Nassau Mall on Long Island for as long as we can remember. They were there when PathMark was still in business. Since then, many different tenants have moved in and out of the mall, but the Fortune Wheel stayed.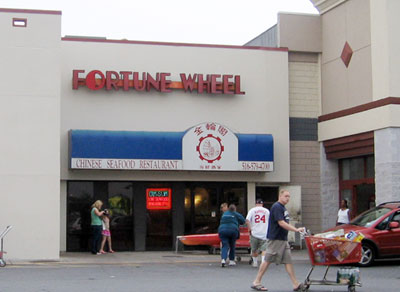 Giants stores like BJ's and Best Buy have now completely boxed in the Fortune Wheel. The ONLY way to even see the entrance to the restaurant is if you were facing at it straight on!

Looking at the restaurant from the outside, you would not expect it to be different from any of the typical mall fast food fare. However, if you know Chinese food, and trust us, we know Chinese food, this is one of the best Chinese restaurant you will find anywhere outside of NYC's Chinatown.
The Fortune Wheel can easily accommodate a few hundred people. They have a banquet area for weddings and celebrations. The wait staff is polite and efficient. Food was on our table with in 15 minutes of ordering. Also note how they clear a table...it is a show in itself.

One way to tell if your local most Chinese restaurants is often frequented by the local Chinese is to see if they have two sets of menus. Often the tastier, but less "Americanized" dishes are only on the Chinese menu. The best way to try new dishes is to ask what is freshest that day. If you ask "what is fresh", the answer will be "Everything is fresh..."

Another way to find interesting new dishes is to see what the folks on the other tables are eating. Ask the waiter about the ones that look tasty. They will be happy to tell you about them.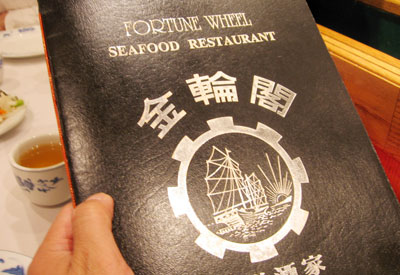 Below are some the dishes we sampled tonight: deep fried pork chops w/ spicy green peppers, garlic and scallion encrusted chicken (cooked by pouring hot oil on the whole chicken), mixed seafood on pan fried noodles, and fresh watercrest greens with fermented tofu. We ate like kings. Total bill? Less than $50.

If you ever are on Long Island and have a hankering for awesome Chinese food, punch "3601 Hempstead Tpke Levittown" into your GPS, and find your way to the Fortune Wheel. You will consider yourself "most fortunate!" [Permalink] - Wan Chi Lau
Last week Improv Everywhere pulled off an impressive early "Happy Birthday" well-wishing event for the Brooklyn Bridge. 700 folks gathered, inspite of the rainy weather, and participated in a camera flash wave across the bridge.

There are a lot more photos on the Improv site of this and other "scenes of chaos and joy in public places." Enjoy and have a great weekend! [Permalink] - Wan Chi Lau
There is an old cemetery, on Route 125 in Kingston, New Hampshire. When the last of its bodies was interred, it was still on a country road. There wouldn't have been electricity or automobiles or penicillin when the last of its bodies was interred. Kingston, New Hampshire would have been a hard place to get to back then, and you can still miss it if you aren't paying attention when you get to that set of lights where Route 125 bears right and some other road continues straight.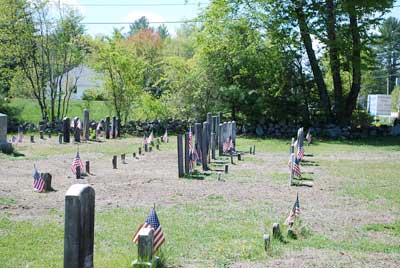 The cemetery is bounded on all four sides by a low stone wall, which is slowly becoming a low stone pile. You enter through a little white wooden gate in the middle of the front wall. Unless you're me and you hop over one of the side walls looking for cell phone service on Friday. And on Friday, there were American flags silently waving over some of the the gravestones.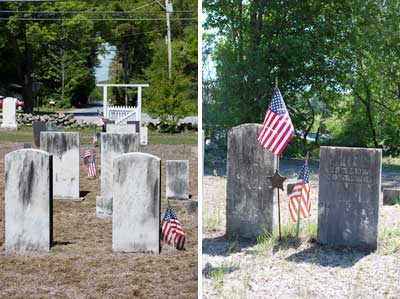 John Quimby was there, as were Israel and Captain James Collins. Other graves marked with flags were so worn that you couldn't read their inscriptions. But somebody knew, somebody knew who the soldiers were, and somebody remembered. And somebody wanted us to know that they were there.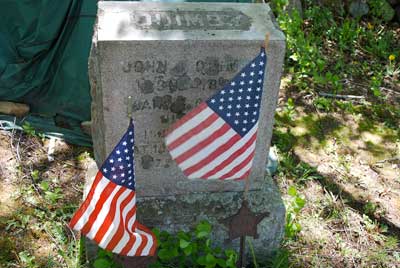 Today we remember these people, and all the men and women who came after them, and are themselves interred in a plot with a flag waving above it. We remember them because as much we might wish for a better, more peaceable way to resolve conflict, we know that human reality has always included military encounters, and these are the people who particpated. We remember them, these people from the past, because they fought for a cause, and that cause was "America."
"America" is what brought the managing editor's family here in the late '60's, when the communists in China posed a serious threat to Hong Kong. "America" is what brought my mother's parents here from the Canadian Maritime Provinces in the nineteen-teens looking for work and a better life. "America" is was caused a collegue and his wife to travel to a small orphange on one of the lesser islands of the Phillippines and adopt twin 8-year old boys just about a year ago.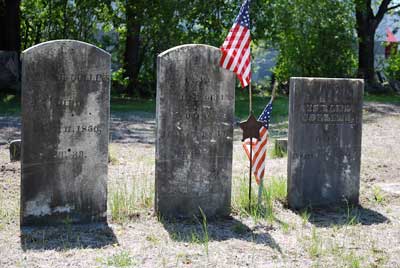 People still come, and people still seek to be free, and people still believe in "America." And all those flags on all those gravestones in all the cemeteries in every place in America, we need to remember.
New graves are still being dug, and new flags are still being placed, on our war dead. To thousands and thousands of Americans, the name on the gravestone does not belong to an unknown person. It belongs to a husband, a sister, a brother, a wife, a college roommate, a father, a mother, a friend. Today, some Americans will stand in front of a grave and tears will roll down their checks, because they remember, they remember, the person lying quiet and still in the gentle hands of the earth.
Today, we remember them all. [Permalink] - Carolyn Donovan
We stopped by our favorite shop, Birch Street House & Garden, on Friday night for "Ghana comes to Birch Street." Lovely jewelry, textiles, pottery, and papergoods were for sale by Cross Cultural Collaborative, "an educational non-profit that invites people to Ghana to promote cultural exchange and understanding through the arts" as its website says. The proceeds from the sales of the Ghanan pieces went to the Collaborative.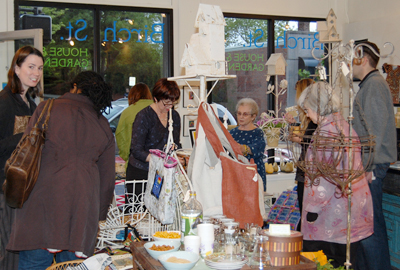 Erin, the owner of Birch Street, organized this evening for her long-time chum Ellie Schimelman, who is the president of Cross Cultural Collaborative.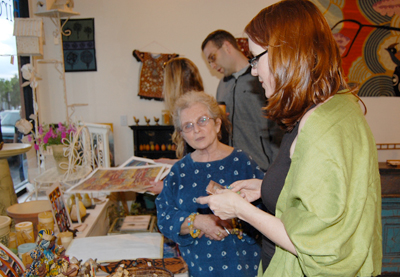 Ellie was on-hand Friday to talk about the Collaborative and the pieces she brought with her. Carolyn, our copy editor, delightedly bought two recycled-glass bead bracelets and a bronze cheetah key holder.

The products of the Cultural Collaborative are gaining an appreciative audience; Ellie told us that she just sold to Smithsonian Institute a number of their hand-woven ties!

We were very happy that we had the opportunity to see first-hand the terrific items that the Ghanan Cross Cultural Collaborative is creating. [Permalink] - Carolyn Donovan
The largest Apple Store in the US opened in Boston yesterday. Apple fans from all over turned out in record numbers to show their support.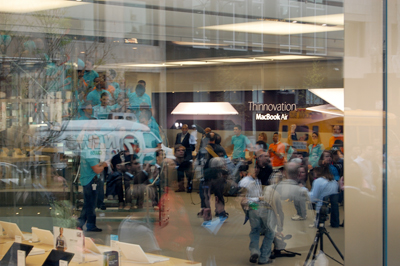 Apple employees were eager to return the favor. Five minutes before the 6PM opening, they ran out of the store, parted the crowds, and gave everyone waiting in line "hi-5s."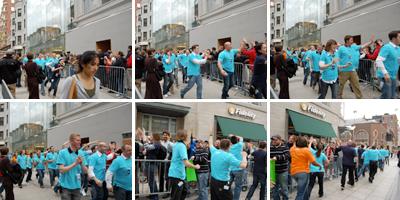 It had the desired effect and got everyone REALLY whipped up for the grand opening. At precisely 6PM, the doors opened, the crowd cheered, and the line started moving.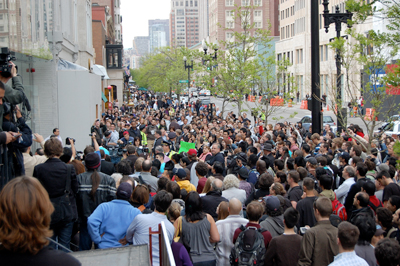 We wanted to give a sense of the number of folks who were waiting in line. The photo above was the crowd at 6PM. The photos below were of folks waiting in line wrapped around the corner about an hour later. Click on any of the images for a larger version.

Some Newbury Street cafe patrons were a little surprised at the spectacle. A few asked what was going on. When learned that it was from the Apple Store opening asked if Apple was giving away free computers. They CLEARLY have not tasted the KoolAid :-) We, on the other hand, have not only drank from the bowl, but have created our own flavors.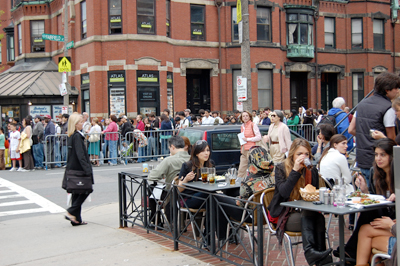 We got into the store when the crowd thinned out a few hours later. This store is HUGE. There are three floors connected by the stunning glass spiral staircase. We took a few shots from different angles to give readers a feel for the size of the thing.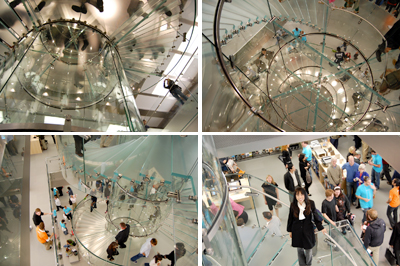 We have been to a few of these in the past, but the media coverage on this opening was nothing short of amazing...considering that, in the end, it is still just a store :-) But hey, that IS the genius of Steve Jobs. Jobs has created a brand which can inspire amazing loyalty and passion... all from folks who pay him money for the privilege!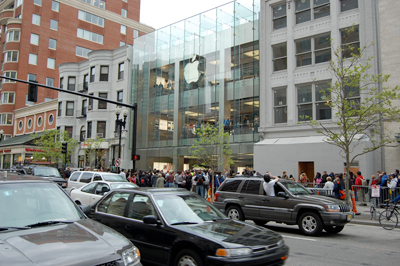 All in all, we came away impressed. This Apple Store is a fine addition to the city of Boston and we hope it is a big success for everyone. [Permalink] - Wan Chi Lau
The veil has finally been lifted on the largest Apple Store in the US. We tried to make it downtown for the 11AM media event, but did not manage to get to Boylston Street until late in the day.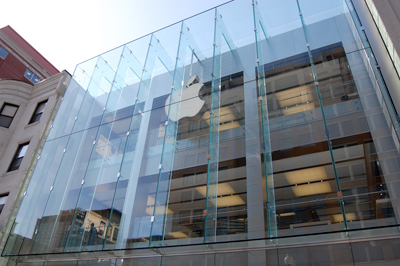 Needless to say, we not only blew off our interview slot with Mayor Menino, we couldn't even get into the store to look around. However, the beefy security guards in front did allow us to take some photos through the window :-)

From what we could see, similar to the flagship Apple Store in NYC, this one also has an enormous glass spiral staircase in the middle of the store. The layout is similar to other Apple Stores: spacious, airy, and lots of products for touching.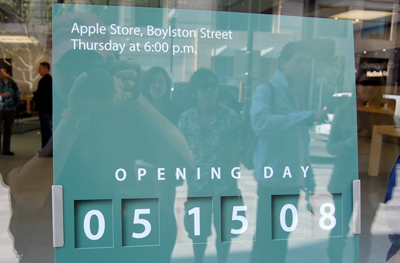 After waiting for so long, all we can say is "Its About Time!" The parking won't be any better, but after looking at a covered storefront for over two years, we are happy to see an end to the Boyston Street construction.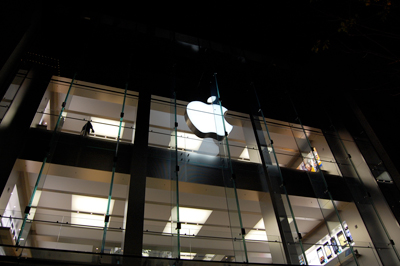 We wanted to see how the store looks at night so we took a quick trip back after the sun had set. The place was buzzing with activities as employees were finishing up some last minute store opening tasks.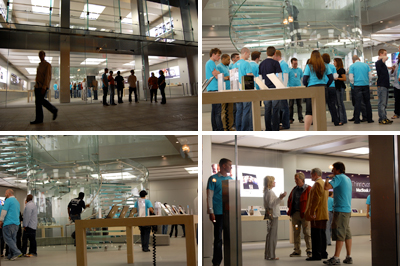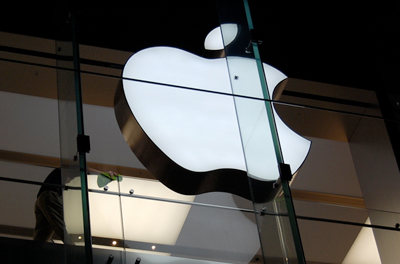 It looks like everything will be polished and shined for tomorrow. Not many brands inspire that kind of devotion. We are going to put in an order for some Apple stocks tonight and we look forward to a fun opening day on Boylston Street :-) [Permalink] - Wan Chi Lau
This weekend turned out to be both cold AND rainy. However, it did not dampen our efforts yesterday to check out both the annual Somerville Open Studios and the Shobu Aikido "painting party".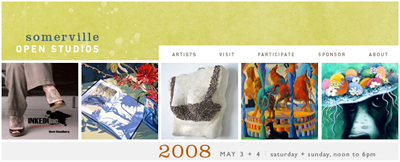 There were over 300 artists participating in the event. We did not have time to see them all, but we did spend a bit of time at the Vernon Street Studios.

There were a lot of photographers, painters, and mix-media artists at that location. We found some interesting works, but managed to restrain ourselves and did not make any purchases for the office.

We also checked in on our friend Ted Beatie from last year. Ted has some new works from his travels to Morocco and Burning Man.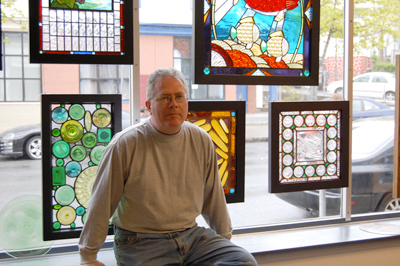 On our way to the Vernon Street Studios we stopped in Daniel Maher's stained glass workshop and had a very interesting chat with Daniel about some of his "found glass" creations and his current restoration work for a church in NYC.

Daniel opened his studio on 500 Medford Street over ten years ago. Back then the neighborhood was just beginning its transition. Today, the studio is in one of the most lively artist communities in the Somerville area.

If you are looking for something to do on this rainy Sunday, put on some walking shoes and head on over to Somerville. The event ends at 4PM today. [Permalink] - Wan Chi Lau
Shobu Aikido of Boston is moving to Somerville. We stopped by the new space to check it out. Apparently we had just missed the painting party. There were still a few of the crew doing some touch-up work and cleaning up.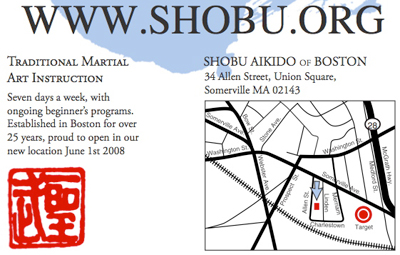 The new space is beautiful! There are two large garage doors in the front which will be replaced with glass doors. The entire space is free of obstructions (unlike their current space) and will allow students to move freely across the entire mat.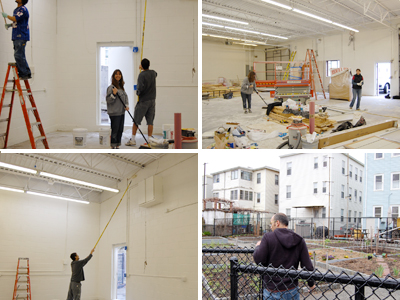 To the side of the dojo is a community garden. The dojo has obtained a small plot to grow flowers and such. The students are really looking forward to being a part of the Somerville community.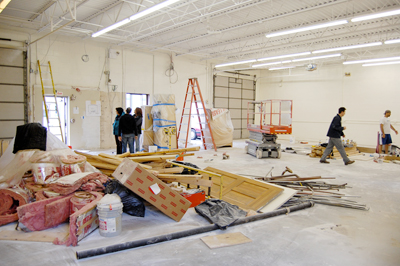 Shobu Aikido is hoping to have the new dojo ready for a June opening. There is still quite a bit of work left to do. The dojo is always looking for corporate sponsors, donations, and help of any kind. If you want to be part of a vibrant and energizing community, we encourage you to check out Shobu Aikido of Boston. [Permalink] - Wan Chi Lau
Sometimes we get carried away with the "getting" of the photo gear and not enough of the "using" of the photo gear. So we thought we would start a series on digital photography topics which we find interesting. The first of the series is shooting "high dynamic range" images.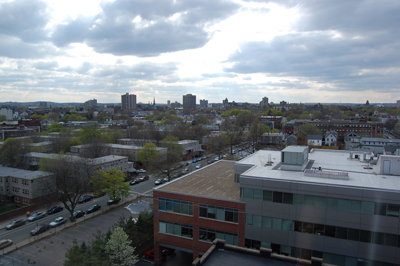 The image above was shot using the Nikon D40 in "Auto" mode. The exposure is basically good. The sky is not too overexposed. The buildings are all visible. However, the shot is pretty bland. One way to give it more "umph" is to play with the contrast. There are a few ways to achieve that.

One way to expand the dynamic range and have a dark cloud/ light ground image is to use an optical filter. Another way is to shoot a range of exposures of the same scene using a tripod and digitally combine them using software. The image below is an example such an approach. The image is actually closer to what we saw out the office window, but had a difficult time capturing it on camera.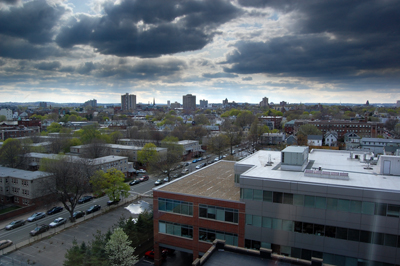 We'll go more in-depth in a future article on how to achieve the effect. There are quite a few techniques (merging, HDR, etc...) and programs (Photoshop, gimp, etc...) to choose from when playing with digital images. Some of them are expensive, others are freely available on the web. All of them will give you hours of fun, so go and have some! [Permalink] - Wan Chi Lau
We sent one of our interns downtown recently for an errand and she came back all excited because the cover was off the front of the Apple Store on Boylston Street. This is a significant change from our report a month ago.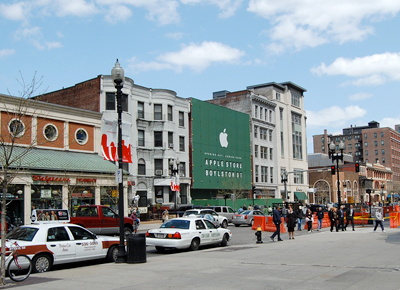 The front of the store is currently styled like the "green monster" at Fenway park. The "scoreboard" message reads "Opening Day Coming Soon." That day doesn't appear to be far off. There were a lot of activities at the place. If the Burlington store opening was any indication, local Apple fans will be out in force to celebrate the event.

Click on any of the images for a closer look. We'll see if one of our interns can get in there undercover and snag some shots of the inside. Hey, what else do they have to do all day?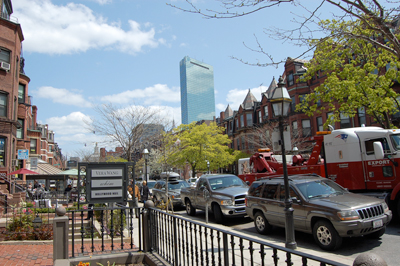 Right behind the Apple Store is Newbury Street. There is not much on-street parking, but it is a great street for food and people watching. On a nice day, the best place to have lunch is at Sonsie. Feel free to tell them the folks from RainyDayMagazine sent you :-) [Permalink] - Wan Chi Lau
Once in a while we get a product in house that is just so cool that we wonder why it took so long for someone to come up with it. The GPSMirror from Cheetah Advanced Technologies is one such product.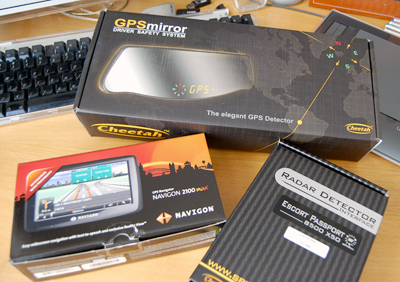 This Scottish company combined a GPS detector with a rear-view mirror. Why? More on that later. For now, just click on the images and get a closer look at this high-tech mirror.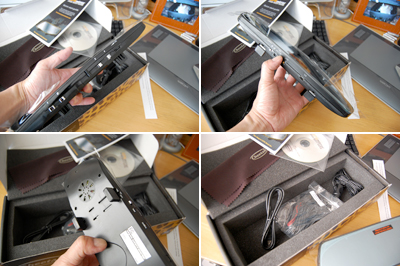 The GPSMirror can also be interfaced with selected radar detectors to enhance the radar detector's capabilities. How? More on that later. For now, take a closer look at the interface unit. It is pretty much plug-and-play.

So what does this product actually do? The GPSMirror will help you avoid getting snagged by the revenue-raising "red-light cameras" popping up all over the place. And it does it while enhancing your driving safety.

We'll go into more detail on why this product is brilliant in the next installment of the FirstLook report on this GPS Mirror. If you can't wait, surf over to the Cheetah site and read more about it. [Permalink] - Wan Chi Lau
Last September we gave you a FirstLook at the Navigon 7100. Even though it was a pre-production unit, we loved all of the features we tested of this GPS...especially the "RealityView" graphics.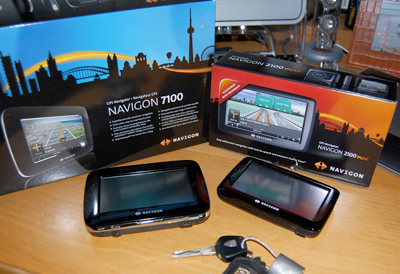 Navigon has not been standing still. This year they released a thinner version called the 2100Max. This unit has the same 3D views, but an enhanced set of GPS specific features. We'll have more to say about them in the FirstUse report.

The 2100Max is thinner, but the display size is the same (4.3" widescreen) as that of the 7100. Like the 7100, the 2100Max has an SD slot for maps.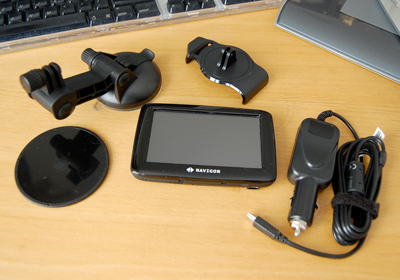 The Navigon 2100Max comes complete and ready for use right out of the box. Just mount the holder, attach the GPS, plug in the converter and you are good-to-go! [Permalink] - Wan Chi Lau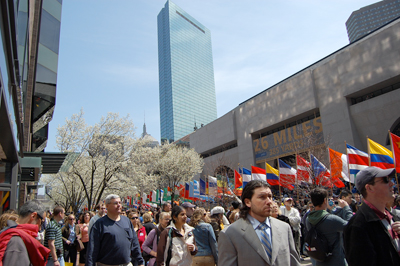 Today was a beautiful day for the Boston Marathon so we thought we would get out and cover the event. We decided to walk the last part (Comm Ave, Kenmore Square, Finish Line) of the marathon route to give you a glimpse of how things look before the runners get into town.

The City has to do a lot of preparations to get ready to host an event of this size. Blocking off a 26 mile route is no small feat. The most difficult part was probably the last few miles going into the city. We started our walk in Brookline. By 11AM, the length of Comm Ave heading into Boston had already been cordoned off and were completely car-free all the way into Bolyston Street.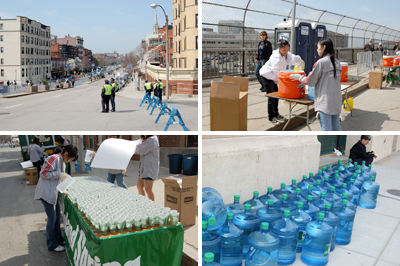 Folks were out early getting the route prepped, cups of liquids filled, and everything in place to support the tens of thousands of runners who will be coming soon. To keep things orderly, the Boston Police was out in strength and highly visible.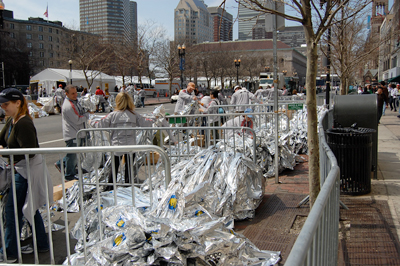 With all of its prestige and world-renowned status, it still comes down to the thousands of volunteers to make this event work.

We got downtown around 11:30AM. The crowd was already four rows thick on Boylston Street. Some must have been here since the crack of dawn :-)

In our walk, we found lots of great spots to watch the race beside the finish line. There is a good location right after the last overpass a few blocks before the Exeter Street turn on to Bolyston.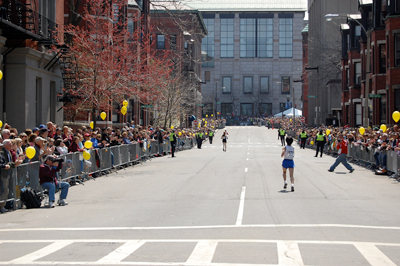 The turn at Exeter Street is a popular spot. It is a good watching spot especially if you need to leave quickly. The reason is the street on the other end of Exeter is usually free of crowds.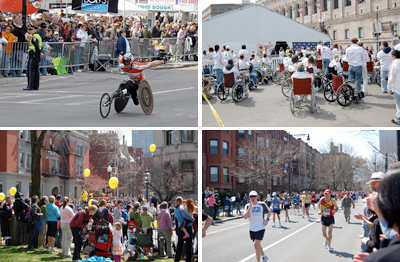 If you REALLY want to be at the finish line, either get there EARLY or be VERY TALL. Of course, if you are well connected, you get to be on the grandstand.


Today's men's race was won by the Kenyan Cheruiyot. It was his fourth Boston victory. The win was that much more inspiring given the recent troubles in Kenya.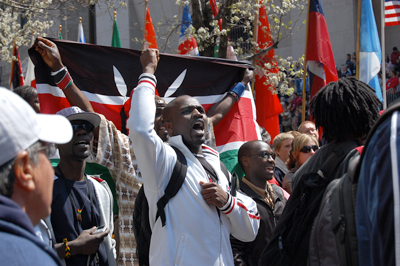 While the crowd was excited by the Kenyan's win, it was Ethiopia's Dire Kune and Russia's Alevtina Biktimirova with their sprint down Boylston Street which really whipped things up. The winning times differed by only two seconds...the closest finish in Boston Marathon history! To be down at the finish line and being able to physically feel the roar of the crowd was amazing. Definitely better than watching it on TV back in the office :-) [Permalink] - Wan Chi Lau
There are numerous wilderness trails around Keene NH. The Chesterfield Gorge is just a few minutes drive from the center of town.

It was a perfect day for a hike. The air temperature was in the high 50s when we headed out. Most of the snow had melted, but there were still enough on the ground that we had to be mindful of our steps.

The hike to the gorge was less than a mile. Once there, we were free to climb around the rocks and walk along its edge.

We carried in two D40s, three lens, and assorted accessories using two Kata bags. The Kata bags (T-212, W-92) were very comfortable and easy to use during the hike. We found wearing WaistPack on the hip made it easier to get things in and out. It also served as a nice resting place for the hand.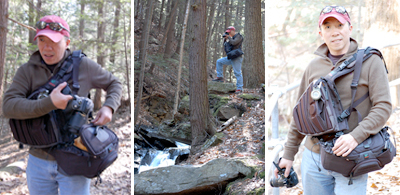 We REALLY like the T-212 TorsoPack. The pockets of the T-212 were angled and well positioned, enabling us to quickly retrieve whatever piece of gear we needed.

We found it quite stable to have the weight of the gear in front. General ventilation was also good as we did not heat up much even though there was a fair bit of climbing around.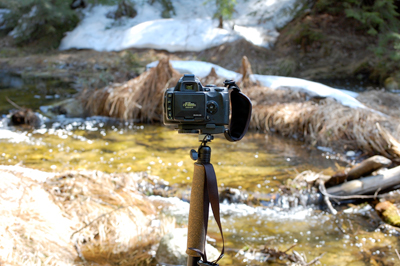 The final piece of gear we would like to mention is the TrekPod. This hiking pole/tripod is a great piece of gear to have on a hike. The more we used the TrekPod, the more we appreciated its versatility. Many of the shots we got on this hike would not be as sharp if it wasn't for the TrekPod. Go here if you want to check out the original TrekPod review series.

Carolyn spotted an interesting growth of a tree around a large rock. We spent the rest of the hike talking through the various possible scenarios which could have gave rise to this odd formation. If you have theory, drop us a line...we would love to know your thoughts on how this tree/rock formation came to be.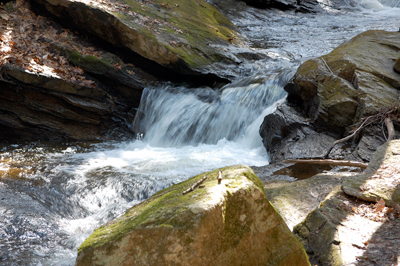 This hike was a good way to start the day. We did a longer trek later in the day and learned some interesting things about Carolyn's level of comfort with Wan's wilderness orienteering skills, but that's a story for another day :-) [Permalink] - Wan Chi Lau
The weather forecast for the weekend said it was going to be sunny and warm. We thought it would be a perfect opportunity try out some of our new photo gear. So we packed things up and headed West to Keene NH.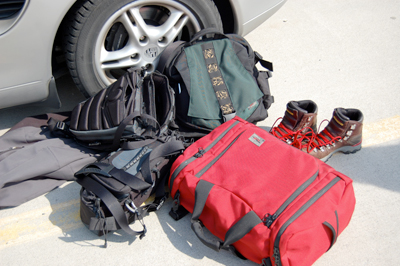 Why Keene? We were here for a Pumpkin Festival many years ago and have always wanted to go back. As it turned out, we arrived just in time for the Monadnock Earth Festival.

All manners of "green" technologies were on display and demo'ed. We missed the bow-making session, but did make it in time for the fire-starting how-to.

A lot of folks in Keene came out for the event. Of course, not everyone was there for the show-and-tells. Some were out just for the belly rubs.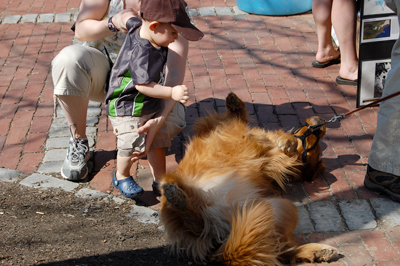 We spent some time walking around and worked up a pretty good appetite. Fortunately for us there were plenty of tasty places to eat in Keene.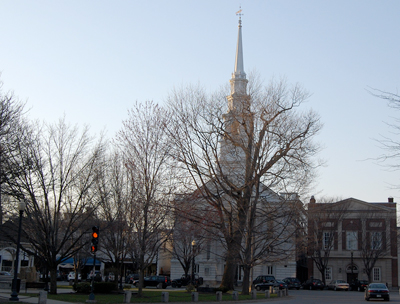 Tomorrow should be another beautiful day weather-wise. We are planning on hiking a few trails close to town before heading back to Boston. [Permalink] - Wan Chi Lau
The sun peeked out for a little bit yesterday. We took the opportunity to walk around Jamaica Pond in the "direct beam of the sunshine."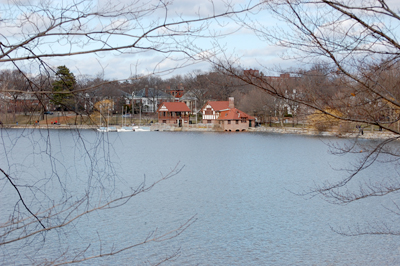 It was still a bit chilly, but signs of Spring were everywhere. There were people jogging, buds are on some of the branches, and nesting activities have started.

We didn't have any problems identifying the various wildlife at the Pond because we have been studing our copy of Bird Song of North America. OK, ducks and cormorants are pretty common :-)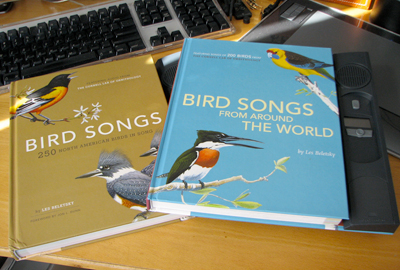 However, how many of you know what a Paradise Tanager or a Streaked SpiderHunter sound like? We thought so. If you want to know, and who wouldn't, you need to get yourself a copy of the Les Beletsky's Bird Songs from around the World.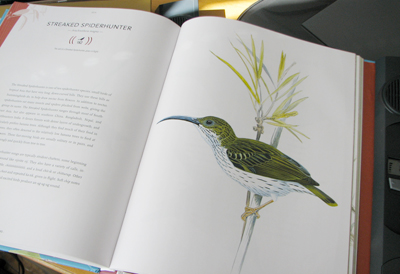 Like the Birds Songs of North America, the illustrations and recordings in the Bird Songs from Around The World are wonderful. So until we book our bird-spotting trip around the world to see and hear them live, we'll just have to be content with Les' book. [Permalink] - Wan Chi Lau
It has been almost two years since we did an update on the progress of the store Apple is building on Boylston Street in Boston. We had created a quick mock-up when we first posted the article.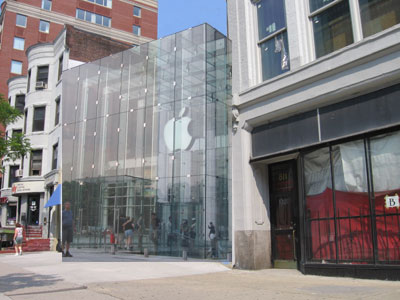 The photos above are of the CopyCop store before any construction had begun. Last Sunday, we were downtown with our new Nikon D40 and decided to see how things had progressed with the construction.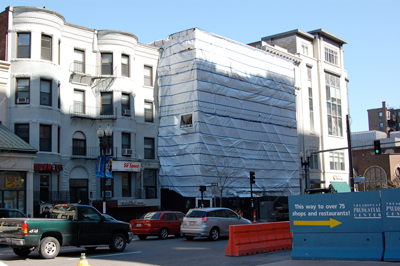 Unfortunately, things are still underwraps. We'll see if we can drop in during the week and find someone to let us take some pics of the interior. It will be interesting to see how close we were with our rendering :-) [Permalink] - Wan Chi Lau
It was a bit windy, a little cold, but Spring is definitely on the way. We thought a stroll through the Arnold Arboretum in Jamaica Plain would be a perfect opportunity to tryout the Nikon D40.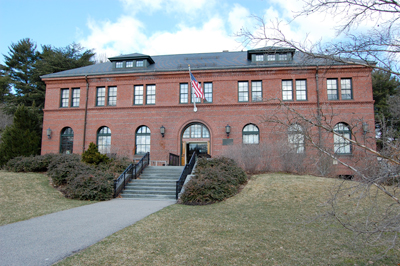 The goal of this outing was to get a feel on how the camera handles on one of our typical assignments. All of the shots taken in this trial were done using the default "Auto" setting. The flash came on when the camera thought it was needed. All we did was compose the shot and press the shutter button.

We used the 18-55mm lens for all of the building, interior, and landscape shots. The wildlife shots were taken with the 55-200mm and without a tripod.

The camera was easy to handle, even with gloves on. The buttons were logically placed. Focusing was quick and responsive. There were no problems with shutter lag or recovery.

The Nikkor 55-200mm VR lens continues to impress us. We caught the robin above using the 200mm zoom and on the move. We knew the camera would under-expose the bird, but we wanted to see how well the robin would hold up after some image processing. The colors and details held together surprisingly well!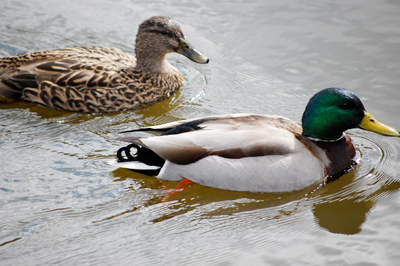 We wanted to show some examples of images (ducks, buds, bark) uncropped, unretouched, and in full resolution to show you what you can expect when shooting outside on a bright overcast day.

Everybody here was surprised by how much more detail the photos taken with the Nikon D40 had as compared to past Canon S2 photos. We didn't think the differences would be so dramatic.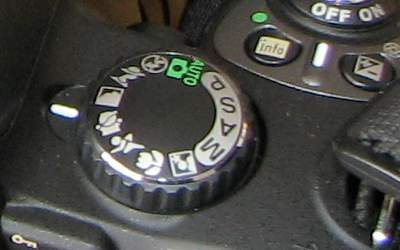 In the next installment of our Nikon D40 review series, we will try out the various "pre-programmed" modes. [Permalink] - Wan Chi Lau
Last August we mentioned that a group from Canada launched a balloon into near space and took some awesome images with a digital camera. Here is another such a project, this time by Alexei Karpenko. Alexei launched a payload with a GPS, a camera, and various sensors to an altitude of 30km using a high altitude helium balloon.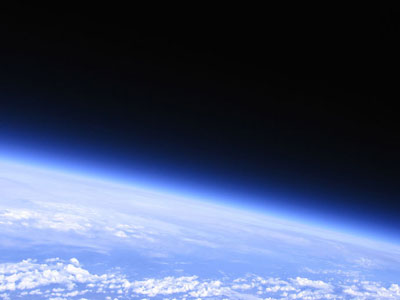 It seemed appropriate that this WowUsWednesday features another image from another stunning launch by amateur space explorers. Maybe Alexei will "accidentally" get an image of the satellite shoot-down :-) - Wan Chi Lau (permalink)
RainyDayMagazine readers are well aware of our penchant for Tom Bihn gear. Someone in an elevator once noticed we had a Tom Bihn case and said they had a few Bihn bags. His toughest problem was coming up with new reasons for continually purchasing the latest TB creations. We know EXACTLY how he feels :-)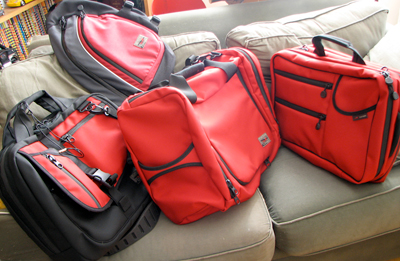 The newest in the Tom Bihn line is the Western Flyer. It is designed to be a blend of a business case and an overnight bag. Empty, it is a little thicker than the Zephyr briefcase, but much thinner than the Aeronaut.

If you take a lot of overnight trips but only want to travel with one bag, this Western Flyer was designed for you. The bag has plenty of room for the typical stuff (a laptop, some files, dress shirt, gadgets, etc...) you will likely pack for a short trip.

The Western Flyer has two compartments, both of which can open flat for easy packing of shirts and pants. There are also internal zippered compartments for separating out smaller travel items.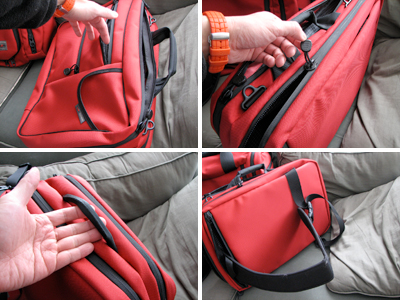 To make sure this bag is as easy to use as it is to pack, there are the usual easy access front pockets, rain resistant heavy duty zippers, convenient pulls, and multiple carrying options. We'll let you know how well these features perform when we get this Western Flyer out on it first trip! - Wan Chi Lau (permalink)
The Sake Tasting Fundraiser at Shobu Aikido of Boston tonight was a LOT of fun. We watched a great Aikido demonstration, tried ALL of the sake, and met TONS of great people.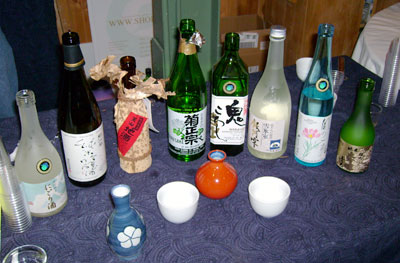 The dojo received a generous donation of sake for this tasting, enough for 200 guests. Judging by the crowd, it was a good thing they did! Our favorite was the third one from the left. We also liked some of the unfiltered ones (frosted bottles).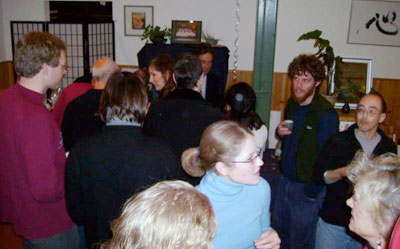 What was not consumed were auctioned off at the end of the evening. If you did not managed to get down there for the event, you really missed out! - Wan Chi Lau/Photos by Larry Murray (permalink)