Xyron rocked the scrapbooking world a few years ago with the introduction of the Wishblade Personal Media Cutter. The first Wishblade was powerful, simple use, but unfortunately not supported on the Mac. We were able to work around the limitation, but the workflow of creating our designs on the Mac, converting the files, and finally cutting on a Wishblade via PC was cumbersome enough that we didn't use the device as often as we would have liked.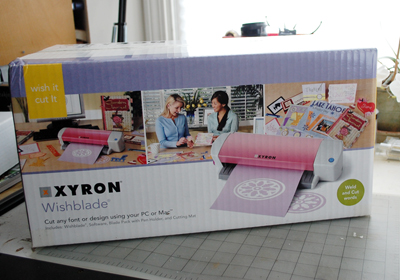 Last year, Xyron introduced an updated version of the Wishblade. Along with various physical changes to the cutter, the Wishblade is now supported on Mac running OSX. Finally, we will be able to both design on the Mac and send cutting instructions directly to the Wishblade. This will eliminate a HUGE block for us!

Some of the folks here were so excited about the new Wishblade that they insisted we document the "unboxing" so interested readers could share in seeing exactly what came in the box. For those interested in comparing what came with the older Wishblade, feel free to refer back to the FirstLook write-up from a few years ago.

All of the software (PC drivers, Mac software, HowTo DVD), documentations, and parts (USB cable, blade, mat), power supply, were in the tray on top of the cutter.

The Wishblade cutter was wrapped and held securely in place in the second layer. It is about the same size as a typical inkjet printer. The unit is light so removing it was not a problem. It easily lifted straight up and out.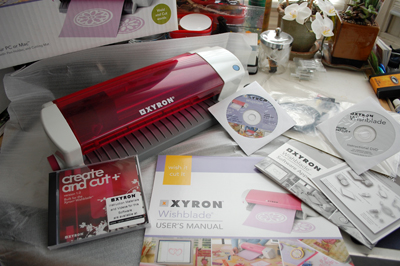 The new Wishblade is physically very similar to the older unit. The lid is now a rosy pink instead of a purple-ish blue. The front ramp is now made out of a heavily-ridged molded plastic instead of brush stainless steel. The cutting block and knife holder both look similar to the ones in the older unit. The USB and AC power connectors are still on the the right side.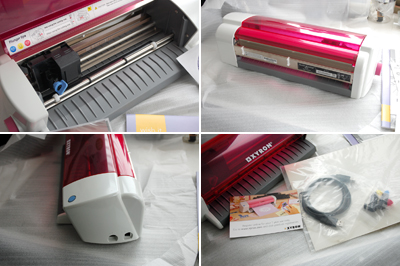 This weekend we'll install the Mac software and take a look at the new Creat and Cut+ program. We'll also put the new Wishblade cutter through its paces to see how well-integrated it is with the Mac. We are quite excited to see the new Xyron Wishblade supported on the Mac. So excited that there is talk that, if things work out, we should start a brand new section called RainyDayCrafts just to share our projects using this device! [Permalink]- Wishblade FirstLook