Good design makes the things we use everyday more enjoyable. Apple has been pushing at the limits of good software and hardware design since they introduced the Macintosh to the world. Their efforts have also inspired others to follow suit. Twelve South is one such company. While their product offerings are for the Mac, they are very different from other Mac product companies.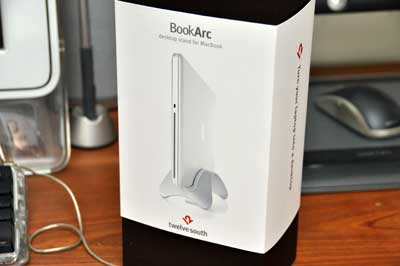 As Twelve South says... they are not just Mac friendly, they are Mac only. This sets them apart from companies who "also" make products designed for the Mac. A quick look at their newest product, the BookArc, will show why.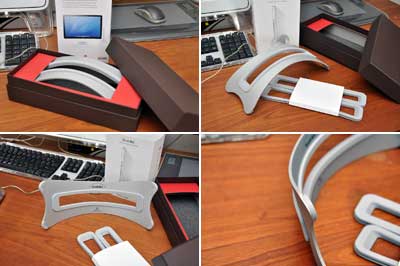 The BookArc is made out of a thick (3.28mm) piece of aluminum curved to form a stand, and padded at the four corners to prevent scratching or slipping. Supplied with the BookArc are three silicone inserts. Each of them is designed to grip a particular laptop (Air, MacBook, MBP). Removing and installing the insert is quick and simple. No tools needed. No fuss.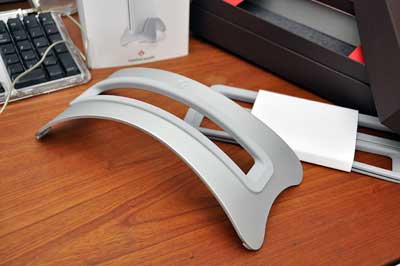 Twelve South's goal is to "...introduce 12 unique, must-have Mac accessories each year that will be as innovative as the Mac itself. If a PC user wants to use our products, they'll have to buy a Mac..." We like where these Twelve South guys are going with their company.

Of course, the first thing we checked was whether the BookArc would work for holding PC laptops. None of the IBM or Compaq laptops we had would fit (too thick), but the Sony ones slipped in just fine. They also looked pretty good in the stand.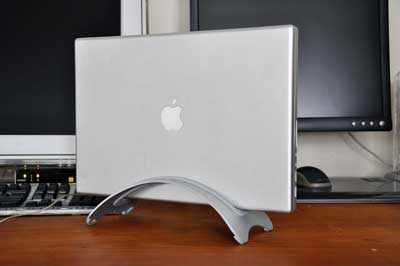 While the BookArc will support the thinner PC laptops, it was designed for and will fit best with the MacBook and MacBook Pros. The stand is solid and stable. No worries about it accidentally moving, sliding or tipping over. It is the perfect stand for tucking the laptop out of the way when not in use.

There is more to this laptop stand. We'll show you what in our FirstUse report in a few weeks. In the meantime, go check out Twelve South and their growing collection of uniquely clever, well-engineered, mac-centric products. You may find that it is easy to add both functional and visual pleasure to your daily computing environment.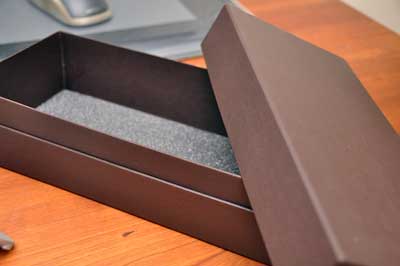 Twelve South has even given some thought to how their customers may reuse the BookArc's packaging. Instead of some flimsy box or Impossible-to-open plastic pac, the BookArc came in a nice solid paper box. A list of "reuse" ideas were included with the owner's guide. We will have to give some thought as to what we would like to do with ours. No need for the usual wise-ass suggestions. I'm sure the interns will come up with something :-) [Permalink] - BookArc FirstLook