SimpleHuman makes a lot of really well thought out products for the home. We have a few of them around the office (soap dispenser, shower caddy, etc...) and have found them to be well made, functional, and visually appealing. SimpleHuman's latest product is a new line of wall-mounted shampoo and soap dispensers created to bring simplicity and order to the shower.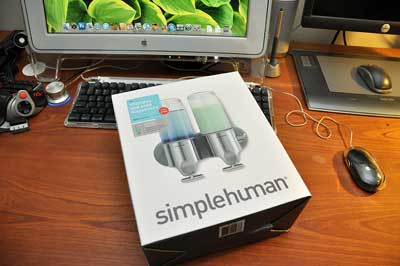 These shampoo and soap dispensers are designed to hold shampoo, conditioner, body wash or lotion neatly and securely on the wall. The dispensers have a transparent soap chamber and elegant chrome body. A design sure to compliment any décor and make the bathroom feel more like a luxury spa.

Unlike most soap dispensers, which require both hands: one to release the soap and the other to catch it. The simplehuman shampoo and soap dispensers are designed for easy, one-handed use. A wide, twist-off lid makes the dispensers easy to refill and the clear soap chamber shows how much soap or shampoo is left.

In addition to being easy to use, the dispensers are also easy to install. There's no need for hardware or tools—they come with specially formulated waterproof silicone glue and double-sided adhesive tape. The tape holds the dispenser in place while the silicon glue is applied. The glue creates a watertight barrier and attaches the unit securely to the wall.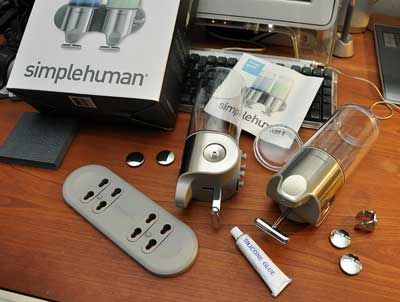 Made from rustproof high-grade stainless steel and durable ABS plastic, the shampoo and soap dispensers won't rust or discolour over time, and come with a 5 year warranty. We will be installing this soon and should have the installation write-up in a week or two after. The interns will have no more excuses for not following the one shower a week policy...whether they need it or not! [Permalink] - SimpleHuman Soap/Shampoo Dispenser FirstLook