There are many ways to capture photographs of the heavens. One way is to image through the telescope. This is great for planets and other celestrial objects. To get a wide-field photo of the night sky, though, the better way is to attach a camera to the top of the telescope. The main reason for this is that in order to get a sharp image, compensation of the Earth's rotation is required, and piggybacking on the scope's mount is the easiest way to do that.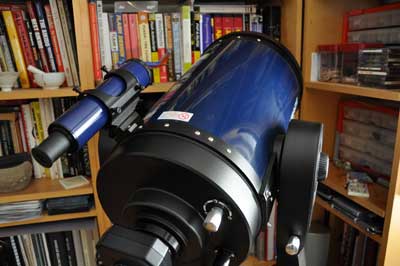 The front and rear rims of the LX200 tube are already pre-drilled and fitted with stainless steel machine screws. They are spaced appropriately for various size mounts. On the LX200, the camera mount we got spanned three screws. The mount was curved in such a fashion that the middle screw does not interfere with its attachment.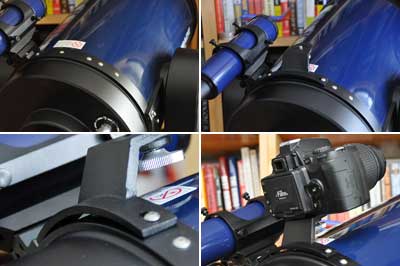 The mount has the standard tripod screw for affixing a camera. It is a little bit awkward to work the knob, but the camera feels really stable when attached. Of course, the real test is whether there are any shakes or vibrations when the scope is tracking.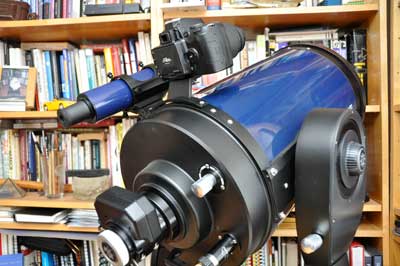 Fall is coming. We have been getting our gear together for a new series of astrophotography projects. There will be more reviews, how-to articles, and definitely some pretty cool DIY hacks. It should be a whole lot of fun! [Permalink] -Meade LX200 Camera Mount