While there are a number of different laptop stands out in the marketplace, there really only two types. One type keeps a hot laptop from burning your thighs and the other type angles the laptop for comfortable use at a desk. We have reviewed both types and actively use both kinds here at RainyDayMagazine.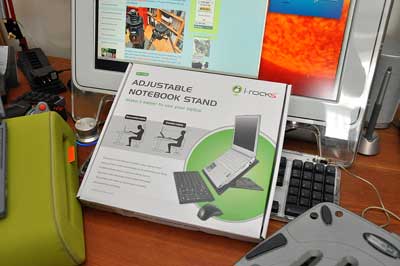 We are always keeping our eyes out for good ones as we are still in search of the perfect one. Last week we got a laptop stand made by iRocks which has some features we have not seen in others. It is not that any of the features are unique, but their combination in one stand is what caught our eye.


This iRocks stand is designed for use at a desk (Diplomat), not on a lap (CushTop, Futura). While not as solid as the LapWorks Diplomat, it does have features of both the Diplomat and the Futura.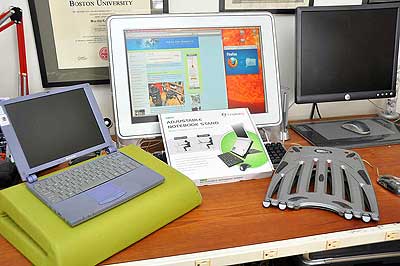 Like the Diplomat and the Futura, the iRocks stand's angle is adjustible. The iRocks has a USB powered fan, but unlike the Diplomat, its fan is removable. It also folds flat, just like the Futura, for travel. All three of these features are useful and the iRocks stand was the first one we have seen which incorporated all of them in one unit. However, it was not designed to span the lap like the CushTop or the Futura so it must be used on a desk.

The removable USB-powered fan is an interesting feature choice. It snaps into the central portion of the back rest and snaps out so the stand can fold flat for transport. The only suggestion we would have is to use a regular USB mini-plug instead of a round power plug, as standard USB cables are much easier to find should we lose it. Also, the cable would be able to do double duty in a pinch...always a plus.

The stand assembles easily. The base slab just slides into the slot of the back panel. There are rubber pads at the lip of the base slab to keep the laptop from sliding forward. The entire stand is very stable when properly put together. We had incorrectly assembled the stand at first and couldn't figure out why it kept falling apart. If not properly assembled, the laptop will not stay on the stand, and the stand can collapse when pushed.

If you like using an external keyboard with a laptop on a desk, you should make sure the screen is at a proper height. The iRocks stand will enable a laptop to be angled quite steeply...much more so than with our current unit. The steeper angle raises the screen height higher, which promotes good posture and relieves typing stress when working at a desk. The iRocks stand is a good solid unit for use at home and on the road. We urge you to check it out. [Permalink] - iRocks Laptop Stand