RainyDayMagazine's content can now be licensed for your print magazine or web site. Please contact us directly here. If you want to see something reviewed, then drop us a note with a link and we'll be happy to take a look.
NOTE: Click here to read more about our approach to product reviews.
Many people like the iPad because it is light and mobile. The iPad is perfect for web-surfing on the couch, quick email checks, and other such activities. However, if you are like us, when you are sitting at the desk grinding away at some task, the iPad often sits idle. There is no reason for that. There are lots of great streaming content apps available for the iPad. Get a good iPad stand like the InnoPocket HexaPose and use it as a TV. It is a great way to stay on top of breaking news while you work. One of the latest in streaming news apps is BloombergTV.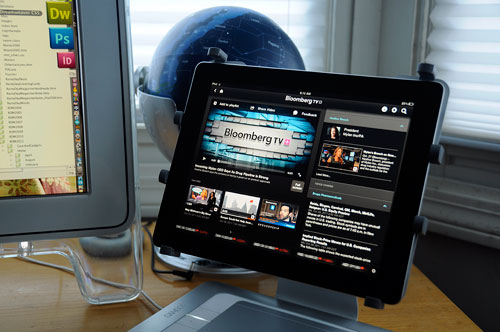 BloombergTV is a 24-hour global business & financial news channel which pulls stories from its various domestic and international news sources (146 bureaus in 72 countries) and packages them for its subscribers. Financial folks pay big money for the feed so that they can get breaking stories and... [more] - Bloomberg Financial Apps
One would think getting a TV out of the box would be no big thing, but a large screen LCD TV is kind of unwieldy. While not very heavy, thethe LCD TV panel is wide and thin. How do you get it out without either throwing out your back or risk dropping the TV? The last thing you want to do is to crack the screen getting it out of the box!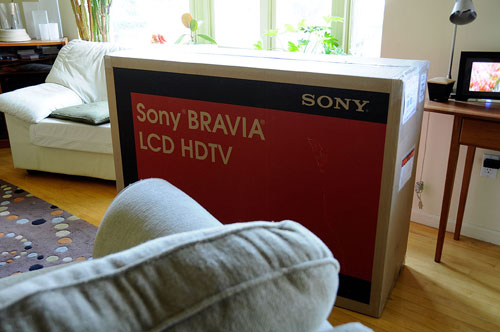 We could cut open the box, but what if there is something wrong with the TV and we had to ship it back? We could wait until there were more people around to help, but that would require patience. After waiting all day for... [more] - Unpacking an LCD TV
We love IKEA. We love their whole approach to doing business. We love going to their stores. We love their products. We love their prices. We even love eating there. A few years ago, we did a brief article on a solar-powered LED lamp we found at IKEA. The lamp is still in use, but the power doesn't last long enough for our needs. This weekend, while strolling through IKEA, we came upon an LED lamp that may be exactly what we have been searching for: bright, configurable, inexpensive.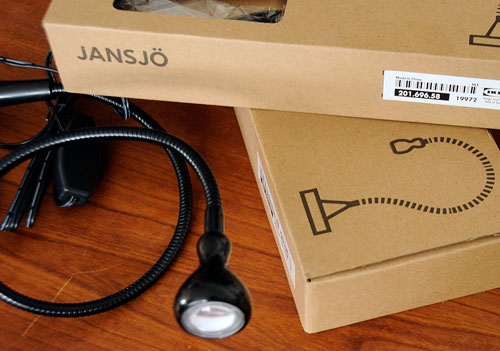 The lamp is the Jansjo, and comes in a few different colors. There is even a stainless steel version. Like all IKEA products, the lamp is flat-packed and some assembly is required. The process is simple and required no more than a few minutes to put together. The steps are... [more] - IKEA Jansjo LED Lamp
iOS 5.0 for the iPhone and iPad came out on Wednesday. Like everyone else on the planet, we spent the next few days trying to upgrade our iDevices to this latest version. The simultaneous global demand brought Apple's servers to its knees. Some people were able to upgrade successfully, but most users encountered the dreaded "Error 3200." Lots of solutions and workarounds popped up on the Net, but they were basically worthless as the problem was on Apple's end. Things settled down after a few days, we finally got our devices upgraded, and now we can take a closer look at the new features. Was the all fuss and effort worth it?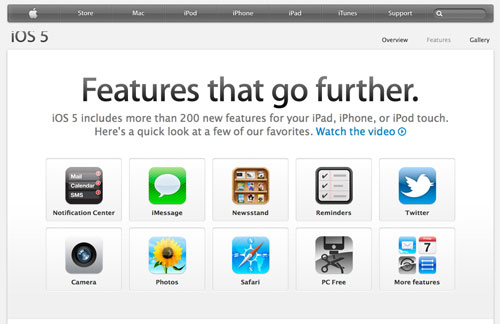 Well, the upgrade is free. That makes it pretty hard to beat. Apple's claim is there are over 200 new features to the OS and to many of the apps. As with any upgrade, not all of the features will be important to everyone. Some will love the addition of the iMessage app which will let you text for free to other iPhone users. However, if you are WhatsApp users like us, you will... [more] - iOS5's Newsstand
Everyone knows we love the iPad, but we have also been hoping that a serious contender would come forth to challenge the iPad's dominance in the tablet space. Android tablet makers have been treading water for almost a year. Products from HP, Samsung, and other have pretty much been DOA as sales of non-iPad tablets have been laughable. Don't even get us started on their market penetration strategies. However, yesterday's announcement from Amazon was a game changer.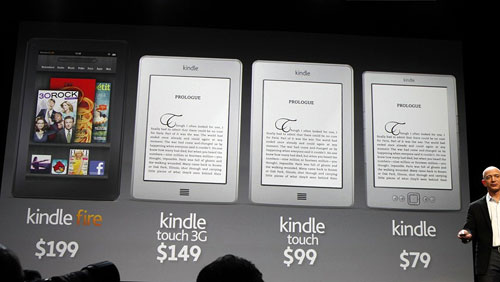 Amazon introduced four new Kindles: $79 keyboard-less Kindle, $99 Touch, $149 Touch 3G, $199 Fire. These new Kindles are quickly approaching what the perfect eReader should be: great display, light weight, connected, long battery life. While the new black and white tablets are cool, it is the color Kindle Fire that has us all hot and bothered.
The Fire has almost all of the features we listed for the $100 tablet. Now if Amazon can find a way to cut its price in half, Apple will really have something to worry about. Still, as with the iPad, we liked what we saw so much that we pre-ordered the Kindle Fire immediately. For one thing, we want to really understand the... [more] - Amazon Fire
Our Sony Bravia large screen LCD TV is on the fritz. While we are happy to report that Sony is stepping up and sending a tech out to take a look, it means that we have to go elsewhere for watching football over the weekend. It then dawned on us: we already had all the pieces in-house to put something together for watching the games—a large monitor, the Elgato TV Tuner Stick, and the ClearStream Micron antenna.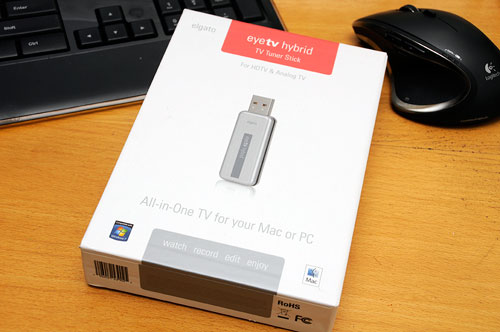 The setup was simple: attach the Micron antenna to the Elgato Tuner Stick, insert the Stick into a free USB port on the laptop, and install the EyeTV 3.0 software. The 21" Apple Cinema Display already hooked up to the laptop would be the main screen. While it wasn't as nice as kicking back and watching the Patriots on the 46" Sony Bravia, it was... [more] - EyeTV Hybrid Tuner Stick
In case you have not heard, iPhone and iPad apps are now a billion-dollar business. Many people are making decent livings writing apps for Apple's smartphones and tablets. There are probably about 10X more people who are not making a dime, but are having a great time writing apps nonetheless. The reason is, you don't need to invest a lot of money to get started writing apps for the iPhone or iPad app. In fact, to get started writing code, you don't even need to have an iPhone or iPad!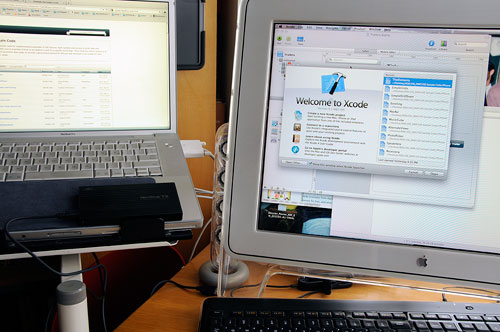 Those on a budget can get started for as little as a few hundred dollars. All that is needed is an Intel-based Apple machine and a development environment. Used Macbook laptops, Mac minis, and G5 towers can be found on... [more] - iPhone Development Setup
If you develop software as a profession, then you know what it is like to spend a good part of the day in front of a monitor. Setting things up to maximize both comfort and ease of use can have a huge impact on productivity. We do a lot of different things here at RainyDayMagazine. Over time, we have settled on different setups for various tasks (image/video editing, web page creation, etc...) which help us both to enjoy what we were doing and to do them comfortably. When we go into iPhone-app development mode, the three-screen setup is our preferred layout.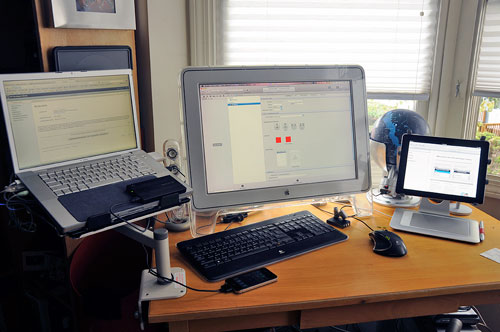 The configuration consists of a 15" Macbook Pro laptop, a 21" Cinema display, and the iPad (a recent addition). We use a laptop instead of a desktop machine so that we are not tied to the desk should we want to write code outside on the back deck. The large screen is because we often have many files open at the same time. The bigger screen really makes it easier to shuffle things around. We also found that the smaller laptop screen is perfect for reading the documentation. The recent addition to the setup is the... [more] - Development Setup
Twenty years ago, if you spent a $1000 on a TV, you would expect it to last twenty years. To the TV manufacturer's credit, many of them lasted even longer. Eventually, a component (capacitors most likely) would fail and the unit would head to the landfill. TV broadcasts in the USA went fully digital on June 12, 2009. In the two years since, LCD TV sales have exploded (3 million in 2009, 26 million in 2010), their sizes increased, and their prices dropped. In 2009, 40" panels cost a little over $1000; 46" and 55" LCD panels were running between $2000-$3000 dollars. Prices have since dropped to almost half that. Many households, when they upgraded their analog sets to digital, spent a little extra and got the larger panels.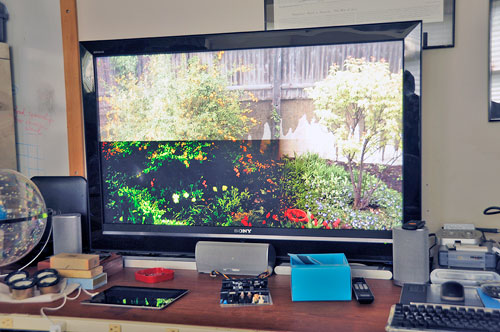 However, all is not rosy in the high-def world of flat panel TVs. While companies like Sony, Samsung, and Visio are battling it out on the specs front with ever brighter LED-backlighting, ever higher screen refresh rates, and ever increasing screen sizes, reports are starting to come in from customers about... [more] - LCD TV Display Problems
One of our pet peeves with iPhone and iPad accessories is that they are model-specific. This is nice in may ways (custom fit, smaller size, etc.). When an updated model comes out, all of the older accessories (stands, cases, etc.) will likely not fit the newer unit. For some accessories, this can be annoying, unnecessary, and costly. So whenever we see companies making accessories which are platform-agnostic and device-independent, we feel we should give them a shout-out.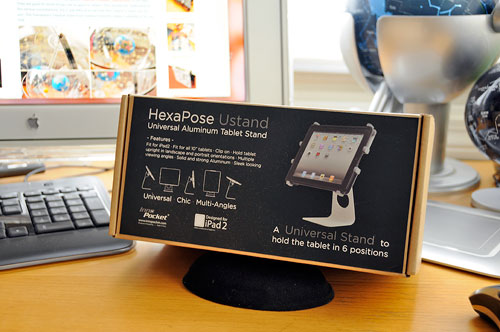 The InnoPocket HexaPose UStand is such an accessory. The UStand is very similar to the Green Figure iHolder. The big difference is the UStand is made completely out of aluminum and will... [more] - InnoPocket HexaPose FirstLook
A deadbolt is standard equipment for most doors. They offer reasonably good security for the price, lasts for a long time, and require very little maintenance. The one drawback with locks,though, is that you need a key unlock them. If someone here loses a key, we have to get a new tumbler and update the keys for everybody. The NextBolt biometrically controlled lock is going to change all of that. It will not only increase security, it will make things more convenient for everyone.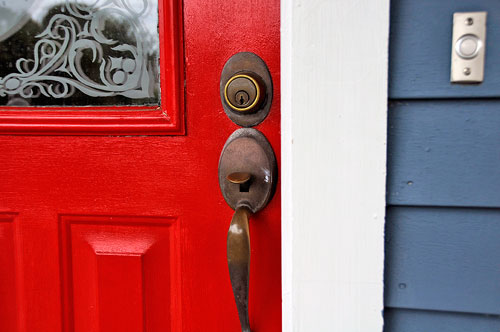 The way our front office door is configured, we need a key to both come in and go out. As we never leave it unlocked, anyone who wants to leave has to have their keys with them. No one remembers why it was set up that way, but we have gotten used to it and don't think twice about this little quirk. The arrangement does have the benefit that no one ever... [more] - NextBolt NX3 Installation
The new 10.5" version of the Boogie Board is a nice follow-up to the original. We gave you a quick FirstLook of the unit last week, but thought a closer look was warranted.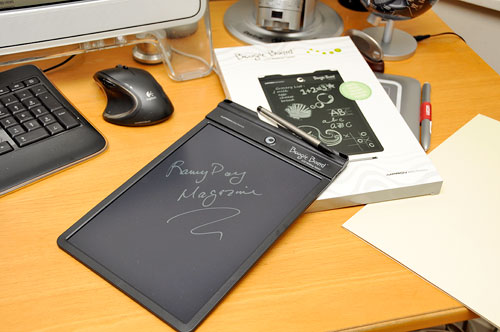 Boogie Board writing tablets are a tree-friendly alternative to the traditional memo pads, sticky notes, and dry erase boards. The new unit is 50% larger, has an integrated pen holder, and is powered by user-replaceable batteries. The designers maintained the Boogie Board's thin profile by... [more] - Boogie Board Hack
Last September we did a write-up on Improv Electronics' Boogie Board. The item was a huge hit last Holiday season. The original Boogie Board was 8.5" and was perfect for the fridge, dorm doors, and just about anywhere someone would want to leave a note. It came in any color you wanted as long as it was black. This year there are more models, new accessories, and a rainbow of colors to choose from. The new models are based on the same Reflex LCD technology. We think they will be as popular, if not more so, this season.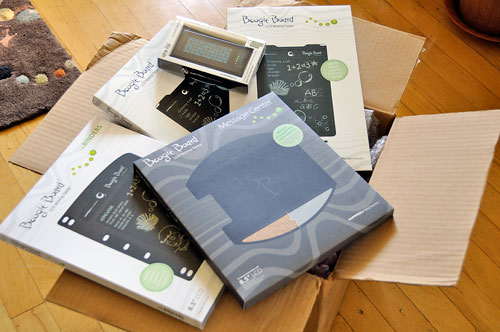 Version 1.0 of the Boogie Board is thin and very portable, but iMPROV Electronics has made it better for students by making it "binder-friendly." They have also listened to customers who wanted a... [more] - New Boogie Boards FirstLook
Last Summer we renovated the front entrance of the RainyDayMagazine office. This year we hired painters and did the outside of the entire unit. As part of the refresh, we are looking at upgrading the security around the place. Even though there are video cameras and somebody is in the office 24/7, we still keep the doors locked. We are in the city after all.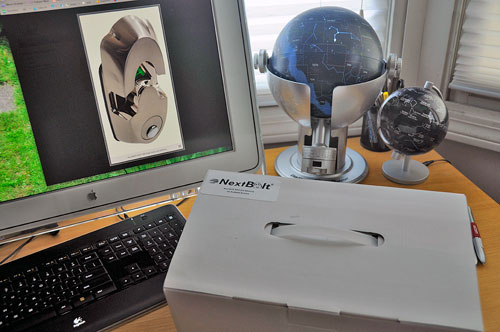 The security review revealed to us that the biggest bang for our buck is upgrading the access control to our office. The interns did some research on the various options and made a recommendation: biometrically-controlled deadbolt. We will no longer need to give keys out to everyone or have to change the locks when a key has been lost. All we need is to add their fingerprints to the lock's database and delete it when... [more] - NextBolt NX3 FirstLook
No matter how careful you are with your mobile gadgets sooner or later you WILL drop them. If you believe Plaxo, a full 19% of you will drop them into the toilet. Whether you believe Plaxo or not, the fact is that most gadgets do not bounce well. When dropped, it is likely that there will be damage...a scratch, a cracked case, or in some instances a broken LCD screen.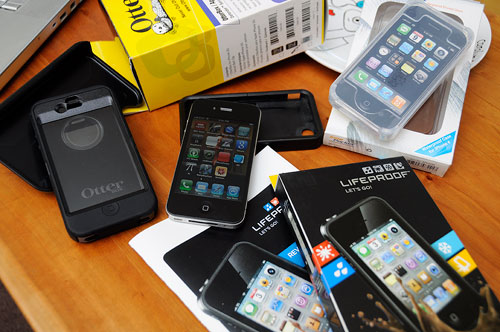 We have looked at a lot of protective cases for all different kinds of gear (camera, iPad, etc.) over the years. With our recent upgrade to the iPhone4, we have been busy checking out cases for it. A few of them (Otterbox, InnoPocket, etc.) have even made it through our selection process and received FirstLook/FirstUse reviews. If you really want your iPhone to survive a drop, you need to... [more] - LifeProof iPhone Case: FirstLook
Not everyone needs the heavy-duty iPad2 protection that we looked at these past few days. In fact, some want to feel more like they are just carrying a book or a pad of paper. If you are in that camp, we have found two excellent iPad2 covers that should fill the bill. These covers are stylish, functional, and will look right at home whether you are just surfing at Starbucks, studying at the library, or reading under a tree. The best part is none of these covers are shouting out to the world "Yes! iPad inside!!!"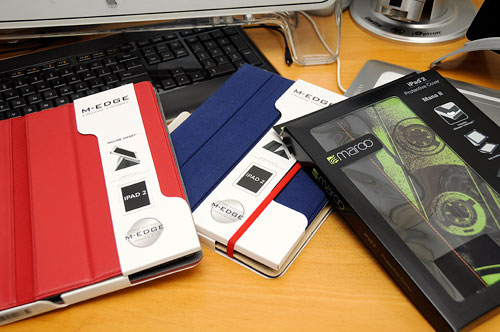 There have been a few very good DIY articles (iBook, vintage, moleskine-ish) on how to construct your own "book cover" for the iPad. We even made one for the first iPad. The cover was a bit tight for the original iPad, but we think it would be perfect with the thinner iPad2. However, if you are not so DIY-inclined, M-Edge and Maroo both offer excellent book-cover style cases for the iPad2. Unlike most DIY book-cover cases, these covers have... [more] - iPad2: Book Covers
We took a FirstLook of the iPad2 version of the Otterbox Defender case on Monday. Many of you were eager in seeing how this version stacked up to the first iPad Defender. The short of it is that the Otterbox folks clearly took all they learned from making the first one and all the feedback they received about it and went back to the drawing board. What came out was one awesome heavy-duty iPad2 case.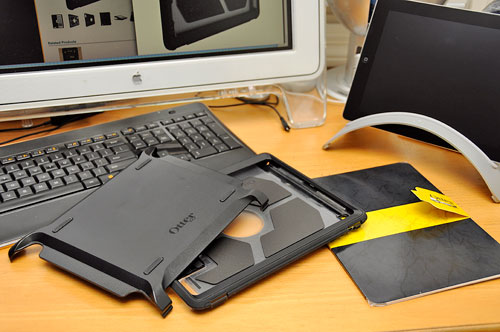 The Otterbox iPad2 Defender case is a four layer protection system for tablet. You can choose the right amount of protection desired depending on the "threat level" of your typical operating conditions. If your iPad is expecting knocks, bumps, and an occasional tussle (with possibly a kerfuffle thrown in), then the hard plastic frame/rubber skin combo may be sufficient. If you plan to travel with the iPad and want a... [more] - iPad2: Otterbox Install
Yesterday we gave a FirstLook of the heavy-duty iPad cases from Gumdrop and Otterbox. Today and tomorrow we are going install the iPad2 in those cases and take them for a FirstUse.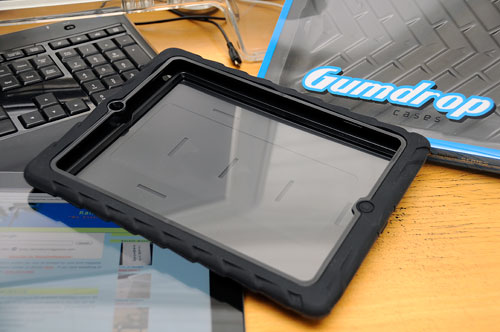 Gumdrop gear may be new to some, but we think we are going to hear a lot about them from now on. They make a number of silicone cases for the iPhones, iPads, and other mobile devices. The Drop Tech Series is the most... [more] - iPad2: Gumdrop Install
While the new iPad2 is thinner, faster, and lighter than its older brother, it is NOT any tougher. We don't mean to imply that iPads are not rugged. The screen is very scratch resistant, the frame is carved from a solid piece of aluminum, and the data storage is based on solid state flash memory. If dropped, as long as the screen does not hit a sharp/hard object, it will likely survive. Still, none of us would really care to find out. To that end, most users treat their iPads with kid gloves: we put on screen covers, wipe off fingerprints, and gently place the tablet in a stand when not used.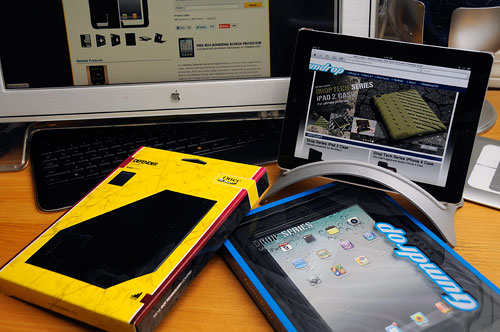 We all know that the tablet will not play nice with water and will definitely not bounce when dropped, but there are users (photographers, scientists, etc...) who need to take their iPads out in the wild. No matter how careful they are, it is inevitable that an iPad will take an occassional... [more] - iPad2: Heavy Duty Protection
Document shredders are standard equipment in most offices. They prevent sensitive information from being just lifted out of the trash. With identity theft on the rise shredders are also becoming more common in homes and home offices. For the most part, shredders do what they are suppose to do...chew stuff up into strips or little bitsy pieces. The problem with them is not their function, but their form. The typical document shredder for the home looks like an offspring of a leaf shredder and a trash can. One company, One Tenth Design, aims to change all of that with their Bridge Compact Shredder.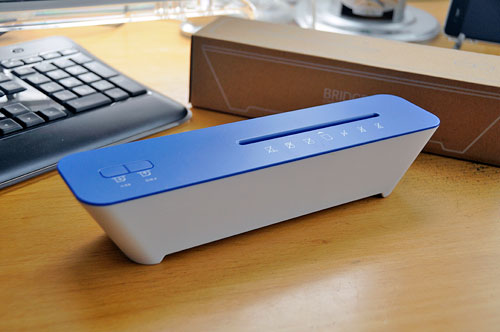 The Bridge is a personal document shredder for those with occassional shredding needs. It is small, cleverly designed, and simple to operate. The unit is about 10" in length at the top and tapers down to about 8". We are not sure why there is a warning icon for keeping hands out of the slots as they are way too small even for a baby's hands to get at the cutting blades. In fact, the blades are... [more]- One Tenth Design: Bridge Shredder
At the beginning of the month we posted our FirstLook of the Nespresso Pixie. We have had it for a over a week, have made a few cups with the unit, and are now prepared to tell you about our FirstUse experience with the unit.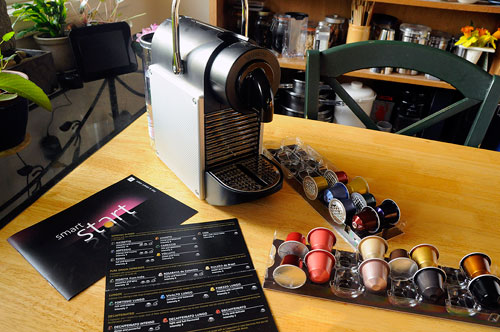 Along with the Pixie, every Nespresso unit comes with a sample pack of 16 different coffee capsules: 7 espresso blends, 3 pure origin espressos, 3 blends for large cups, and 3 decaffeinated blends. The included guide explained in more detail the personalities of the various blends, their intensity, and recommended brew amount (espresso size, or coffee cup size). As we did not have enough to do any meaningful comparisons, we will not comment on the... [more]- Nespresso: Pixie FirstUse
The interns got inspired by an interesting iPhone4 DIY project they saw a while back, which we'll discuss tomorrow. The DIY project had a drawback which the interns had to solve before moving forward with the project: they needed to find a clear iPhone4 case (which, in our opinion, would be an improvement on the original concept). It seemed a simple enough task, finding a suitable case, but it took longer than anticipated to sort through all of the options available on the market. In the end, they settled on three cases: NUDE from SwitchEasy, Feather from Incipio, DuoShell from Marware.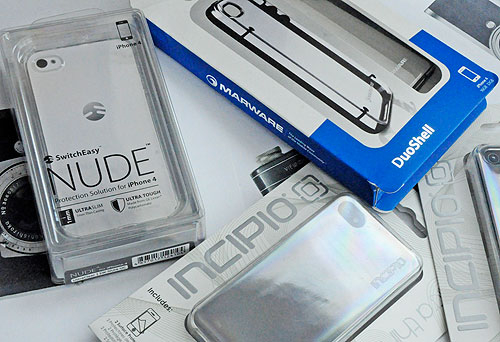 All three cases were made from polycarbonate, a perfect polymer for case material. It is highly impact-resistant, easily molded, and optically clear. We picked the Incipio Feather and the SwitchEasy NUDE because at 1mm thick, they were the... [more]- Clear iPhone4 Cases
When we heard that HP, a company with some technical chops, was finally entering the market with a tablet that is not DOA, we cheered. HP announced today that the TouchPad, running WebOS, will be available July 1st. This version is Wi-Fi only and will cost the same as the iPad2 ($500/16GB, $600/32GB). This is great news for everybody (Apple, end user, tablet market) as it is never good for a product, even one as awesome as the iPad, to have no serious challengers.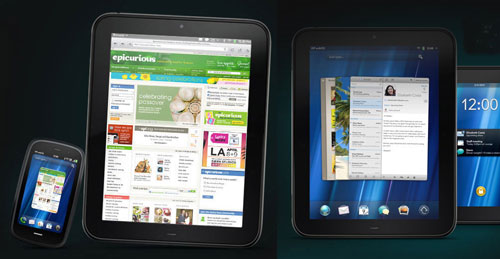 Of course, staying alive against Apple's iPad will NOT be easy. The iPad is the 800lb gorilla, a rocket which has already launched and is in high orbit, or any other metaphor/hyperbole one cares to insert as an example. The TouchPad will be running WebOS. The WebOS operating system was developed by Palm (originally started by Apple engineers after the Newton couldn't get traction). HP acquired it when they swallowed Palm for $1.8 billion in 2010. Oh, as the tech world turns. The problem with WebOS is that there aren't that many... [more]- HP: The TouchPad is coming
Coffee makers are almost as irressible to us as new gadgets from Apple. Over the years, we have sampled our share of coffee machines. We generally favor coffee from machines that grind the coffee just prior to brewing, but have been impressed with Nespresso coffee when we reviewed Le Cube a few years ago. So when Nespresso came out with the Pixie, we were eager to take a look.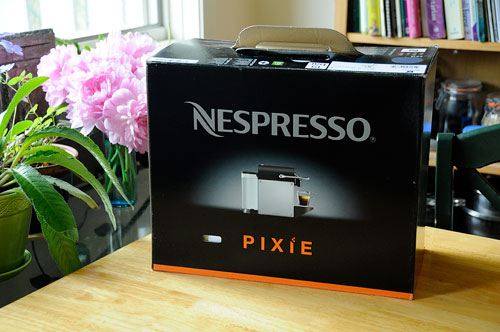 The Pixie from Nespresso is the smallest coffee machine we have ever tested. This single-cup machine combines a compact design with some impressive espresso-making specs:
Automatic brewing
Heats in 30 seconds
User-selectable shot sizes: a 1-oz / a 3-oz pour
Programmable duration
A 19-bar pressure pump
Thermoblock technology for precise temperature control
Auto shut-off
The machine feels solidly made. The side panels come in a variety of colors, a nice touch for those who like to color coordinate their appliances with their decor. The machine itself is... [more]- Nespresso: Pixie FirstLook
When the iPad first came out a company called ClamCase announced they would be making a cover/keyboard combo that would essentially turn the iPad into a netbook or mini-laptop. We had some strong opinions about such attempts back then. One year and a few hands-on experiences with keyboard cases later, our opinions have softened somewhat. A week ago we got another reason to further refine our views, a generically-named product from Brando called the Wireless Keyboard. In fact, after using this keyboard we think we may have been COMPLETELY wrong in our original assessment of this entire product category.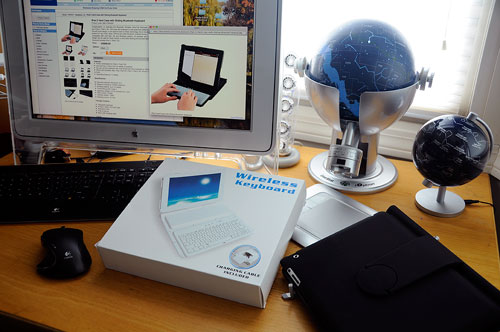 This Brando wireless keyboard is one of the best integrations of a case with a keyboard we have used to date. While we still prefer to use our iPad in its "naked" form most of the time, this case is now the... [more]- Brando: iPad2 Keyboard Case
When we were reviewing accessories for the iPad last year, we noticed that a few of the companies had products which were similar (clear case, stand, etc.). A little digging revealed that many of them were sourcing their products from a company called InnoPocket. InnoPocket has been making accessories for mobile devices for a long time and have consistently been an innovator and leader with their offerings. Their soon-to-be available EliteFolio, crafted using carbon fiber, is just one example of the continuation of this history. They have also announced an updated clear case for the iPad2 with an improved hinge/stand (more on this at a later date).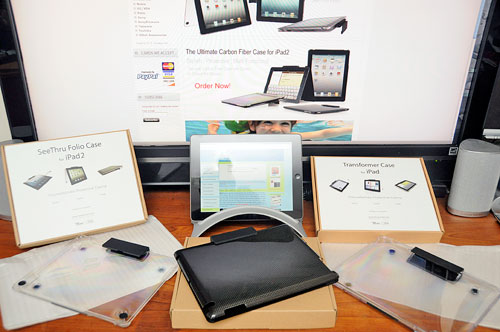 Carbon fiber is light, strong, but notoriously difficult to work with for those who don't know what they are doing. Most of the finishing work has to be done by hand. It is one of the reasons why we have not seen a... [more]- iPad2 Accessories: InnoPocket
We'll admit it, we were a bit disappointed when our Gen1 ZaggMate did not fit the iPad2. However, there was no way Zagg could have anticipated the change. We would have been really impressed had the design been able to accommodate both versions of iPads. Don't get us wrong, the Gen1 ZaggMate works just fine as a keyboard for either iPad, it's just that the size of the case is a hair too big for the iPad2 to fit snuggly. We probably could have made it work with some strategic addition of padding, but when we read that Zagg had updated the ZaggMate, we knew readers would want us to check it out.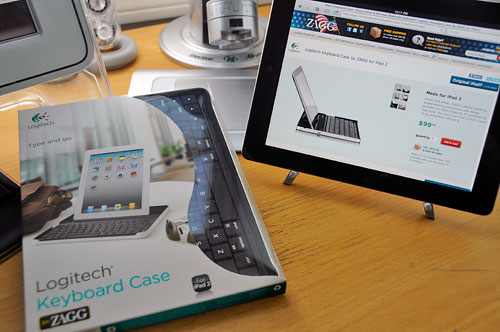 In April, Zagg announced an exclusive master license and distribution agreement with Logitech for the ZAGGmate™ case with keyboard. The deal makes a lot of sense for both companies and is a boon for users. As keyboard configurations vary by country, the deal enables ZAGG to... [more]- iPad2 Accessories: ZaggMate
Not everyone can rock a hot pink BubbleSleeve or a slick black StreetSkin for their iPad. For the boardroom crowd, a black leather folio may be more appropriate. If that is your case, then Sena's got your iPad2 covered.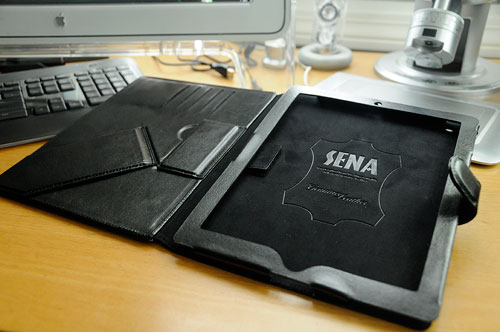 Sena knows leather. Going back three generations, the Oten family has excelled in the leather industry. Brothers and owners Ramsey and Fevzi Oten are the grandchildren of an entrepreneur in the leather industry. Leather is one of nature's most versatile and sensual materials. Sena has always taken great care to... [more]- iPad2 Accessories: Sena
When we started reviewing iPad cases last year we didn't just pick stuff off the rack. We endeavoured to find cases and accessories that were different in some way: higher quality materials, unique designs, etc. The search led to a series of BestOfBreed (BOB) articles for the first-generation iPad. When the iPad2 was announced, readers asked if we would be doing something similar. We expected to have a difficult time finding enough new items to put a series together. Wow, were we pleasantly surprised! The iPad case ecosystem has EXPLODED in a year. If anything, we were not sure we would actually have enough time to look at everything that's out there. In order to pare down the candidates, we had to refine our selection criteria. HardCandy made the cut because their cases (StreetSkin, BubbleSleeve) are functional (easy to grip, protective, shock-absorbing) and unique (interesting patterns, great colors).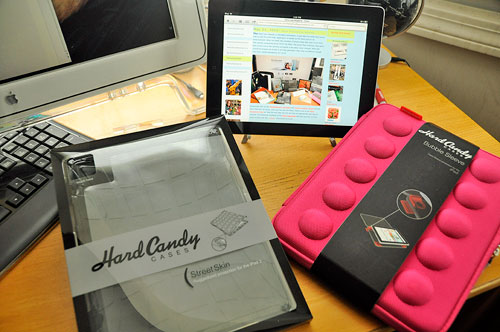 Don't let the hot pink color or the word "bubble" in the name BubbleSleeve give you the impression that this case is anything but SERIOUS travel protection for the iPad. The exterior of the BubbleSleeve is made from molded thylene-vinyl acetate (EVA) foam. This stuff is typically found in sports equipment padding and the like. One of the cool things about EVA, beside its shock-absorbing capability, is... [more]- iPad2 Accessories: HardCandy
The iPad2 was released, to incredible anticipation, a year after the initial iPad launch. Just as with the initial iPad, Apple gave no details on the iPad2 prior to its announcement. When the iPad2 was unveiled, it became clear that most of our Gen1 iPad-specific accessories would not fit the iPad2. The newer iPad is thinner, been given both a front and a rear camera, and sports a few other minor changes. While the overall dimensions are similar to the first generation iPad, they are different enough that Gen1 custom accessories will not fit.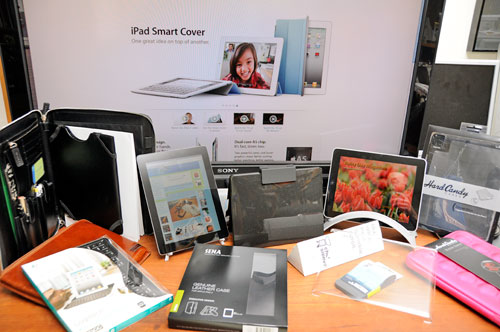 Accessories such as the TwelveSouth's Compass and Fossil's leather sleeve for the Gen1 iPad will, of course, work just fine with the iPad2. Others such as the Sena Executive Folio will hold the new iPad, but will not have the appropriate openings for cameras. The Bluetooth keyboard of the Gen1 Zaggmate will work just fine, but the cover is just a hair too... [more]- -iPad2 Accessories preview
The introduction of the computer mouse revolutionized how we interact with the computer. The idea of the mouse was conceived by Douglas Engelbart back in the early 60's and made popular by Apple with the introduction of its 128K Mac in the 1983. In the past thirty years, a lot of tweaks have been made to the basic mouse design. Buttons, scroll-wheels, and laser-tracking have advanced its usability. Sculpted bodies and glide-pads have made the mouse more comfortable to use. Wireless transmitters have freed it from the constraints of cable and helped decrease desk clutter. Even with all of these improvement, the basic ergonomics of the mouse has not changed until Jack Atzmon, a New York chiropractor, had an "Eureka" moment.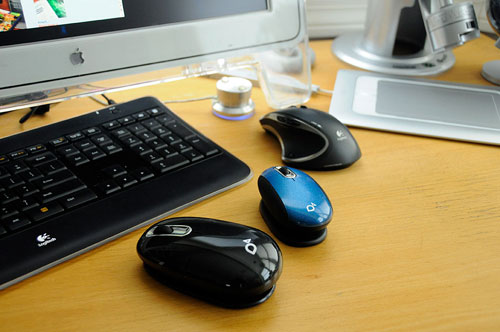 Atzmon knew that motion was important for keeping the hand and wrist from stiffening up and will help in avoiding repetitive stress injuries. Atzmon used this insight to create the SmartFish Whirl laser mouse. SmartFish mice are designed not just to fit comfortable in the hand, but to... [more]- SmartFish: Whirl Laser Mouse
We have been with T-Moblle for the nine years and have been very happy with their service. When we heard the news that AT&T had purchased T-Mobile, we were both happy and apprehensive. Happy because we finally had a justification for upgrading to the iPhone, apprehensive because of the infamous stories of AT&T's customer service. Our Family Plan with T-Mobile had two numbers with NYC area codes and two with Boston area codes. We expected to be able to keep all of the existing numbers, and when we tried to do the conversion at the time of the purchase, the AT&T site would not port the two NYC numbers. Undaunted we called up AT&T customer service, explained to them the situation, and they said it should be no problem. They tried to do it, but were also unsuccessful. The sales person told us that once we got the phones to activate them and then call the AT&T porting service, who should be able to do it at that time.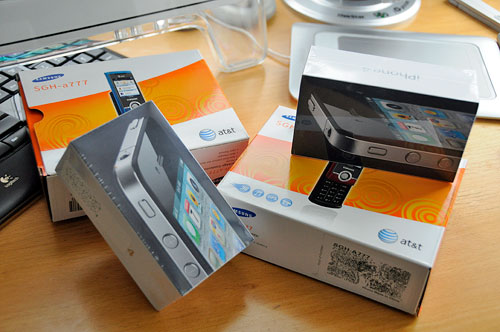 OK...we ordered the phones and waited, and waited...no phones. We knew the phones had been ordered as we saw the charge on our credit card. We tried tracking them on the AT&T site, but could not log in. After spending some time playing "phone-tree tag" with customer service, we discovered that... [more]- AT&T: Can you hear me now?
Yesterday we mentioned that the Flip camcorder was taken off the market by Cisco. One of the reasons for the Flip's demise may be the ubiquity of camera and video recording capabilities in portable devices such as smartphones and iPods. When Apple upgraded the iPad, they added no less than two cameras to the tablet: a front-facing camera for use with FaceTime video-conferencing, a rear-facing camera for photos and video recording.

Apple clearly made some trade-offs (resolution, cost, power consumption, etc...) when choosing the cameras for the iPad2. According to Apple, the rear camera can take 720p videos. This translates to images with a resolution of 1280 x 720 pixels (0.92MB). Apple realizes the technical details of the cameras were nothing to crow about and has pretty much left it off the iPad2 spec sheet. However, just because the iPad2's current cameras are pretty lame from a specs perspective, the addition of a camera to the iPad's large portable multi-touch screen can be a powerful combination.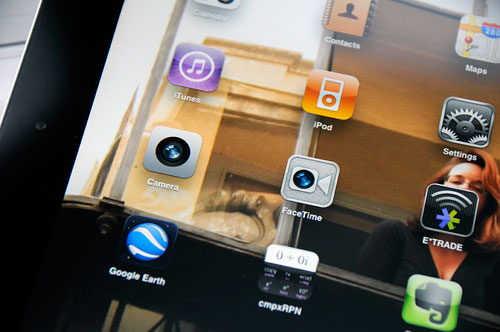 Last Summer, we reviewed a bunch of digital microscopes for RainyDayScience's BackyardBiotech project. We found the microscopes to be suitable but impractical for field use. We tried to find a way to attach one of those digital microscopes to the iPad. Even thought they were all USB devices, none of them were supported on the iPad. When Apple announced that the iPad2 would have... [more]-iPad Microscope
We knew we wanted the iPad2 as soon as it was unveiled. When we missed out on Day 1, we tried for a week to buy one around Boston. We finally gave up and ordered one online. At that time, Apple informed us that it would take five weeks and would arrive on April 22nd. Last week, we got an email notification telling us that our unit had left Shenzhen, China, with an expected delivery of date April 12th, ten days ahead of schedule. The FedEx guy showed up with our package yesterday, an additional day ahead of schedule. It is GREAT when everything exceeds expectations.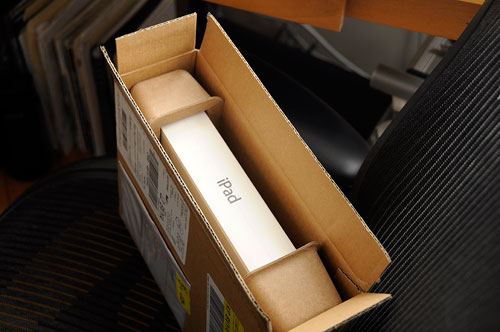 The unboxing of the iPad2 went pretty much like that of the original iPad. There were only three things in the box: iPad, USB cable, AC adapter. One of the benefits of purchasing the iPad online is the free laser engraving. Our first reaction to the new iPad was that we could feel the... [more]-iPad2 Unboxing
There are dozens of companies which make protective cases for the iPhone. We have reviewed many of the better ones over the years. However, of all of the ones we've looked at, NONE of them were designed to be waterproof. For those looking for a case which will protect the iPhone when submerged, there are a few options out there. Some use the "zip-lock" bag approach. Others have adopted a "vault" design. They all seem functional, but everyone of them have a similar problem: bulk. The "zip-lock" bags were the least form-fitting. The "vaults" were better, but still turned the swevlt iPhone into a hulk.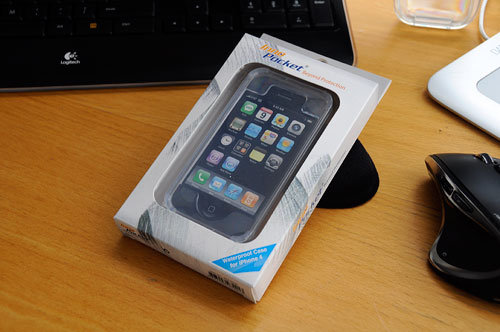 InnoPocket looked at the problem and came up with a cleaner solution. While their Amphibian waterproof case for the iPhone4 is thicker than a typical case, it is much thinner than everything else on the market. Their approach is to... [more]- InnoPocket: Amphibian iPhone4 case
Battery technology (lifespan, reliability, etc...) has improved so much that leading edge companies like Apple has designed out user-replaceable batteries from their products (laptops, iPads, etc...). Some see this as an issue, but we feel the actual benefits (stronger cases, lighter devices, less maintenance) far outweigh the potential lost of flexibility. However, this does not mean that having a backup solution is not a good idea. For those who like to be prepared, Tekkeon has been the go-to source for reliable, long-lasting, external rechargeable batteries.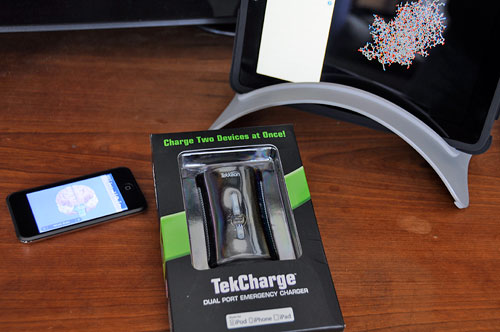 Tekkeon has a whole line of portable battery packs for all kinds of applications. They have units which can power up laptops, DVD players, and other power hungry devices. They also have smaller power units for... [more]- Tekkeon TekCharge DualPort FirstLook
Nobody knows more about protecting iPods, iPhones, and iPads than the folks at Otterbox. They got their start in the late 1990s making protective waterproof cases for outdoor enthusiasts. Over the years they developed into a company known for form-fitting custom-molded armor for personal electronics. Starting in April, a brand new approach to iPhone protection from Otterbox will make its debut. This new series is called Reflex and there is nothing else out there like it.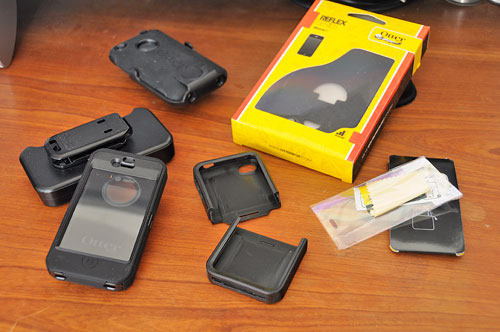 The Otterbox Reflex case is made up of two molded pieces that LOOK similar to a typical split shell case. However, the case is made of two different kinds of materials: hard plastic shell, shock-absorbing rubber. The novel part about the Reflex is... [more]- Otterbox Reflex Series FirstLook
When Apple first announced the iPad, most peopel thought it would be a good alternative to a second or third computer for the home, and the iPad was an instant success. The recently announced iPad2 is looking to be even more popular than its predecessor. Such widespread success is causing businesses to look to the iPad as a laptop replacement.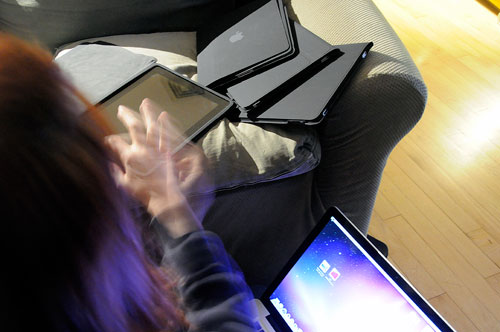 The current iPads does not have enough computing power to be the sole computer for those who need to run business (Excel, Word, etc...) and content creation (Dreamweaver, InDesign, PowerPoint, etc...) applications. However, it can be a reasonable alternative to laptops for displaying slideshows and presentations at tradeshows, sales meetings, and other similar situations. It is a lot easier to prep and bring along a bunch of iPads for a tradeshow than... [more]- iPad Hand Straps
There are a lot of companies that specialize in computer peripherals (keyboards, mice, speakers, etc...). Some of them make products for the budget-conscious consumers. Others cater to those who value style above all else. Then there are a few who are true innovators. They push the boundary of features, ergonomics, and quality for users who appreciates both form and function. Logitech, which has been around since 1981, has shown itself to be such an innovator.
Logitech's first product was a mouse called the P4. Thirty years later, they have shipped over a billion mice. We have owned our share of them. They have since branched out to other peripherals (speakers, webcams, etc...), but they still lead the field when it comes to the core products: keyboards and mice.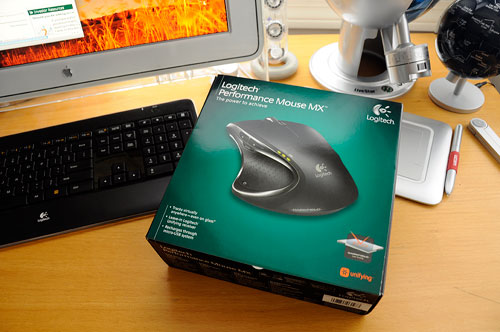 When the interns went searching for a wireless keyboard at the beginning of the year, they came back with the Logitech K800 illuminated keyboard. We loved it so much that we wanted to... [more]- Logitech Performance MouseMX FirstLook
When the iPad first came out, Apple released a tablet version of their wireless Bluetooth that came with a dedicated dock. We thought it was a pretty useless accessory. Ten months later, we still are of the same mind. A keyboard with a dedicated dock for the iPad is just a waste of money. However, having written a few RainyDay articles using the iPad with the virtual keyboard, we are willing to concede that a physical keyboard could be a useful accessory for some situations. After receiving a bunch of emails from readers asking for recommendations, we realized we are not the only ones. There are many physical keyboard options for the iPad and we have looked at a few (Stowaway, Azio) already. So, after some discussion, we have decided it was time for another Best-Of-Breed (BOB) series. Today is a preview.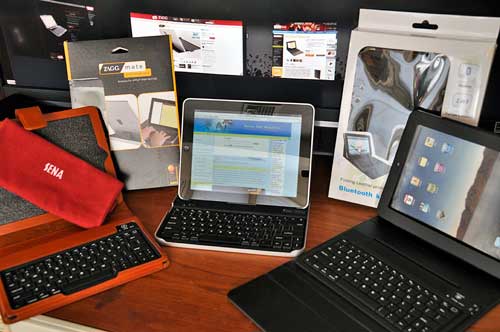 The iPad is all about portability. The problem with a separate keyboard is that they are not convenient to take along. For readers who are seriously considering a keyboard for their iPad, a case with an... [more]- iPad Keyboard Cases
Keyboards have been with us for a long time. If one includes typewriters, keyboards have been around for well over a 100 years. The computer keyboard came into existance with the old teletype machines. We had one in high school back in...the day. They were hard to press, uncomfortable to use, and like typewriters were physically attached to the printing mechanism. Modern keyboards, defined as a separate low-cost peripheral, came into being with the personal computer revolution of the 70's. The keyboard's shape, size, and key placement varied somewhat, but fundamentally has remained the same. In many ways, however, today's keyboards are a far cry from those of forty years ago.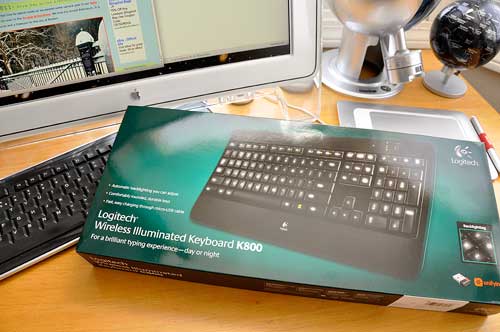 Those of us who sit in front of a computer (and type) for most of the day know the importance of an ergonomic keyboard: one which is comfortable to use, full-featured, and whisper quiet. Here at RainyDayMagazine, we are in constant search of better ones. The iRocks wireless keyboard we have been using for the past two years had pretty much everything we wanted: wireless, low profile, short key travel, good feel, and works on both Mac and PC. The ONLY reason we would consider upgrading our keyboard is if we could find one with... [more]- Logitech K800 FirstLook
We have reviewed at a LOT of iPad cases since we got the tablet last April. It is amazing how big and how quickly the aftermarket for iPad cases came to life. After nine months, new cases are still coming onto the market. The two new ones we will be taking a closer look at today are different than what we have looked at to date.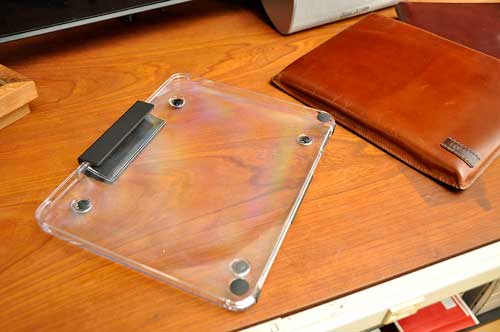 The Dayton leather pouch from Fossil for the iPad is just that...a pouch. It is nicely lined and protects the tablet with the least amount of fuss. Just slip it in, zip it up, and go. If one just needs a pouch, you may ask, why not go with a neoprene or silicone one? Because they have no character, our answer would be. Unlike a leather pouch, they won't get better looking with use, age gracefully, or... [more]- Leather and Crystal
The iPad tablet is great for a lot of things. But if you want to create long emails, write articles, or do lots of typing, it might disappoint. We wrote in the past that our StowAway keyboard works fine with the iPad. The StowAway is great for traveling, but not for prolonged typing. We've been looking around for possible alternatives. Apple has two options (wireless keyboard, keyboard w/dock) for the iPad, but at over $70, they were a bit pricey.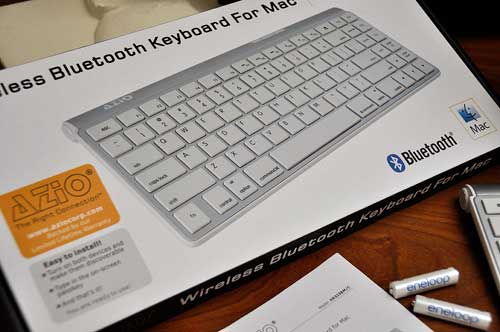 Fortunately, third-party options are starting to appear. One of them is the Azio Wireless Bluetooth keyboard. With its aluminum face, rubberized keys, and low profile, the less expensive Azio keyboard is... [more]-Azio Bluetooth Keyboard
In the 2010 Holiday Gift Guide we did a FirstLook of the Quiver pen holders. As we stated in the review, those beautifully crafted pen holders are perfect for anyone using a Livescribe Pulse Smartpen. A few readers noticed we also had the smaller Quiver and asked us what would work well with that holder. The answer is, any of the standard 3.5"x5.5" bounded notebooks. However, as the inspiration for the Quiver was the Moleskine notebooks, it should be no surprise that it fits perfectly on one of those as well.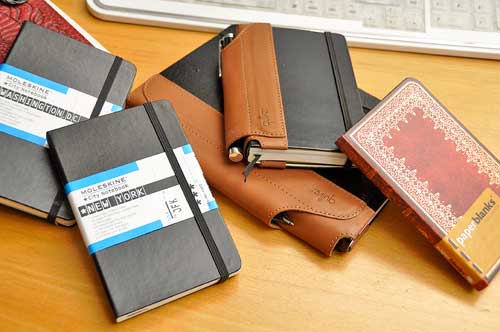 Moleskine notebooks have long been a favorite of writers, artists, and adventurers looking to jot down their thoughts, inspirations, and observations. The Moleskine line has expanded since the days of Matisse and Hemingway. The ones we really like are the City Books because they are ideal... [more]-Quiver & Moleskine
We have an older, Intel-based Mac Mini that has had WiFi problems for years. It was unclear when it started having issues, but we have determined to our satisfaction that the cause was temperature-based. It appears that Apple has since solved the problem in later models (by adding a second WiFi antenna into the design), but that is of no help to us. We first "fixed" it using a fan, then later with some temperature-controlling software. Neither solutions worked when the Mini's temperature got too high for the internal fan to handle. Now that we are using the Mini as a media server, we wanted to solve the WiFi issue once and for all.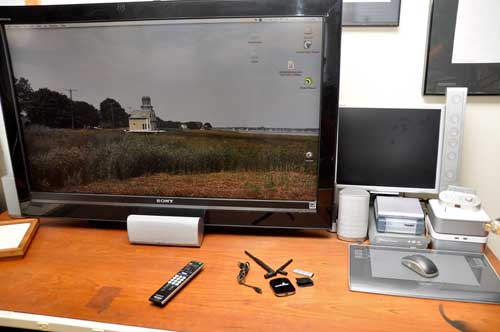 We found an elegant and 100% effective solution from BearExtender. The BearExtender n3 is a simple plug-and-play USB device that... [more]-Bear WiFi Extender