RainyDayMagazine's content can now be licensed for your print magazine or web site. Please contact us directly here. If you want to see something reviewed, then drop us a note with a link and we'll be happy to take a look.
December 22,2006
So many of you wrote and asked to see more of the OtterBox laptop case that we decided to post these pics before the FirstUse report. We are still going to drop the case (with a laptop in it) into a swimming pool, but it may be awhile before we can set it up.
Anyway, after using this case for about a month, we are confident this OtterBox laptop case will stand up to pretty much any abuse short of running it over with our truck.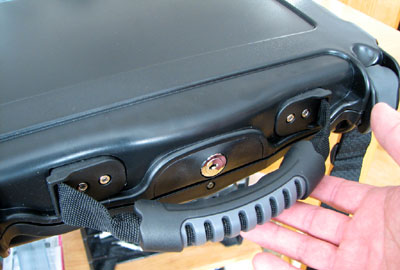 Anyway, the main difference between the OtterBox laptop case and every other case out there is OtterBox's ability to keep water out. In the pics below, you can clearly see the seal ring surrounding the entire edge of the case. Also note the drainage holes (red arrow) in the lock rod section.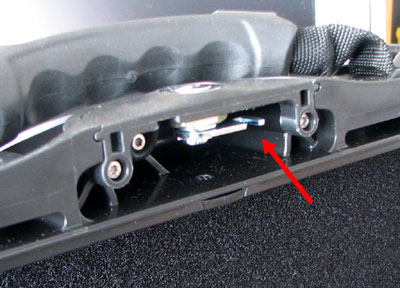 There are two different sets of corner bumpers in the collection, which can be used in combination depending on the size of the laptop. There are also two bumpers for side protection. If properly placed, the laptop should not shift in the case during transport.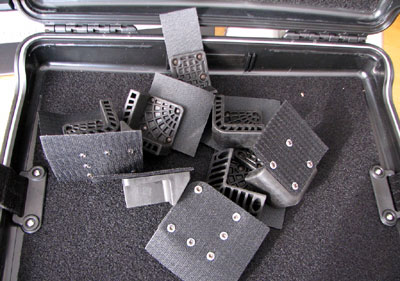 The rubber acts both as a grip as well as a shock absorber. The velcro backing makes it easy to place the bumpers exactly where you want them.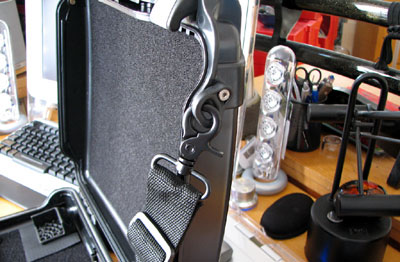 The strap and hook are both very heavy duty. This combo is not going to come apart when you are running from one end of DFW to the other. This case is built to take some abuse.
Now you know why we are confident enough to trust our beloved Apple G3 laptop to this OtterBox laptop case and that the case will keep the G3 dry when we toss the whole thing into a swimming pool. Keep your eye out for the video...it'll be fun :-)
December 12,2006

(TravelTechTuesday)
Some of us have been traveling quite a bit these past few months. While we have a nice collection of travel gear we can pull from the equipment shelf, we have consistently chosen certain pieces every time we've travelled.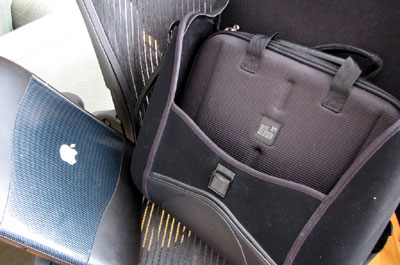 We've been using the Slappa Fliptop
to protect our laptop. This case is basically a big shoulder bag, which is exactly why it is so versatile. It's perfect for getting through airport security: the large flap makes it very easy to take the laptop in and out of the case.

The Fliptop
is large enough for most 15" laptops. We paired the Slappa Fliptop with the Pacific Design's Nucleus
case. The Nucleus is just right for papers and other smaller bits.
For transporting clothing and other travel items, we have been using the Slappa Bulkhead
. This case is just big enough for packing three days worth of clothing (2 shirts, pair of pants, etc...) and toiletries.


The Slappa Bulkhead
can also be separated into two pieces with just a quick unzip, perfect for slimming down if the trip is just a one-nighter. While the outer case is better for clothing, it can also serve as a laptop carrier for the day.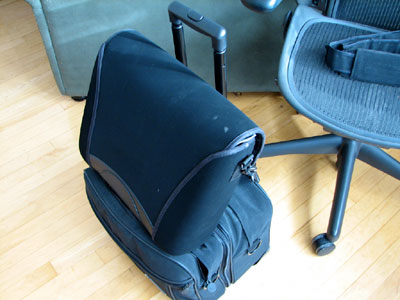 The combination of the Pacific Design Nucleus, Slappa FlipTop Pro, and the Slappa BulkHead makes travelling just a bit easier... and a whole lot more stylish :-) Go check out the other Slappa and Pacific Design offerings for all of your travel needs!
December 8,2006
The Seagate 500GB drives for the RAID project finally arrived. We now have everything we needed for this big fat storage system (FBSS) project!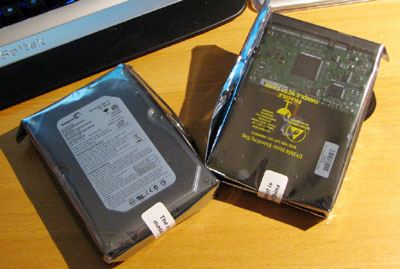 The four bay storage tower is from Addonics. The interface is USB 2.0. We decided on the USB 2.0 interface both because it is fast and simple. The decision of what to put in the other two bays have not been finalized. Any suggestions?
December 7,2006
We got a sample of this "molecular screen cleaner" from Purosol last week. It seemed like a marketing gimmick so nobody paid much attention to it.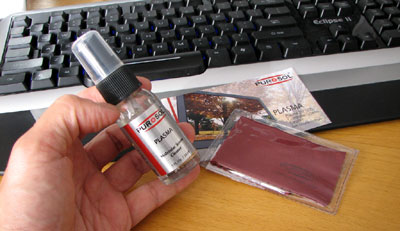 A few days ago, we got some gunk one of the displays. Rubbing it with our fingers didn't make it any better. We thought we didn't have much to risk by trying this spray :-)

We spritzed some on and wiped it with the microfiber cloth. To our amazement, the screen was cleaned on the first wipe. We were quite impressed with the results. The screen was clean and streak-free.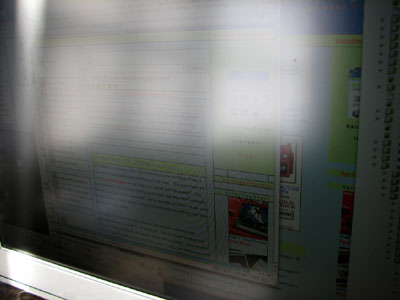 There has been no dust accumulation since we cleaned it four days ago. We are not sure what is in it, but is is definitely more than just water :-) We are going to have to find out more about this product. We may also have to do some comparison tests with water, Windex, and some of the other standard cleaners to see if this stuff is really better!
November 30,2006
H-Squared is a company we have mentioned in the past. We have used their Mac Mini mounts for lots of projects. They are easy to install, works in lots of different orientations, and looks amazing.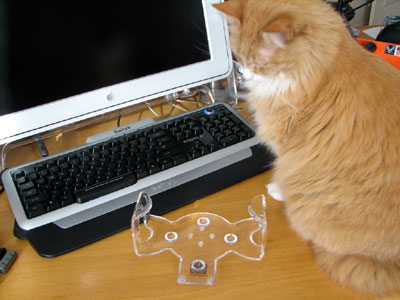 H-Squared has now updated their Mac Mini mount with a totally new design. It is smaller, with fewer parts, and even BETTER looking! We think the new mount will probably be even MORE versatile then the older version, but we will have to rethink our mounting approach if we were to replace the one in the Boxster with this newer one.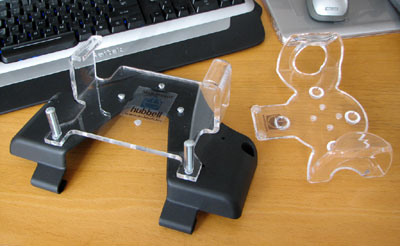 Some of you readers out there know H-Squared by an older name. If you know what that is, tell us by sending an email to our intern Buffy with the subject line "Also know as..." In the body of the email, send us a link from one of our older articles mentioning that name. We will pick a lucky winner and give your iPod something to protect it from the daily wear and tear.
November 17,2006
Yesterday we showed you how to power up your car when the weather is nasty out. Today's tip is how to keep your computer system up and running (at least until you can save your work and shut down properly) if a storm knocks out the power.
Since more and more of our readers have a small office or home office (SOHO) and have been asking about uninterruptible power supplies (UPS), we thought we would take a look at one.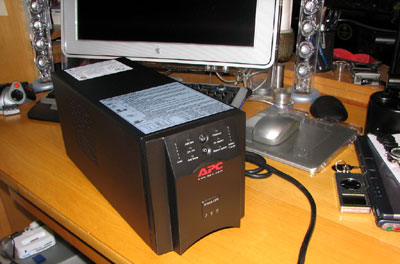 APC has been in the UPS business for a long time. They make a large variety of different kinds for all types of applications. The one we got is the APC Smart-UPS 750
. We'll set it up this weekend and have a FirstLook for you soon!
November 10,2006
Some of us were away on business Friday...which meant it was a good opportunity to take some of the gear and give a real road test. We took with us the Slappa Hardbody FlipTop case, Pacific Design's Nucleus, the YES Cozmo watch, AnyCom keyboard, and the Etymotic earphones. All frequent flyers know the importance of not checking bags unless absolutely necessary. In order to do that, we limited ourselves to an overnight bag and a laptop case.
The cases we decided on were the Pacific Design Nucleus and the Slappa FlipTop. We had a change of clothing and the toiletries in the Slappa case. The Slappa was light weight and easy to stow. The super slim Nucleus was perfect for carrying the electronics gear and an latest issue of MAKE magazine. We found the two to be a great overnight travel combo.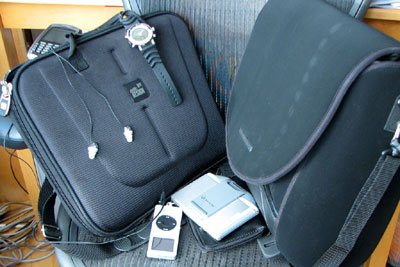 We wanted to know if we could get away with not taking a laptop with us on this day trip to Dallas. To stay connected, we took the Blackberry and the AnyCom BT keyboard. The problem was we didn't bring the instructions on how to power up the keyboard to connect to the BlackBerry...so that test was kind of a flop. We are going to have to write the power-on key sequence (<Cntl><Left Fn><Right Fn>) on the back of the keyboard for next time.
For sonic isolation during the flight, we brought along the iPod nano and the Etymotic ER6. This combo worked GREAT. The headphones were so comfortable that we had them in the entire 4 hours on both flights.
To keep track of the proper time, we set the "AWAY" city to be Dallas and the Cozmo did the rest. To we save ourselves some time, we printed our boarding pass before getting to the airport. This saved us from having to wait online at the self-service kiosk. The gate did change on us by the time we got there...so always double check when you arrive at the airport.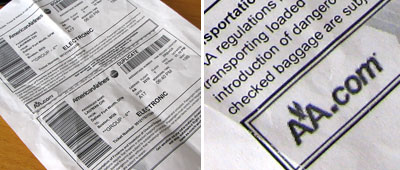 We were in and out of Dallas with no problems. Both AA flights were ahead of schedule! In fact, the only snag on this entire trip was getting home from Boston Logan at midnight. There was a traffic jam inside the tunnel and it took us 20 minutes to crawl out of it. It was a little frustrating that there was traffic in Boston even at midnight...at least most of the gear performed well :-) Happy Flying!
November 9,2006
Many of you wrote and asked how the OtterBox laptop case we mentioned last week compared to Matias' LaptopArmor unit. Both cases are very well made, designed to protect the laptop, and are great looking in their own ways. They also differ in many significant aspects, both in their design and in the type of protection they offer.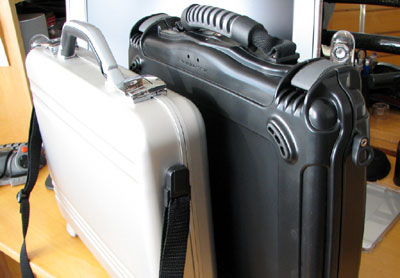 The OtterBox is bigger and thicker than the Matias case. The material used is very strong. In fact, OtterBox claims it is so strong that you can stand on the case. We wouldn't recommend that with most other cases.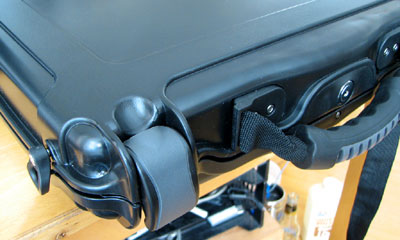 The OtterBox is also designed to handle a dunking without letting water into the interior of the case. It is the water protection aspect of the OtterBox which puts it at a different class.

The OtterBox case has both a keyed lock and latches. The latches are designed to apply even pressure on the internal seal to lock out moisture. The keyed lock prevents unauthorized access to the case's contents.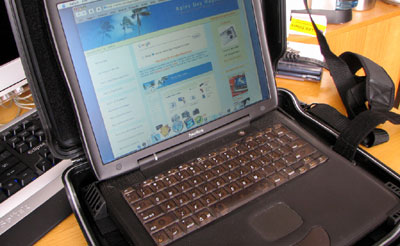 The OtterBox folks came up with a very clever mechanism to enable the user to easily and quickly secure most laptops inside this case. Next time we'll go into more detail on how that is done. For now, click and enjoy the usual close ups :-) BTW, we are looking for volunteers who are willing to have us put their laptop in this case and drop it into a swimming pool. Let us know if you are interested. Oh...you know there will be video.
November 7,2006
Last Tuesday we gave you a quick peek of the Addonics Storage Tower. This case has enough room for four IDE devices (drives, CDROM, DVD, etc...) of your choice.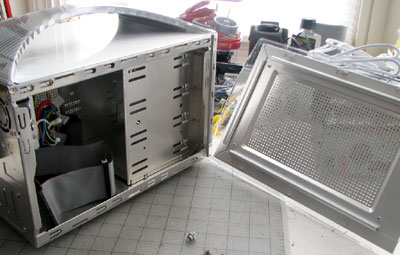 We were going to put in four 250GB drives, but now we are not too sure. Would two 500GB drives make more sense? That way, we can add a few DVD/CD burners. How would you configure this unit?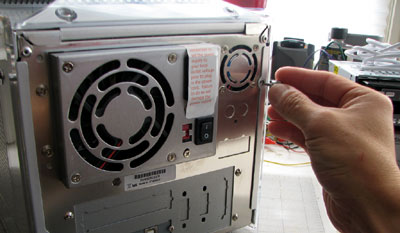 Getting to the interior of the Addonics 4 Bay case is quick and straight forward. Just remove one screw, slide the side panel back, and you have full access to the internal mount.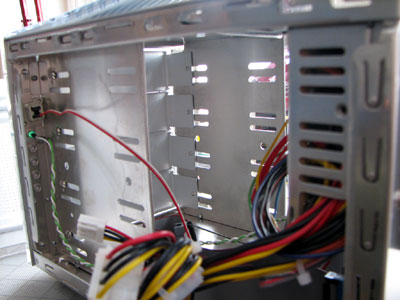 The slits on the side are for mounting the drives. All of the ribbon cables, power connectors, and USB interface card are included in the unit.

We are going to spend the week looking for deals on 500GB drives. Hopefully we'll have this unit up and running by next TechTuesday.
November 2,2006
Need to protect your laptop from moisture under the most adverse conditions? If you have been one of our frequent readers, you would already know that OtterBox is the company to look to for that kind of protection.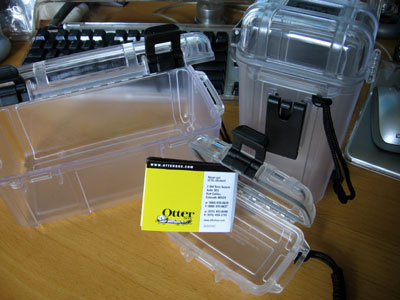 If we think there is a chance our gear may get splashed, we put them in an OtterBox. If we need to keep dirt and grit out, we put them in an OtterBox. If we need to see what is inside the box without having to open the box, we put them in an OtterBox.
Hmmm... wouldn't it be GREAT if OtterBox made a laptop case? Well, UPS brought us just such a surprise today. The official name is the OtterBox 7000. They should call it TheVault. As soon as we grabbed the handle of the case, we could tell it was built to take some knocking around. This case feels SOLID!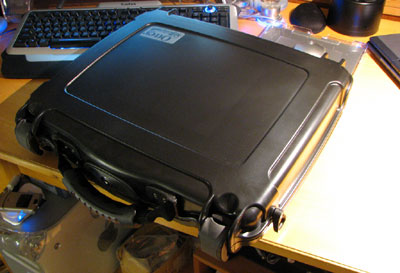 Some of you have been waiting for this FirstLook for a while now... the wait is almost over :-) Click on the images to get a closer look at the overall case, the hinge, and the seal. We'll have a much closer look at this incredible laptop case next week. For now, you will have to just take our word for it...it looks pretty awesome.
Many of you have been asking about the AnyCom Bluetooth keyboard. We have been playing with it for almost a month now, but have not had a chance to write-up our FirstLook review until now.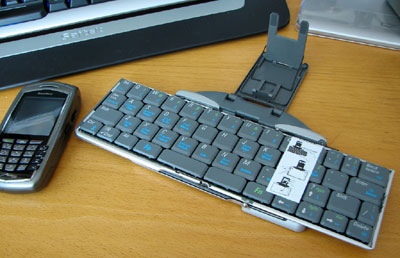 We were impressed with how cleverly the hinge mechanism is designed. The feel and travel of the keys when pressed were very similar to that of a regular unit. Go here to check out the FirstLook review.
October 31,2006
Terabyte RAID storage systems were reserved just for big businesses. Today, with the price of a 500 MB drive hovering around $300- $400, they are no longer out of reach for use in personal computing and home offices.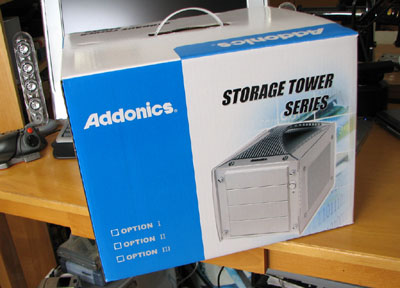 RainyDayMagazine's Media Center project was completed at the beginning of Fall. Even though we had plenty of storage for the videos and music files, they were stored on drives all over the place. We realized what we needed was a large storage system which we could move around at will.

A quick Google search came up with a lot of RAID storage options, but Addonics' case quickly popped to the top of the list. We decided on the 4-Bay USB 2.0
External Aluminum Enclosure (ST4IDEU2
) with the built-in JBOD USB adapter.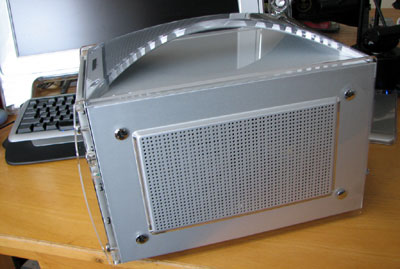 This is going to be a really fun project to put together. We have the four drives 250GB drives for this project, but we are starting to think maybe 1 Terabytes is not going to be enough! Come back next Tuesday for an inside look at the Addonics case.
October 11,2006
A piece of gear we had a chance to check out was a laptop case from Pacific Design. The specific unit we took with us is called the Nucleus Portfolio. We took these photos before we left the office.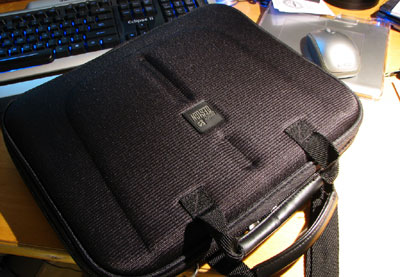 We wanted a laptop case that is as slim as possible but still offered some padding. The shell of the case is made of molded foam. Fittings are refine, but heavy duty.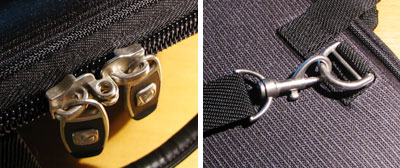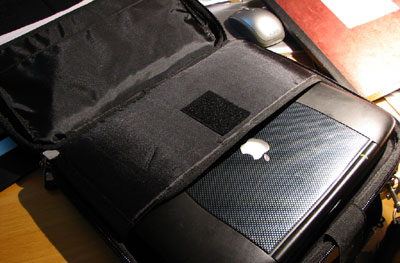 The case is large enough to securely protect our Apple G3 on the trip up to Maine without taking up any more room than necessary. If you are looking the a minimal case which can offer some decent protection. You definitely have to give this Nucleus Portfolio a look.
October 3,2006
Folding keyboards have been around for a few years now. The only problem with them were they were designed for a specific device. We have tried them and liked them, but never liked paying $100 for an accessory that we knew would have a limited use and lifespan. Bluetooth technology changed all of that.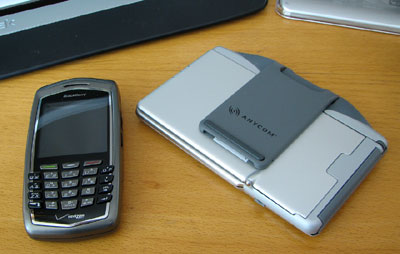 Folks here got new Blackberrys so we can check email when we are out of the office. We quickly found out that we didn't like the "thumb-board" on the Blackberry because it is not really designed for typing a lot of text.

We found the Anycom StowAway Bluetooth
keyboard and got one last week to see if it would be a more convenient input option for our new Blackberry. The StowAway is a marvel of engineering. The shell is made of aluminum, the keys have full travel, and the full size keyboard folds up thinner than the Blackberry. There is an integrated device-stand built into the unit.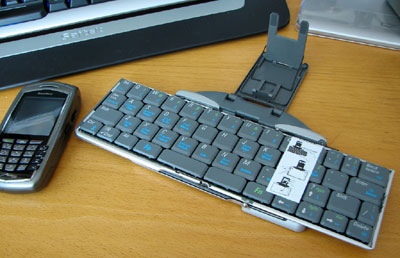 Here are a few pics of our Blackberry with the StowAway. This setup could be the ideal combo for travel if you must be as light as possible. We should be able to get our emails, make cell calls, surf the Web (somewhat), and type relatively large articles...all without a laptop. We'll put that theory to the test this month as we send a few of our intrepid interns out into the field with no other gear but the Blackberry and the StowAway. Let's see what they can post from the road :-)
September 30,2006
Just exactly WHAT is inside James Bond's Laptop Armor case? Apparently quite a few readers had the same question...which of course gave us the idea for a fun little RainyDayPuzzler! If you can name all of the items inside the case, then you will be eligible for the random drawing for something just as random:-) How do you open the case? Well...if you can't figure it out, then you may need to go back to "spy school" for a quick refresher course on lock picking.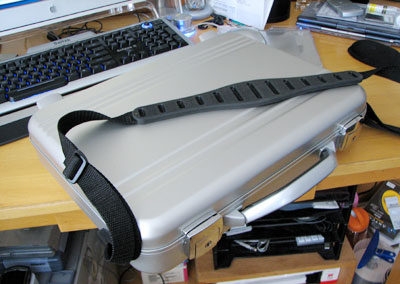 When you have accomplished the assignment, encrypt the info in the usual fashion...use the code "Open Sesame" in the subject line. We'll be monitoring the drop point until next Wednesday night. The winner will be chosen by next Saturday.
September 28,2006
We have been passing around the Laptop Armor case these past few days. The shoulder belt which came with the case was fine, but one of the folks here remembered we had a high tech shoulder belt which would be perfect for it. The belt is the TerraGrip. It's secret is this really flexible rubber shoulder pad which just will not slip off the shoulder.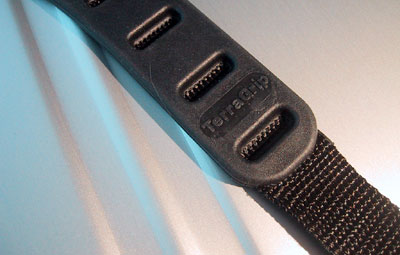 The only problem was the posts on the side of the case will not work with the clip on the TerraGrip shoulder belt. By now, readers should know this would only slowed us down just a tad.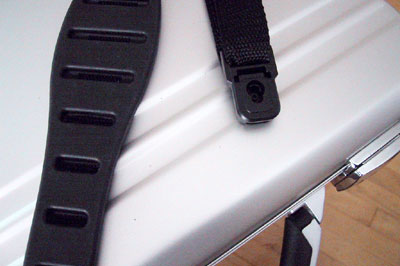 Out came the scissors, a few snips, some quick adjustments, and we are all good. The modified TerraGrip is a fantastic upgrade for the LaptopArmor case. We'll have a full write-up of the belt hack when we post the FirstLook of the case.
September 26,2006
We have mounted our Mac minis in a lot of different places, but the only mount we would use is the one from Hubbell. The main reason is this mount was the most versatile AND best looking mount we have seen.

Hubbell Automation has now spun off a new company called H-Squared to specifically make and sell Mac mini mounts. Today, they announced a newly redesigned mount which will allow user to secure their Mac mini in just about any orientation.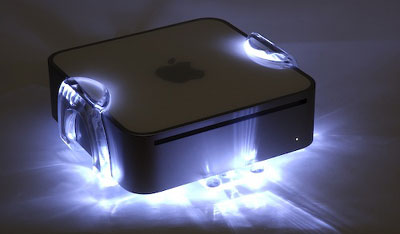 We'll have a closer look at this new mount as soon as we get our hands on one! Keep your eyes peeled...you know we'll have something for you when the time come :-)
Less than 5 years ago we purchased a 22" Apple Cinema display for around $2500. We just got notice from our TigerDirect partner that an Acer 22" LCD monitor is now available for an INCREDIBLE price of only $300!!!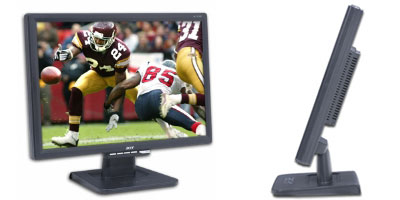 We may just get 22" LCDs for everybody here. Maybe we can even afford to give one away at this price...dream on :-) Read more about it on today's Deal Of The Day and go get your own. However, you better hurry because at this price, availability is not guaranteed.
September 25,2006
Monday mornings are easier if you have had a good night sleep. We have been curious about the TempurPedic mattress for a long time, but the exorbitant price had always preventing us from taking the step. One of the interns here suggested we look at a less expensive option : memory foam mattress toppers.

We started this project over a year ago. The first pad we purchased was a 2" version. With the 2" pad, we noticed we didn't need to get bigger sheets to cover both the foam and the mattress. The queen size pad cost about $200 at that time. The prices have dropped quite a bit since. We recently purchased a 4" version for less than $200!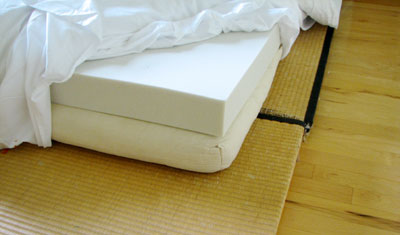 A 2" pad is probably sufficient for anyone less than 150 lbs. The 4" pad would be a better choice for weight heavier than 150. There is a noticeable difference in comfort between the 2" and 4" mattress toppers.

The major reason for the difference is the ability of the thicker foam to block motion transfer. This is especially important if you or your partner likes to move around a lot.
Click on the video clips to see what we are talking about. The center video shows the water shaking when the movement is close by. The shaking movement quickly dissipated. When the distance was increased to a foot, there was hardly a ripple in the bottle of water! Go here to check out the full review.
August 29,2006
Sharp-eyed readers have been asking about the new speakers on our 19" monitor this morning. They are not new. We posted the FirstLook on these Altec Lansing speakers last month.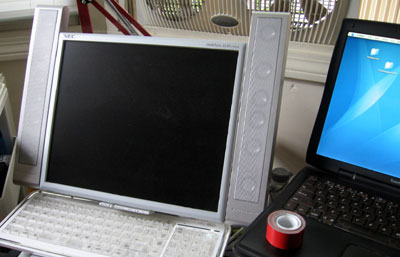 All we did was mounted them so they wouldn't take up any desk space (see why here). The speakers were designed to be placed on a flat surface or mounted on the wall, but not to the side of things.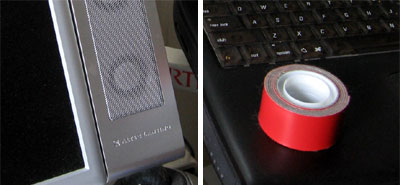 The problem was solved using some strong 3M double-sided foam tape. This 1-minute hack was the perfect solution to the mounting problem and gave back quite a bit of desktop.
If you purchased a camera yesterday, than you will most likely need some Flash memory. We scrounged around and found some AMAZING deals on Flash...the cheapest had to be this CF card from Tigers Direct
...just $2 after rebate for a 512MB CF card!!!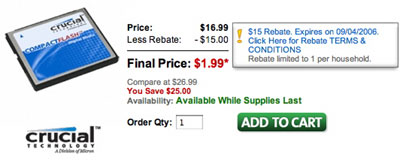 However, before you buy...know which type of memory your need. Is it CF, SD, SmartMedia, MemoryStick, etc... Yes, it is a major pain in the butt. We standardized on CF cards a few years back, but we have since started to move toward SD cards. We can still use them in our CF slots with this SD-CF adapter.
The Aeron chair is designed for SERIOUS office work. Apparently it is pretty comfortable for napping as well, at least for Eliot. We knew we would be spending a LOT of time sitting and we wanted chairs which would promote good posture and last a long time.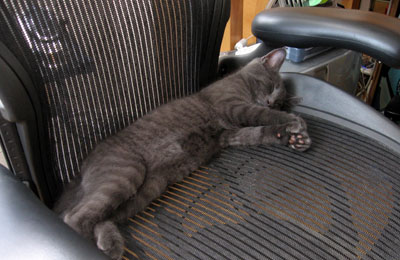 When we furnished the office, we got Aeron chairs for everybody. Herman Miller's Aeron chair is probably one of the more recognizable office chair around. This chair is unlike any other...the mesh material, the support system, and the adjustibility are all unique to the design. Take a closer look at the Aeron here.
If your small office is anything like the RainyDayMagazine office, then every inch of space counts. To use our space efficiently, we have been replacing older machines with new ones which can do multiple jobs. One such new addition is the Canon Pixma MP150 Printer/Scanner/Copier.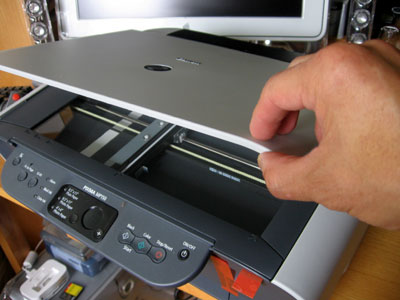 The multi-function design of this unit is perfect for any space challenged small office/home office (SOHO) environment. The only problem with a multi-function machine is if any one function goes on the fritz, then you will lose all the functions.
August 7,2006
Laptops that burst into flames or meltdown while in sleep mode are hitting the news lately. A Dell laptop burst into flames in the middle of a conference in Japan was one of the more dramatic incident reported.

Apple laptops (right photo) are not immune to this problem neither. There have been numerous incidents of batteries going "poof" while in use...and now apparently just when the laptop was just sitting around. A lot of it have to do with defective batteries which overheat and catch on fire. Li-Ion and Li-Polymer are the battery cell material of choice. The problem is some of these batteries create their own oxygen when ignited, making it very difficult to put out.
Maybe our interns were on to something when they suggested we upgrade our Apple G3 laptop instead of getting a new one! So far, we have upgrade the internal hard drive from 12GB to 100GB, memory from 512MB to 768MB, and installed the latest version of OSX.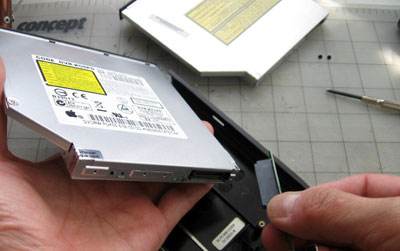 This weekend, we upgraded the DVD-ROM drive to a slot-loading DVD burner. The installation was pretty straightforward. We got the Pioneer DVD drive (DVR-K05) from Centrix International. These drives were specially made for Apple. We are not sure if generic slot-loading drives will work, but for the price that Centrix is asking ($80), why even worry about it? Save yourself the hassle, get it from Centrix, and be done with it.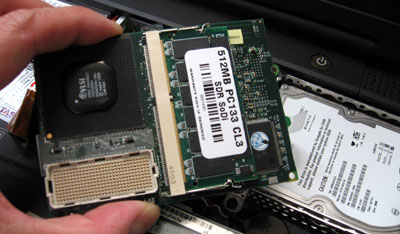 We have also completed the memory upgrade to 1GB. The write-ups will be posted later this week (memory upgrade, DVD upgrade). Later on this month, we'll show you how to upgrade the internal processor from a G3 to a G4. The amazing thing is even with all of these improvements, the laptop will still cost about half of the price of a new Apple.
August 5,2006
RainyDayMagazine's satellite office in New York is coming along: we got word that the DSL lines have been activated. We are not sure if bitchin' and moanin' on the front page had anything to do with the service being up one day after we finally managed to order the lines...but we are not complaining now:-)
In the latter part of August, we'll be heading out West to start up RainyDayLA. This new section will launch on January 1, 2007. It will cover all of the happenings in LA and surrounding area. The main reason for starting this up? We wanted a nice place to go when it is cold here in Boston :-)

If you live in LA and feel like going to parties and gala opening and such, drop us a line...we'll be happy to give you any extra tickets which we can't use. In return for this largesse, you will have to write up that evening's event by the next day. Also, since it "never rains in Southern California," when it does, our plan is to give away something REALLY nice!
BTW...if you are interested in covering events and happenings in your part of the world, drop us a line and let's talk. You won't get paid, but it'll give you a chance to show off your writing skills. We may also be able to get you into some really nice parties :-)
August 4,2006 (FunFriday)
On the way back from NY, we realized that Siggraph was in Boston and it was the last day...so we stopped by and checked it out.

In our hurry to get in, we left our camera in the car. So all the photos in this segment were taken with the Motorola PEBL's camera.
Wacom was showing their new Cintiq tablet. Unlike most graphics tablets, the Cintiq lets the artist work directly on the display. We love the idea of being able to work right on the screen and can definitely see how it would be an incredible tool for graphic artist.

Our only issue is the price. The screen is beautiful and very high res, but if someone had, say, already spent $2000 on an Apple 22" display, it would be hard to pay another $2500 for a tablet. Wacom does have a "payback calculator" to show how quickly the increased workflow would translate into savings...thus helping to justify the purchase. What we would love is for Wacom to make a transparent layer which could be placed over any screen...making it a drawing tablet!
There were also lots of other great stuff like new UI technology, panoramic VR goggles, 3D printers for rapid prototyping, and some very cool large projector technology from an MIT startup.


The MIT guys figured out how to take multiple low-cost projectors and seamlessly mesh their output to create a scalable projection display system. Their technology will work with curved walls and other ultra-large display challenges. Anyone thinking a 300" projection TV for home or office? We'll have more on Siggraph 06 in a separate write-up.
We were in NY setting up another RainyDay office. Of course, the interns in Boston had a field day while we were gone...but the one thing they didn't do was open up any of the packages that arrived while we were away. The reception area looked more like a loading dock. We are going to have to do a better job screening the intern applications.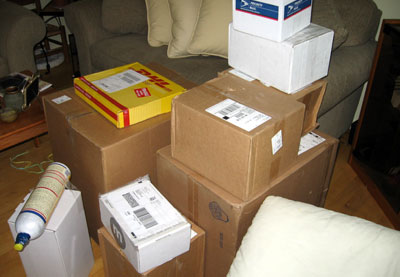 We'll go through the items today and see what cool new products are coming this Fall. Who knows, you may even get some of them if you are accurate with the answers to the RainyDayPuzzlers :-)
August 3,2006
Bumping may be unknown to most people at present, but it has the potential to make you rethink just how secure you should feel behind a locked door.

The Open Organisation Of Lockpickers (TOOOL) has been highlighting this issue... " A technique called 'bumping' can open most mechanical pin-tumbler locks damage free, in little time, with little training and using only inexpensive tools. Even a number of high security locks can be rapidly opened damage free with this technique." You can bet we'll start looking into electronic locks for our main entry way today.
August 1,2006 (TimeTuesday)
Some things get better with time, some just get more scratched up. To guard against the latter, we have found the InvisibleShield to provide the best protection from scratches for all our digital gear. There are other companies with similar products and we have used them with good results.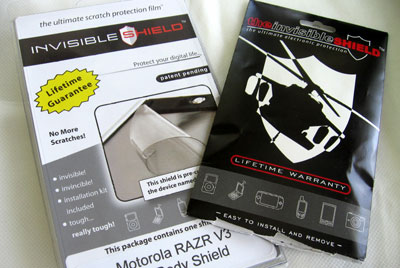 What is different about ShieldZone, the makers of InvisibleShield, is that they continue to add value to their product to make it easier to use. The package now comes with an applicator and the wetting liquid.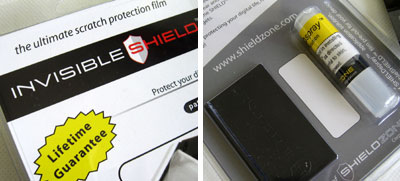 They also offer a custom shield for just about every screen and surface imaginable. If they don't have it, they will make one for you! This Fall we'll have the one year update on how well the InvisibleShield has worked on protecting our iPod nano. Look for it in September.
We have had the YES watch for a few weeks now. Someone has worn it each day. When we compared notes on our user experience, we all agreed that the interface on this multi-function watch has been surprisingly well-conceived.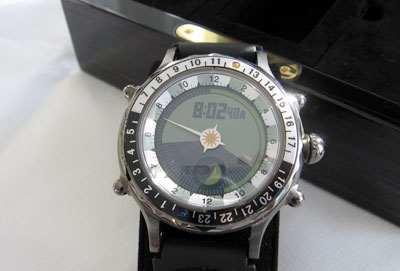 The YES Zulu is a sophisticated timepiece. The design allows the wearer to instantly see seven pieces of temporal information at once. From looking at the watch, we can tell: it is 8:02 AM; sunrise was at 5:20AM; high noon is at 1PM; the sun will set at 8:00PM; the moon will rise a bit before noon and will set around 11PM; and the phase of the waxing moon is about 30%.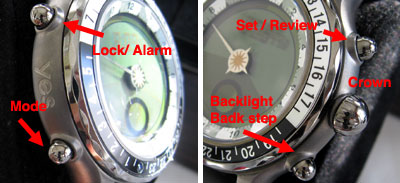 As to the function of the Phase Elapsed Time...the PET can be set to count down to or past from an event up to 9999 days (27 years) either way...good for knowing exactly when you'll retire or the next important planetary alignment :-) Apparently, I can retire in 6333 days, 9 hours, and 13 minutes...from now. We think it would be more appropriately named the Personal Elapsed Time.
We have also been wearing the Cozmo. The Cozmo has the same functions as the Zulu but is constructed with different materials... stainless steel instead of titanium and mineral glass instead of sapphire crystal. We'll have more on the Cozmo this month.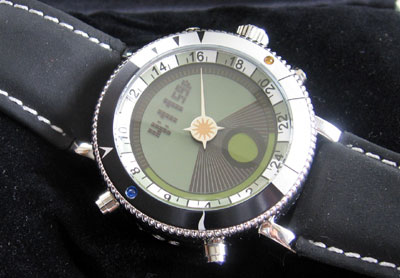 One thing we have not figured out yet is the meaning or function of the marks on the bezel of the Cozmo. If you know, send your answer with the subject line "This time I know" to us. If you are the first with the correct answer, we'll shower you with one piece of something from our bin of giveaway goodies :-)
BTW...a reader sent this article on Verizon's second quarter profit announcement to us after reading about our saga... "second-quarter profit dropped by 24 percent as customers switched to rival providers. Cable companies such as Comcast and Time Warner lured away many of the defectors with package deals for phone service, TV, and high-speed Internet access." Apparently, we are not alone in our frustration with their service.