RainyDayMagazine's content can now be licensed for your print magazine or web site. Please contact us directly here. If you want to see something reviewed, then drop us a note with a link and we'll be happy to take a look.
NOTE: Click here to read more about our approach to product reviews.
Dec 15, 2010

- Rainy Day Gift Guide: SOHO...
With more and more folks starting their own businesses, we thought we would put together a guide for those who may have a few SOHO (Small Office Home Office) friends on their gift list. When considering what to recommend, we went with suggestions which would make the SOHO work experience both more productive and more enjoyable.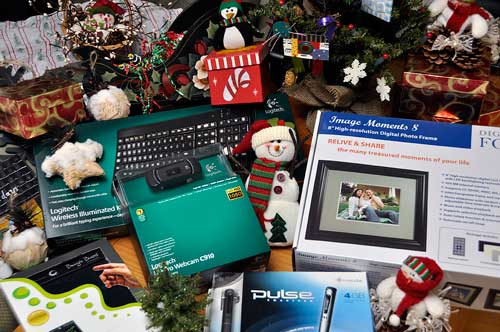 With all the attention focused on killer devices such as the iPad, other innovative gear gets less mentions than they deserve. We did a review of a gadget called the Boogie Board back in September. We think this LCD drawing tablet is the sleeper gift of this holiday season. Sources tell us that... [more]-Holiday Gift Guide: SOHO
Nov 24, 2010

- iPad Stands: Desktop...
iPad stands come in two flavors: portable and desktop. Yesterday, we started the two-part series with a look at a few of the portable ones. Today, we will finish up with a look at the ones designed for more stationary use. Once we looked into what was available we realized the different desktop stands pretty quickly sorted themselves into four varieties: slot, easel, brace, and holder.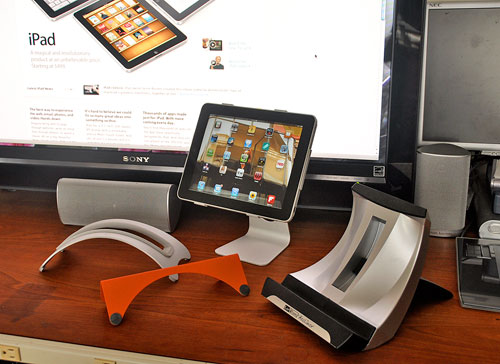 The slot unit we have here is actually for the MacBook, but it works just fine for the iPad. It is called the BookArc and is from TwelveSouth. The design allows the iPad to be dropped into and pulled out of stand with the minimum of fuss. The drawback is that it allows only one view angle. The easel design, however, is even simpler to use in that all one has to do is lean the iPad on the holder. Some easels, like this Recliner from LapWorks, can even adjust its display angle. The advantage of the easel approach is that it will work when the iPad is in a case. Very convenient for those who like to carry their iPads in a folio. The tradeoff is... [more]-iPad Stands: Desktop
Nov 23, 2010

- iPad Stands: Portable...
The ecosystem of 3rd-party accessories surrounding Apple gadgets have always been a healthy one. Laptops, iPods, and iPhones have stimulated the developement of cases, docks, and peripherals to protect and extend the capabilities of those devices. The iPad is no different. The iPad is great for "consuming" media and has inspired the creation of all kinds of contraptions to help it stand up so users can lay back. There are instructions of how to make an iPad stand from a coat hanger, pencils & rubber bands, or just a simple block of wood. While all of those are great home-made solutions, we wanted to find some options more in keeping with the esthetics and build quality as that of the iPad. After a bit of research, we settled on units which we feel follow the design spirit of the iPad: functional and great looking. Three of the units are portable. The others, not so much. We will take a closer look at portable ones today and save the not-so-portable (but still exceptionally cool) units for tomorrow.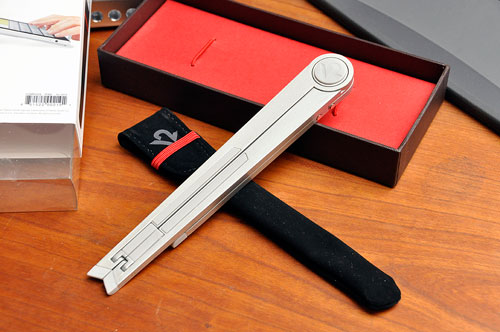 First up is the Compass from Twelve South. As a Mac-centric accessories company, Twelve South have made a name for themselves in the short time they have been in business. Their gear are not only highly functional, but are created using the same design language as that of Apple. The result is... [more]-iPad Stands: Portable
Nov 22, 2010

- A Perfect Gift ...
F.E. Young and Gena Schmidt have formed a new business. They have what they believe to be the perfect product to start with. The government has been creating a myriad of incentives to encourage the start up of small businesses, which made it perfect timing. And F.E., who had recently acquired a house, coincidentally across the street from Gena, had the perfect place. And so, on February 1st of this year, "A Perfect Gift Company, LLC" was born.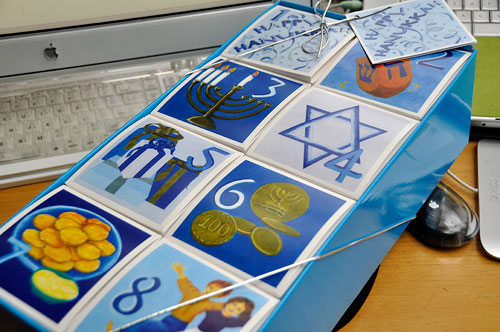 When F.E.'s daughter Zoe was little, F.E. wanted to make Hanukkah special for her. As an artist, teacher and single mother, a little had to go a long way, so she created the "Hanukkah boxes." They were eight small cardboard boxes, each with an illustration of a Hanukkah tradition and a number…one for each night. She stacked them together in two rows, side by side, and bound them with a colorful piece of blue paper. She put Zoe's name on the side and filled them with... [more]-A Perfect Gift
Nov 10,2010

- BlueTrek Duo...
Our headsets have been silently proliferating behind our back. One set was for our iPod. Another set was for our cell phone when we drive with the top down. A third set was for...well, we don't actually know why we have it, but it seems to be in our bag. Anyway, the point is many of our devices have audio capabilities and they all seem to require a set of headphones.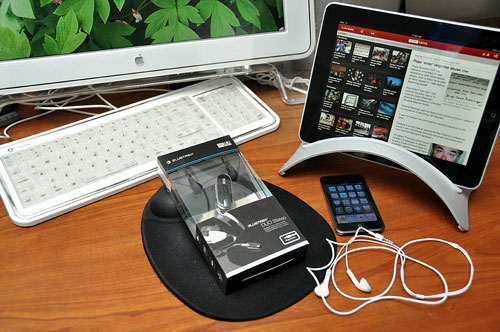 We decided to look around to see if we could find a set of Bluetooth headphones which would work with all of our devices and free us from being tethered to them. After a bit of searching, BlueTrek's Duo bubbled to the top of the list. The Duo is a set of Bluetooth-enabled... [more]-BlueTrek Duo
Oct 29,2010

- Interactive Test Issue...
This is the last installment of our brief tour of the Adobe Digital Publishing Solution. Yesterday, we worked through Adobe's tutorial on putting together a single page using their DPS tools. Now that we are confident that all of the pieces of the process are functioning properly, we are ready to tackle a second and more challenging tutorial.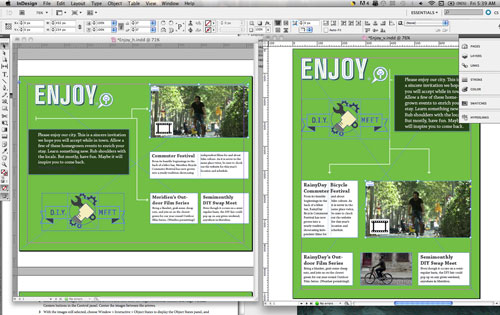 Today, we will show the workflow involved in assembling an issue with more interactive (slideshows, video, etc...) elements. Also, instead of just transferring the issue directly to the iPad, we'll upload it to Adobe's magazine server and download it wirelessly using the iPad. As with the single page issue, the layout of the various component were done using... [more]-Adobe DPS: Interactive Test Issue
Oct 28,2010

-Digital Publishing Solution...
We've spent the last few days getting the pieces of Adobe's Digital Publishing Solution (DPS) downloaded, installed, and running. The DPS is Adobe's set of tools for publishing interactive magazines for the iPad. It is currently in beta testing and is scheduled to be available in Q2 of 2011. The following are the main components of the DPS workflow:
InDesign CS5
Adobe AIR 2.x
Interactive Overlay Creator (beta)
Digital Content Bundler (beta)
iPad Preview Tool (beta)
This set of tools was developed by Adobe to enable magazine publishers to leverage their print material for the digital tablet market. The basic idea is, with a little extra work, publishers can add value (interactivity, links, etc...), repackage their print material, and deploy to a host of current and future digital devices...all without having to do any programming. It is an attractive proposition. We want to see if Adobe's solution will only work for the big publishing houses or will it also work for the slightly smaller operations like RainyDayMagazine.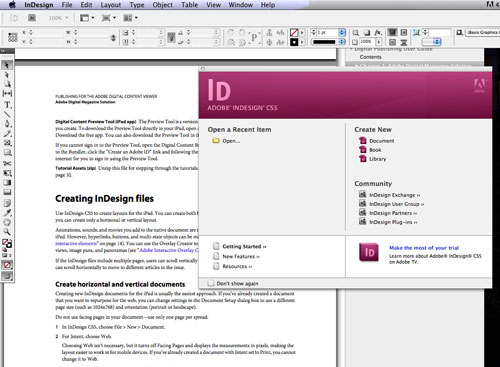 The DPS workflow is based around the latest Creative Suite InDesign application. While InDesign CS5 is the main component of the workflow, there are a few other pieces which help connect everything together. One of the "glue" components is... [more]-Adobe DPS: Test Issue
Oct 27,2010

- Adobe CS5 QuickStart..
The tools for digital publishing have evolved quite a bit over the past thirty years. At the beginning, PageMaker, Quark Xpress, and Word were the tools of the trade. It was possible for one person to be an expert on all of these applications. Granted, the digital portion of the entire publishing workflow was was limited, but still it was possible to learn it all. The suite of applications used to create, layout, and manage the digital publishing process keeps growing. Today, just familiar with a few of them is difficult enough, being an expert in every application necessary to produce a digital magazine is next to impossible.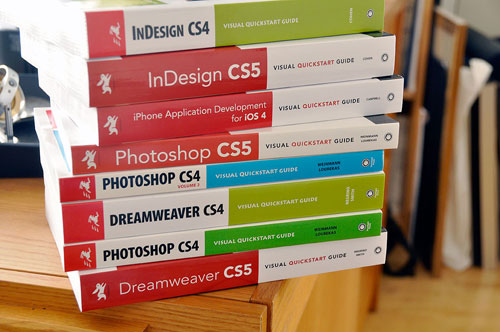 Keeping current with the updates to the applications we currently use (Dreamweaver, Photoshop) is challenging enough. With our venture into publishing for the iPad, we will now need to get up to speed on a component of the Adobe CS suite called InDesign. It came as a part of our Adobe CS4 package. As the application is for laying out pages for printing, we never even bothered to install it. However, now that Adobe has extended InDesign CS5 for... [more]-Adobe CS5: QuickStart
Oct 26,2010

- iPad Magazine Publishing..
The iPad has changed a lot of things in the six months since its introduction. A whole cottage industry of game and utility apps has sprung up for the device. Companies are jockeying for position around which technologies will be/should be/never will be supported on it. Publishing houses are scrambling to understand what the iPad will mean for books, magazine, and the web.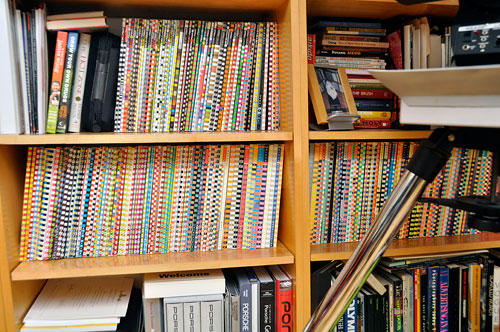 Magazine publishers are especially interested in the iPad as a platform. The tablet form factor is a natural fit for reading magazines. The iPad/AppStore combo is especially suited as it can allow subscribers to connect to the web, purchase, and download new issues. Sites such as Wikipedia and TED have iPad apps which enable users to view their content in a magazine-ish format. Flipboard has even made it possible for iPad users to create their own personal magazines using content from Facebook, twitter updates, and other feeds. The biggest splash this week was... [more]-iPad Magazine Publishing
Oct 14,2010

- SuperFocus FirstUse...
We posted comments of the TruFocals as sunglasses yesterday. After two months of use, we thought we would give our impressions of the variable-focus TruFocals as reading glasses today.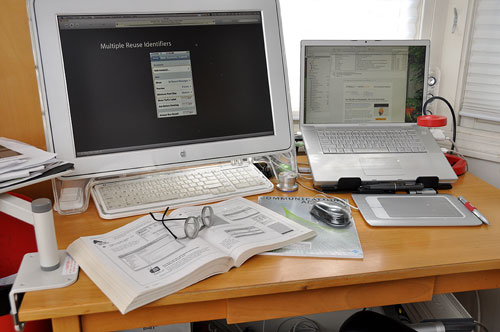 It took us about two days to get used to changing the focus on the TruFocals as the slider was a bit stiff. At first, it was a two-handed operation. Once the mechanism had loosen up some, we could do it with one hand. Now we don't even think about it when we work the slider from... [more]-SuperFocus: FirstUse
Oct 8,2010

- Cisco: Valet Installation...
Setting up a home WiFi network should not require a computer engineering degree. What's more, it should not even require the user to know ANYTHING about networking. However, what it should be is easy to do. The network should also be fast, secure, and convenient to use...even for the occasional guest.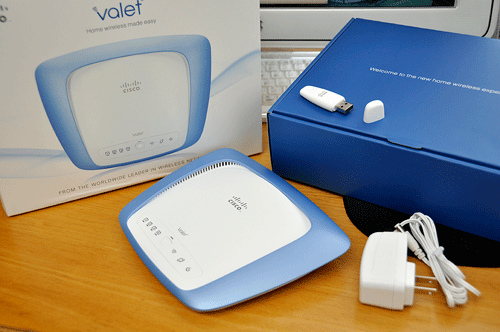 The Cisco created the Valet with the aim of enabling anyone to be able to setup a home wireless network with just a few clicks. To do that, Cisco has almost completely automated the process of setting one up. We were a little skeptical at first, but after having gone through it, we are now believers.

We inserted the USB key to initiate the setup and installation process. Our first instruction was to hook up the Valet router to the cable or DSL modem. We wanted to have both the old and the new WiFi network running at the same time. So instead of taking the signal from the cable modem, we looped it from the Linksys router. This point is... [more]-Cisco Valet: Installation
Oct 7,2010

- Cisco: Valet FirstLook...
The value of having a WiFi network at home is pretty obvious: no unsightly wires, whole-house access, ability to surf the web out in the yard, etc. However, setting up and administering a wireless network can be more of a challenge than many non-techies may want to take on. Apple's Airport WiFi is a snap to get up and running, but their gear requires a Mac for setup. Even with Apple's typical elegant ease of use, one still has to know a little about IP addresses, security protocols, etc... Cisco, the giant in networking, now has a line of self-configuring WiFi routers which was design to do Apple's Airport one better. The claim of the Cisco Valet line of wireless routers is that they setting up a home network as simple as plugging them in and turning them on.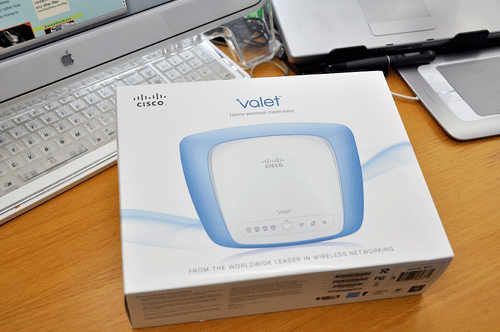 We have setup many WiFi networks and have, along with many others, struggled with getting all of the parameters setup right. When we heard about the Valet, we were intrigued. Could Cisco really have designed the Valet to let anyone without technical knowledge of networking to... [more]-Cisco Valet: FirstLook
Oct 6,2010

- Canson: PaperShow FirstLook...
The Digital Pen was invented and developed by a Swedish company called Anoto. A digital pen looks, feels and writes like a normal ballpoint pen. However, it contains an integrated digital camera, an advanced image microprocessor and a mobile communications device for wireless connection. The pen is able to determine its exact position when used with special encoded paper. The non-repeating dot pattern printed on the paper is a set of coordinates trackable by the camera at the tip of the pen. This information, combined with the image of the ink, enables the pen to record exactly when, what, and where something was written. Anoto licenses this technology to a variety of companies who then use it to make products which target different markets. Many of the uses are purpose-built for vertical sectors such as healthcare, finance, etc. However, some companies have created products aimed at general business and consumer market.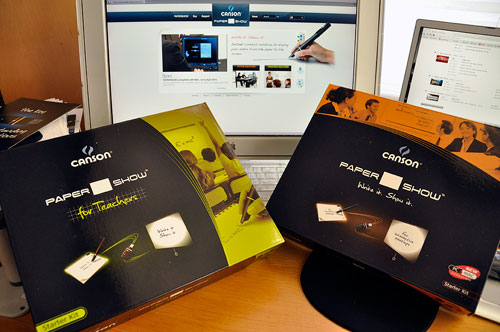 Most know Canson as a French company with a large line of fine art paper and related products. Today, we are going to take a FirstLook at a product from Canson called PaperShow. RainyDayMagazine readers will... [more]-Canson: PaperShow FirstLook
Oct 5,2010

- modulR: Wall Mount Installation...
Most cases, folios, and stands for the Apple iPad are designed for protecting and using the iPad while on the move. What about the times when the iPad is just laying around? If you are like us, your desk space is precious. Wall-mounting the iPad will get it off the desk yet still have it visible and accessible.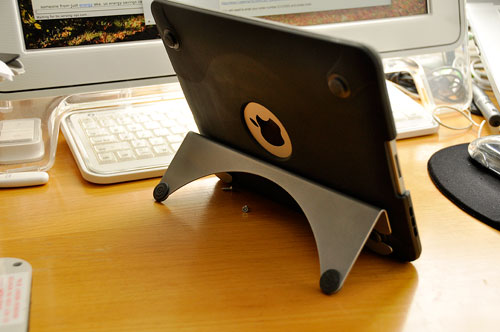 modulR offers a system of a case and bracket which makes it easy to put the iPad on a vertical surface. We had taken a FirstLook at the two-piece modulR case back in August. Today, we show how easy it is to mount the bracket and our impression of using an iPad on the wall.
Most of us have lots of apps on our iPhone and/or iPad which we rarely use. We have the apps around "just in case." Well, we FINALLY had a use for our bubble-level app when we had to mount the modulR bracket!!! The app made it very to easy mount the bracket level. The tricky part was to keep it from moving when taking the iPad off to lock down the bracket. Our suggestion would be to mount one screw, level it, then lock it down with another one on the other side.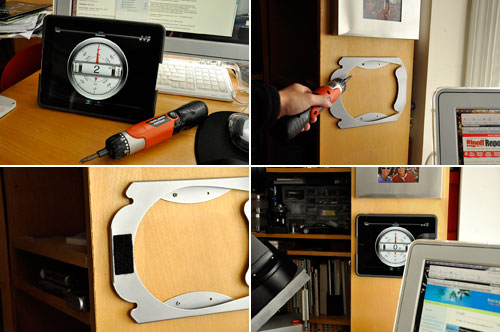 We added a velcro pad because the iPad slid out just a little too easily for our comfort. We are not sure if it was because we got one of the earlier pre-production cases. Personally, we would like to see a... [more]-modulR: Wall Mount Installation
Sep 21,2010 -

Boogie Board...
Liquid Crystals (LC) used in LCD panels were first discovered in the late 1800s. They were interesting because the crystals will align themselves in the direction of a magnetic field. Display makers have used this property in combination with polarizing filters to make LC pixels "appear" or "disappear" to form an image on the screen. However, liquid crystals have many other interesting properties, one of which is cleverly used by Improv Electronics to make a product which may someday replace the paper pad.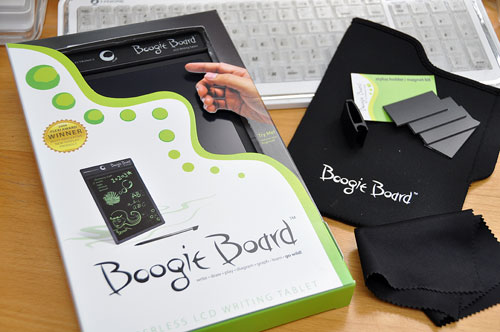 When we first saw the price ($30) of the Boogie Board, we were intrigued. We knew this was not an LCD panel, an ePaper display, or something which could be made into a monitor. We were interested because... [more]-Boogie Board
Sep 20,2010 -

iPad Stands : Best Of Breed...
We have been using our iPad extensively since April: emailing, googling, mapping, movie watching, and general web-surfing. We have taken it on trips in place of our laptop. We have used it as an eReader for books, magazines, graphic novels, and everything else we could think of. After five months of intense usage, we have learned a few things. It is clear that iPads will someday replace laptops, but not yet. The iPad is a good eReader now, but its potential has barely been scratched. The iPad is excellent for watching movies anywhere as long as you don't have to hold it the entire time ...which got us interested in looking at stands.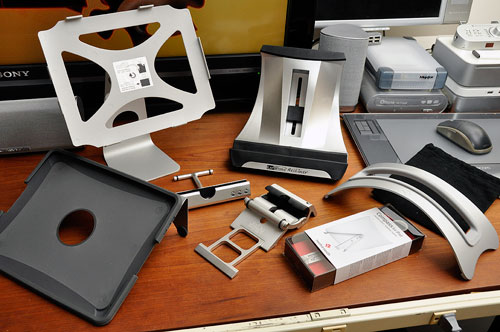 In our review of iPad cases, we had looked at a few with integrated stands. Many readers had commented that they would love to see a Best-Of-Breed series on separate stands specifically designed for the iPad. The response to our first Best-Of-Breed series was so positive that... [more]-iPad Stands: Best Of Breed
Aug 27,2010 -

iPad covers: Best Of Breed
We looked at ten great iPad covers this week. Whether it was a unique feature, the quality of materials used, or some other criteria, we had an excellent reason for putting it on our Best-Of-Breed list: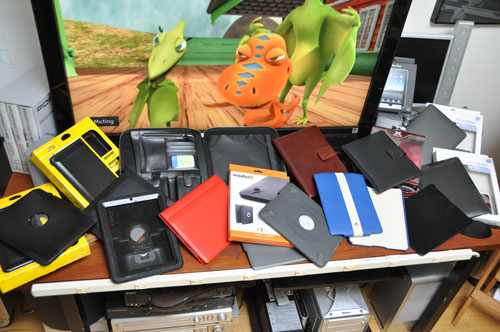 Click on any of the image squares below to jump directly to the related article. The question is what are we going to do with all these cases? As with past RDM items, once we are done with the reviews, we need to move them out of the office so we can make room for new gear. We used to... [more]-Best Of Breed: Summary
Aug 26,2010 -

iPad covers: Best Of Breed
Companies such as Franklin Covey and FiloFax created the personal organizer market to help people give structure to their busy lives. The paper day planners, appointment calendars, and to-do lists helped people juggle, arrange, and cram more into their day then ever before. All of these different sections were neatly packaged in a handy paperback book size folio. When Personal digital assistants (PDA) hit the scene, their functionalities were modeled after the paper day planners, appointment books, and organizers. So it was not surprising to see them sporting leather folio covers like their analog counterparts.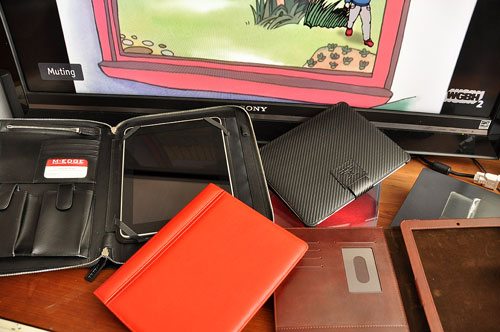 The iPad, with its notepad-like form factor, was a natural fit for the folio-style covers. Apple even sells a folio cover for the iPad when the iPad. The problem is it is rather bland and uninteresting, but it was the only one available when the iPad was released. Now that the iPad has been out for a while, the selection of folio covers is much richer. We spent the last few months combing through all of the different offerings and selected... [more]-Best Of Breed: folio
Aug 25,2010 -

iPad covers: Best Of Breed
Since the iPad is more transportable than a laptop, it will no doubt be taken to more places. It stands to reason that providing it with some protection when on the move is a good idea. Any iPad cover will offer some sort of protection. All of them cover the back, and some of them also cover the front. As the screen is the most fragile part of the iPad, if you like to just grab your iPad and go, it would be best to get a case that protects both front and back.
Cases with front/back covers come in two basic styles: two-piece, folio. Today, we will concentrate on the two-piece covers from our Best-Of-Breed list:
We have done FirstLooks of both the OtterBox Defender and Vaja iVolution so we will not repeat them here. The OtterBox Defender is first and last stop for those in search of the ultimate in iPad protection. Other then putting an iPad wrapped in a Defender inside one of these, there is nothing on the market that offers more 360º safety. The Vaja iVolution is a two-piece case for those who want something more luxurious, less techie-looking, but still every bit as functional. Vaja is on our Best-Of-Breed list because the leather used for their products are the best available and their workmanship is second to none.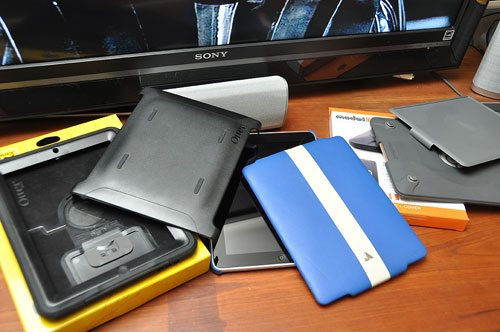 modulR may be new to many, but we expect they will be making quite a name for themselves with their entrant. The case we got was hot off the production line. The modulR case is different from every other case we have reviewed to date. This case is the core of an extensive accessory system (stand, mount, strap, swing arm, etc...). The idea is extremely cool. With the right accessory, the modulR case can transform the iPad into a... [more]-Best Of Breed: two-piece iPad covers
Aug 24,2010 -

iPad covers: Best Of Breed
The frame of the iPad is milled from a solid piece of aluminum. As a result, it is about as tough as they come. Thus, adding a back cover to protect the electronic innards of the iPad is really not necessary. However, most of us like to keep our things nice and new-looking, so a cover to shield the back of the iPad from the inevitable nicks and scratches is something of interest to many. Here are three back-only covers from our Best-Of-Breed list which will keep the iPad as blemish-free as the day it was made: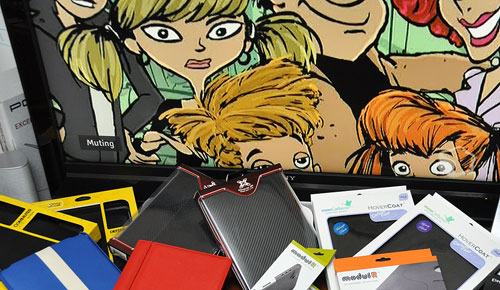 The OtterBox Commuter offers more protection than any other back-only cover on the market. Like the OtterBox Defender we looked at in July, the Commuter's protection is made up of multiple layers. The hard plastic shell will deflect sharp objects while the thick rubber layer will... [more]-Best Of Breed: one-piece iPad covers
Aug 23,2010 -

iPad covers: Best Of Breed
In July, we mentioned that we were going to take a side-by-side look at a select list of iPad covers. We pushed out our editorial schedule on them because we got two (monCarbone, M-Edge) great last minute suggestions from readers. That worked out just fine as the modulR folks were running late because of some production issues.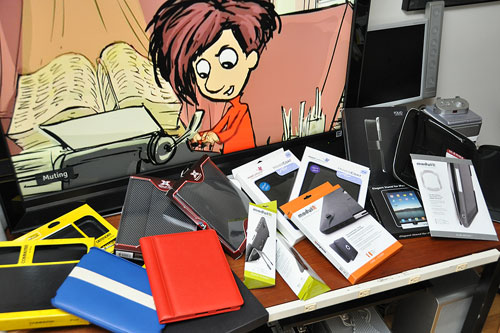 All the covers and cases have now arrived. Here is the final list:
These covers were selected because we felt they were the "Best of Breed" in one way or another. Some were picked for their quality of workmanship or appearance. Others were choosen for their... [more]-Best Of Breed: iPad covers
July 29,2010 -

Magic-Pro ProMini Keyboard
After we got our Sony LCD panel mounted, we got some questions about how we planned to control the cursor while lolling on the couch. We had not given the problem much thought as the answer seemed pretty obvious: a wireless keyboard and mouse, of course. Wasn't that the whole point of having a wireless keyboard?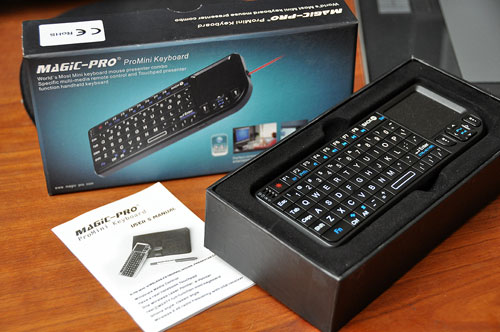 That theory was fine until we realized that most of our interactions with the screen consisted of maneuvering the cursor for selecting a movie on NetFlix or choosing a TV episode on Hulu. Trying to manipulate the cursor with a wireless mouse and a large keyboard from across the room made it clear why readers were asking those questions. After a bit of research, the interns came up with several potential solutions. The first of which is this cool little keyboard from Magic-Pro. The keyboard is sold through their US reseller, Pyramid Distribution. We have... [more]-ProMini Keyboard: FirstLook
July 28,2010 -

OtterBox iPad Defender:Installation
Judging by the response to Monday's FirstLook of the OtterBox iPad cases, it appears that readers are really interested in the Defender and the Commuter. We can understand why. They look like something Batman would use to protect his iPad...and they could be right. "Suiting up" the iPad with the Commuter case is simple and we won't need to show it in this installation write-up. Instead, we will focus the remainder of this discussion on the Defender case.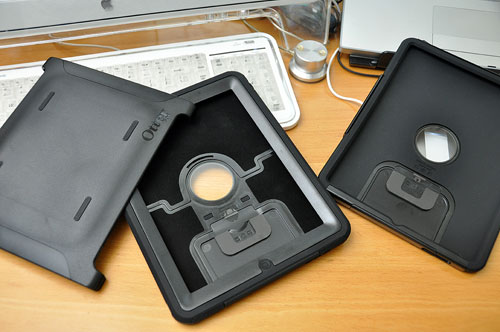 When we tried to slide the iPad into the Defender case, we got halfway in and was met with quite a bit of resistance. If we really wanted to we probably could have jammed it in there (or, maybe not), but we would have had to break the case to get it back out. The reason? The tolerance of these Defender cases is very tight. Having the InvisibleShield on both sides of the iPad made it too thick to fit into the case. The only solution was to... [more]-OtterBox iPad Defender: Installation
July 26,2010 -

OtterBox iPad cases...
The OtterBox iPad cases came in last Thursday. We posted a teaser with a few images of both the Defender and the Commuter. Many of you discovered that if you clicked on the "palm" in the palm scanner image, you were told how to gain access to a preview of today's FirstLook images.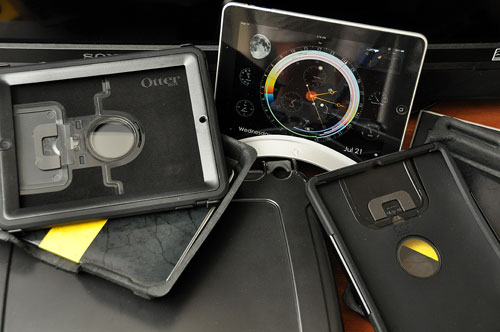 Before we go any further, we want to answer the most asked question about these cases: Are the cases waterproof?
Both cases offer some protection against moisture (rain, splashes, small spills) but are definitely not water-resistant in any substantial way. In fact, we have contacted all of the usual waterproof case makers and... [more]-OtterBox iPad cases: FirstLook
July 23,2010 -

TruFocal FirstLook...
It has been said that the day you turn 40, your eyes immediately require the aid of "reading glasses." We didn't believe in such things and have been blaming the restaurant's romantic lighting for not being able to read the menu, the low ppi on the monitor for the fuzzy screen, and having too much coffee for not being able to put the thread through the eye of the needle (we stitch up our own wounds here at RainyDayMagazine).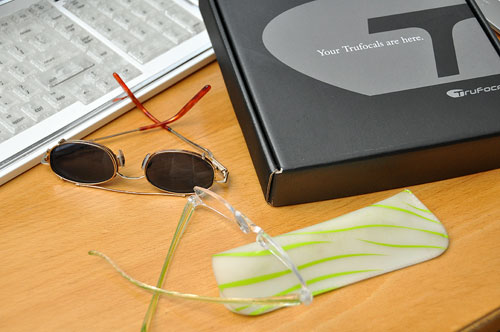 Those excuses worked for a while, but some of the editors had to face the fact that they either had to increase the font size on their screen or get a pair of decent reading glasses and get on with life. Having opted for the latter was a step in the right direction, but it spawned another problem...reading glasses of different prescriptions started multiplying around the office like bunnies. Reading glasses are only good for seeing clearly at... [more]-TruFocals FirstLook
July 22,2010 -

OtterBox iPad cases...
The OtterBox iPad cases came yesterday. As we said last Friday, we are going to do one big head-to-head case comparison in August. However, we thought readers would want to get a quick look at the long awaited OtterBox Defender and Commuter cases.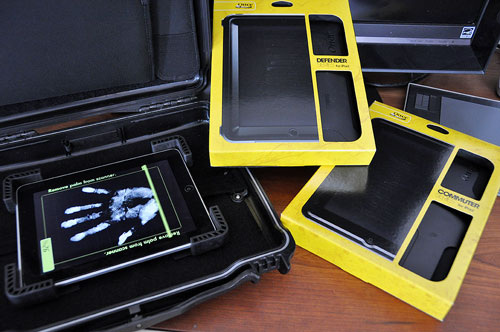 OtterBox did not deliver a case for the iPad until now because they wanted to take their time, leverage their strengths, and create the kind of case their customers have come to expect from them: a case that acts like a... [more]-OtterBox iPad cases
July 16,2010 -

More iPad cases...
Since the launch of the Apple iPad in April, an avalanche of protective covers, cases, and folios for the iPad has hit the market. Sorting through them all has kept us quite busy. We wanted to find great-looking cases which were functional and well-made. We also kept and eye out for ones with an innovative design or unique features.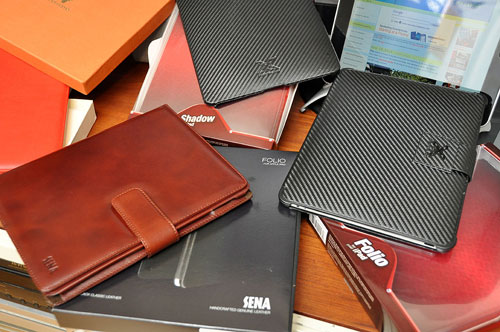 After three months of research, we narrowed our list to six different makers. Each of these manufacturers have covers/cases/folios with unique features which we thought were worthy of further consideration:
We picked the Vaja and Piel Frama covers because of their reputation for high quality leather iPod cases. We were not disappointed. We chose the Sena folio because of the interesting design of their integrated stand. XGear is on our list because they use carbon fiber for their covers. OtterBox made the cut because their cases typically offer the best physical protection possible. The unknown in the group is... [more]- More iPad cases
July 12,2010 -

Watching the World Cup ...
This was the first year that we'd ever watched the FIFA World Cup, and we wouldn't have watched so many matches if it hadn't been for the Internet. We only have basic cable for the office and none of the extra sports packages, so if we wanted to watch anything that we couldn't pull off the air, we had to find it online. Fortunately for us, all of the matches were available live on ESPN3.com! The matches were not some cheesy broadcast like those of local cable channels with a single camera angle, low production values, and awful sound. The ESPN web broadcasts and commentaries rivaled those of the major networks on prime time.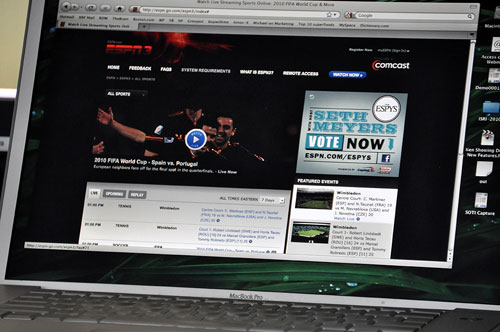 Watching a sports event on the computer is OK, but it does not compare with watching it on a big screen. The ideal situation would be to take the game being streamed to our computer and display it on the 46" LCD screen. When TVs were analog, this was a cumbersome digital to analog conversion process involving A/D boards and various cables. Since the digital TV conversion, all of the new TVs can directly handle video output from a computer. All we have to do now to see the game on a larger screen is to connect the "video out" from a laptop to our LCD TV using a DVI cable. The images we see on the big TV screen are every bit as crisp and sharp as that of the laptop, just really really BIG :-) Since our Apple laptop supports dual screens, we could still... [more] -Watching the World Cup 2010
July 2,2010 -

Free WiFi ...
Starbucks announced that starting on July 1st, WiFi will be available at all of its stores free of charge. Businesses such McDonald's and various bookstores have been providing free WiFi for a while now. However, unlike a coffee shop, they are not really comfortable places to hangout. We stopped by our favorite Starbucks to see if this deal was for real. We like this Starbucks because we can get there in a few minutes on our Vespa, there is always a table available, and they have one of those new Clover coffee makers. Another plus for this location is there aren't a lot of folks using it as their office, so going there does not feel like we are going to work. However, this free WiFi thing may change that.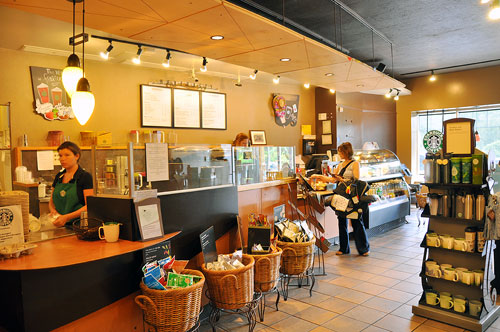 To test the free WiFi, we brought with us the iPod Touch and the iPad. Both machines had no problems logging on and establishing a WiFi connection. We were connected and online in less than four minutes (including taking the time to document the effort)! The whole process was... [more] -Free WiFi
June 29,2010 -

Wacom Bamboo Craft: InTheWild ...
Wacom is the acknowledged leader in graphics tablets. There are other tablet makers on the market, but none of them can compete with Wacom in terms of features, sensitivity, and variety of offerings. We have been using Wacom tablets since the early 1990s. It has been interesting to see how Wacom has grown, adapted, and maintained their lead in this product category. They made tablets affordable, reliable, and convenient to use for the graphic artist. The key differentiator between Wacom and its competitors has been and continues to be their proprietary wireless input technology. It has enabled Wacom to make lighter, more sensitive pens and mice, none of which need to be charged or require batteries.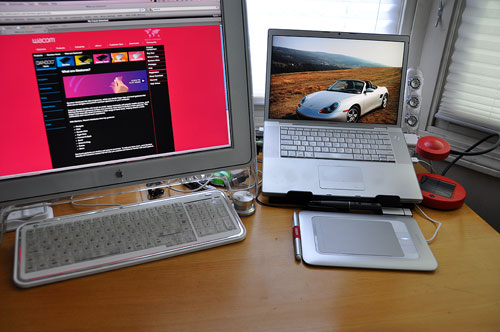 We have reviewed many Wacom tablets (Graphire, Intuos, Bamboo) over the years. The most recent was a FirstLook review of Wacom's Bamboo Craft in November 2009. The Bamboo Craft is a $130 tablet that can do double duty as a giant multi-touch trackpad. This capability is uniquely available from Wacom, and its utility was something we had not fully appreciated. Until recently, our Bamboo did not get much use because it was attached to a Mac which mainly functioned as a media server. Most of the graphics work was done using the larger Wacom Intuos tablet attached to the Macbook Pro laptop. An office clean up and equipment reorganization gave us the impetus to optimize the layout of a few workstations. We realized it made more sense to move the... [more] -Wacom Bamboo Craft : InTheWild
June 24,2010 -

iPad Armor...
When we slipped out to pick up some late-breaking gadget info at our local dead drop, someone slipped into our hotel room and attempted to gain access to the contents on our iPad. Fortunately, the palm scanner security program, not recognizing their hand print, denied them access.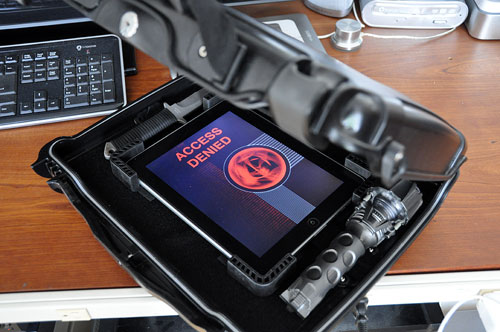 Just to confirm that the iPad had not been compromised, we followed protocol, activated scanner, and ran a Level One security check on the content. The sweep came back clean. None of the security layers were breached, no files or programs had been added, deleted, or accessed. The iPad was clean. We have to be careful as we all learned a valuable lesson from... [more] -iPad Armor
June 22,2010 -

Piel Frama iPad Case...
When the Apple iPad was released many of the makers of iPod cases had to scramble to redesign their offerings for the new larger multi-touch device. This was because Apple did not release the final specs of the iPad ahead of time to any of the accessories vendors. We knew there would be a deluge of skins, sleeves, and covers all clamoring to be reviewed shortly after the launch. Since we have limited personnel, we have to be very selective in our choice of covers to review. For skin-tight scratch protection, the obvious pick was the InvisibleShield. For travel protection, we opted for the Vaja iVolution. We liked the two-piece design because it gave us the option of going with either the front or rear cover when a thinner profile was desired. A few readers asked what would be our choice for a one-piece design. Today, readers will get a FirstLook at our recommendation.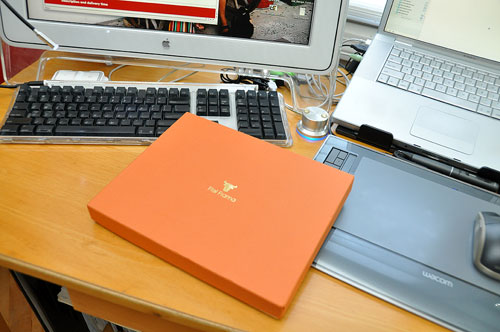 Piel Frama got their start in manufacturing leather covers for gadgets with mobile phones in 1984, but have been a maker of leather goods since the Forties. They purchase their leather locally in Spain so they can hand select for quality. To ensure the high standards of their products, the company currently employs over 150 skilled craftsmen and... [more] -Piel Frama: iPad Case FirstLook
June 17,2010 -

LapWorks iPad Recliner...
iPad accessories have been coming at us from all directions since April. We could tell you about all of the gear we have seen, but then we would not have time for anything else. Instead, we like to filter out the noise, screen out the unworthy, and cut though the clutter. The gear that make it past the gaunlet are the ones we tell readers about. While the iPad is designed to be used while being held, sometimes you want to put it down somewhere, especially when typing or using it to watch a movie. In those situations, it is best to put it on a stand. We looked at one a few months ago. Today, we'll take a look at another.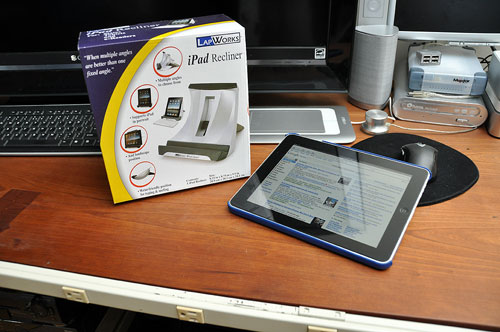 Today is our FirstLook at the LapWorks iPad Recliner. No, it is not a comfy chair from La-Z-Boy. However, with it you can sit back, put your feet up, and position your iPad in a variety of positions. The Recliner cradle is molded from high impact plastic. It has an angled... [more] -LapWorks Recliner
June 04,2010 -

Mac Mini Temp Control ...
Last August we posted a possible reason and a temporary fix to our Mac mini's WiFi problem. Our solution worked only if we kept the Mac mini in front of a fan. Obviously, it was not practical to have the computer in front of a fan during the New England Winter. So, our Mac mini's WiFi worked until the machine got warmed up, which typically was around five minutes. This was not a huge problem as we mostly used the Mac mini to burn DVDs, convert movies for playing on the iPod, and other such tasks. However, now that we have a large screen LCD in the office, we want to use the Mac mini as a media server for our new LCD TV. As part of its media serving function, we want to be able to access Hulu, Netflix, and other video streaming sites. To do that we needed to REALLY find a solution for the Mac mini's spotty WiFi problem. So, over Memorial Day weekend, we decided to revisit the problem, work through some possible solutions, and see if we could come up with a more permanent fix.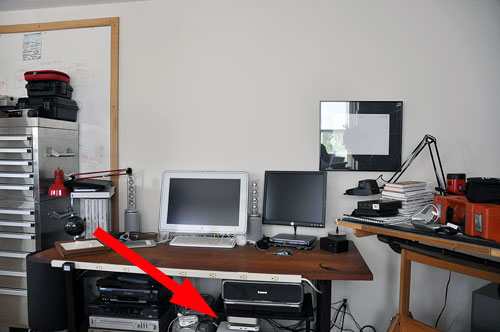 The first thing we did was to move the Mac mini from its current location underneath the table to the top of the desk. It was mounted below to save desktop space, but we thought the better air circulation on top may be... [more] -Mac mini temperature control
June 03,2010-

Hang&Leve FirstUse ...
When we brought a 46" screen in to the office, we realized the logical place to put it was on the wall. The only suitable wall already had a bunch of frames on it. Relocating the frames would not be a difficult DIY project, but re-aligning them would be a chore. Getting the frames just so had always been a lot of trial and error. Fortunately, we got a Hang&Level picture hanger a few months back, and this is the perfect opportunity to give it a FirstUse test.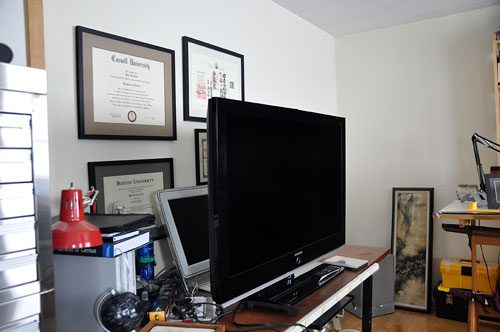 To properly hang a group of frames, we used to measure, mark, nail, and readjust the frames many times before we were satisfied with how they looked. The issue was two-fold: the right spot for the nail was located behind the frame, so centering the frame and marking the spot was difficult. There was usually slack in the wire in the back of the frame, and that made aligning and spacing of the frames difficult.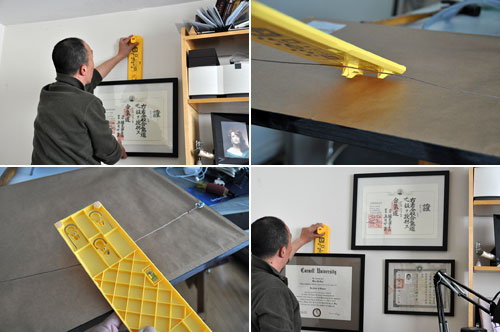 The Hang & Level tool was invented to address these problems. The steps were simple and intuitive. The frame to be hung is placed on the tool. The frame/tool is placed against the wall. Once we were satisfied with the frame's placement, we removed the picture from the tool but... [more] -Hang&Level FirstUse
June 1,2010-

Articulated LCD Mount ...
We used to have a huge projection TV screen in our office. While it was great to watch movies on it, it weighed over 200 lbs and took up an entire corner of the room. When it stopped working, we had to take it apart in the room in order to get it out to the trash. A week ago, we got ourselves a nice 46" LCD panel television via Craigslist. The great thing about LCD TVs--even with larger ones--is that they are relatively thin (less than 2" thick) and comparative light (less than 50 lbs). Even though they are thin, they still take up quite a bit of room on the desk.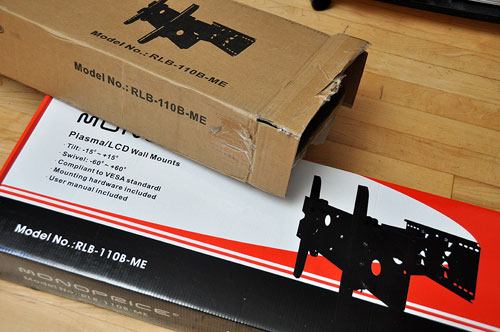 One solution to the problem is to mount the LCD panel on the wall, something which was not be possible with CRTs and projection TVs. We reviewed a few different types of LCD mounts last month, but we needed something a little more adjustable for the 46" Sony Bravia screen. Because we plan on putting the tv above the desk, we need an articulated mount with tilt, angle, and extension adjustments. The one we got was this one from... [more] -Articulated LCD Mount FirstLook
May 25,2010-

LCD TV Hunting ...
Last month we purchased a broken 46" Samsung LCD TV for a DIY repair project. When we realized that fixing the screen was cost prohibitive (i.e., way, way too expensive), we managed to sell it for parts (at a profit, no less) to someone looking to swap out some boards in another unit that had a working screen. This past month, the interns have been scanning Craigslist looking for another unit for a repair project and they started seeing something interesting: more and more working LCD units were showing up at very reasonable prices. The sizes ranged from 40" to 52" with prices from $400 to $750. The LCDs for sale were not off-brands neither. They were Sony, Samsung, Sharp, etc...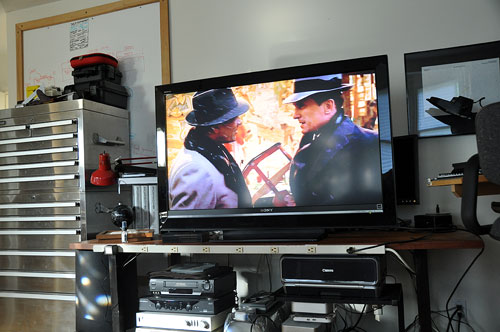 We found another surprise when we emailed many of the sellers. Most of them were open to further price negotiations. And then it dawned on us: it was the end of the university school year and many of the students realized that moving a large-screen TV would be both... [more] -LCD TV Hunting
May 24,2010-

Vaja ivolution FirstLook ...
Can a protective case for a gadget make you want to buy the gadget just so you can justify buying the case? If the case was made by Vaja, it just might. Vaja products may cost more than similar products on the market, but they command a premium because they are thoughtfully designed, made using high quality materials, and are expertly hand-crafted. Vaja has now released the ivolution line of covers for the iPad.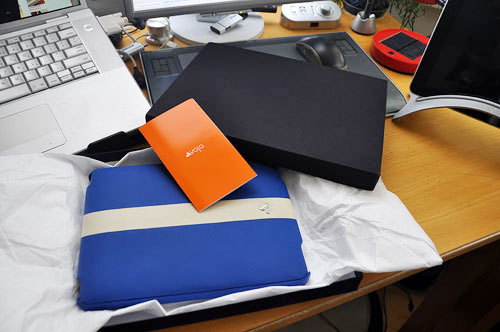 We got a Vaja ivolution in house last week and was blown away by it as soon as we opened the box. The ivolution comes in two pieces, a front and a back cover. It is possible to get just the back cover, but if you are going to invest in a Vaja case, get the set (we'll show you why later). Vaja uses only full grain cowhide for the covers. They do not alter their leather, thereby retaining its natural character, markings, and qualities. Leather has many advantages over other materials. It is a very durable, non-allegenic, and unlike synthetics, will... [more] -Vaja ivoluiton FirstLook
May 20,2010-

ClearSteam Micron FirstUse ...
On Monday we did a FirstLook of the ClearStream Micron indoor antenna. In that write-up we discussed a few of the advantages of pulling TV signals directly from the air, the most obvious being that they are free. We do recognize that most people who watch TV probably have either a cable or satellite subscription. So in today's Micron FirstUse review, we thought we would show another reason why one would want a ClearStream indoor antenna.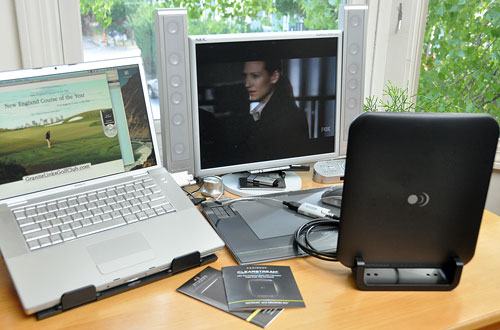 Adding TV capability to a computer used to be a bit of a hassle, but the digital TV conversion has made it a much simpler task. We have done a few articles in the past on this topic (Plextor, EyeTV, ClearStream C1). While the plug-n-play EyeTV tuner module made it easy to watch TV on a laptop, but it was still a pain to actually hook it up to the signal source. The C1 antenna was pretty small and could pull in a signal fairly well, but it was designed for outdoor use and looked like the outdoor antenna that it was. The newer ClearStream Micron, however, with its slim profile and sleek looks, was designed with displayable aesthetics in mind. What we wanted to know was, will the Micron work as well as the C1?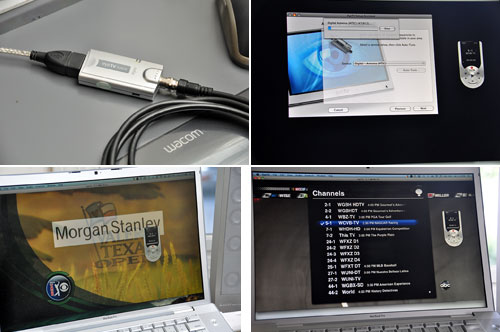 Granted, our office is in Boston, and we are a stone's throw away from many TV signal towers. Even so, can a flat square panel really be all that effective when it comes to local digital broadcast reception? Happily, the answer is "YES!" With the Micron, the EyeTV tuner was able to pull in every station found by the bigger C1 antenna. Also, we were impressed with the Micron's ability to pull in a clean signal regardless of how or where we positioned the antenna. This placement flexibility made it much easier to fit the Micron into our limited space. Even though the Micron is quite attractive, we found a hidden spot for it behind the laptop on a sliver of space. We can now watch TV on the second monitor while "working" on the main screen. We can also resize the TV screen at any point if we need more screen desktop space.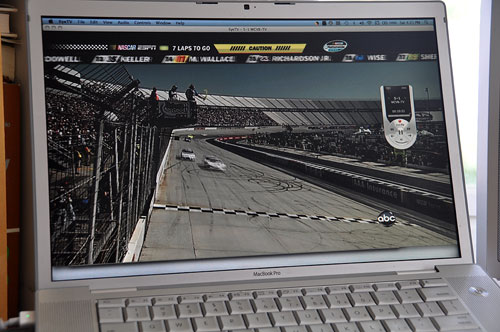 Some condos and co-ops do not allow the mounting of an outside antenna. Even if they do, you should consider getting a Micron. Not having to mount an antenna outside is not only much more convenient, it is a lot more practical. The antenna is not exposed to the elements. You will not have to run coax cables everywhere. You will not be missing anything but the hassles. [Permalink] -ClearStrem Micron FirstUse
May 14,2010-

ClearStream Micron ...
All US television broadcasts went digital on June 12, 2009. While cable and satellite TV subscribers did not have to do anything to make the switch, those with analog TVs had to either add an adapter box to convert the signal or get a new TV with a digital tuner/receiver. We did a few articles last year about Antennas Direct's ClearSteam line (C1, C4) of antennas specifically designed for over-the-air reception of digital TV signals. Eleven months post-digitalization, we are here to update readers with a new addition to the ClearStream family of DTV antennas. Gone are the "rabbit ears" of old. The ClearStream Micron is a compact antenna engineered and optimized for indoor use.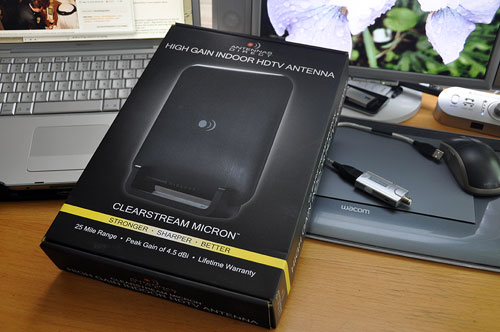 Cable and satellite signals are compressed so they can cram more data over the same pipe, but local broadcast signals typically are not. By using an antenna to pull the local broadcast signals directly out of the air, one can avoid the loss of picture quality from the compression/decompression that is inevitable with signals from subscription services. The ClearStream Micron has very forgiving aiming characteristics. It has more than a 70º of beamwidth across the main area of sensitivity. It also has a relatively large secondary rear sensitivity area. This means the Micron is able to receive signals from multiple directions from a fixed position.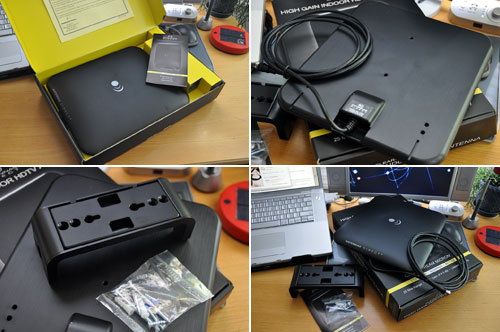 The Micron delivers TV signals from widely located (spaced) broadcast towers, negating the need for an antenna rotator in most cases.
Range: up to 30 miles
Beamwidth (Horizontal Plane): 470 to 700 MHz: 70 degrees
Front to Back Ratio: Typical 15 dBi
Directivity: Typical 8.1 dBi Max 8.25dBi @ Channel 35
Size Assembled: 10"h x 11"w x 4.5"d
The Micron was designed and optimized for the core UHF DTV band. The 10"x11" face and slim profile is suitable for desktop or wall-mounted use. The stand may be used to mount the Micron flat against the wall or raised away from it.


"Many people didn't realize how much the popularity of antennas would surge after the DTV conversion," said Richard Schneider, president of Antennas Direct. "We're seeing in our own sales data, however, that close to 50% of the 114 million TV-watching households are using an antenna to either supplement pay TV on the primary television in the home, or to get reception on secondary TV's in the home which are not hooked up to cable or satellite." Well, we saw it coming. [Permalink] -ClearStream Micron
May 12,2010-

iPad InvisibleShield Install...
When we got the iPad, we wanted to cover it with the InvisibleShield right away. We held off because we wanted to see how well the oleophobic coating of the iPad itself performed InTheWild. The special oil-repelling coating was supposed to make it easier to wipe off fingerprints and other oily residue. Smudges and fingerprints did seem to wipe off easily. We are also happy to report that after a month of "normal" use and with no particular efforts to protect the screen, it remained scratch-free.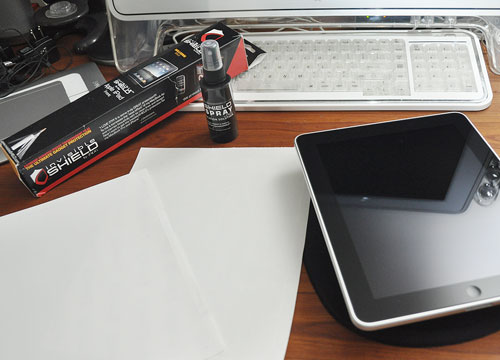 Some here argued that we may not need to put the InvisibleShield on at all. They posed good questions of what the iPad would be like if we were to install the InvisibleShield:
Will it be difficult to get the large cover on properly?
Will the brightness of the screen be affected?
Will it change the "feel" of the screen?
All of those were great questions and truth-be-told, we didn't know. It was because we didn't know that we decided to go ahead and install it, just to see. We won't go into details on HOW to install the InvisibleShield. Zagg has some excellent instructions and videos on their site. What we will say is (and we are paraphrasing a sniper school instructor): Slow is smooth, smooth is fast. We used five spritzes from the spray, let the excess drip off, positioned the cover at one end, then flipped the cover onto the iPad.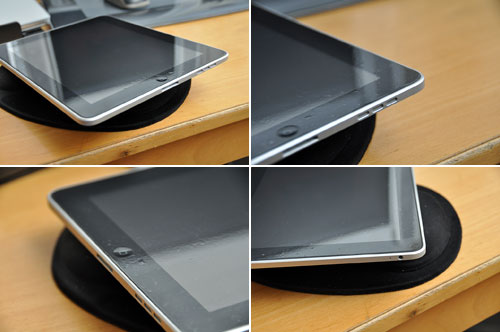 When the cover is first placed on the screen, it is kind of "floating." This is when small adjustments can be made. We totally messed it up on the first attempt and had to peel the whole thing off and start the process over (using the same cover). Once we got the cover placed to our satisfaction (slight mis-alignment of the Home button hole not-with-standing), we used accompanying the squegee to remove the bubbles and excess liquid from underneath the film. We found it easier to squegee out from the center to the edge.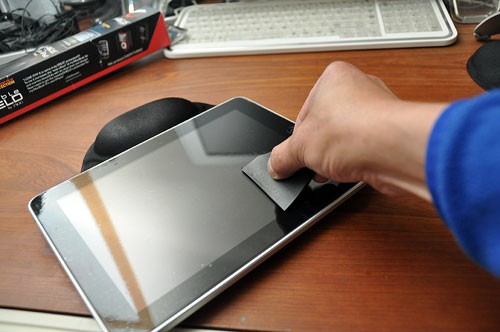 Drying:
Once we worked out as many of the bubbles as we could, we left the iPad on the stand to dry. Zagg's recommendation was to allow 12 to 24 hours of drying time before using the device. We left it overnight and most of the next day. The photos below were taken at the start of the drying period to show the state of the cover. Note all of the small bubbles around the Home button (yes...we know we didn't get it perfectly centered).

Next day:
After about 18 hours, all of the bubbles pretty much disappeared. Compare the photos below with the ones taken when the cover was still wet. There is a marked difference in the number of bubbles and other unevenness. The screen is no longer "glass smooth," but we knew that would be the case from our past experiences with the InvisibleShield. It is purely a cosmetic difference and noticible only when the device is off. Once the screen is on none of the dimpling will be visible. There is a reason why the screen needs to be CLEAN prior to installaiton. This bubble will not go away because there is a tiny little speck of something underneath the skin. We'll try to poke a hole in the cover to let the trapped air out, but we may just live with it.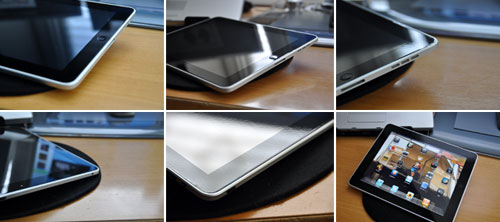 Day 2 :
Here is a pic of it after two days. The surface is pretty smooth, but not glass-like. As one can see, all of the bubbles have disappeared with the exception of the one caused by the small piece of trapped dust (visible on the left).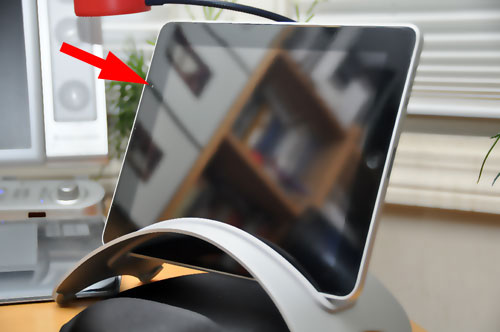 After using the protected screen for a few days, we can confidently recommend the InvisibleShield for the iPad. The iPad suffered no ill effects as a result of the installation. It may be a little scary to put a wet piece of plastic on top of your shiny new gadget, but once you have it installed, you will feel a lot less apprehensive about tossing it (gently) into your backpack or laptop case. There was no loss in brightness or multi-touch sensitivity with the cover on. An unanticipated benefit from having the InvisibleShield on the iPad is that the unit is now much easier to grip. So not only is the screen practically scratch-proof, we are less likely to drop it as well. We will still look for a good hard cover for the front to protect the screen from impact injuries. If you have a good suggestion, send it our way. We'll be happy to take a look. [Permalink] -iPad InvisibleShield Install
May 11,2010-

iPad Covers ...
An iPad cover is one accessory that many new owners are probably considering for their newly acquired tablet. A few weeks back we showed readers how to get by with what they already had around the office, including how to make a cover out of an old composition notebook. Today we'll take a look at a few commercially available options for the less DIY-inclined. There are a LOT of iPad covers on the market. We are going to cover a few general ones in this write-up. It will be basic enough to serve as a guideline for evaluation covers for different needs. We'll continue to review specific covers when we find ones which are unique, innovative, or in some way worthy of consideration.
We look for three things in an iPad cover: the kind of protection it offers, whether it makes the iPad easier to carry/transport, and if it has any feature that makes the iPad easier/more comfortable to use.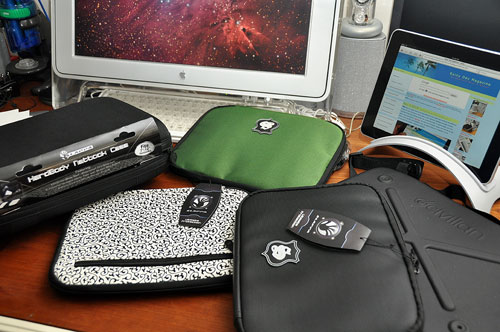 First up are the basic covers. They offer padded protection for iPads while in transit. These covers should be light, slim enough to fit into a backpack or briefcase, and allow quick access and easy removal of the iPad. One case which fits the bill are the sleeves from Slappa. Slappa sleeves have a nylon outer shell that shields against moisture, an outside pocket for cords and such, and is well-padded for all around protection. The sleeves also come in a variety of colors and textures for those whose style extends beyond basic black.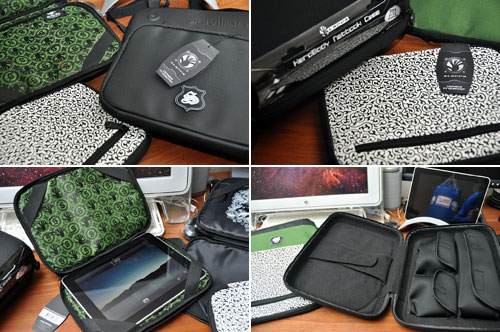 For readers with a need to carry a bit more than just their iPad, the Slappa Hardbody M.X. should fit the bill. The case's outer shell is molded using Slappa's xEVA material. The Duro-Shock xEVA material is superior to other materials in that it is waterproof, fire retardant, and provides excellent protection against drops and bumps. There are three pockets for cords, plugs, and other miscellaneous accessories. This case is a bit bulkier, though, and will not fit into most briefcases. It is an excellent transport case, but is not suited as a primary case for the iPad as it does not have a handle or a shoulder strap. Get the Hardbody M.X. if you need to stow the iPad for some rough outings and want to make sure it survives the trip.

Next up is a case from a small company Long Beach, California, called Civilian Lab. It is an unusual company and not all that well-known outside of a group discerning customers. However, we expect their name and reputation will spread as more folks learn what they have to offer. We happened upon them in 2008 when researching harness systems for a "special project" back in the day. They had exactly what we were looking for. In poking around Civilian Lab's site, we also found a very interesting slim laptop case called the Radiator which was like nothing else we had seen before.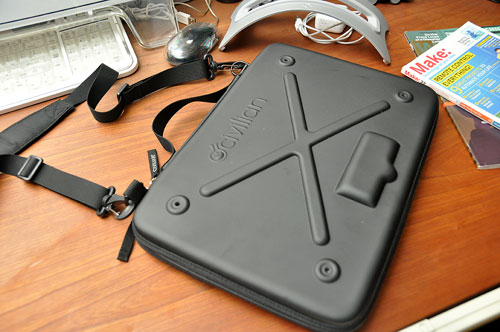 Integrated into the case was a very funky suction cup laptop anchoring system. It was an interesting way to secure a laptop, but none of our laptops were the right size so we never got to use it. Fortunately, the suction cups were easily removable and the case was just as useful without them.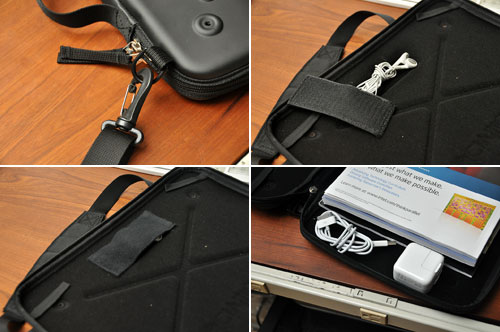 When we got the iPad, we realized the Civilian Lab Radiator case was an excellent carrier for it. It was highly portable, very sleek, and offered great protection. It was large enough to hold the iPad, a few magazines, and some accessories. It also had a very cool recess with a velcro cover which was perfectly sized for stowing a set of earphones. We have been using the Civilian Lab Radiator to carry our iPad since we got it on April 3rd. This is our everyday iPad case.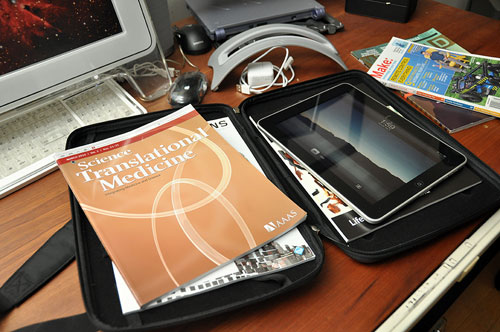 The value/ease of typing on an iPad is something which is actively discussed on many forums. We have looked at both the virtual and physical keyboard options in past articles. We have also posted some of our general thoughts on the subject of user interfaces, specifically regarding keyboards and tablets. However we do realize that for the time being keyboards are the only practical option for text input. Since that is the case, we might as well look at some covers that make the task easier, which brings us to the Apple cover.

The Apple case is a custom-sized folio for the iPad. The case is slim and should have no problems fitting into a briefcase or backpack. The padding of the case is minimal, but well placed. It does not have the carrying capacity of the Civilian Labs case or the funky designs of the Slappa covers, but it does have one feature which none of the other covers have: it can be folded up to form an angled stand to allow for more comfortable typing. The back of the Apple case has a flap which will catch the edge of the front cover when it is folded backwards, forming the wedge. The case will also stand upright when so configured.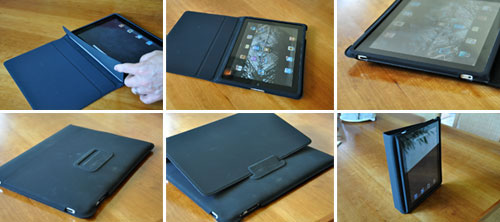 The case is made of some kind of synthetic rubber-like material, very form-fitting, and has custom openings for all of the iPad's ports and buttons. The front cover is hard and will protect the screen from direct impact. All of the edges have a bead which will act as a shock absorber for the typical bumps and knocks. Getting the iPad into the case can be a bit difficult. It was not designed so the user can quickly slip the iPad in an out of the case. Once the iPad is in the case, the iPad is expected to stay there. The material used for this case is an absolute dust magnet. If you don't like fingerprints, this cover may not be for you.
We have looked at three different style of iPad covers this time around. Undoubtedly there will be more coming over the next several months as more companies get on this iPad bandwagon. If you see something particularly interesting, let us know. We'll be happy to take a look and share the find with everybody. [Permalink] -iPad Covers
May 10,2010-

SleepyPod CraterDot ...
The floors of the RainyDayMagazine office are solid maple hardwood. Maple stands up well to foot traffic and we certainly have our fair share of that. However, some find it less comfortable as a sleeping surface. The people at SleepyPod have the perfect solution for this problem. They know that cats love defined spaces. Put a piece of paper on the floor and a cat will soon settle on it and our intern Eliot is no different. SleepyPod created the Crater Dot for owners (and employers) who want to provide a comfortable lounging area for their furry friends (and interns).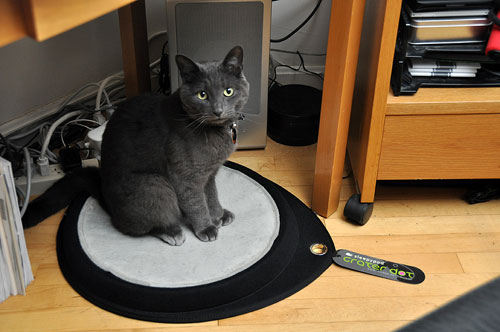 The Crater Dot's soft plush center is made of polyester, is attached via velcro, and lifts easily for cleaning. The Crater Dot's base is polyester fabric over a moulded foam form contoured to provide both cushioning and support. Underneath the base is a pocket where a Warmer Kit may be installed. There are two Warmer sizes and either will work, but medium size Warmer will warm the entire plush area.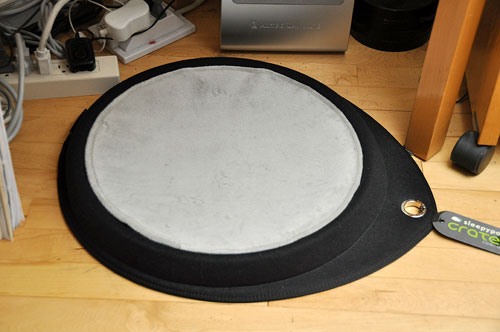 The advantage of something like SleepyPod's Crater Dot is that it has been "feline-tested" and approved (as well as thoughtfully designed and well constructed). Of course, cats are funny creatures. One never knows what they are thinking. They will sleep in one spot for a few months and will move to a new spot somewhere else for no apparent reason.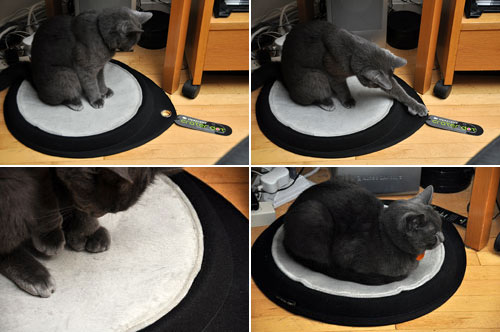 When we put out the Crater Dot, Eliot came to check it out right away. He dug his big paws into the fuzzy cover, checked out padded frame, and gave it the critical "nap test." The initial FirstUse results were promising. We'll let you know the final InTheWild verdict after a few months.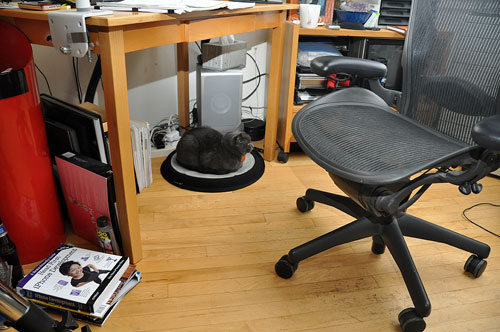 If you are looking to create a soft patch in your hardwood world, the Crater Dot may be exactly what you are looking for. Eliot now has a new comfy spot to nap and watch over goings-on in the office. As we are actively looking for a new intern to join the crew, Eliot is taking full advantage of the Crater Dot now. He knows soon he may have to share the CraterDot with a "coworker." [Permalink] -SleepyPod CraterDot
April 28,2010-

Energy Savers...
We can all do things to reduce our carbon foot print. We can use use less energy; we can use it more efficiently. Today we have a FirstLook at two items which will help us use less energy and to use it more efficently.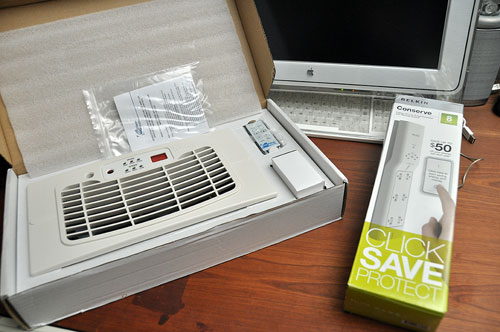 We have floor vents for both the heating and AC systems. This never made much sense to us. A heating vent in the ceiling meant all the hot air stayed at the ceiling. An air conditioning vent on the floor meant the cold air stayed around our ankles. These systems should be done as two separate systems: AC vents only from the ceiling, heat only from the floor registers. However, we can still do something after the fact with a product such as the AirFlow Breeze Ultra.

The AirFlow Breeze is a remote-controlled fan sized to fit the typical vent opening. It can be mounted in the ceiling or just dropped into the 6″x10″ or 6″x12″ floor register opening. The remote allows the easy control of the unit when mounted overhead. The unit has two fans with three different speed settings and a combined output of 115-150 CFM. This is more than sufficent to raise or lower the temperature of a typical room by 3-5 °F, enough to solve the majority of problems in both winter and summer.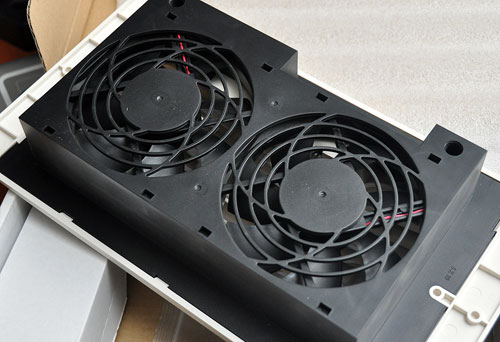 The power connector is in the back, but an access opening in the front allows the cable to be routed to the rear. Being able to route the cable from the front is a nice touch. It gives the option of moving the AirFlow from room to room, or when permanent installation is not possible. With a fan like the AirFlow Breeze, there's no need to adjust the temperature of the whole house and waste energy when we can solve our "problem room" just with better air flow.
Using energy efficiently is one thing, but sometimes we are using energy even if we don't think we are. Many of today's devices are on "standby" even when we think they have been turned off. This is so they can turn on faster when needed. Newer energy-efficient equipment is better at managing the amount of "standby" energy used, but still...it adds up.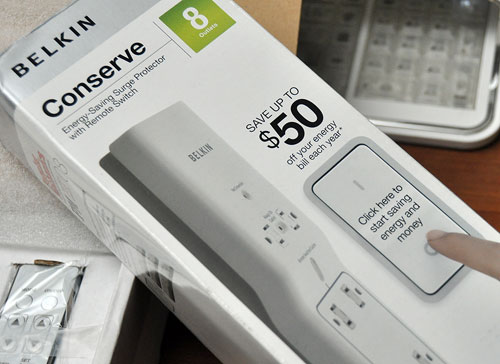 One way to make sure devices are actually "off" is to disconnect them from the outlet. Of course, nobody is going to actually pull the plug of every connected device when not in use. Belkin's Conserve power strip was designed to make that task as simple as clicking a button. Standby Power impacts both the environment and the electricity bill. It can account for up to 10% of a household's power consumption. The savings can add up quickly over the course of a year.

The Belkin Conserve is a different from other power strips. It has both Always-On and Switchable outlets. Devices requiring a continuous power (routers, DVR, etc...) can be plugged into the two Always-On outlets. The six Switchable outlets are for any device (TV, computer monitor, etc...) that does not have unattended, timed, or automated functions. Power to the Switchable outlets is controlled by a remote switch, which can be wall mounted or used as a portable control button. The remote switch is battery powered and has a 60ft range. It is based on RF technology and unlike the typical TV remote control, it will work even if the Conserve is in another room.

A register booster fan like the AirFlow Breeze costs only about $5.00 per year to operate. It helps circulate heat and air conditioning more efficiently and eliminates the need for space heaters or room air conditioners. The Belkin Conserve cuts off the power-using devices at the source and will pay for itself in the first year. There are lots of ways to be "green," but these suggestions are painless, saves money, and reduces energy use. A win-win for everybody. [Permalink] -Energy Savers
April 26,2010-

iPad Protection ...
The Apple iPad display is amazingly bright and viewable. The main reasons are the ipad's In-Plane Switching (IPS) LCD and its LED backlighting. The two technologies gave the iPad impressive brightness and a large 178º viewing angle. IPS was developed over ten years ago by Hitachi to address some inherent issues of LCDs: poor viewing angle, color inaccuracies. The advantages of LED backlighting are its low cost, long life, immunity to vibration, low operational voltage, and precise control over its intensity. The main drawback is that it requires more power than many other backlighting methods (ELP, CCFL, WF). Click on the various iPads in the image below to see the screen at increasingly obtuse angles to see what we mean.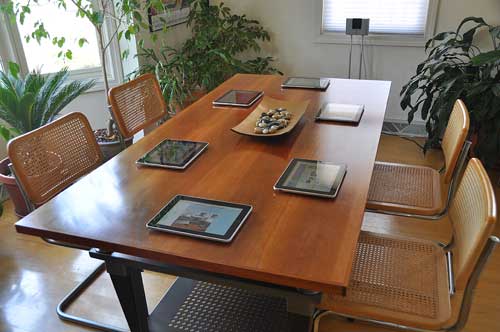 Unlike a laptop screen, the iPad's screen was designed to touched. In order to keep the smudging to a minimum, the screen has a fingerprint-resistant oleophobic coating similar to the iPhone 3G. From the Apple pamphlet ... "iPad has an oleophobic coating on the screen; simply wipe iPad's screen with a soft, lint-free cloth to remove oil left by your hands. The ability of this coating to repel oil will diminish over time with normal usage, and rubbing the screen with an abrasive material will further diminish its effect and may scratch your screen."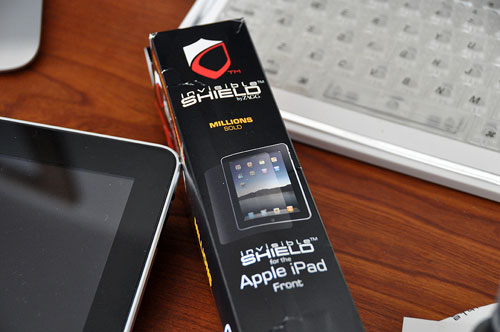 When we read that, we knew an Invisible Shield for the iPad was in its future. As Apple did not give out any technical specs for the iPad prior to the release, the Zagg folks had to wait until April 3rd to get the exact dimensions, and begin production. We are happy to report that Zagg now has the iPad shields in stock. They have two options for buyers: front only and full coverage. Both include the wetting spray and rubber squeegee. We got the full-coverage version, but will likely only use the front cover.

There are a lot of new protective films on the market since we our first InvisibleShield article back in 2005. We have tracked the durability of that first InvisibleShield cover for five years (Year1, Year3, Year5). While the iPod nano's protected front is almost as nice today as the day we first put on the InvisibleShield, the unprotected metal back and sides shows lots of scratches from five years of use.
The is no question the InvisibleShield provides awesome scratch protection, it will not protect the screen from direct impact damage. For that kind of shielding a hard cover will likely be more effective. We suggested a few ideas in a previous article. Those options worked fine for laptop bags, but made the iPad too large for a pack such as the Tom Bihn Buzz. There are a LOT of iPad covers out there. Unfortunately, most of what is currently available did not really appeal to us. We wanted a cover which would offer good protection while being a bit more discrete. Since we could not find any we liked, we decided to make our own.
As it so happened, we had a notebook which was perfectly sized for the task. The overall dimensions gave us about half an inch around three of the sides. The spine will be removed to allow easy lifting of the iPad from the cover. The thickness of the pages was almost exactly that of the iPad. The one problem we have not solved is how to attach the cover to the iPad itself. There are a few suggestions being kicked around, but no front-runner has emerged as of this writing.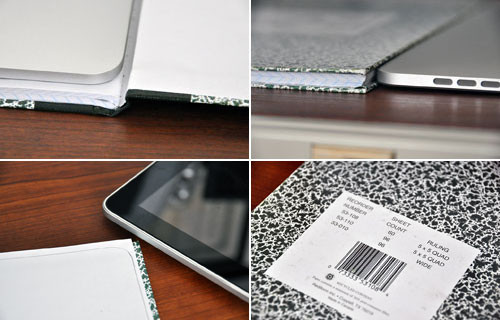 There were two ways we could go in making the cut-out for the iPad: cut then glue, glue then cut. We went with the latter option, but decided that completely gluing the pages together was not necessary. All that was required was to glue the edges together. The glue we had on hand was some Elmer's wood glue. It was a bit thick for our purpose, so we diluted it 2-to-1 with some water and brushed it on the top, right, and bottom edges of every page. This was actually not as problematic as we thought as the pages stuck together and made the work rather quick. Some wax paper was inserted between the cover and the wet sticky pages to keep the cover from being glued to the pages. We then clamped everything downto make sure the edges of all the pages made good contact with each other. It should also keep things from curling as they dry.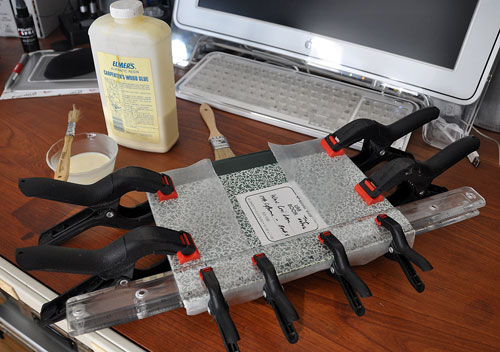 Once the glue has dried, we will cut out the middle and fit it for the iPad. We expect cutting through the glued paper will provide a challenge. We are not sure how best to do the cutting (razor blades, Dremel tool, etc...). We'll continue with this DIY cover project once the glue has set.
We are not fanatical about keeping our gadgets free from everyday wear and tear. However, with the InvisibleShield and our DIY cover, the iPad should have a better chance at surviving the inevitable bump, nicks, and bruises certain to befall a mobile device. [Permalink] -iPad Protection
April 21,2010-

LCD TV Wall Mounts...
LCD televisions that are 50 inches and larger have become affordable in recent years. Televisions 40 inches and smaller are now available for under $500. Unlike projection TVs and the first crop of 50-inch LCD TVs, which weighed over 200 pounds and dominated an entire corner of a room, the current crop of 50-inch LCD TVs weigh no more than 70 pounds. This means that if the user does not want to put the TV on a stand, they can safely mount it on a wall. A heavier unit can also be mounted on a wall provided the bracket is secured to the studs in the wall. We have received quite a few questions regarding types of mount and how to put one up. We thought this was a general enough question that we would cover it in a DIY series.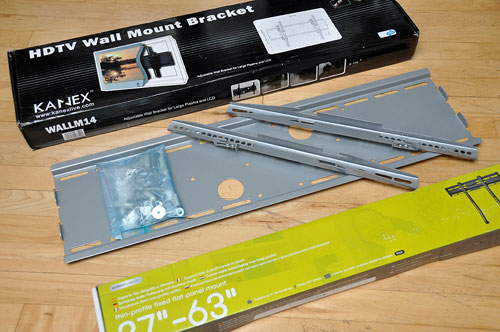 We took a look at what was available in stores, on Craigslist, and EBay. What we found was a wide variety of styles, options, and qualities. Fortunately, they television wall mounts group into a few categories: thin profile, fixed, angle-adjustible, and articulated. We will take a look at the first three types in this write-up and save the articulated type for a later date. All of the mounts have a few things in common. There is usually a wall plate, two brackets, and an assortment of screws. The wall plate is typically slotted for cable runs and thru-wall access.
The angle-adjustible mount was made by Kanex. It is available on EBay, and we got it from the seller Abacus24-7. This mount is rated for LCD panels from 30"- 63" wide and up to 165 lbs.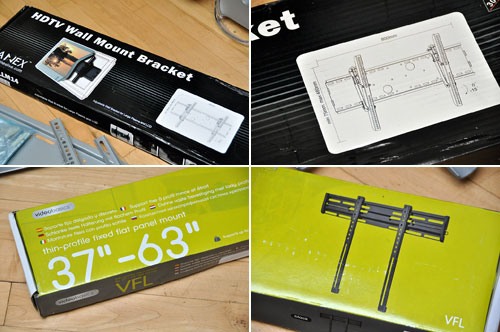 The thin-profile mount was from VideoBasics. This mount is also available via EBay, and we got it from the seller 5star_cellular. The VideoBasic mount is rated for LCD panels up to 63" wide and up to 150 lbs. The key feature of this mount is, when mounted, the back of the LCD panel will only be 19 mm (3/4") from the wall!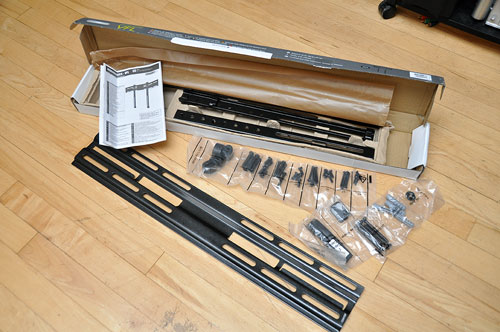 The VideoBasics Thin-Profile mount is very straight forward. The kit came with a wall rail, two vertical brackets, a collection of screws/bolts/anchors for most conceivable mounting situations (cement, plaster, etc...). The included directions were clear, concise, and fully illustrated. We think most folks will find this a simple DIY project.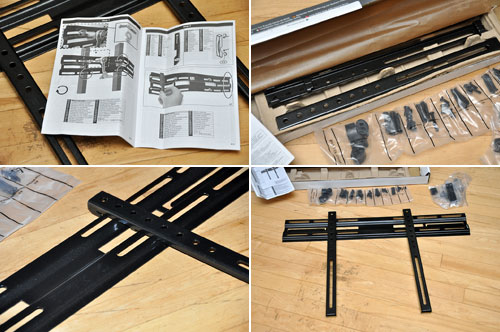 The fixed mount is the most basic and widely available style. We got this used unit on Craigslist. While the mount is used, it is in like-new condition. Like the thin-profile mount, it has two brackets and a wall plate. The brackets attach to the back of the LCD panel and hook on to the wall plate.

The most flexible mount of the three is the angle-adjustible mount from Kanex. This Kanex bracket is useful for mounting an LCD panel higher up on the wall and tilting it at an angle for more comfortable viewing. Like the other two, the Kanex mount came with a large bag of screws, bolts, and anchors.

The wall plate is almost identical to the generic mount with the exception of the level-bubble. It is a nice extra, but perhaps not necessary because with this type of installation, we would always check alignment using a more accurate tool.

As expected, the Kanex bracket is more complex due to its adjustability. The angle of the brackets are individually adjustable up to 15º by means of the knobs at the top of each rail. The brackets hook onto the wall plate and lock in the same way as the other two mounts.

The thickness of the steel plates relate directly to mount's weight and rigidity. Kanex, the most complicated of the three, was the thinnest at just over 2mm. The generic mount plates were 2.29mm thick and the VideoBasics thin-profile plates were the thickest at 3.36mm. The fact that Kanex used thinner plates was not surprising as thicker plates would have made the entire mount heavier without any functional benefits for holding panels under 150 lbs.

In this overview, we did not include any mounts in "articulated" category because they are more complicated. We expect to have a full write-up on a few articulated units by the end of Spring/beginning of Summer. If you know of one which you think would be of general interest, drop us a note. We will check it out and include it as appropriate. As always, we'll send you something "fun" for the tip! [Permalink] -LCD Wall Mounts
April 7,2010-

Free iPad Apps ...
The iPhone has been a success in part because of the large number of third-party apps available for it. Likewise, the usefulness and ultimate success of the iPad (beyond the early adopters) will depend heavily on what developers create for this new form factor. We expect to see a flurry of activity now that the iPad is out "in the wild." We also expect the pace of app releases to snowball as we head into the Fall.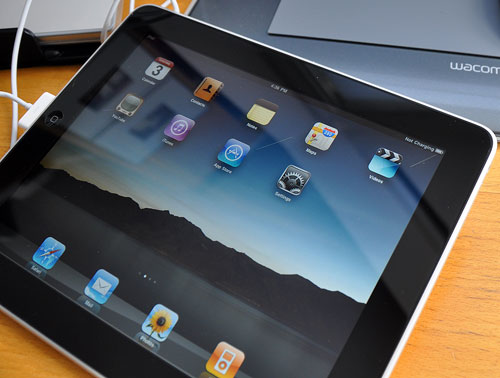 The iPad came with a set of standard apps:
Safari browser: Surfing the Web
Mail: email program
Photo: Image viewer/organizer
iPod: Music Player
Calendar: Time and Task organizer
Contacts: Addresses and Phone Numbers
Notes: Writing pad
Maps: Google Maps application
Videos: Movie player
YouTube: Clip viewer
iTunes: Find, buy, and download music
AppStore: Find, buy, and download iPad Apps
Settings: preferences for apps
At launch time, there were already over 3,000 apps written specifically for the iPad. The price of an iPad app is averaging a few dollars more than iPhone apps, although many of them are free. We scanned the AppStore and downloaded a bunch of free but promising-looking ones. We expect this set to change. As with anything free, some are worth the cost, some not so much (really, some of them we should be paid to use). We have culled the list and settled on a set which we found to be innovative, useful, or just plain fun.

Tracking the stock market is an excellent application for the iPad. ETrade and Bloomberg both fielded strong iPad apps for that purpose. Both apps are free and very well implemented. We will be using them everyday. We'll have a more detailed InTheWild report on them in May.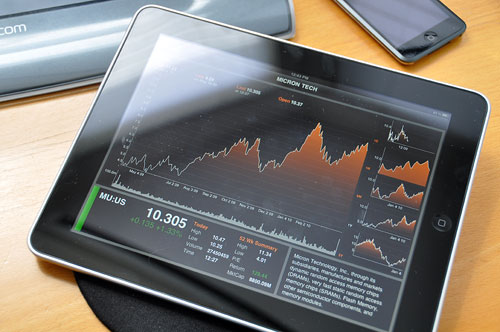 The iPad may be the vehicle by which an entire industry is saved. That industry is, of course, is magazine and newspaper publishing. Many major publisher (WSJ, NPR, etc...) have a free app for the iPad to view their content. News providers have been getting hammered by the explosion of the Web. The major source of their revenue is from advertising, and they have had a difficult time monetizing the Web using their old model. The hope of newspaper and magazine publishers is that the iPad will finally enable them to leverage their size, expertise, and global connections to once again sell content, that would reinvigorate their declining advertising revenues. Unlike a website, an iPad app enables publishers to have more control over when and how ads will appear, for how long, and in what format. It will also give them the real time stats they need to demonstrate their reach and/or effectiveness.

Learning will also see a major impact from the iPad. Interactive and immersive learning tools will finally be literally "at your finger tips." Want to see what is in the night sky tonight? A hundred years ago? A thousand years from now? There is an app for that. Want to rotate a DNA molecule with your fingers? There is an app for that. Want to see what the weather is like? With or without cloud cover? There is an app for that.

The obvious next stop is electronic textbooks. But things like interactive homework and child-specific paced learning protocols are just around the corner. This is because the interface to using the iPad is so simple and intuitive that even young children will be able to use it with just a few simple instructions. No typing skills needed.

Amazon has provided an excellent eBook reader for the iPad. To some this may seem odd as Amazon is directly competing with Apple via the Kindle. The Kindle is a great device by Amazon and it kick-started the eBook market. However, in the end...Amazon is not a hardware/device maker. They are at the mercy of their tech providers. Any Kindle improvements are going to come from their tech partners. As Amazon has created an awesome infrastructure for selling books, we are guessing they wouldn't care much where/how their books are sold as long as they get the purchase volume.
We have a NetFlix account. If you don't have one, seeing the NetFlix app running on the iPad will convince you to get both the iPad and join NetFlix. It just works. The movies are crisp, steady, and "oh so excellent" for watching anywhere (bed, couch, office). The sound from the integrated speakers are fine, but the experience is totally immersive when headphones is used.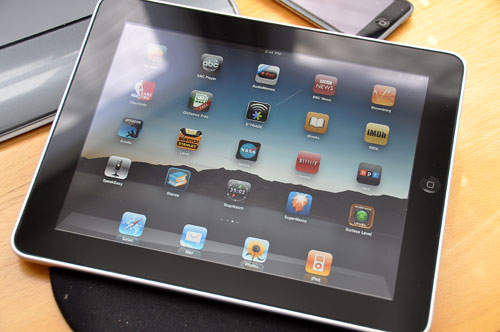 While it is true that an open OS (Mac, Windows) allows anyone to write and sell software for computers running those operating systems, it was difficult and required someupfront upfront investment. However, that software model contributed to the emergence and acceptance of the AppStore, which is not an open OS (you don't get to choose what development tool to use and you don't get to sell it anywhere). Users now have a single place to go to get apps for the iPhone. Buyers don't have to worry about giving credit card info to unknown sellers, downloading viruses, or being scammed. For the small developers, the AppStore took away the headaches of marketing and selling apps. With willing buyers and lots of inexpensive apps, the iPhone ecosystem flourished.
It will be interesting to see how the dust finally settles for the iPad, but we have feeling that by 2012 the world of software is going to look very different. The $500 price point was, in large part, to set a very difficult entry point for device-only vendors (HTC, HP, etc...). Device-only vendors will need to have sufficient ROI from just selling the hardware...an increasingly difficult proposition in today's app-driven world. Apple is in a catbird position and can actually sell the device at a lost yet still make a profit from revenue generated from the AppStore. This is a HUGE advantage over all other tablet vendor. Just imagine a $200 16GB 3G iPad, subsidized by AT&T or Verizon, if you are willing to sign a 2-year contract. We would put money on the table that this will happen before the 2nd generation of iPads hit the shelves. Any takers? [Permalink] -Free iPad Apps
April 6,2010-

iPad accessories you already have...
Whenever a new Apple gadget shows up on the market, what follows is an inevitable deluge of gadget-specific accessories. The iPad will be no different. It will spawn an entire ecosystem of iPad-specifc screen protectors, carrying cases, docks, extended battery packs, and attachments. However, well-gadgetized geeks may already have many of those accessories in-house. Yesterday we showed how a mouse pad could double nicely as an iPad stand. Today, we took a quick look around the RainyDayMagazine office and came up with half a dozen things which could be repurposed for the iPad. Some gear was relatively new, and some were surprisingly old and no longer actively used.

The mouse pad with a wrist rest worked as a stand because the friction of the pad kept the iPad from sliding. However, as the back of the iPad is curved, pretty much any soft wrist rest would work just as well as long as it has a little "grab" to its surface. We can see ones made of silicone being especially good for this purpose.

We reviewed the BookArc from TwelveSouth last September. The BookArc is a well-crafted stand designed specifically for the MacBook. We found that it also works quite well for the iPad. Yes, the Home button is not accessible from the top if used in the vertical, but we found the horizontal orientation to be more functional anyway. The "grippy" insert held the iPad securely without marring the glass or the back. The larger gap allowed for a slight range in different view angles. It is also a nice place to park the iPad while charging. If you are looking for a stylish stand, the BookArc is pretty hard to beat.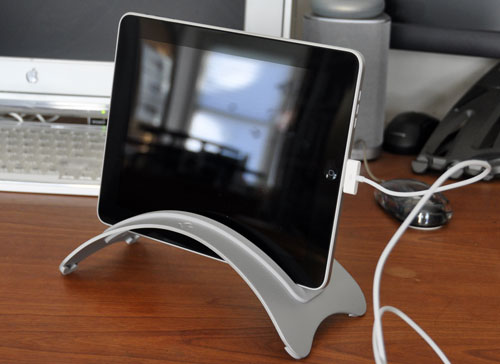 Back in 2006, we got the AnyCom Stowaway keyboard to use with our Blackberry. We did not use it much because typing anything more than a few words on the Blackberry is just silly. The keyboard was forgotten and sat in the back of the equipment drawer. When we ordered the iPad, we thought about getting the Apple Bluetooth keyboard as well. One of the interns remembered that we had the Stowaway and suggested we hold off on the Apple one.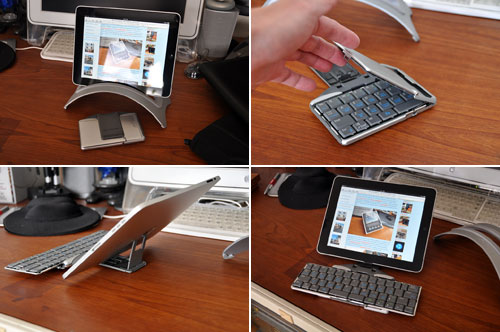 The cool thing about the Stowaway was, of course, it folds up to the size of a small paperback. Since it is Bluetooth enabled, there is no cable. The Stowaway also has a removable stand. It works when the iPad is in landscape position, but it was not sturdy enough to hold the iPad in the portrait orientation.
Since we had not used the Stowaway for a few years, we had forgotten how to turn the thing on. Once we managed to dig up the directions on how to activate (Cntr-LFn-RFn) Bluetooth communications, we were able to get the iPad and the keyboard to talk to each other. It was a pleasant surprise to have the Stowaway Bluetooth keyboard working with the iPad. Looking back, we realize that we should not have been so surprised as Bluetooth IS a standard :-)

With any portable device, one of the quandries is how best to carry it around. Should it be in its own protected enclosure? How do you keep it from getting scratched? What if we want to take along the cables and accessories?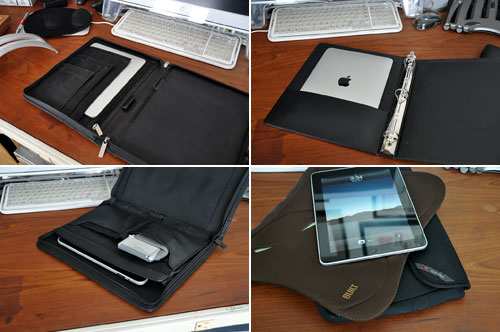 The great thing about the iPad is that it can fit just about anywhere a pad of paper will fit. So any folio, 3-ring binder, or small notebook carriers (BUILT, Tom Bihn) will work just fine. If there is a need to bring along accessories, a slightly larger folio (we got this free at a tradeshow) or any of our current laptop cases will have plenty of room. There is really no need spend money on iPad-specific cases. Some case vendors may disagree, but they may have a different motivation. Of course, we love a good case as much as the next gadget freak. So we are always happy to be proven wrong! If you think there is a "must-have" iPad case out there, let us know. We'll be happy to check it out.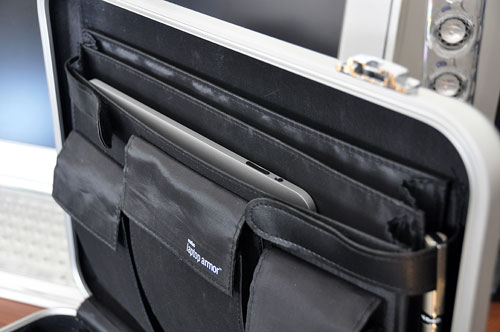 We were glad we took a look around. We realized that until our own iPhone/iPad apps start cranking out the cash, it wouldn't kill us to be a little frugal with our cash flow. So before you plunk down your credit card for those new iPad-specific accessories, take a look at some of the gear you have in storage. Like us, you too may find a second life for that folio from a few years ago or the forgotten Bluetooth keyboard from the Blackberry days. [Permalink] -iPad Accessories Your Already Have
April 5,2010-

iPad FirstLook..
Now that our iPad has been unboxed we thought we would provide a quick tour of the unit and offer a few observations about the physical aspects of this device:
Height: 9.56 inches (242.8 mm)
Width: 7.47 inches (189.7 mm)
Depth: 0.5 inch (13.4 mm)
Weight: 1.5 pounds (0.68 kg) Wi-Fi model
Display: 9.7-inch LED-backlit glossy widescreen Multi-Touch
Resolution: 1024-by-768-pixels at 132 pixels per inch (ppi)
Fingerprint-resistant oleophobic coating
Dock connector port
3.5-mm stereo headphone jack
Built-in speaker and microphone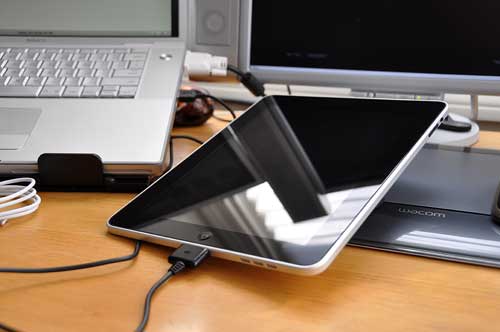 The frame is made from a single piece of aluminum. It is tapered out from the center to the edges, giving the iPad a much thinner overall appearance. It is not just a nice visual trick, the curve also makes the iPad more comfortable to hold. Unlike the unibody laptops, the iPad's edges are nicely beveled. The first thing we noticed was that the feel of the iPad is much more substantial compared to that of the Amazon Kindle. The finish of the back is smooth but matte so fingerprints do not show. The glass of the LCD has an oil-resisting (oleophobic) coating to minimize the amount of fingerprints. This is not to say the screen will stay clean, far from it. It will get smudges and lots of them. However, they will wipe off easily. We recommend using a microfiber cloth.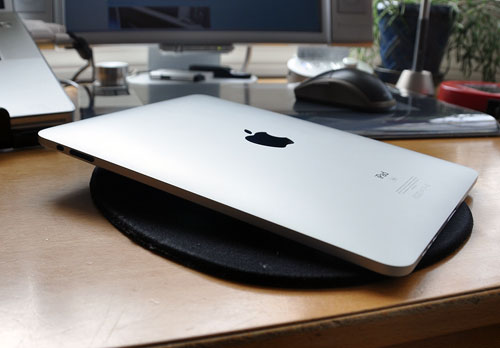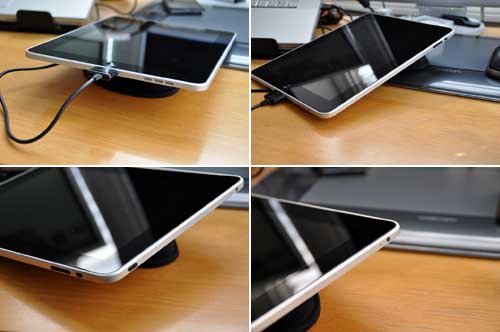 The switches and button are at the front (home), on the right (volume, orientation lock), and on the top (power) of the frame. These buttons are there for convenience, as all of them could have been implemented in software. The mic and headphone jack are on the top left. The connector and speaker are at the bottom. One thing we did notice was that the USB port from our MacBookPro was not sufficient to charge the iPad. Using the AC charger with the USB cable worked just fine for recharging the iPad's battery.

Typically, small display screens have a high pixels per inch (ppi) count so they can display a good image without aliasing. The iPad screen at 132 ppi is amazingly dense for a display of this size. It is certainly sharper than most computer monitors or TV screens in productions today. The high ppi number translates to gorgeous images, great looking videos, and easy to read text.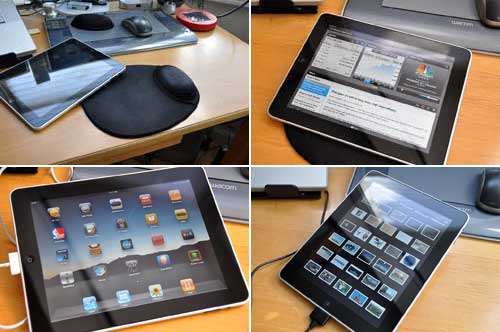 We have not been this excited about a device since the launch of the 128K Mac in back in 1984. The discussions today around "Why an iPad" reminded us of trying to explain to all the IBM PC-DOS folks of what a GUI was and why it was better. They would keep saying..."why would anyone want a mouse? Our arrow keys work just fine for moving the cursor up and down lines of text." A little more than 25 years later, we find the same type of folks asking, "Who would want to use their fingers? My mouse and keyboard work just fine." Sometimes, all one can do is just smile and wait for everybody else to catch up. While it is often quoted that Windows has 95% of the market. That is all fine. However, at this moment, AAPL's market cap is $215.09B and MSFT's is $257.24B. Hmmm....[Permalink] -iPad FirstLook
April 4,2010-

iPad Unboxing..
Our Apple iPad showed up late in the afternoon yesterday. We had a previous commitment for the evening so we had to wait to do the "unboxing," but, wow, the wait was worth it. We ordered the 16GB WiFi version of the iPad, which is the least expensive model of the iPad line. Many people consider it a risk to buy the first generation of anything, especially if it is something completely new to the market. In our "previous" life, we were Newton MessagePad developers, so being on the bleeding edge of technology is not uncomfortable for us; actually, it's when we are the most excited. So nobody was surprised that we had no hesitation in plunking down $500 for a device no one had never seen before...especially since the gadget was from Apple.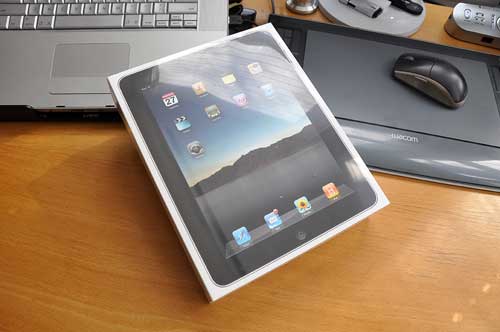 Having unboxed quite a few devices from many different vendors over the years, we are always struck with the particular attention Apple always gives to this aspect of the user experience. The joy of owning an Apple product starts the moment it is unpacked from the shipping container. The product box is visually clean, nicely proportioned, and always well-presented. Apple manages to create an emotional bond with the buyer with the just the simple act of lifting the box cover to reveal the product.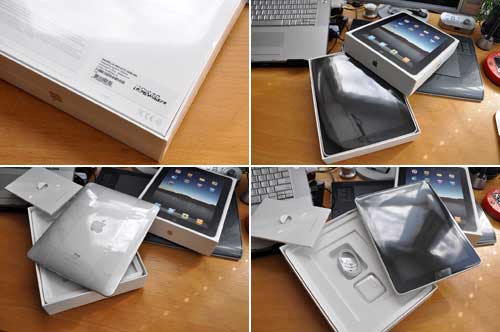 The box's content was neatly organized, well laid out, and easy to remove. There were no ugly twist-ties, rattling pieces, or loose bits to spoil the mini-ceremony. Even the process of removing the clear plastic wrapping around the device is a pleasurable experience.

With everything unpacked, examined, and out of the box, it was time to turn it on and set things up. The directions could not be simplier. The iPad requires the latest version of iTunes (free download from Apple) for the setup.

The entire process took about five minutes and was fairly typical. We were asked to register the iPad, to setup an iTunes account (which we already had), and whether we wanted to sync the iPad with the various data (music, photos, apps) we had on our iPod Touch. We answered the questions, waited for the process to complete, and as ususal, did not encounter any problems.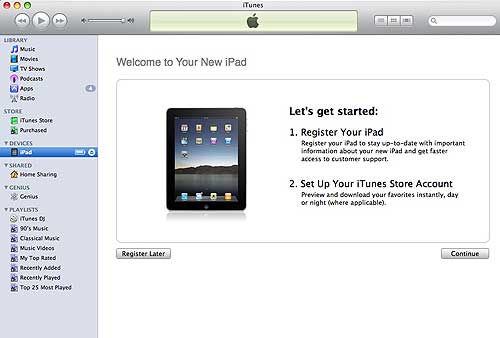 iPhone apps which worked on the iPhone and iPod Touches will work on the new Apple iPad. Those apps will run, but they will not take advantage of the larger screen's real estate. At launch time, the AppStore also had a large selection of apps written specifically for the iPad. Many of them are fee-based, but there are plenty of free ones available as well. We selected a few which looked interesting. For obvious reasons, we were specifically interested in the apps from media outlets and publishing houses such as WSJ, NPR, and BBC News.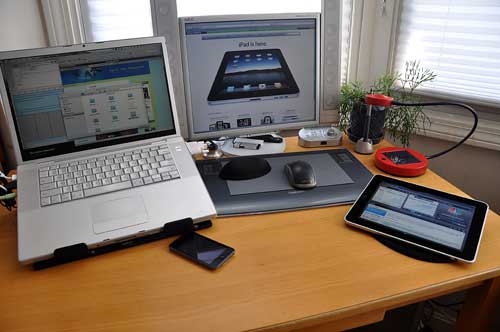 The Apple iPad is here. It is going to be the most talked about gadget ever and the enthusiasm is completely justified. The "sunsetting" of the mouse/pointer interface has started. The mouse/pointer paradigm is over twenty years old. Multi-touch for the masses has arrived and it is about time. With the introduction of the iPad Apple has made accessible an entirely new way to interact with not only a computer but information itself. We will have a complete rundown on the iPad, the apps, and accessories over the course of the month. [Permalink] -iPad UnBoxing
April 3,2010-

iPad Delivery..
The much anticipated iPad delivery date has arrived. We had been tracking the package's progress since March 29th, when it left Shenzhen China, and followed its progress across the world to its final Boston destination. UPS last updated its delivery status as having left East Boston at 8:09 A.M. We expected to see the truck pull up to the office sometime this morning...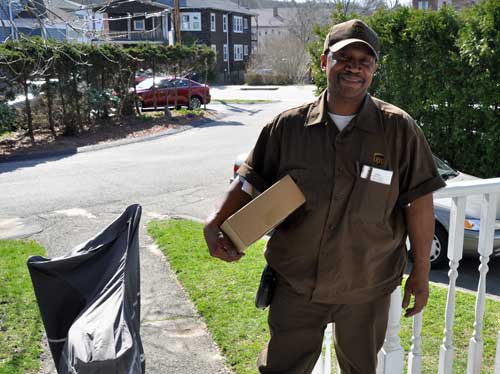 However, the morning came and went, but no iPad delivery. It wasn't until much later in the afternoon that the UPS truck pulled into our delivery dock. Ours was his last iPad delivery of the day.[Permalink] -iPad Delivery
February 16,2010
Our MacBook Pro drive upgrade project hit a snag when we tried to boot the system. The first thing we did was to confirm whether there was a problem with our laptop. Without changing anything, we were able to successfully boot from the original drive housed in the USB case. This told us the problem must be with the SSD.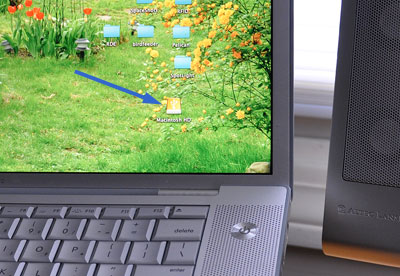 We had previously confirmed that the SSD had a system which could boot the laptop, we reconfirmed it by putting back into the USB case and using it as a boot drive. Next we reformatted the SSD drive, cloned the system, and tried our tests again. Same results: not recognized when installed internally, functional when booting externally via USB.

At this point, we were stumped. So we contacted imation tech support, described the problem, and waited. A few days later, the folks at imation confirmed that there was a problem with the firmware and provided a patch. If you have a problem with getting your imation SSD to work with your MacBook Pro, don't bang your head...contact imation tech support and they'll get you straightened out fast.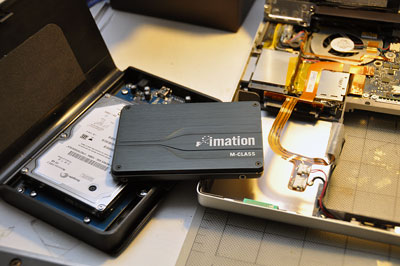 imation SSDs come in a few sizes (32GB, 64GB, 128GB). We started this project with the 64GB unit, but got a 128GB unit from imation with the upgraded firmware for this second installation. We'll go back and upgrade the 64GB unit with the new firmware at some point.

The new 128GB imation SSD with the new firmwared worked on the first try. Once we were satisfied that things were working, we closed up the laptop, replaced all the screws, and put the drives through some standard r/w tests. The SSD drive worked perfectly. The best part was after an hour of intense drive-intensive activities, the left side of the machine was still cool. This was not the case with a spinning hard drive.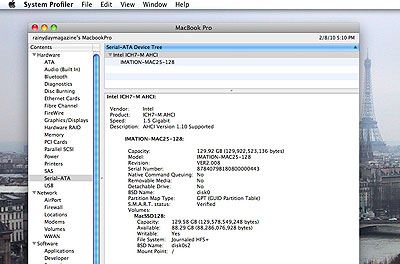 The SuperDrive we got from PowerBookMedic was an OEM part so it had no compatibility problems. The SuperDrive played every kind of discs we tried, was able to write to all of the CDs and DVDs we had available, and passing all of the post-installation tests.
At some point, Apple will make a version of OSX which will be incompatible with our MBP, but until then we'll happily use it until it completely falls apart. However, now that our MacBook Pro has a super rugged 128GB of solid-state storage and a brand new SuperDrive, we expect it to be our mobile workhorse for many more years. [Permalink] -MacBook Pro Post-Installation Test
February 15,2010
Last Friday we left off after we had both the internal and the ComboDrive removed from the MacBook Pro laptop. Today we'll show the installation of the imation SSD and the SuperDrive.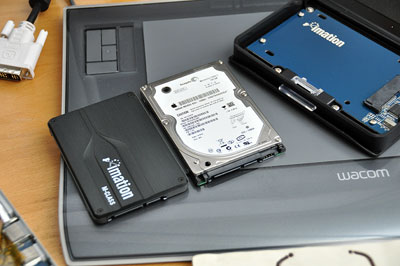 Both drives were attached to the frame of the laptop via mounting brackets. There were three brackets for the SuperDrive. There is only one for the hard drive. In order to protect the original drive from hard knocks, four rubber "shock absorbing" screws were used to isolate the drive from the frame. These four screws are necessary for mounting the SSD onto the laptop.

Shock absorbers are not necessary as SSDs have no moving parts and are thus impervious to knocks. However, these screws are necessary in this case only because of the mounting bracket. The bracket has loops which fit the screws and mount the drive to the frame of the laptop. The harddrive removed from the laptop may be placed in the imation case and used as a bootable external USB drive...very convenient to have for backups and emergencies.

The process for reinserting the SSD and the SuperDrive is much easier than taking them out. Just reverse the removal steps. Take care to tighten just until you get resistance. There is no need to force anything. The only things to check are the three points of connection (blue arrows) to the motherboard before replacing the cover. One tip...do a power-up test before replacing the screws to the casing. This will save you a lot of work should you need to troubleshoot the installation. We go into further details tomorrow.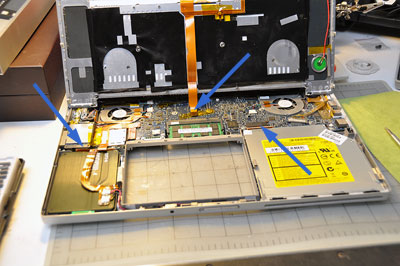 As always, if you need more info, check with the PowerBookMedics. Those guys are the pros when it comes to Powerbook/iPod related repairs and service. They are our first and last stop when we need parts. If we can't find it there, it is unlikely we would find it anywhere. [Permalink] -MacBook Pro SSD and Superdrive Installation
February 12,2010
Yesterday we showed how to remove the MacBook Pro's internal hard drive. Today we'll show how to take out the front-loading Combo drive, remove the various mounting brackets, and get the SuperDrive ready for installation.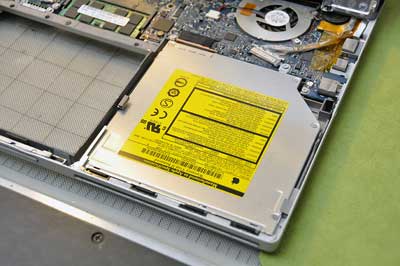 The ComboDrive, like the internal hard drive, is attached to the frame by several removable mounting brackets, one on the side (right, left) and one in the back. There is also a removable data connector at the rear left.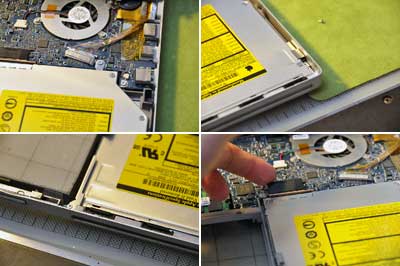 With the screws removed and the cable to the motherboard disconnected, the drive may now be lift out of the laptop. The screws for the mounting brackets (left, top, right) are now accessible.

It is important to note the holes used and orientation of the bracket relative to the drive as they must be remounted the same way onto the SuperDrive.

These drives are flexible and can be damaged. Care should be taken to not press on or bend them during handling. When reattaching the brackets, there is no need to tighten the screws very much. Just enough so the bracket does not move will be sufficient.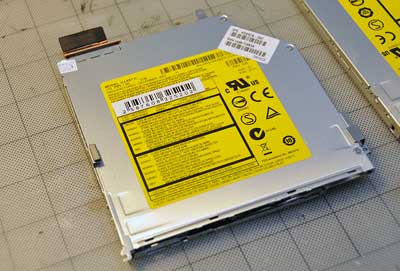 We are now ready to upgrade both of the MacBook Pro's drives. The final part of this series will be posted on Monday. We will show how to install the imation SSD and the SuperDrive. For parts and detail video instructions, check out the PowerBookMedic site. They have everything you will need to keep you Mac laptops and ipods going a long long time. [Permalink] -MacBook Pro ComboDrive Removal
February 11,2010
We prepped for a huge storm yesterday, and while New York and other states got hit pretty hard, things kind of fizzled out up here in Boston. It rained a bit in the morning and snowed lightly for the rest of the day, but there probably wasn't more than a few inches of the white stuff on the ground when it was over...hardly even worth breaking out the shovel.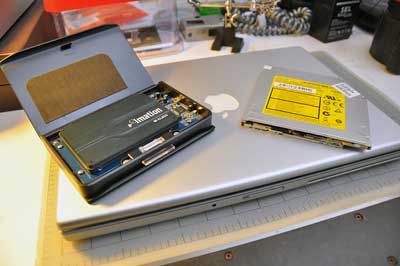 To make sure we had something to do while riding out the storm, we scheduled a few MacBook Pro upgrade projects for yesterday. The first project was to swap out the internal hard drive for the imation SSD. Since we were going to have the MBP open, we thought we would also upgrade the combo drive (which had been making some pretty bad grinding sounds) to a SuperDrive. As with many of our past projects, when we needed a part, we headed to the PowerBookMedic. The site is well organized, which helps us quickly find the exact part we need. They have everything (parts, instructions, service) needed to get our laptops, iPods, and iPhones up and running again.

When we fixed our MBP's keyboard we did a fairly detailed write-up on the disassembly of the MBP. We refer readers to those instructions and will not repeat them here. Instead, we will focus on the specifics of removing the hard and CDROM drives in this article. Tomorrow we will show the installation and tests. From experiene, we found that it pays to get a good quality set of torx and mini screwdrivers, a few pairs of tweezers, and have a clean place to work. Tiny screws will be dropped. Finding them will be much easier when there isn't a lot of clutter around.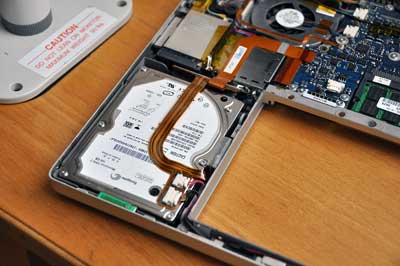 Once the lid has been lifted, the removal of either the internal hard drive or the CDROM drive is relatively easy. Both drives are attached to mounting brackets. The brackets are secured to the frame of the laptop by just a few screws. As one can see, things are packed pretty tightly in the laptop. The tricky part to removing either drive is to do as little as possible and not to break any of the things jammed around these components.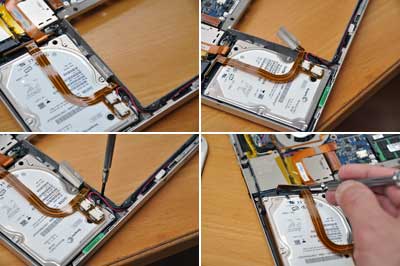 There are two things to move (Bluetooth antenna, ribbon cable) aside and three items to remove (two screws on the right side, the connector at end of the drive). The antenna block was just wedged in. It came out without any problems. Our cable was attached with some two-sided tape. We used a wide flat-head screwdriver to gently lift it off the drive.

Once the ribbon cable has been moved, connector freed, and the screws out, there will be nothing else holding the drive in place. Note that the mounting bracket is only held in place by the screwed-in rubber shock absorbers on the side. We found it easier to lift from the right side. Space is tight so care must be taken in lifting out the drive. With the drive removed, we are ready for the SSD installation. Tomorrow we'll show how we removed the ComboDrive, installed the SSD and SuperDrive, and put everything back together. [Permalink] -MacBook Pro Internal Drive Removal
February 9,2010
Apple has pretty much sucked the air out of the room when it comes to anything "tablet" related. However, until the iPad actually ships, all the buzz is good for is generating comments and opinions on blogs. Fortunately, there are many companies out there besides Apple making all kinds of cool digital gear worthy of mention. One of our favorite is Livescribe, makers of the Pulse SmartPen.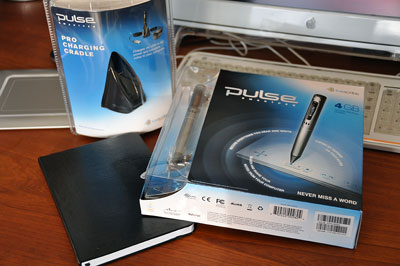 We mentioned the Pulse a few times last year (Intro, FirstLook, FirstUse, journal, Online, SDK) because we felt it was an extraordinary piece of tech. Of course, there were additional features we hoped we would soon see in the product. It has been a year, so we thought it was time for us to check and see what's new with the Pulse. The short version is: more memory, new charging cradle.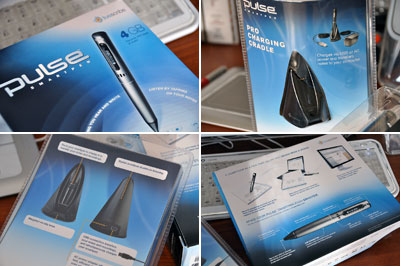 There is now a larger 4GB version of the pen, which is great news as we hated deleting anything off our Pulse pen (more on why later). The other items in the package were the same except it now contains a journal instead of a full-size notebook. We prefer the smaller journal over the larger notebook, so we were happy with the change.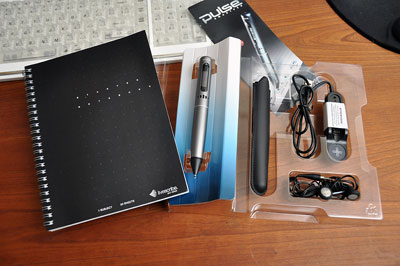 Some of us just use the Pulse SmartPen as a note taker/recorder. We don't need to upload the audio data to a computer at all. However, in order to recharge the pen, we had to hook the pen/charging base combo to a computer. Livescribe now offers a charging cradle which is powered by an AC outlet. This cradle is shaped to stand the pen upright and weighed so it cannot be easily tipped over. There is still an USB port in the back for downloading data to the computer, but the Pulse may now be untethered from the laptop if only a recharge is needed.

Livescribe discoverd that some would prefer a more upscale look and are now offering a leather-bound version of their journals. These journals are the same size as the previous ones, but now have a richer more "executive" look to them. We liked the previous ones, but did covered them up with an embossed cover, mostly because we wanted a way to secure the pen with the notebook. We would have liked an elastic loop or some way to attach the pen to the journal.

The biggest weakness with the Livescribe Pulse for us at present is the inability to "reload" the data back onto the pen. The current Livescribe software does allow the user to "archive" the data for review on the computer, but that action is unidirectional. The inability to reload the archived data meant we have lost the ability to click on the notes in our notebooks and hear the audio once we have archived it. The only way to access the archived audio is via the Livescribe Desktop software. For some users, this will not be an issue, but it is a big problem for us. We have non-Livescribe notebooks that are 20 years old which contain notes that we still reference. We would love to have a removable micro-flash chip which can be taken out of the Pulse and paired with the notebook so we can swap memory chips when we swap notebooks. The perfect analogy is that of a digital camera. How much more limiting would a digital camera be if they had no removable flash memory? We love how the Pulse pen can capture both audio and written data, but we look forward to the day when the data is no longer held captive by the pen. [Permalink] -Livescribe Pulse 4GB