We have had a Soda Club soda maker in the RainyDayKitchen since 2005. It has saved us a LOT of money over the past four years. Even better than saving a boat-load of money was the convenience of making fresh, fizzy soda in whatever flavor whenever we want. Oh yeah, we also created less plastic waste than if we had purchased the prepackaged stuff from the "big guys." Coke and Pepsi...yes, we are talking to you :-)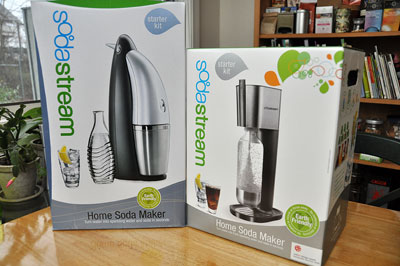 Soda Club has not been standing still these past four years. They now have a full line of soda makers. The RainyDayKitchen folks thought it was time we took a look at some of their new ones. The two we will be reviewing are the Penguin and the Pure. The Penguin soda maker is unique in that it accommodates an elegant glass carafe. The Pure soda maker, with its minimalist approach, was designed to blend seamlessly into a modern kitchen.

Ok...let us say this up front. You cannot make a cola drink that tastes as good as Diet Coke with the SodaStream maker. We have tried, but Coca Cola still has no rivals. HOWEVER, SodaStream's flavors are fantastic. They have a LOT of them and most people will find something they will like. We LOVE the new Orange Mango. The great thing about having your own soda maker is that you can experiment and make your own flavor! Maybe YOU will be able to recreate Coca Cola's secret recipe (it is not patented, only secreted).

We'll take a closer look at SodaStream's Penguin and Pure models in an upcoming FirstLook article. We'll also give you our thoughts on how they compare to the Edition 1 unit we've been using for four years.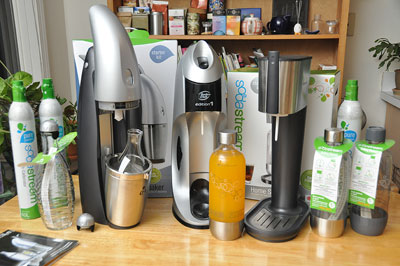 The Soda Club machines are well made and will last a long time. We are pretty heavy-handed with the stuff we use around here, so we know :-) We think the benefits of owning a soda maker makes so much economic and environmental sense that even if you don't drink a lot of soda each year, it may still be a worthwhile addition to your kitchen. If you do buy any kind of carbonated beverages (fizzy water, sports drink, etc...) then it is a no-brainer investment. [Permalink] -Soda Club