Last week we posted a quick mention of the new Soda Stream machines. Today we are going to take a FirstLook at the Penguin unit. The "Starter Kit" comes with the carbonator, two CO2 cartridges, two glass bottles/caps, and an instruction booklet. The unit comes pretty much assembled. The only thing to do is to insert the CO2 cartridge and the system is ready for use.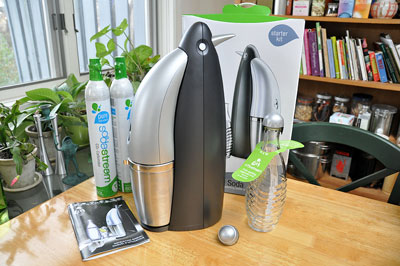 The Penguin is the only unit in the Soda Stream line which supports the use of glass bottles. The glass bottles are sized specifically for the Penguin. The bottles have a textured pattern for a sure grip and a hexagonal lip that accommodates the slip-on reusable screw-down cap.


Unlike the older unit, this carbonator completely encases the bottle while it "does it thing." This is a really good safety-conscious design decision on Soda Stream's part, because glass is a funny thing. Glass is a solid. Techically, it is an amorphous solid. And as such, it has no crystalline structure. If glass does break, it can create some pretty sharp edges. The Penguin was designed to reduce the likelihood of injury should there be an issue resulting from "over-carbonation" or "bottle malfunction."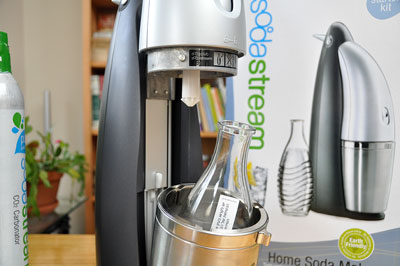 For obvious safety and liability reasons, Soda Stream only recommends their own specific bottles for use with their Penguin carbonator. The interns are, of course, not bound by such constraints and will be trying it with all kinds of bottles and containers :-) Whether they will be able to tell anyone about their "experiments" will be up to our Legal Department. Common sense should be the rule when using the Penguin lest one wants to be a nominee for the Darwin Awards.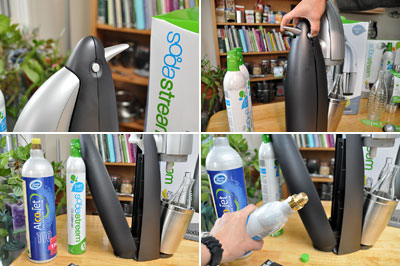 The Penguin gets its name from the carbonator's profile and color scheme. The "beak" is the lever for releasing the gas into the bottle. The "eyes" are the release for cover of the CO2 cartridge housing. The newer cartridges are slimmer than the ones we use with the older unit. The slimmer cartridges does allow the carbonator to be smaller, but it obviously contains less compressed CO2 and thus will need to be replaced more frequently.

Installing the CO2 cartridge in the Penguin is easy: open the back cover, insert the cartridge, screw the cartridge into the connector. There is not much that can go wrong with the sequence.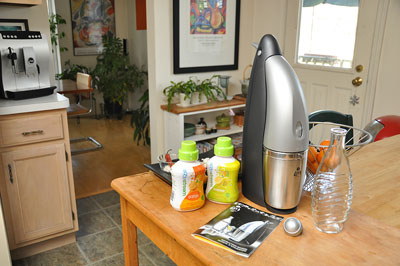 Overall, we really like the funkier look and sturdier build quality of the Soda Stream Penguin as compared to the Edition 1. The glass carafes are definitely a nice alternative to the plastic bottles. However, if you have an "active" household, the liter-size plastic bottles may be more practical. The only slightly negative comment we heard was directed at the plastic "helmet-shaped" bottle stopper. We have to admit that the caps do not really fit with the look of this higher-end system. The interns have offered to look around for a more attractive alternative. We'll keep you posted :-) [Permalink] -SodaClub Penguin FirstLook