James Dyson shook the carpet and floor cleaning world when he brought out his no-bag/non-clogging/washable-filter cyclone vacuum cleaners
in the 1990s. A decade later, he introduced another iconic product, a blade-less fan. We had looked at the fan when it first came out, but decided that while the technology was intriguing the noise level made it unsuitable for recommending to our readers. This past Spring, Dyson released the second generation of the bladeless fan. It has the same intriguing design, but is now 75% quieter. It was time to take another look at the Dyson Cool.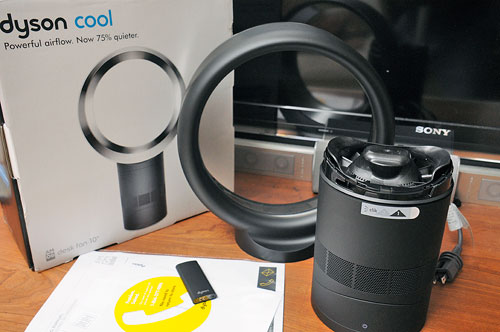 Is a blade-less fan anything like a wireless extension cord? Well, those wondering whether it is a gimmick or not can rest assure that it is not. The principle behind bladeless fan technology is the following: Air is pushed through a ring-shaped opening inside a loop. This creates a flow which passes over a shaped ramp that channels the air's direction, pushing it forward from the loop. Air outside and around the loop is "dragged" along with the flow (entrainment). At the same time, the air that gets pushed away from the ring creates an area of low pressure. The low pressure sucks in more air from behind the loop, meaning it is basically "invited" into the stream (inducement). This all combines to "multiply" the amount of air which is moved together in one direction. Dyson's claim is that the initially-generated air flow is amplified between 15 and 18 times using this method. While based on physics, it works like magic.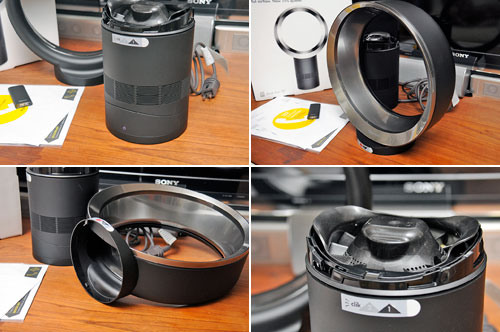 Strong air flow is great, but how did Dyson solve the noise problem? The unit's housing now incorporates a Helmholtz cavity. The shaped opening is designed to dissipate noise from the motor. Additionally, changes made to the way air gets channelled into the fan reduced turbulence, further cutting down on the noise.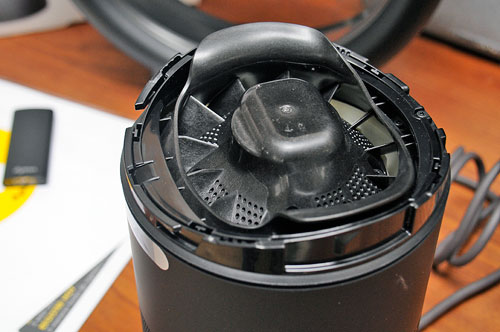 While the physics involved in making this fan work is pretty technical, the fan itself is not complicated to set up or to use. The unit came in two pieces: the ring and the base.

Assembly was quick and easy. Of course, no tools were needed: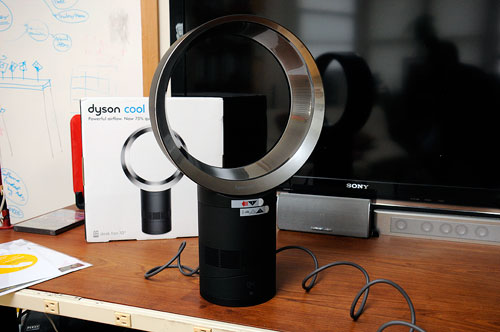 Once assembled, the Dyson Cool is ready to use. The power button is at the front of the base, near the bottom. The fan may be turned on manually or via the remote control. The remote can control the amount of airflow, turn on/off the oscillation function, and turn off the unit after pre-set intervals ranging from 15 minutes to 9 hours. The remote is magnetized and will attach to the top of the machine or to other suitable metallic surfaces.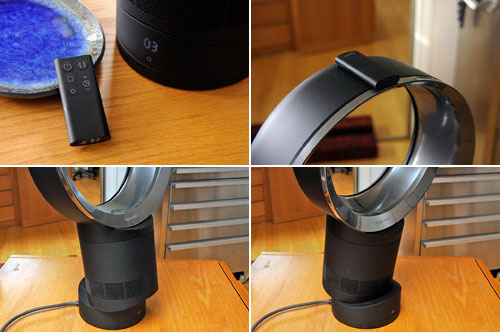 The base of the Dyson Cool may be tilted to direct the flow. Additionally, the structure sits on a base which can be set to oscillate, further increasing the air circulation if desired. Functional design and iconic looks, what more can one ask for in an utilitarian item?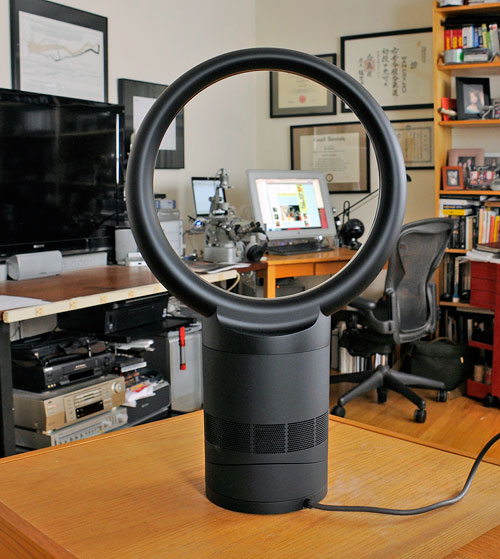 With the setting at level three we were able to detect the flow from 10 feet away, which we believe is more than sufficient for most living rooms. As for the noise, Dyson has definitely solved the problem. At level 3, motor and blade noise were not perceptible from 10 feet away. When cranked up to the maximum, the noise was much less than what we would expect from the volumn of air pushed. Dyson Cool bladeless fan...simply amazing!!! [Permalink] - Dyson Cool FirstLook