RainyDayMagazine's content can now be licensed for your print magazine or web site. Please contact us directly here. If you want to see something reviewed, then drop us a note with a link and we'll be happy to take a look.
NOTE: Click here to read more about our approach to product reviews.
Dec 20, 2010

- Christmas in NYC
Some friends were in town from Bermuda, so we took the LimoLiner to NYC this weekend to visit with them and with some family. We don't mind driving, but the weather forecast convinced us to leave the driving to someone else. The trip from Back Bay Hilton in Boston to the Hilton in NYC usually takes about four hours door to door. This time we took the 1PM from Boston and arrived in NYC around 5:30. The problem with this arrival time is the traffic in NYC is pretty bad. The bus driver had to make some pretty heroic maneuvers to get the giant bus in and out of that traffic! It added an extra 40 minutes to the trip, but it was still worth it once we stepped off the bus and saw the lights at night.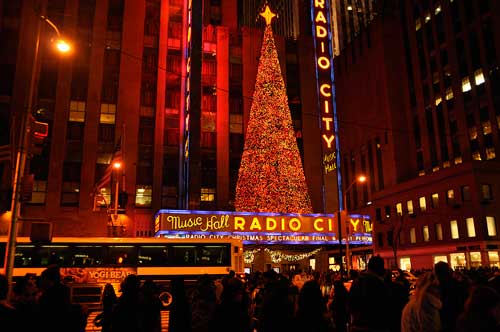 Gotham is magical this time of the year. The plazas in front of the buildings were all decorated. The trees were wrapped in lights. Shoppers, tourists, and street vendors were all out and about. NYC is busy all the time, but it was CRAZY this weekend. Maybe because it was... [more]-Christmas in NYC
Dec 13, 2010

- Rainy Day Gift Guide: SOWA...
South of Washington Street (SOWA) is an up and coming area in Boston. A lot of the energy is from the lively arts community in the area. During the holiday season (2004, 2006) we always try to head down to the SOWA Holiday Market to see what's new.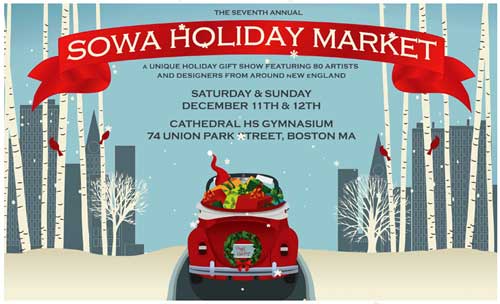 This weekend's was SOWA Holiday Market's 7th year and it did not disappoint. When we cover shows, we typically like to highlight a couple of outstanding vendors. This year we had a really difficult time because there were SO MANY amazing ones. If you want to see them all, they are on the SOWA Holiday Market site. If you want to see the few that caught our eye, they are discussed in more detail below.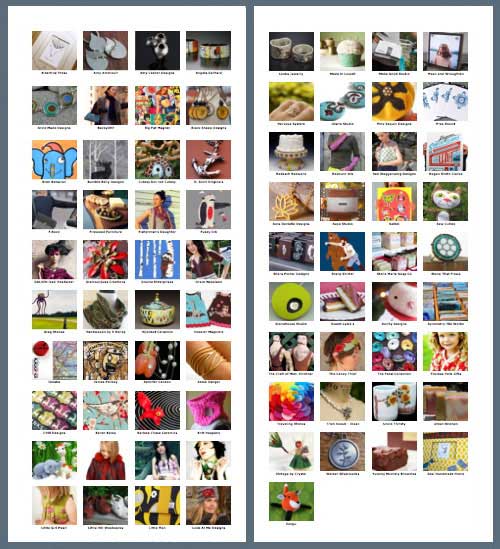 The first to stop us in our tracks was Diane Koss and her furry monsters. Her creations looked like they just walked off the set of Monsters Inc. All of Diane's products are handstitched and... [more]-Holiday Gift Guide: SOWA Holiday Market
Dec 1, 2010-

Paradise City Arts Festival...
With Thanksgiving over, the Holiday shopping season has officially started. We got an early jump when we spent a day at the Paradise City Arts Festival in Marlborough, Mass. We are not big on craft shows, but we have been to this show a few times over the years because this festival features works which are at a level of artistry and craftsmanship much higher than the typical fair.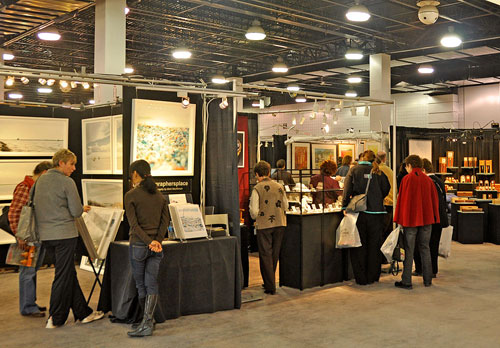 We didn't have to go very far into the show before we happened upon something we really liked. Ken Salem of Salem Board & Beam (Northampton, MA) was talking about his line of furniture made form salvaged and reclaimed hardwoods. We listened and chatted with Ken for a while about what makes them different. We learned that 80% of the lumber used in the creation of his pieces is from reclaimed and salvaged wood sources. Because of that, every piece of furniture has a back story. How cool is that?

Of course, for those with a more modern bent, there are furniture makers at the show, like TrebbeModern, that will satisfy those cravings (we are partial to them because we love "making" pieces ourselves). We love the subtle curves, simple lines, and functional forms. Don't let the... [more]-Paradise City Arts Festival: Marlborough
Nov 19, 2010

- Scientific Revolution...
Sir Isaac Newton's Philosophiae Naturalis Principia Mathematica ("Mathematical Principles of Natural Philosophy"), popularly known as the Principia, is considered one of the most important works in the history of science. The Principia, wherein Newton formulated the three laws of motion and the law of universal gravitation, is the basis of modern physics and astronomy. Albert Einstein declared Principia to be "perhaps the greatest intellectual stride that it has ever been granted to any man to make." Our personal copy is a bit dog-eared because we think it makes for great bed-time reading.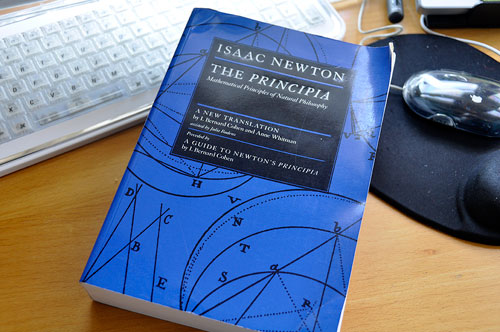 Two hundred and fifty copies of the Principia were printed in 1687. Some of those first editions survived to today. Newton's personal copy (along with his notes for changes to the second edition) can be seen in the Wren Library of Trinity College, Cambridge UK. In January of 2010, Boston College acquire a first edition of the Principia. It is currently on display in the Burns Library at BC. We contacted the folks at the Burns Library and they were gracious enough to... [more]-Burns Library:Scientific Revolution Exhibit
Nov 17, 2010

- MFA: Art of the Americas ...
The new MFA Art of the Americas wing, ten years in the making, opened to museum members last weekend. The wing enables the Museum to showcase more than 5,000 works from the Americas, more than doubling the number previously on view. RainyDayMagazine was on hand for the FirstLook.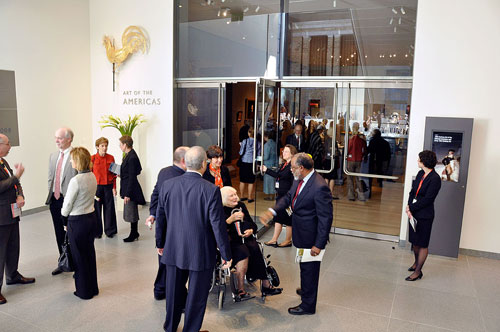 "The new galleries allow us to present our collections in a variety of ways that hightlight different periods, cultures, styles, artists, and themes," said Elliot Bostwick Davis, the John Moors Cabot Chair of the Art of the Americas Department at the MFA, who led the department's curatorial staff in the planning and installation of the Museum's new wing. "We hope visitors will discover a range of objects that speak to the breadth, richness, and diversity of artistic expression emanating from the United States and, more broadly, from the Americas."

The new wing's galleries are organized on four levels according to culture, period, region, style, theme, artist, and maker, reflecting a broad range of art from all of the Americas. Many galleries feature... [more]-MFA: Art of the Americas Galleries
Nov 16, 2010

- Ski & Snowboard Expo...
The weather was a balmy 55º today in Boston, but that did not stop the wintersports enthusiasts from turning out for the 29th Annual Ski & Snowboard Expo (running over the weekend). It was the place to be for anyone looking for a deal on ski packages, day passes, or gear. Resort owners, ski lift operators, and others with a stake were out in force with plenty of tempting offers, package deals, and season discounts.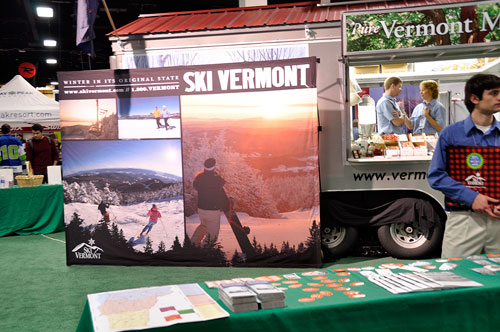 Skiing is a huge business for New England, even for the smaller operators. There was some worry that the slow(er) economy might make folks cut back on discretionary spending, thus spelling doom for the small family-run outfits. Funnily enough, the smaller ski-area operations have seen a resurgence because of the weak(er) economy. For the past few years, families have opted for the lower prices, shorter lines, and homier charms at these smaller places. The greater-than-normal... [more]-Ski & Snowboard Expo
Nov 15, 2010

- MFA: Museum Tech ...
The MFA will open their new Art of the Americas wing to the public on November 20. RainyDayMagazine got a preview of the new wing last Friday. The building, the galleries, and the art were all spectacular. With Malcom Rogers at the helm of a world-class team, we would have expected nothing less.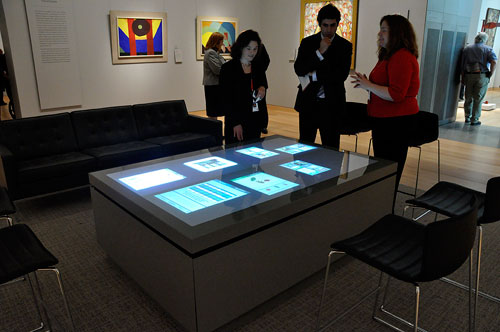 We were pleasantly surprised by all the technology sprinkled through out the new wing. The most impressive was the multi-touch table on the forth floor. It was just THERE. Some noticed it, others just walked right on by. We, of course, zero-ed in on it as soon as we saw it. We were not able to get much info on the specs regarding the technology inside the box. The multi-touch technology appears to be... [more]-MFA: Museum Tech
Nov 12,2010

- MFA's New Gallery FirstLook...
The new wing of the MFA opens to the general public on Saturday November 20, but today RainyDayMagazine, along with a few hundred other folks, got a FirstLook at this beautiful addition to the Museum. The new wing will take a hemispheric perspective on Art of the Americas, showcasing more than 5,000 works of art produced in North, Central, and South America over the course of three millennia. Art in all media will be arranged chronologically on four floors. The wing's 53 brand-new galleries will include nine beautiful period rooms and four Behind the Scenes galleries.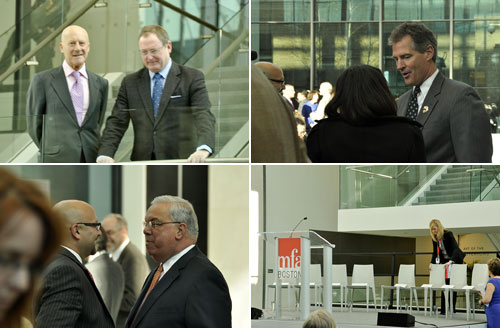 The dedication ceremony for the Ruth and Carl J. Shapiro Family Courtyard was at 10AM. The courtyard is a grand space which connects the original building of the MFA with its brand new wing. We arrived early enough to get a good seat, chat up some of the local luminaries, and get bite to eat before the speeches. Getting there early gave us a chance to look around before it got too crowded. We tried to get some interior shots, but the space was just too big for us to get decent architectural shots without any distortion. So on this rare occassion, we have decided to... [more]-MFA: Art of the Americas Wing FirstLook
Nov 11,2010

- MFA's New Gallery...
In 2005, the MFA broke ground for its new Art of the Americas wing. This $345 million project was in the final phase of construction when we took these photos in August. Tomorrow, the MFA will have a dedication ceremony to mark the completion of this new wing. RainyDayMagazine will be there to bring you a FirstLook at this beautiful new space.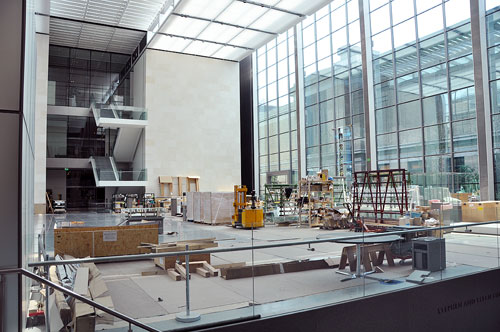 This ambitious project was designed by Foster+Partners (London). The new wing will have four floors and 53 new galleries. The entrance to the galleries will be through the Shapiro Family Courtyard, an airy light-filled glass-encased space. The hope is that the Courtyard will become a... [more]-MFA: Art of the Americas Wing
Nov 8,2010

- MOS: Reptiles Exhibit...
The Boston Museum Of Science's new exhibit, Reptiles: The Beautiful & the Deadly opened on Sunday. RainyDayMagazine had a first hand look at the critters over the weekend and came away completely impressed.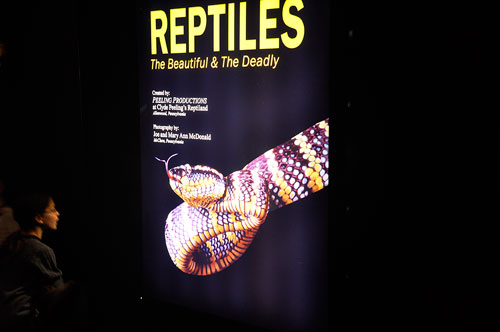 This reptile exhibition was created by Peeling Productions at Clyde Peeling's Reptiland. It is the largest traveling reptile exhibit in the world. There are live displays of deadly snakes, multi-color lizards, and strange turtles. It is a great venue for getting really up close to observe and... [more]-MOS: Reptile Exhibit
Nov 5,2010

- Craigie Bridge Repair...
The Charles is a beautiful river which runs through the heart of the Boston area. While it physically separates may parts of the metropolitan area, over the past hundred years, dozens of bridges have been built to connect the various towns and neighborhoods. Many of these bridges are desperately in need of repair.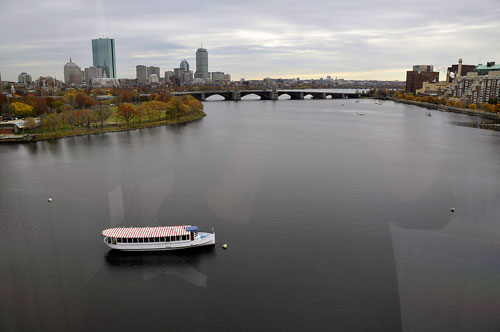 Effective tomorrow, November 6, 2010, MassDOT will close all inbound travel lanes on Route 28 southbound, at the intersection of Land Boulevard and Route 28. This one-month closure is part of the first phase of the Craigie Drawbridge Rehabilitation Project. The Craigie Drawbridge carries traffic from... [more]-Craigie Bridge Repair Project
Nov 1,2010

- The Clam Box...
Sunday was the last day The Clam Box was open for this year. One of our editors grew up in Quincy and has been going to The Clam Box since she could ride a bike. The rest of us go back year after year because we all agree that they have the best fried seafood in Boston. We KNOW they definitely have the best fried onion rings.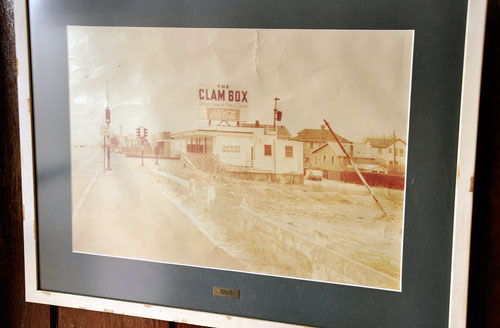 Anyway, The Clam Box's last day of the season was October 31st. We had been meaning to stop by all week for one last plate of fried clams and onion rings, but the chance hadn't occurred until the very last moment. Luckily for us, Sunday afternoon was a perfect day for both a walk along Wollaston Beach and for a final taste of the quintessential Summer food... [more]-The Clam Box
Oct 11,2010

- Columbus Day Weekend...
Food and relaxation are the two most important goals of our annual Columbus Day Weekend retreat. We used to head up to Maine to Ogunquit, Wells, or Monhegan Island. However, for the past few years, the group has been driving to our friends' place in Provincetown. The trip to the Cape is much shorter than the trek up to Maine. We left Boston at 2PM, and even with the holiday traffic, were able to make it out to Provincetown in less than three hours.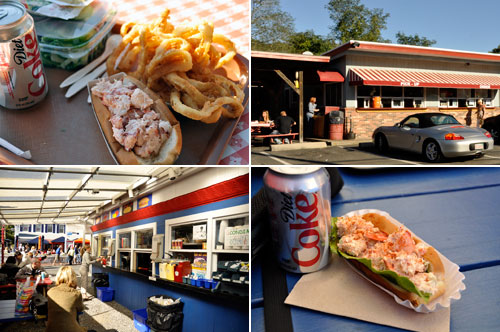 While other tourist destinations start to wind down after Labor Day, most of the shops and restaurants in Provincetown don't close until after Columbus Day. There were plenty of options for eating, shopping, and entertainment. One of the traditions with our Maine trips was the search for the weekend's best lobster roll. Fortunately for us, we were able to continue the quest as lobster roll vendors on the Cape were just as plentiful as "down east." This year's winner was... [more]-Columbus Day Weekend
Sep 24,2010

- MFA: Scaasi...
Arnold Scaasi has been creating haute couture for the likes of Barbra Streisand, Elizabeth Taylor, Sophia Loren, Ivana Trump, and others for over fifty years. Women with means, those in the public eye, or ones on the world stage would often look to Scaasi to help them create their public images. Whether it be an elegant evening gown, a cocktail dress, or a tailored suit, Scaasi's custom-made clothing were powerful statements for women with personalities large enough to match.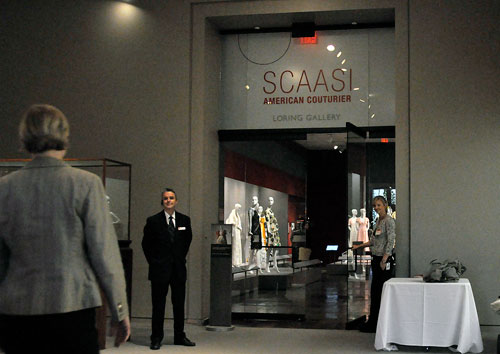 At the beginning of August the MFA opened the first of their fashion-related exhibit (Avedon Fashion 1944-2000). On September 25th the second exhibit, Scaasi: American Couturier, opens to the public. "Scaasi is a fashion legend who has created some of the 20th century's most glamorous clothing," said Malcolm Rogers, Ann and Graham Gund Director of the MFA. "We are... [more]-MFA: Scaasi Exhibit
Sep 17,2010

- PorscheFest 2010...
Porsche is a world-famous brand and their customers are fiercely loyal to it. It is not because the cars are trouble-free. We would call them ...finicky. What's more, the parts are costly and can be hard to find, and the are repairs difficult to perform. So why the enduring popularity? Regardless of vintage, Porsche autos all have a similar look. Within any given model, there are no radical redesigns, abrupt u-turns, or strange departures year over year. This is obvious especially whenever there is a bunch of them in one place. Design cues from one model to another are clearly evident. Changes are subtle, evolutionary, and logical. This, above all else, may be the secret to Porsche's enduring brand loyalty...they LOOK like they are part of the same family. If you own one, you are part of the "family."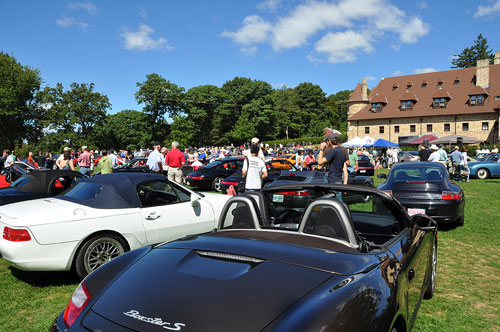 The Boston branch of the "Porsche family" gets together every year in September at the Larz Anderson Auto Museum for a lawn event called PorscheFest. We have been attending this fun gathering for the past few years. The crowd seems to be getting bigger and bigger each year. It may have been the... [more]-PorscheFest 2010
Aug 19,2010

- View from 40,000 feet
When we fly, we always try to get a window seat. We have never been to the Grand Canyon, but when we flew out to L.A. this past January, we had a window seat. The view from the plane was pretty spectacular. Since it was Winter, snow was everywhere. It made for some interesting shots.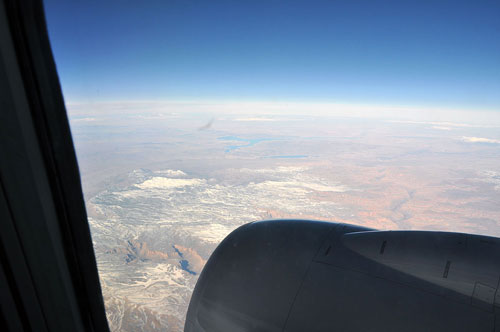 Looking down from 40,000 feet, it was cool to see the erosion and ridges sharply defined by the snow. We remembered Orographic lift from high school Earth Science and expected to see snow cover on the western side of the ridge. However, we saw snow on the eastern side, which confused us a little... [more]-View from 40,000 feet
Aug 16,2010

- Summer interns
We used to have a summer intern named Sarah back in the days when we were living large. However, like all good things, it had to end. She got accepted at RISD and off to school she went. Last week a few of us were in L.A. for a party. Coincidentally, Sarah is working at the Anthropologie store in town as their "Visual Intern." We thought we would drop by to see what our girl has been doing all Summer.

The general direction and overall visual themes of Anthropologie stores are determined by the Home Office, but each individual store is responsible for the execution of the vision. Sarah's work is guided, but they let her do much of it herself. Her pieces were all over the store. They ranged from really large ones to tiny little signs.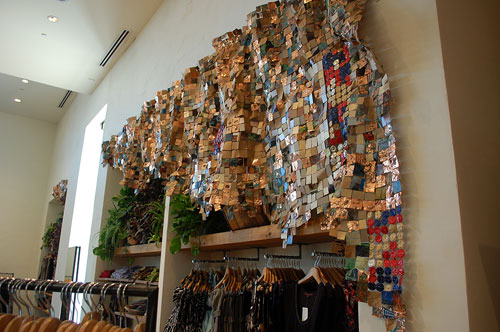 A big piece such as a wall-spanning mozaic (constructed completely by hand) can take several days to cut, link together, and hang. Smaller installations such as a tree may have fewer pieces, but are no less... [more]-Summer Interns
Aug 9,2010

- MFA:Avedon Fashion
For six decades, Richard Avedon (1923-2004) brought fashion to life in the pages of Vogue and Harper's Bazaar. His photos may have started out as advertisement for Dior, Chanel, or Versace, but they ended up as art. The images created by Avedon were fresh, energetic, and forever transformed fashion photography.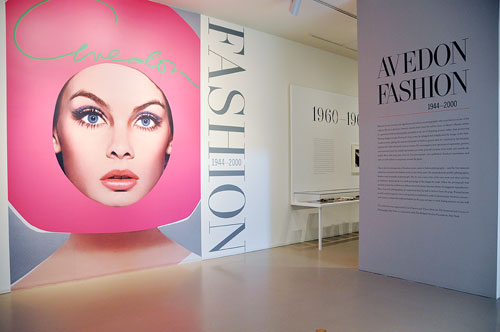 Avedon Fashion 1944-2000 debuted in 2009 at the International Center of Photography (ICP) in New York, then Detroit and West Palm Beach. The MFA, in partnership with the ICP and The Richard Avedon Foundation, has now brought this traveling exhibition to Boston. This major retrospective focuses on Avedon's work in and contributions to fashion photography. Images are grouped by decades and presented to show his... [more]-MFA: Avedon Fashion
Aug 5,2010

- Train Show in Roslindale
Our office has been in Roslindale for quite awhile, yet we are constantly discovering new and amazing things about this little village. Long time Rozzie residents all know about the Bay State Model Railroad Museum. The museum is tucked away on the second floor of a building on South Street. You won't see any signs on the outside of the building advertising their presence. Neither will you be able to just walk in off the street and get a tour. The club is run by a dedicated group of like-minded scale model enthusiasts in the pursuit of their hobby. Twice a year, they open their museum to the general public. This past Spring, we happened upon the show by accident and was totally blown away by what we saw.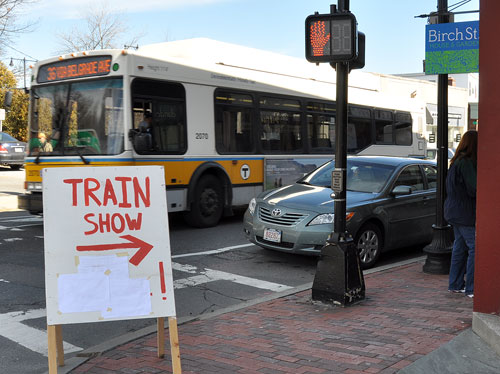 The Bay State Model Railroad Museum was established in 1968 in Roslindale, MA as an O and HO Scale oriented model railroad club. In late 1977 they were evicted from their space. The determined members found new quarters in another section of Roslindale. To avoid having to move again, they bought the building. These accidental landlords have been there building models, laying down tracks, and expanding their world ever since.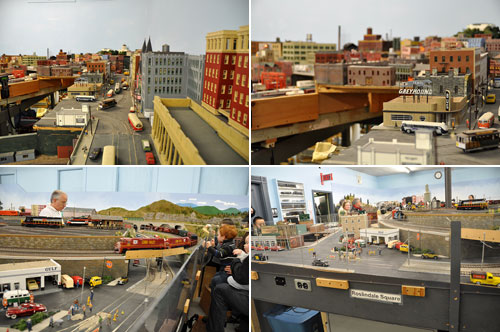 After 30 years, the richness of the scenes was almost overwhelming. We could have spent the entire day there shooting photos of this miniature world. With the short time we spent squeezing our way amongst the crowd and the tracks, it was impossible to appreciate all of the... [more]- Train Show
July 2,2010

- Free WiFi ...
Starbucks announced that starting on July 1st, WiFi will be available at all of its stores free of charge. Businesses such McDonald's and various bookstores have been providing free WiFi for a while now. However, unlike a coffee shop, they are not really comfortable places to hangout. We stopped by our favorite Starbucks to see if this deal was for real. We like this Starbucks because we can get there in a few minutes on our Vespa, there is always a table available, and they have one of those new Clover coffee makers. Another plus for this location is there aren't a lot of folks using it as their office, so going there does not feel like we are going to work. However, this free WiFi thing may change that.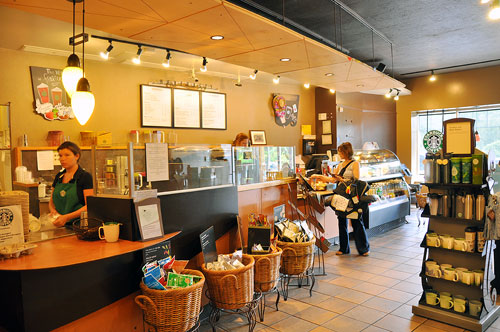 To test the free WiFi, we brought with us the iPod Touch and the iPad. Both machines had no problems logging on and establishing a WiFi connection. We were connected and online in less than four minutes (including taking the time to document the effort)! The whole process was... [more] -Free WiFi
June 23,2010

- Bird watching ...
Bird watching is a great way to spend a day. It is also a great way to justify the purchase of those REALLY big telephoto and zoom lenses to the accounting department. Our friends Andrew and Candace told us about a heron rookery out on an island just off Manchester-by-the-Sea and asked if we would care to join them in checking it out. Looking for any excuse to get out of the office, we didn't have to be asked twice.

On the way to the rookery, we stopped off in Hamilton to get a peek at some hawk hatchlings which were big enough to venture from the nest, but had not yet taken flight. It was a good opportunity to practice with our equipment, try a few body/lens combinations, and see if we needed the TrekPod or not.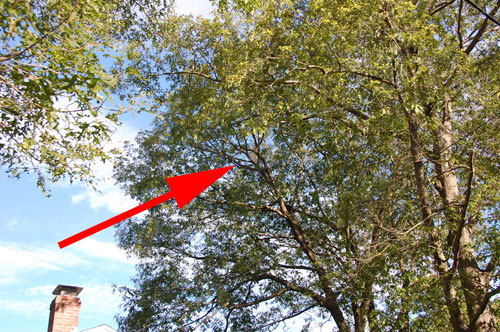 The image of the hawk on the left was taken with a D90 and the Sigma 80-400mm lens without the aid of a tripod. The one on the right was taken by Andy using his D700 and the Nikon 200-400mm on a tripod. The difference was pretty striking once we had a chance to take a closer look at the... [more] -Bird watching
June 21,2010

- Whales Tohora ...
Whales have roamed the oceans for millions of years. Their relationship with man has historically been one of tension. Man has hunted whales for their oil, slaughtered them for food, and brought them to the edge of extinction. The more we understand about these massive creatures, the more we realize how much more we have yet to learn. While most the world has come to prize these somewhat elusive creatures for what they can teach us, there are still a few nations (Japan, Norway, Iceland) who cling to the barbaric practice of and killing these magnificent beings. The issue will come to a head in Morocco this week among pro- and anti-whaling nations at the annual International Whaling Commission (IWC) meeting. Japan, and its unjustifyable practice of whale killing, will be the main topic of discussion. Japan's resistance to ending this horrific annual practice is more from pride than business. Let us hope that international pressure can shame them into joining past whaling nations like New Zealand to become another champion of whale study and protection instead of continuing as their destructors.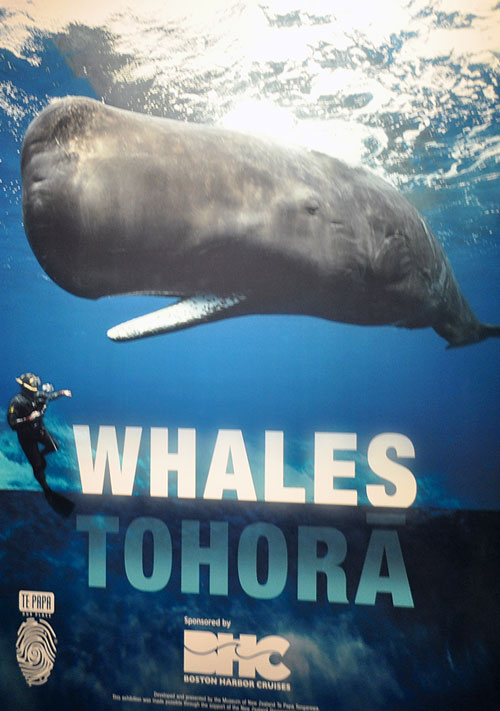 For New Englanders hoping to learn more about whales, the timing for the Whales Tohora exhibit at Boston's Museum Of Science (MOS) which opened on Sunday could not have been better. What do we really know about whales? This hands-on exhibit helps visitors explore the biology of these giant mammals. The exhibit spans a variety of topics including whale evolution, diversity, sounds, and reproduction. Created by the Museum of New Zealand Te Papa Tongarewa and presented by Boston Harbor Cruises, Whales Tohora features... [more] -MOS:Whales Tohora
June 16,2010

- Brooklyn Bridge...
NYC is known for its skylines, landmarks, and tourist destinations. We are often in the city on business, and so we do not often taken advantage of the opportunities to the sights. In the past, readers have suggested it would be interesting for us to do a series on some points of NYC interest. We gave the request some thought and decided we will, on each trip down, take some time out and visit one POI.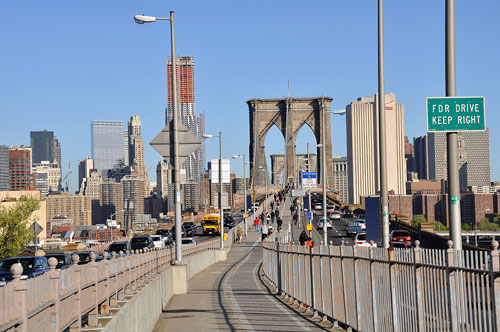 One of NYC's most famous icon is the Brooklyn Bridge. The bridge connects the lower part of Long Island with the Financial District at the Southern tip of Manhattan. The Brooklyn Bridge is one of the oldest suspension bridges in the United States. Completed in 1883, it spans the East River. At 5,989 feet (1825 m), it was the longest suspension bridge in the... [more] -Brooklyn Bridge
June 14,2010

- Corvette Day ...
Yesterday was Corvette Day at the Larz Anderson Auto Museum in Brookline. We had a full plate on Sunday, but managed to make a quick stop in the morning to check out the line up. We had an occassion to ride in a recent model Corvette when we were last in Texas on business. Our friend Mike showed us what the modern 'Vette could do on an open stretch of the Dallas highway. We were duly impressed and it renewed our interest in this American motoring icon. One of the best ways to follow up on that interest was to attend the LAAM's excellent lawn events. This Sunday, we had the perfect opportunity to do just that.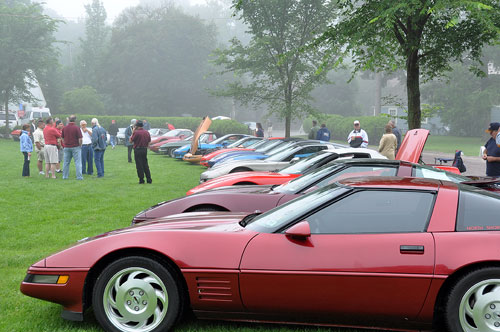 Quite a few Corvette enthusiasts had already registered their cars for the show and were doing some clean up and detailing when we arrived on the museum grounds. We wandered around and chatted with some of the owners about their vehicle. Most of them were local to the area, but a few of them were... [more] -LAAM: Corvette Day
June 08,2010

- Vanderbilt Museum ...
We were down in NYC last weekend for the World Science Festival. The 90º temperature in the city had us looking for cooler diversions on Saturday. After a bit of searching, we came up with the Vanderbilt Museum in Centerport, Long Island. It was less than an hour's drive from NYC, and 43 acres of rolling hills was a nice escape from the "concrete jungle."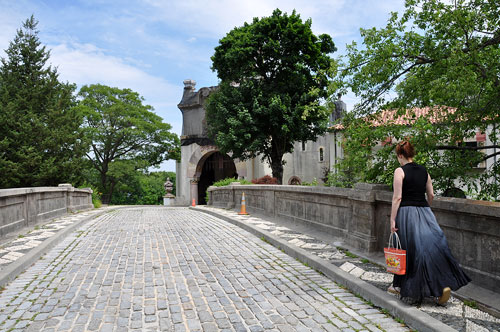 This museum was built by Willian K. Vanderbilt II on his Eagle's Nest Estate. The 24-room Spanish-Revival mansion was built in three stages off and on from 1900s to 1930s. We did not have time to take the house tour or see all of the grounds on this visit, but managed to hit many of the museums and some of the gardens.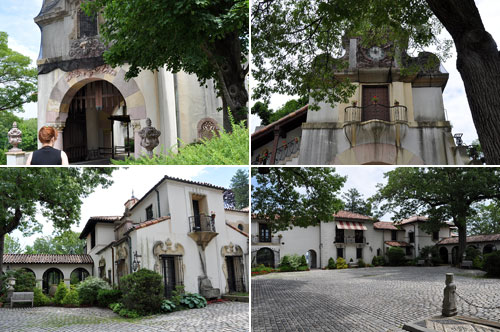 As a person of means, William Vanderbilt II (he was the great-grandson of Cornelius Vanderbilt) fed his curiousity of natural history by mounting specimen-collecting voyages to the Galapagos and other exotic destinations. He opened his personal museum to the public in 1922. The photos here are just a small sample of the artifacts from his extensive travels and expeditions. On display were an impressive and varied array of... [more] -Vanderbilt Museum
June 07,2010

- World Science Festival...
A full-scale model of the world's most powerful space telescope was in New York City last week as part of the World Science Festival. NASA's James Webb Space Telescope, when launched in 2014, will allow scientists to "see" the very first galaxies formed in the Universe and discover hidden worlds around distant stars. For the past six days, a full-scale model of this successor to the Hubble Space Telescope was on public view in Battery Park, on the tip of Manhattan. It was as close to a first-hand look at the telescope as most people will ever get, so on Friday we drove down for a gander.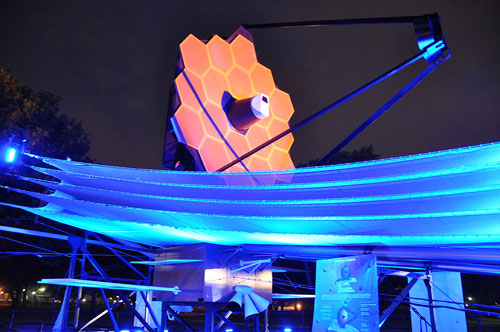 In addition, we drove down because we didn't want to miss the "From the City to the Stars" party. The anchor of the event was the spectacularly lit Webb telescope model. Leading scientists were on hand to talk to everyone about the design of the telescope, the challenges, and the anticipated discoveries.
The James Webb Space Telescope is the next-generation space observatory, exploring deep space phenomena from distant galaxies to nearby planets and stars. The telescope will give scientists clues about the... [more] -World Science Festival 2010
May 21,2010

- Traveling with the iPad ...
Our friends from Spain came to the States for a visit last month and asked if we would meet them in NYC for dinner. Never to pass up a reason for a road trip, we agreed to pop down for a night. Since it was a only an overnight trip, we cashed in some points and got ourselves into a nice hotel. We also booked ourselves on the LimoLiner so we didn't have to drive. We packed light because we would not be checking into the hotel right away and so would have to carry our bags around for the day. Normally we would take at least one laptop, but we decided we'd leave all of them at the office. Instead, we brought along the iPad. We were curious to see how we would get along with just it and nothing else. We took the Kata ErgoTech and the Built bags to see which worked better for the iPad.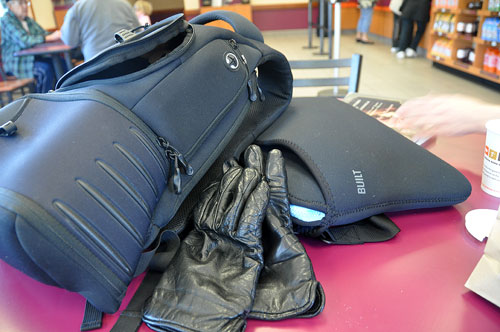 We have taken the LimoLiner to NYC before, but from the Back Bay departure point (outside the Hilton in Boston). This time, we thought we would catch it from a Framingham to see if was any more convenient. For folks leaving from the city (or any place that has easy access), the Back Bay location is the one for you. The Framingham pickup is more for folks who live in the suburbs. The advantage of catching the LimoLiner at Framingham is... [more] -Traveling with the iPad
May 18,2010

- SoWa Open Market ...
South of Washington Street (SoWa) Open Market got off to a great start this weekend. The market hosts a nice variety of vendors. We found plenty of original art from painters, sculptors, and photographers. There were artisans of hand-crafted jewelry, clothing, and handbags. Sprinkled amongst all of the creative types were also a few florists, bakers, and local farmers with fresh produce and tasty treats! The weather was perfect all weekend and the shoppers responded by packing the market on both days.

The organizers of SoWa know how difficult it can be to park in the city, which is why they have arranged for free parking at two large open lots close to the market. It completely eliminated the parking hassle. The personal nature of open market offers the opportunity to meet the artists, vendors, and those behind the work. It is fast becoming part of the South End's well-known artist's community.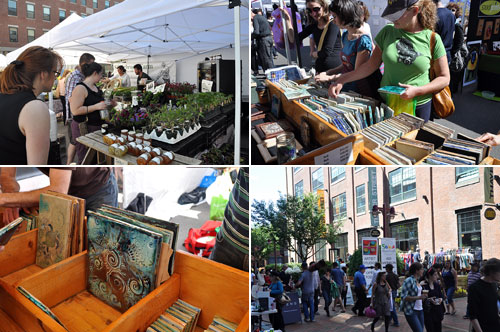 One of the artist we met was Robert Rossel of Symmetry Tile Works. STW kilns are fired by propane to a temperature of 2300ºF. The intense heat and flames, as well as their special glazes, are responsible for the brilliant colors and unique variations in their tiles. We, and apparently plenty of others, were pulled in by the tiles' amazing colors and nature-inspired designs. They were also... [more] -SoWa Open Market
April 12,2010

- Paradise City Craft Show...
With Spring time comes some top rated Arts and Crafts Festivals along with open studios and markets. This weekend is CraftBoston the Society of Arts and Crafts event at Seaport World Trade Center, 200 Seaport Boulevard Boston, Massachusetts 02210. It runs 10-6pm on Friday and Saturday and then 11-5 on Sunday. Go here for more info.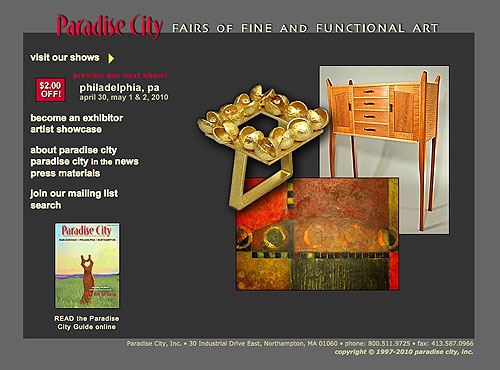 Last month was The Paradise City Arts (PCA) Festival. It remains one of Rainy Day's favorites arts events for several reasons. First the 175 os so artist-exhibitors who are there are top caliber. A number who we chatted with had completed MFA's or rigorous apprenticeships. Many had pieces in noted galleries or musuems. Second the show's sponsors attend to the details with food that is a cut above (this year's deserts, especially the chocolate eclairs, had our endorphins buzzing) alongside a jazz quartet ambience. As well the variety of media has something for every taste including jewelry, clothing/accessories, paintings, art glass, ceramics, sculpture and furniture.

We sent two of our gadabout writers, Lisa and Jay, to report back on the Marlboro Ma. event. If you're intrigued by some of our profiles from this year's show you can note on your calendar the remaining Paradise City Arts shows this year. The next PCA show will be in... [more] -Paradise City Craft Show: by Jay Rogers
April 9,2010

- Boston Nature Center:SpringFling...
We have been frequent visitors to the Boston Nature Center (BNC) for years. It is an urban sanctuary, located on the grounds of the former Boston State Hospital. We often use it as a testing ground for outdoor gear we review. The BNC offers public programs year-round. Through its Boston Schools Initiative, the BNC provides environmental education programs to local elementary schools weekly.

Over two miles of handicap-accessible trails and boardwalks traverse the meadows and wetlands. Wildlife such as coyotes, pheasants, and many species of migratory birds can often be seen. The sanctuary's George Robert White Environmental Conservation Center is one of the "greenest" buildings in Boston, teaching environmentally sustainable design by example.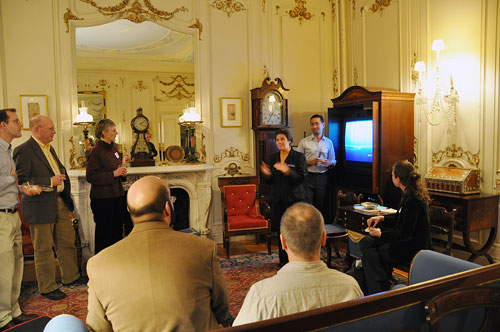 A few weeks ago, we attend a BNC event at our friends Bill and Irfan's home. We had the opportunity to meet Julie Brandlen, Director or the BNC, and many of the other friends of the BNC. The event was to introduce some of the folks in the Back Bay and Boston to this fantastic urban resource. We heard from folks who helped envisioned, designed, and built the center. We also had a chance to chat with many folks active in the Massachusetts Audubon Society as well as... [more] -BNC SpringFling
April 2,2010
Today is the opening day of the NYIAS. This annual event will see over a million visitors wander through the Jacob Javits Convention center over the course of this weekend. The amount of organization, coordination, and physical labor which goes into pulling something like this together is simply staggering. Today, we want to give some credit to the all the onstage and backstage folks (set constructors, booth babes, etc...) who work so hard to make the show a fun and exciting event for all who attend.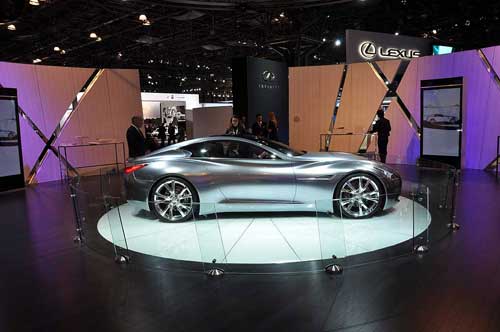 The use of eye-catching displays is a time-tested method of drawing showgoers over to a vendor's booth. Slick video walls, touch panels, and interactive kiosks were out in full force at the show. We saw one made using a few dozen iPod Touches which was pretty innovative. How well they hold up to... [more] -NYIAS: Opening Day
April 1,2010
The main reason we go to the NYIAS is to see what's new with Porsche. Clearly they had a few things under wraps for the 2PM press conference. The booth space his year was a lot larger than previous years. Not sure if it was because they now are part of VW and was able to negotiate a better price. In any case, it was nice to be able to sit down, chat with some of the folks, and enjoy a few espresso all courtesy of Porsche.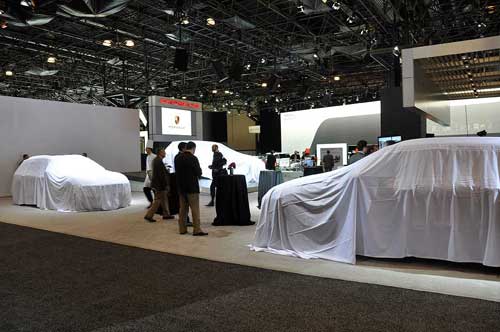 We were hoping to get a look at the 918 electric concept. It is one of the few cars we would consider when we are ready to trade in our beloved Boxster. Another may be the Boxster Spyder. The 918 was not on display, but we got a... [more] -NYIAS: Porsche News
March 31,2010
The RainyDayGarage guys braved the storm and drove from Boston to NYC on Tuesday for the NYIAS today. Our main purpose of the trip was to get a live look at the new Porsche offerings. We secretly hoped that there would be a Boxster Spyder or a 918 at the show. The trip down was uneventful except for the one section of I95 in Rhode Island that was flooded because of the heavy rain. The Boxster forded the small lake which formed at the underpass and came out of it with no noticeable damage.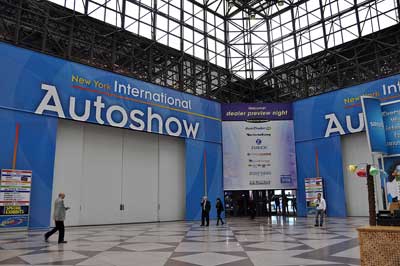 Today, we got to the show relatively early as Porsche's press conference wasn't until 2PM. We love attending on Press Day because we get a chance to see everything without having to step on any small children or little... [more] -NYIAS: Day 1
March 11,2010
Summer is still months away, but now that The Clam Box has opened its doors for the season the waiting just got a lot easier. One of our editors is a Quincy girl, and last summer she introduced us to Wollaston Beach and the amazing food available at this restauant favored by the locals.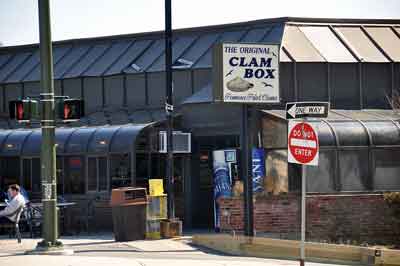 When we realized on Monday that The Clam Box had opened, we packed everyone up and went for lunch. We were not disappointed. The crowd was a lot lighter than in the Summer, but the food was every bit as tasty as we had remembered.

The Seafood Platter Special (large plate of clams, shrimps, scallops, and calamari) is a great value, more than enough for two and perfect for sharing (if you had to). Fortunately, half of the crew are vegetarians. While the Clam Box is famous for their freshly fried clams, their fried onion rings are awesome and is our Quincy girl's favorite (who, by the way, does not really share).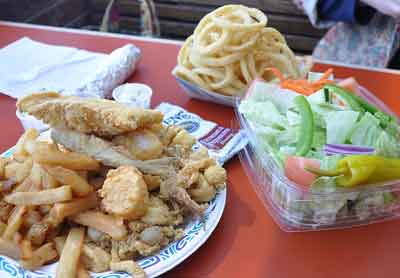 On the other side of the road from The Clam Box is Wollaston Beach. The beach is quiet this time of the year. The sidewalk runs for three-and-a-half miles and has a nice view of the city of Boston. The best part is that this relaxing retreat is just a quick 15-minute drive from Downtown.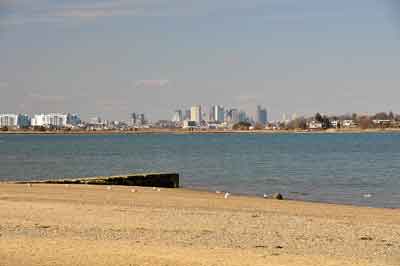 If you are tired of the cold weather and are hankering for a taste of Summer, get some folks together and head over to The Clam Box for lunch. The walk along the beach is also a great way to work off some of that food, get some fresh air, and clear your head before going back to the grind :-) [Permalink] -The Clam Box
February 4,2010
For our very last day in L.A. we wanted to do something that only L.A. could offer, a tour of a major movie studio. The one which looked the most promising was Universal Studio in University City just north of downtown.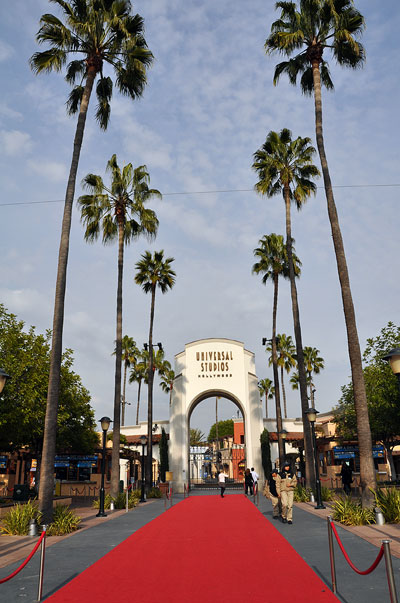 The park has a variety of rides, shows, and a real working movie studio complete with its own tour. There is also lots of shops, restaurants and an all-new cinemas at CityWalk. Universal Studios Hollywood is very family-friendly and is typically packed in the Summer season. When we visited, there were folks in the park, but there was absolutely no wait for any of the attractions!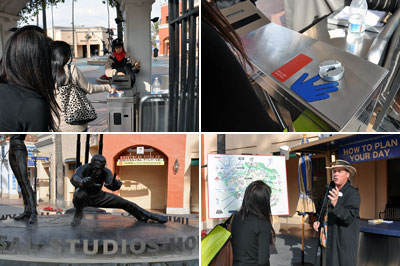 The first thing we did was the studio tour. It was quite the fascinating behind-the-scenes look at the "magic" of movie-making. The huge fire several years ago burnt down a large part of the Universal Studio's famous backlot. They have been making great progress in rebuilding it all. The buildings are, of course, all facades. Still, the level of details are quite amazing.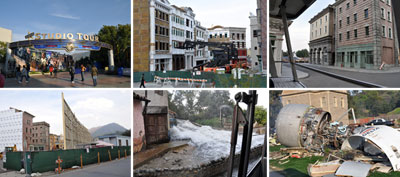 Another attraction of note was WaterWorld. The show was full of death-defying stunts, awesome explosions, and fantastic special effects. Our only suggestion is if you bring a camera, sit in the "splash-free" sections. Otherwise, you WILL get wet :-)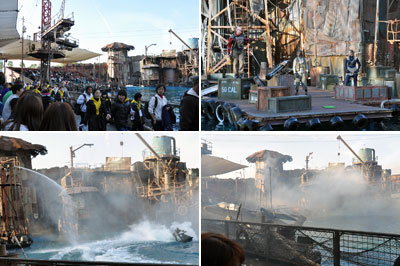 Being a theme-park, photo opportunities were everywhere. Costumed-characters can be found strolling through the park and were always happy to stop and pose for snaps.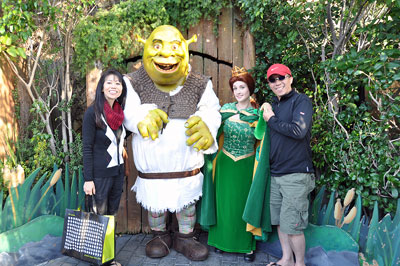 The three hours we spent at Universal Studios went by in a blink. We did quite a bit in those hours, but there were still plenty left of the park that we did not get to experience. The next time we go, we will start out earlier and plan to stay for the entire day. [Permalink] -Universal Studio Tour
February 3,2010
Our week in L.A. is fast coming to an end. We came here to check in with the RainyDayLA folks. It didn't take long for us to be totally sucked in by the fun and the sun. If the Boston office moved out West, we would become total beach bums...at least until our money ran out. When the weather is always perfect, there are just so many other things one could do besides work.

L.A. is a place where one can find any kind of shopping, whether it be high-end art galleries, funky stores, or the bargain basement hole-in-the-walls...depending on one's particular whim and fancy of the moment.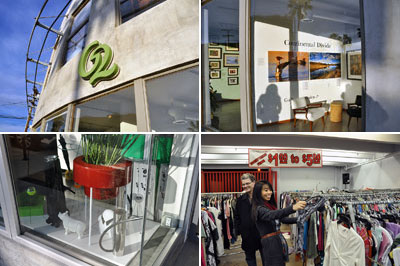 However, it is a definitely a place where things are spreaded out pretty far and wide. Walking from one part of the city to another is not really an option. As a result, a strong car culture has developed and is clearly part of L.A.'s identity.
After an exhausting day of shopping, what better way to recharge than some fresh sushi or tasty mexican. L.A. is a great place for both. For those in the mood for something different, there are plenty of options for every kind of tastes. We found one called Meet in Culver City.

The food gods were smiling on us this week as it is Restaurant Week in L.A. and at Meet, they had an all inclusive special at $29.50 per person: House aperitif, starter, main course, dessert and coffee. Fine dining at affordable prices...how great is that? [Permalink] -Shopping Day
February 2,2010
The warm sand and cool surf are quite the contrast for us New Englanders for this time of the year. So it should not be a surprise to anyone that, while in L.A., we spent much of our time near the beach. Another reason may be because it was an easy walk from the office. We would have been happy to have spent our entire time hanging out at the pier, but thought we should avail ourselves to other L.A. experiences while we were here.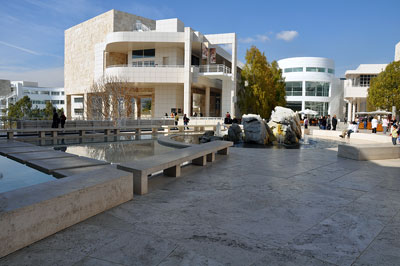 One strong recommendation was to go check out the Getty Center. The Getty Center is situated atop a hill in Santa Monica Mountain adjacent to the San Diego Freeway. This enormous complex was designed by architect Richard Meier, its construction took 12 years to complete, and the final cost came in at $300/square inch (yes...inch). However, the results were spectacular in every respect. The buildings are stunnng yet approachable, the lines are flowing and rhythmic, and the space is expansive but well structured and often intimate.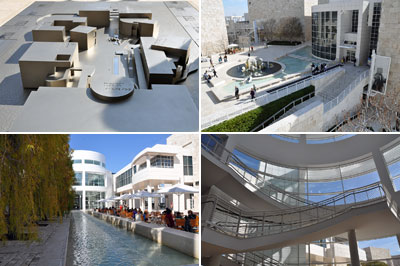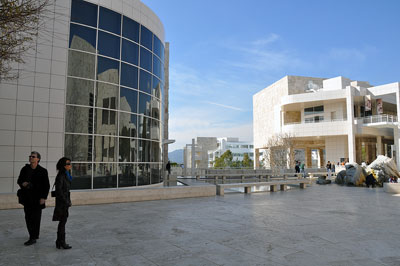 Surprises and delights can be found around every corner and at the top of every stairs. It was impossible not to be taken in and be taken aback by the stunning architectural beauty of this place.

We would expect the Getty Center to have beautiful galleries and exhibit halls, but we were pleasantly surprised to find there was also a wonderful restaurant on its premises. It has a creative menu and was a great place for a leisurely Sunday brunch. The food was delicious but the service can be a bit slow during their busy times.

In the heart of the Getty Center is the Central Garden created by artist Robert Irwin. This 134,000-square-foot circular garden features a natural ravine and tree-lined walkway that guides the visitor through an extraordinary experience of sights, sounds, and scents.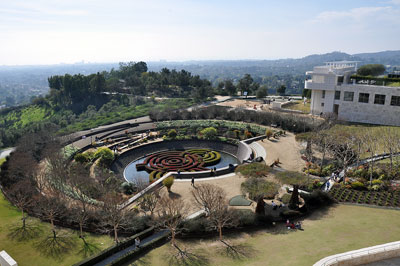 In addition to the Central Garden, the Getty Center features abundant landscaping for public enjoyment, including a cactus garden at the South Promontory, fountains in the Museum Courtyard and the Central Plaza, shaded hideaways, and spectacular views of the Santa Monica Mountains, the Pacific Ocean, and Los Angeles. If you are visiting L.A., the Getty Center is one spot you should not miss. [Permalink] -Getty Center
January 28,2010
The RainyDayLA office is in Manhattan Beach and it is very different from Boston. To us Bostonians, everyone appears unnatually happy and is just "wicked friendly": cars stopped for us when we were just standing on the curb, people we don't know said "hi" to us and didn't ask for any money, and apparently it IS sunny, dry, and in the mid-70s all the time.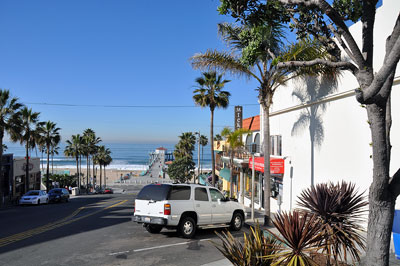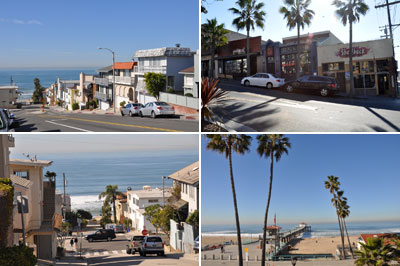 We decided to walked around a bit before settling down to do some work. It was around 8:30AM and things have just started to stir. Some folks were already out boarding and surfing. Hard to imagine it was now close to lunch time back in Boston. Clearly the pace here is more relaxed. It may explain why everyone is so friggin' happy :-) We could definitely get used to "working" here!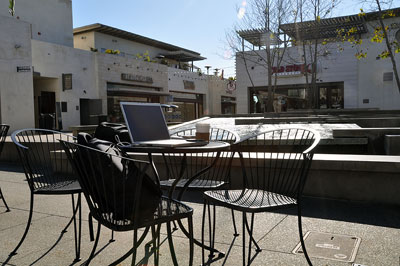 In the land of perpetual sunshine, "working" anywhere really is possible. Our gear selection for this trip was made with this in mind. We brought along the HyperMac battery because it meant we could leave home the laptop , the iPod , and the cell phone chargers. The Kata pack was chosen because it could handle the 15" MBP, a Nikon D90 w/18-200mm lens, and all of the various accessories.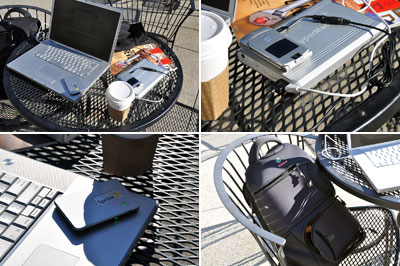 Workng "anywhere" no longer just mean plunking down a laptop and working in isolation. It means having access to all our files, emails, and everything else the Web has to offer. Usually implied working at some place with free WiFi (Barnes & Noble's , Peet's, etc...). However, if one really wants to work "anywhere", then bring along your very own WiFi connection is the way to go. The Sprint portable WiFi hotspot lets us do just that. It is a pretty cool gadget: no bigger than a credit card, supports up to 5 connections at one time, and last for around 5 hours on a charge. The connection speed varies depending on the Sprint reception, but so far everywhere we tried in L.A. has been great.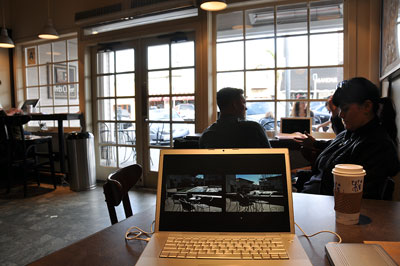 We did not want to overdose on the sun on the first day, so after a few hours, we went in search of some shelter. Besides, one can only work for so long without coffee. Fortunately, the caffeine options in Manhattan Beach were extensive. We found a Peet's Coffee and will finish out our morning here :-) Oh yeah, we almost forogt, the Apple "next big thing" unveiling is about to start... [Permalink] -"Working" in L.A.
January 27,2010
While everyone is getting ready for tomorrow's big unveiling from Cupertino, we decided to head West to visit our friends in the RainyDayLA office. The recent weather in Boston may have something to do with the trip, but don't tell our managers that!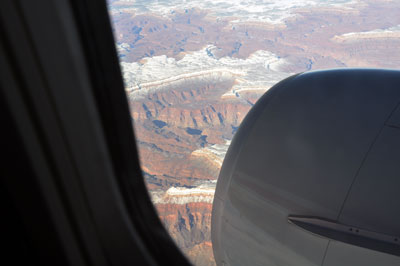 Somebody made a mistake and booked us on a 7:20AM flight (meaning we had to get to Logan by 5:30AM for the TSA pat-down), we managed to stay awake for most of it. The advantage of being awake and having a window seat was we got to see the Grand Canyon from 40,000 feet.

These shots were taken through the double-paned acrylic passenger window. They are a bit soft, but came out better then we would have thought. Next time we will being some polarizing filters to get rid of the haze and make the colors pop a bit more. We did see some pretty cool natural rock formations. We also noticed some rather odd rectangular patches. They look man-made, but we were unable to identify any structures or reasons for them. Drop us a note if you think you know what they may be.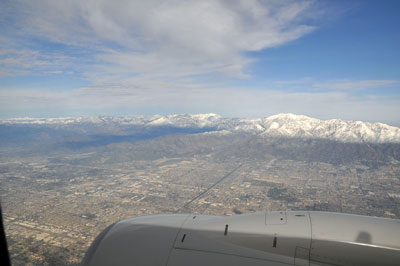 The flight in was uneventful, but most enjoyable. We fly on American Airlines when we can because "They Know Why We Fly." Also, in our "other" life we did a lot of work for AA so we have a boatload of frequent flier miles with them :-) [Permalink] -RainyDayLA Visit
January 1,2010
Aren't robins suppose to be the harbinger of Spring? Well, we were down on Commonwealth Ave in Boston today and came upon a tree full of those red-breasted feathery friends.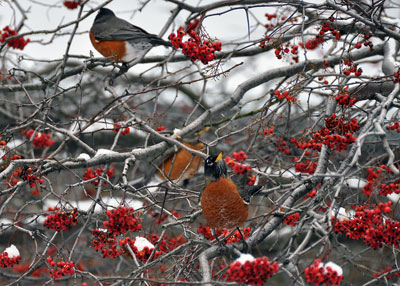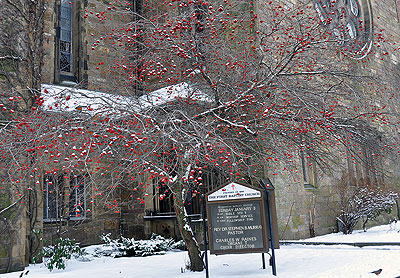 Even though the new year just got started, a lot of good things are already in place. We have an intelligent president, healthcare reform looks like it may finally become a reality, and the market is starting to show small signs of life. There is still a staggering amount of work to be done, but we are taking today's robin sighting as a good sign...
Happy New Year!!!! [Permalink] -New Year's Day